Looking for spruce-up your space? The right wet bar can add a touch of elegance to any space. There are numerous different ways to transform a space with a wet bar, whether it's in the basement, bedroom, or kitchen. Are you thinking of building a man cave in your basement? Wet bars that are dark and rustic might be just what you need. Are you proud of your bright and white kitchen? It may just be enough to have a simple, light wet bar, or dark cabinetry in contrast. Is it your goal to make it stand out? A colorful backsplash and flashy hardware will look great behind the wet bar.
Whatever style your home wet bar has, there are many ways to make it more appealing visually and functionally. Let's look at some best wet bar ideas that will make your wet bar the focal point of your home.
First, What is a Wet Bar?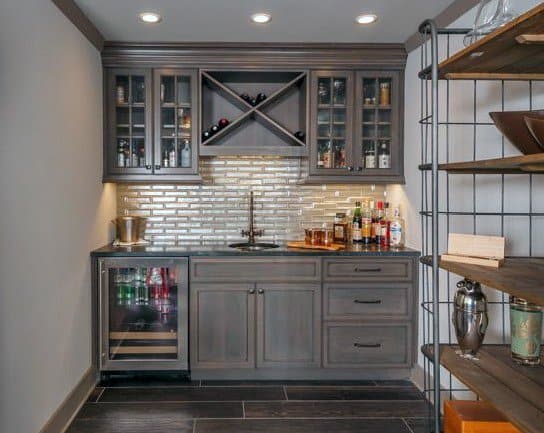 source: pinterest.com
Well, there are two types of bar design; dry bar design & wet bar design, might be you are aware of both. So, when it comes to wet bar design; A wet bar is a counter-top area where people can serve themselves drinks while sitting down. These bars are often placed near the kitchen or dining room table, and they have a sink, refrigerator, and storage space. You can find them in many different styles, shapes, sizes, and materials.
On otherside dry bar is simple bar which we've mostly seen that's table with the cocktails which is actually not attached with sink. Therefore its too simple to know the difference between as main factor is all about plumbing. 
How to Choose a Right Wet Bar?
When choosing a wet bar, consider how much space you have available. If you have a small kitchen, then a smaller wet bar may work best. However, if you have a larger kitchen, then a bigger wet bar might be ideal. Also think about what type of entertainment you want to provide. Do you plan on having guests over often? Or do you prefer to entertain yourself? Will you be entertaining children or adults? All these factors should help you determine what size wet bar would work best for you.
How to Design a Wet Bar? Modern Wet Bar Ideas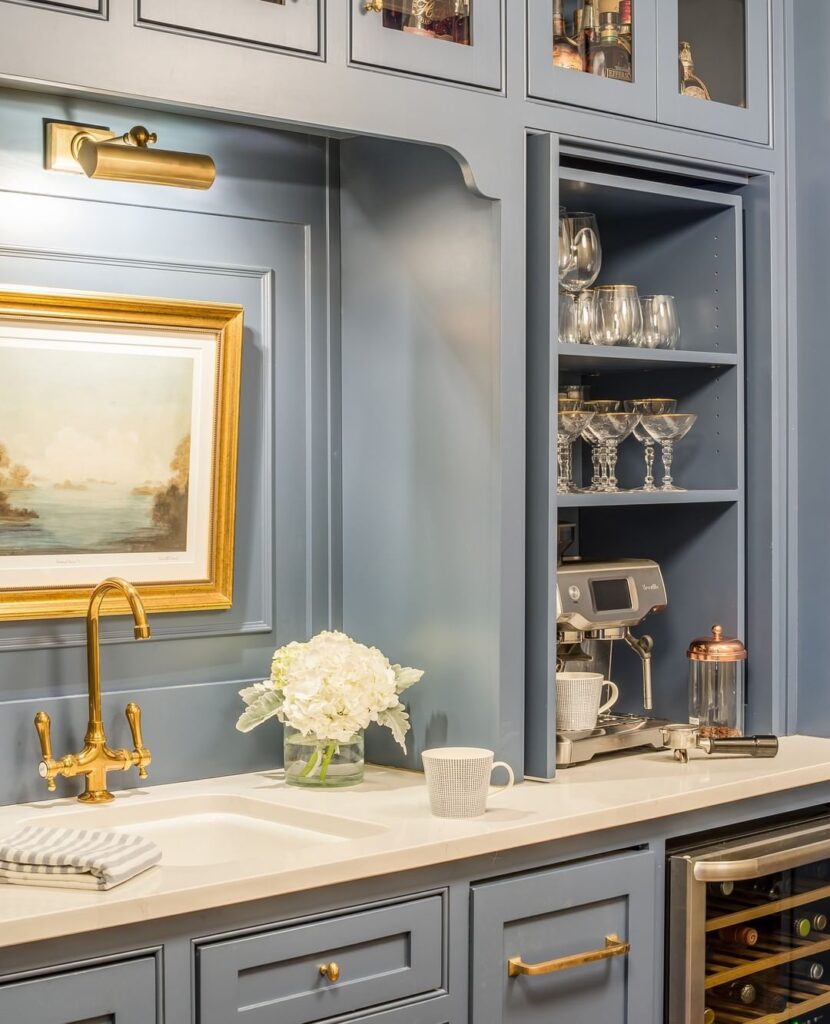 source: thespruce.com
Once you have decided on the size of your wet bar, you can start decorating it. Consider adding some fun colors and patterns to make your wet bar stand out. You can add a splash of color using a colorful rug, wall art, or even a painting. You can also create a unique look by mixing different textures together. Try placing a wooden table under your wet bar and add a few throw pillows around the edges. 
Hence, without further ado, let's dive into the following best wet bar ideas that will undoubtedly bring your space to the next level. 
Home Wet Bars
Wet bars are great for any home bar area. They are perfect for entertaining guests at home. You can use them to store drinks, snacks, and even some small appliances. They are also great for storing beverages and food items if you have a lot of space. If you want to make sure your wet bar stays clean, then you should consider using a glass top instead of wood. Glass tops are easier to keep clean than wooden ones.
Include Wet Bar Tables
Tables are another great addition to any wetbar. They provide additional surface area for entertaining guests. You can add a tablecloth to your wet bar tables to make them look nice. You can also add a mirror to your wet bar tables for added functionality.
DIY Basement Wet Bar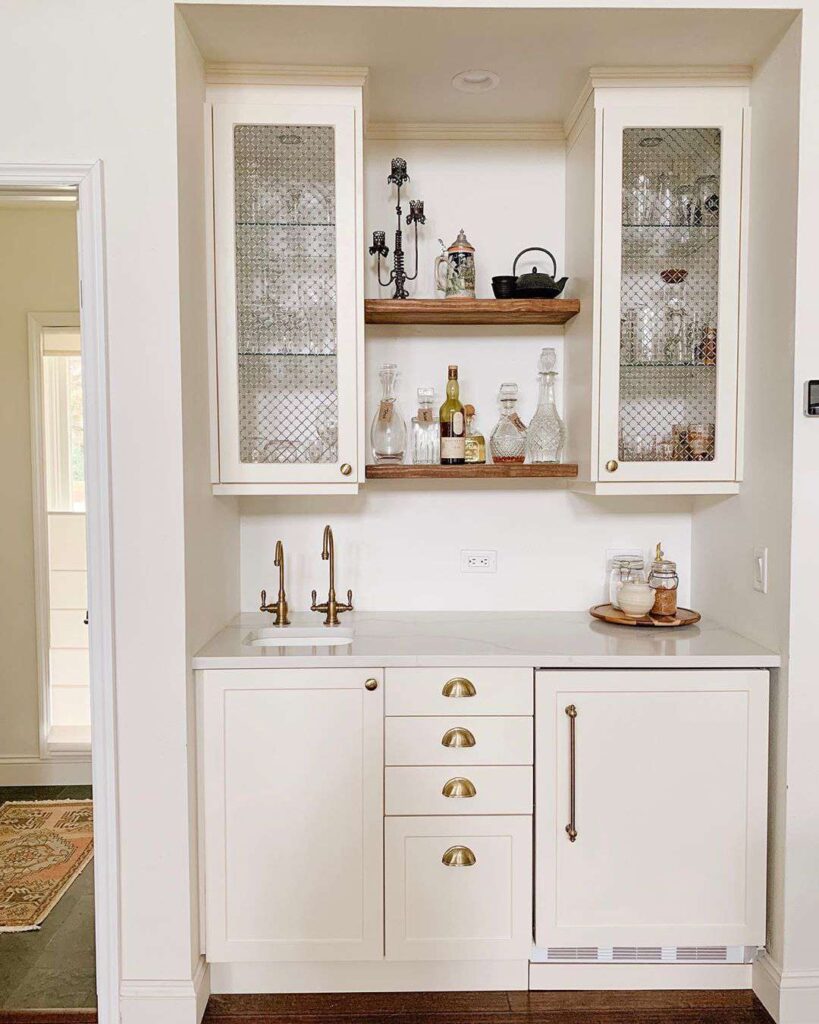 source: thespruce.com
If you want to save money, you can build your own wet bar. There are many different ways to do this. You can start by buying a countertop. Then, you can install it as a basement wet bar. Next, you can add shelves above the countertop. These shelves should hold bottles and cans of drinks and food. If you want to add more storage space, you can go with cabinets that should be able to fit two or three refrigerators.
Install Glasses Cabinet
A glasses cabinet is a great way to organize your glassware. If you don't have enough space for all of your glassware, then you can always go for a glasses cabinet. You can find glass cabinets in different sizes and styles and you can find them everywhere.
Experiment with Countertops
Countertops are a great way to finish off your wet bar. Granite is a popular choice because it's easy to clean and maintain. You can also opt for marble, quartz, or laminate. Laminate is a budget friendly option that comes in many different colors.
Employ Lighting Fixtures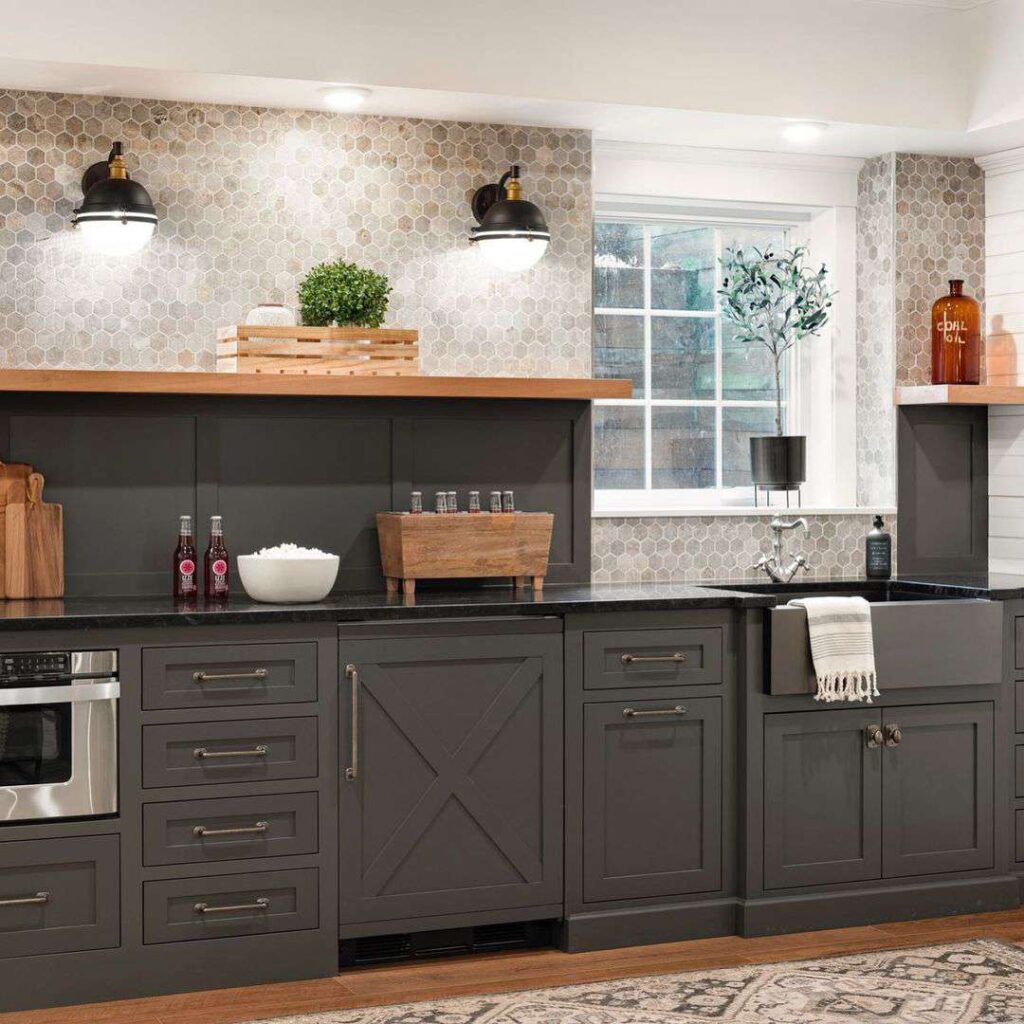 source: thespruce.com
Lighting is a huge factor in making a wet bar feel complete. You can install overhead lighting or pendant lights. Pendant lights are perfect for hanging above a wet bar. The lights provide ample illumination without taking up a lot of space. Overhead lighting is a great option for smaller spaces.
Add Appliances
You don't have to spend a fortune on a wet bar. There are plenty of affordable options. A simple fridge is a great start. You can find refrigerators under your budget. Moreover, you can add other appliances to complete your web bar design, such as a wine rack to hold bottles of wine and a retro wine cooler to serve chilled wine to your guests.
How To Install A Wet Bar At Home?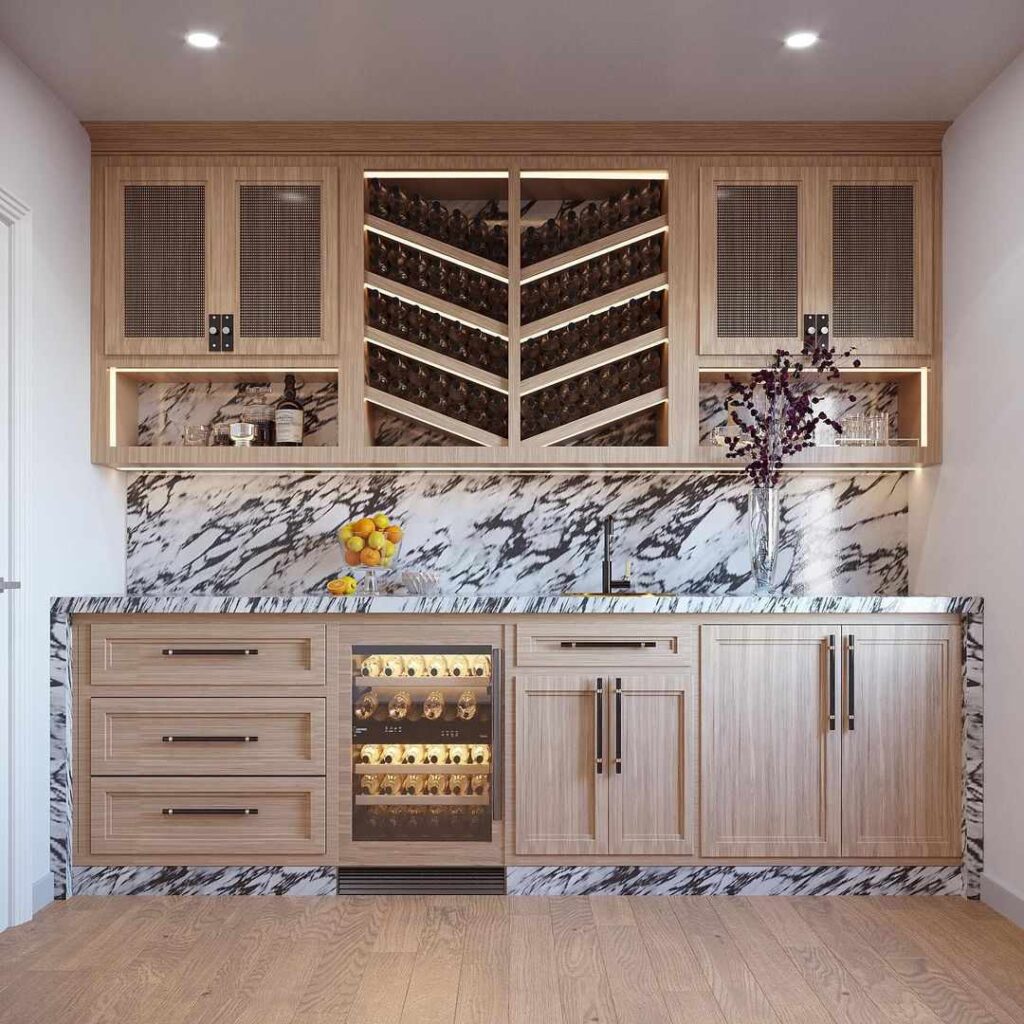 source: thespruce.com
Installing a wet bar is not difficult. First, you need to decide what type of material you want to use for your wet bar. Then, you will need to measure the space where you plan to install your wet bar. Next, you will need to cut the pieces of the material according to your measurements. Finally, you will need to assemble the pieces together.
Last Verdict
If you're someone who throws party very often, having wet bar at your basement or any corner of home will undoubtedly level-up your houseparty. So with our impressive wet bar ideas & designs now you know what step you've to take next to make your party-bash game strong. Hence without further ado update your monotonous wet bar in to spectacular wet bar with aforementioned best wet bar ideas.