A true urbanite usually finds solace in clean lines that keep things well put together, streamlined, and neat. Outlandish ornamentations like intricate columns, arches, and other decorations make them slightly uncomfortable. Earlier, all these features defined luxury and wealth. However, contemporary men and women see simple shapes and geometric patterns as more suitable for their refined taste. For them, straightforwardness is the authentic representation of their rich voice. More precisely, they perceive luxury differently, such as freedom of expression. If you belong to this tribe, you will relate to this. But what do you do when some bedroom furniture items catch your fancy, and you feel stuck between your modern lifestyle choices and an age-long design that intrigues everyone from kids to adults? Think of a canopy bed, for instance.
Most people assume medieval-era furniture like canopy beds only suits spacious rooms with traditional affluent designs. These specific bedroom furnishings have already shunned unnecessary parts of their past and adopted current shapes and forms to become relevant for modern homes. If you doubt it, check the range of best canopy beds for modern homes. Their features will leave you spellbound as you realize the endless décor possibilities with them. You can enjoy their charm along with your current interior design ideologies. Here are a few clues to make your decision easy.
Iron and brass metal canopy bed
source: pinterest.com
A room kissed with natural light, large windows, and a white background needs only little for a jazzed-up look that stands up for sophistication. In your main bedroom, you can achieve this with a floating bed design featuring generous use of powder-coated iron and intermittent plated brass additions. This canopy bed design offers a room an airy and light feeling, something that a modern décor welcomes wholeheartedly. You can elevate its aesthetics by choosing a white and fluffy duvet set. 
Crate & barrel canopy bed
Sometimes, too much simplicity makes your life dull. A little drama can offer the much-needed respite to keep things going. You can safely seek this by opting for a crate and barrel-style canopy bed. The sculptured frames and linen-like upholstery make it right up your street. It's also an effortless option to give your room an upscale twist. 
Solid oak canopy bed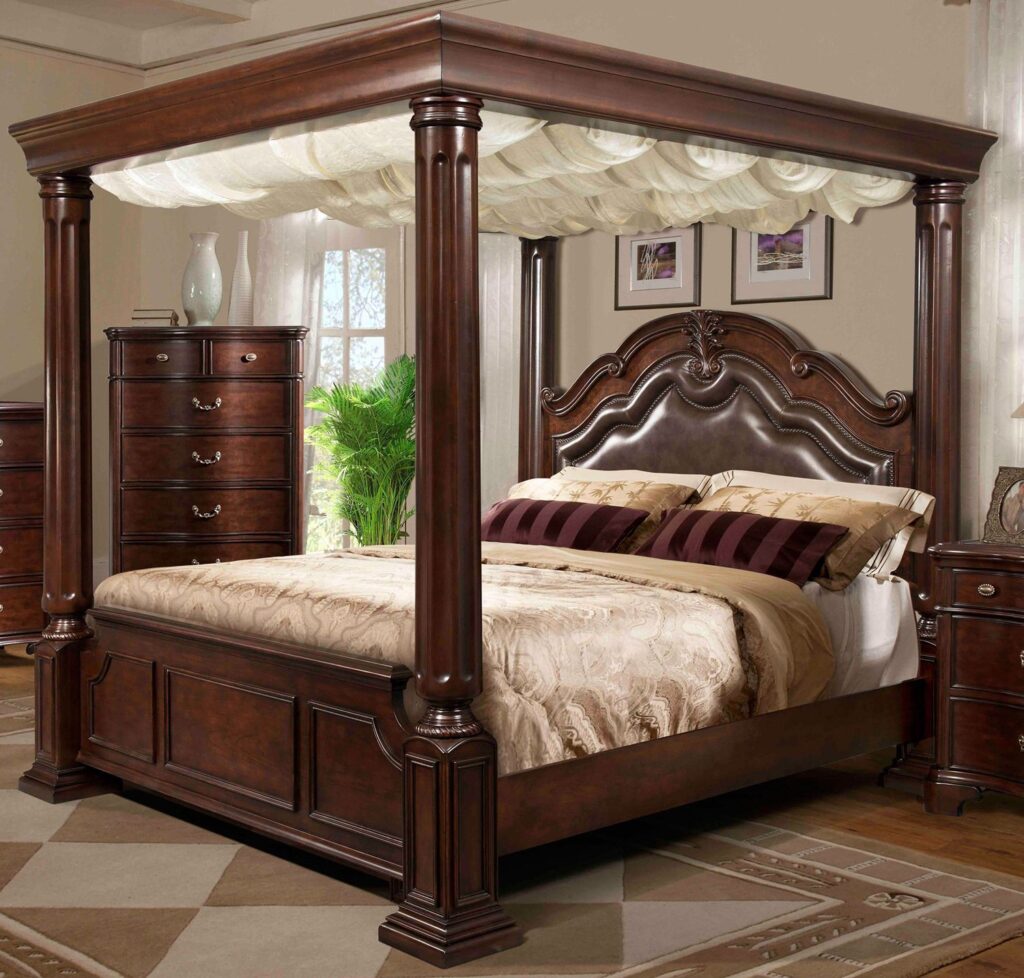 source: pinterest.com
A modern theme can make you conscious of your choice of a wooden canopy bed because of the hangover of its legacy. While that's understandable, you have nothing to worry about with the light, modern canopy bed designs. A solid oak bed with an asymmetric headboard design in its compact size can fit any smaller room perfectly. If your room has a mid-century or boho modern aura, this airy design can easily mingle with it.
Slim mid-century type canopy bed
You can play mid-century modern décor with a canopy bed with sharp edges and narrow lines. Its simplicity can complement your home's minimalist interiors seamlessly. If you support eco-friendliness, choose one built from responsibly sourced wood processed with non-toxic finishes. As for wood shades, pebble grey or acorn can match a vast palette range. 
Upholstered metal frame canopy bed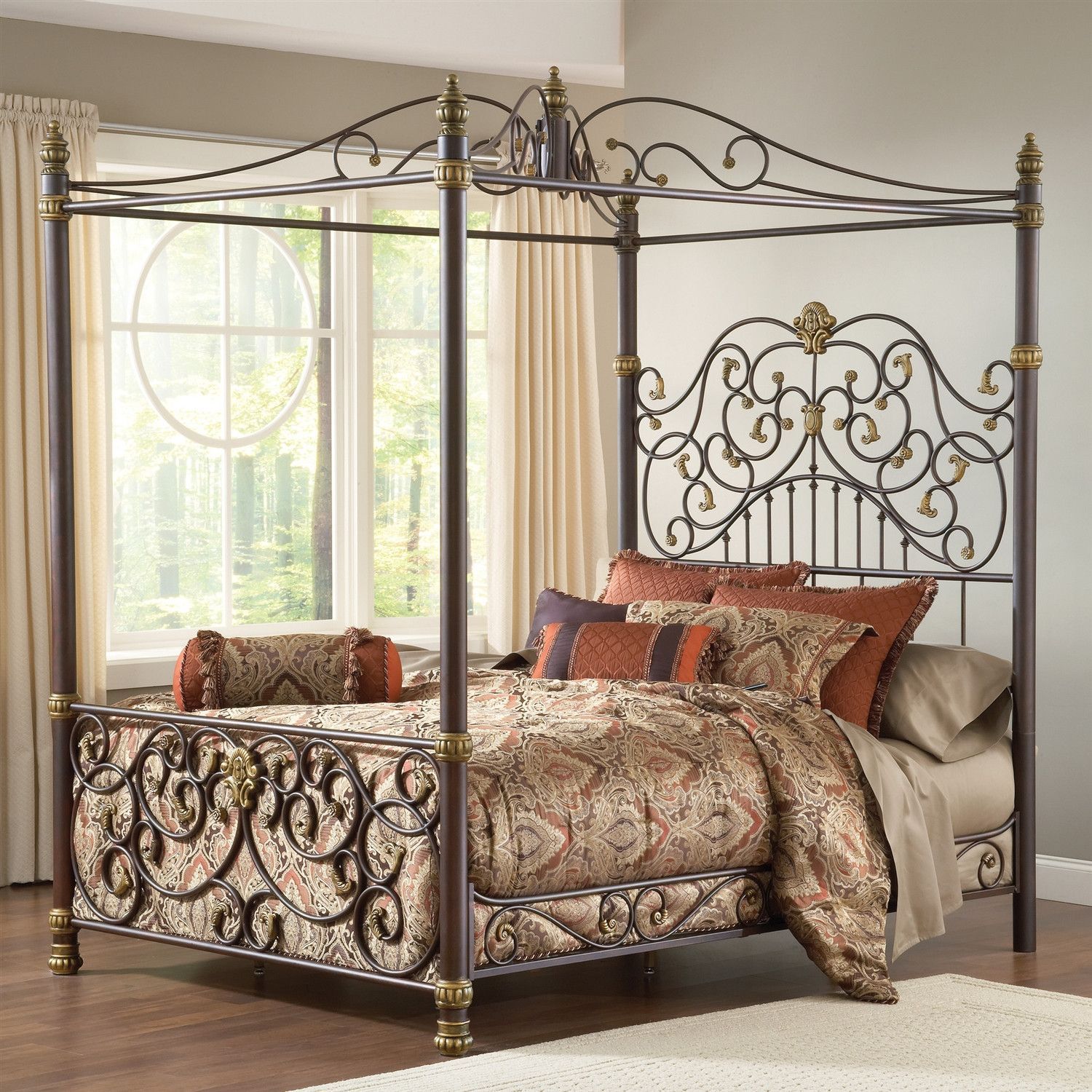 source: pinterest.com
You can increase the plush vibe of any bedroom with a canopy bed done up with stylish metal frames, upholstered headboard and footboard, and more. The thoughtful use of tufted design in the upholstery paired with a matte black steel finish looks no less than eclectic. Find something offering the richness of velvet fabric. The soft-touch will add to your comfortable sleep. You can complete this bedding look by adding velvet pillows and furry throw blankets in soft pink, grey, or classic cream hues. A bed prepared like this exudes only coziness and warmth.
Handcrafted wooden canopy bed with vertical slats
A classic canopy bed also transforms when envisioned with bold backdrops and designs. Find an option with cascading slats at the back in a dark chocolate-colored wooden bed with accentuated posts and a canopy. The floating platform can further add to its modern allure. Some brands use precious walnut wood in their products. If you wish to witness a marriage of contemporary look with architectural splendor, such slatted designs and aesthetic frames can offer this spectacle.
Modern, beachy style canopy bed
source: pinterest.com
If you want to create a cocoon of comfort that's secluded but beautiful, a platform bed with sleek and simple lines can be the most sought-after. Find a teak wood bed with natural oil polish to enjoy it as a visual treat. As you retire in your bed, its warmth, simplicity, and airy feel will caress your senses to help you slip into delightful slumber. But its strategic location in the primary bedroom earns it all the attention for its ability to make a statement. You can increase its boho-beach-like magnetic appeal by adding sheer white fabric. Surroundings can be more supportive when appointed with mixed textures, natural shapes, and neutral colors.
A few points to remember 
A close look at the canopy bed range discussed above reveals that it is either wooden, metal, or a combination of the two materials. One must consider their selection, whether it includes purely metal or wood base. Both are great pieces. But wooden beds can be slightly on the heavier side and need maintenance. Conversely, metal beds are easy to move and handle. Wood beds offer longevity, which offsets their expensive price tag eventually. Metal beds are a good investment if you need something pocket-friendly yet trustworthy. 
Metal canopy beds usually lean more on the modern side, while some wooden canopy beds can be more transitional in design. Nevertheless, these beds are designed to meet current comfort, taste, and lifestyle expectations. Hence, you will only have good experiences to share about them. Ensure that you pick your bed from a reliable site. A platform that lists various brands and their unique designs in one place with proper descriptions can help you choose better. You may quickly find something suitable for your taste and budget without spending too much time. So, dig into sites focused on indoor and outdoor living décor ideas and enjoy shopping.