Your bedroom is one of the most private spaces in your house. It's where you go to relax, unwind, and get ready for the day. Some individuals use their bedroom as an office. It's the place where they catch up on work, answer emails, and take care of business. However, some of the think offices are an office-how anyone can work from a home office? Don't you feel laziness!
So, when you think of an office, you probably think of a traditional space with a desk, a chair, and maybe a filing cabinet. But an office doesn't have to be confined to the walls of a desk. A workspace can be customized as you want it to be. If you want to take your workspace to the next level, try out some of these trending 2022 bedroom home office ideas which are comfy+elegant & this will promote more productivity.
Master/Small Bedroom Office Ideas: Read Out To Explore
Add Peninsula Desk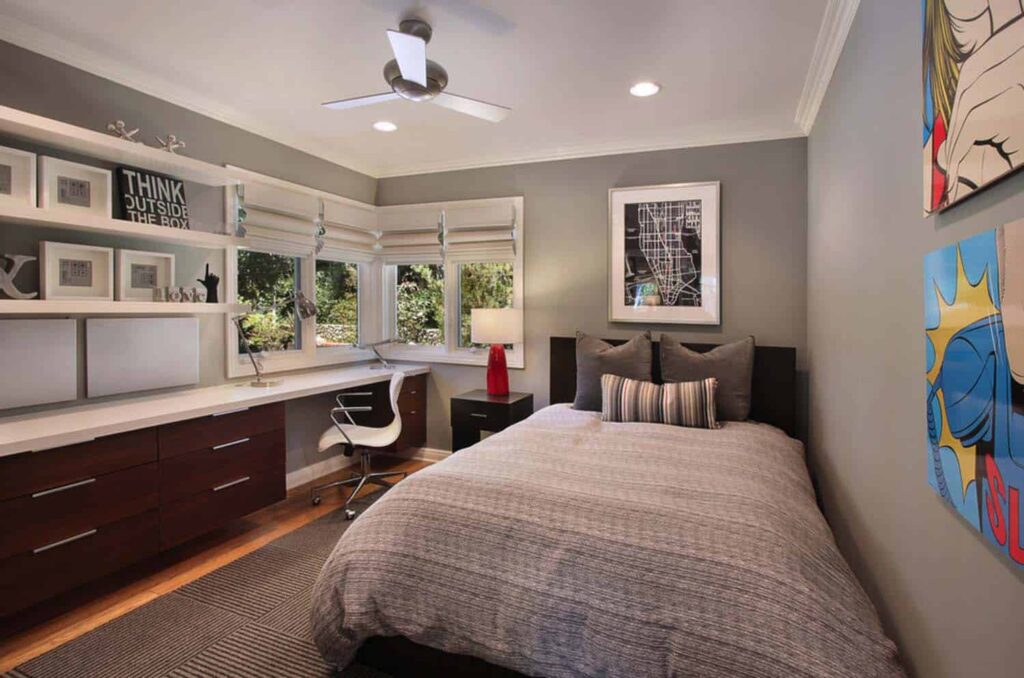 source: onekindesign.com
Some people prefer to work in groups and do not want to cram their home office into a corner. A peninsula desk is an excellent option. It is flush against the wall, making it less conspicuous than a standalone desk. This master bedroom office design idea defines your area without making you feel claustrophobic or squeezed into a corner. A peninsula desk with a built-in bookshelf gives additional storage and aesthetics.
Employ Adequate Lighting
Nothing is more discouraging than attempting to work in a dark or fluorescent-lit environment. Proper illumination is essential for your eyes, productivity, and morale. If your bedroom has a window, set your small bedroom workstation near and make the most of the natural light by leaving the curtains entirely open.
If there isn't a window, choose bright yet warm overhead lighting, desk lamps, or both. You should avoid using lighting that casts a brightness on your monitor screen.
Bring Murphy Bed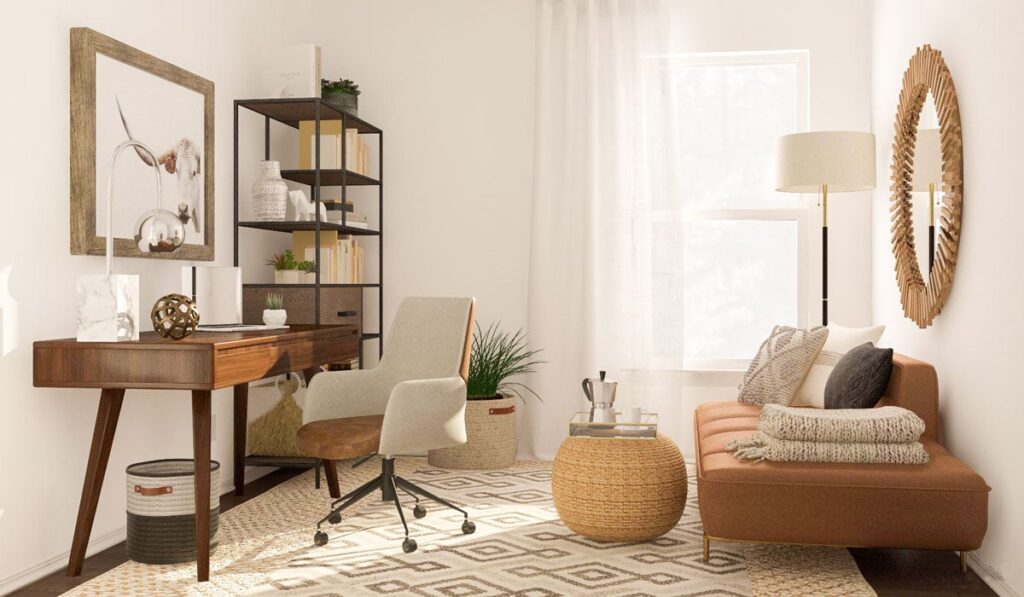 source: modsy.com
Make use of a Murphy bed. Murphy beds are ideal for a variety of compact places with varying roles, but mainly for small bedroom office design ideas. By putting the bed up against the wall, the area feels more like a devoted workplace than a shared one. Putting your bed apart will also prevent you from getting using your MacBook at bedtime.
Simple White Desk
This bedroom office combo idea has a lot of natural light. A low desk enables the light to enter without being obstructed. The white desk and filing cabinet complement the existing furnishings. The desk and cabinet are situated in such a way that they create a spatial separation. However, the regular use of color ensures that the room remains cohesive.
Split The Areas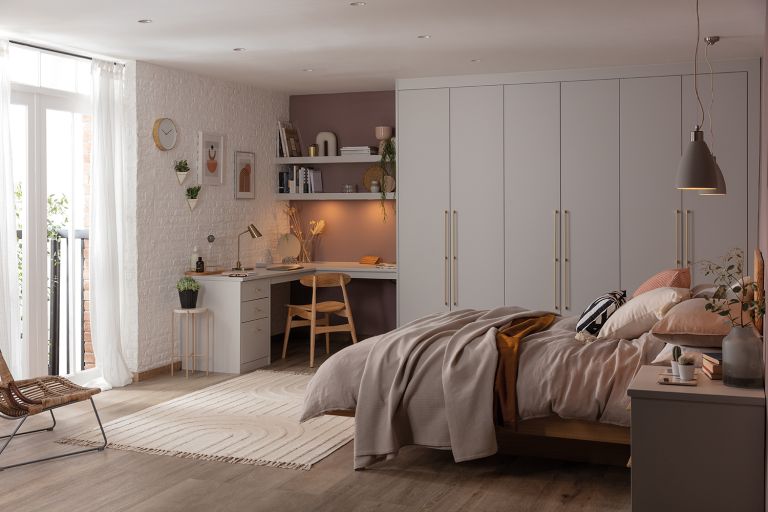 source: pinterest.com
It is vital to differentiate between professional and play zones. If you have the distance, keeping physical separation between your bed and workstation is a simple choice. You can also use methods to establish a line across work and leisure. This is up to you, but having a constant start and finish time, as well as avoiding checking emails after hours, might be beneficial.
Bedroom Office With Views
This room features gorgeous floor-to-ceiling windows, making it an ideal bedroom office space for your workday. The low built-in desk does nothing to take attention away from the view. If you have a room with a pleasant view, you'd want to be in there as much as possible. bringing a desk in the bedroom encourages you to work and boost productivity without feeling depressed.
Corkboard Wall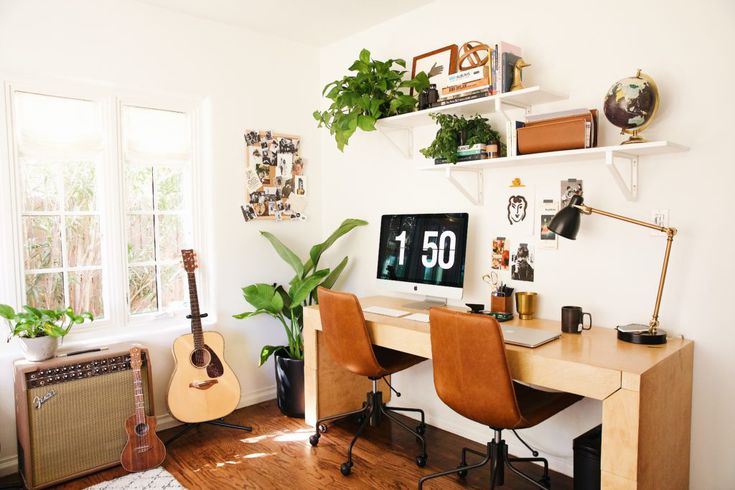 source: thespruce.com
We already know that positioning a desk in a corner helps to divide an office from a bedroom. This area has a whole wall constructed of corkboard. This helps you to keep work documents and ideas accessible without the need for a huge desk or table; The better option for small bedroom office ideas.
Rustic Bedroom Office For Men
A showcase wall in a bedroom always catches the attention, and placing your home office against such an existing accent wall is a terrific way to define the space. This contemporary men's bedroom with a huge window view and a classic bedroom desk idea is ideal for men who live in major urban areas.
Childish From Heart Bedroom Office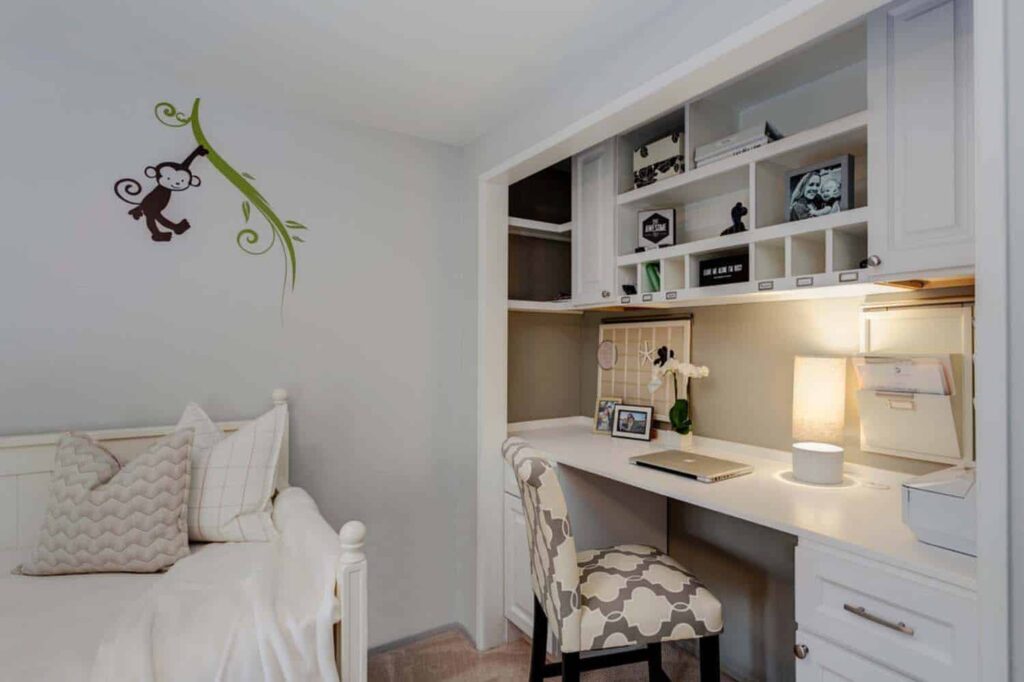 source: onekindesign.com
It doesn't seem to be monotonous just because you have a  bedroom office. The fanciful decorations are highlighted by the distinctive design and open shelves in such an example. The concrete-textured table and rugged furniture pieces add to the overall aesthetic. Such details may make your master/small bedroom office feel more unique and interesting.
Easy & Quick Bedroom Office Set-up
If you're initiating from scratch when it comes to designing a home office, furniture is a wonderful choice to start. A simple option is a fully-featured workstation with integrated shelves and a printer rack. It can be installed against a bedroom wall to create its own self-contained space. Combine it with a chair that has a low profile.