Since the kitchen is pretty much guaranteed to be the most utilized area in your home, you want it to be a place where you love spending time. Aside from functional equipment, a kitchen design that you'll appreciate for years to come is vital. So, whether you're remodeling or just seeking ideas, we gathered some modern kitchen interior design concepts to help you maximize your own, along with the finest lessons to learn from them. From countryside easygoing to modern sleek and absolutely everything else; got all the kitchen renovation ideas you'll ever need.
Bring Gold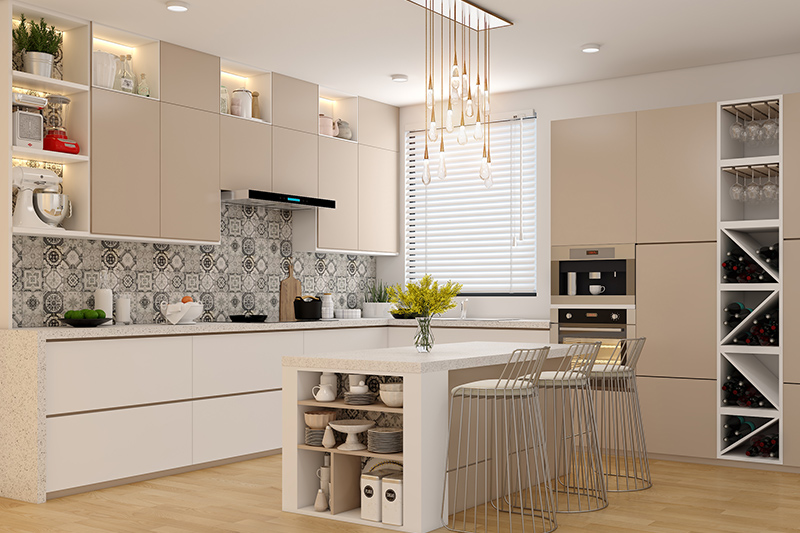 source: designcafe.com
We're all about coordinating hardware across different elements in a space, but this modern kitchen interior design wins the gold medal (really) with this stunning kitchen. Not only did the designer use the same gloss for the plumbing, cabinet knobs, and chair legs, but they also added golden accents to each cabinet door. This kitchen is the elegant design of our dreams, with basic white textures and a marble backsplash.
Have Fun With Patterns
Who says a contemporary kitchen can't have maximalist elements? This kitchen interior design demonstrates how the two may be used to provide a stunning effect. A neutral-colored chevron backsplash matches a classic woven rug, and the rest of the space is wonderfully prim-and-proper with modern cabinet hardware.
Make It Personalize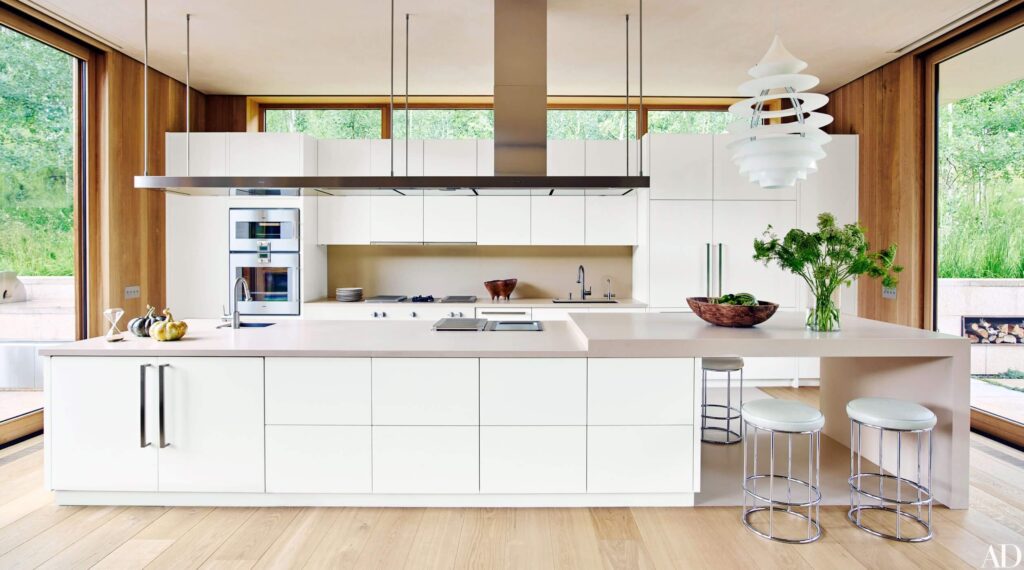 source: architecturaldigest.com
Chalkboard paint can be used to add a personal touch to a monotone kitchen. The interior of this kitchen is as clean and plain as it gets, but the addition of handwritten words and doodles gives it a charm that no paint color can match. Give everyone in your family a space to be creative, and think of all the recipe notes you might scribble on a wall like this.
Update Kitchen Backsplash
This kitchen interior design idea is full of character. Modern cupboards and appliances are offset by a stunningly unusual backsplash featuring flower designs and matching hardware. We can't get enough of this fun-yet-modern design.
Mismatch With Modern & Traditional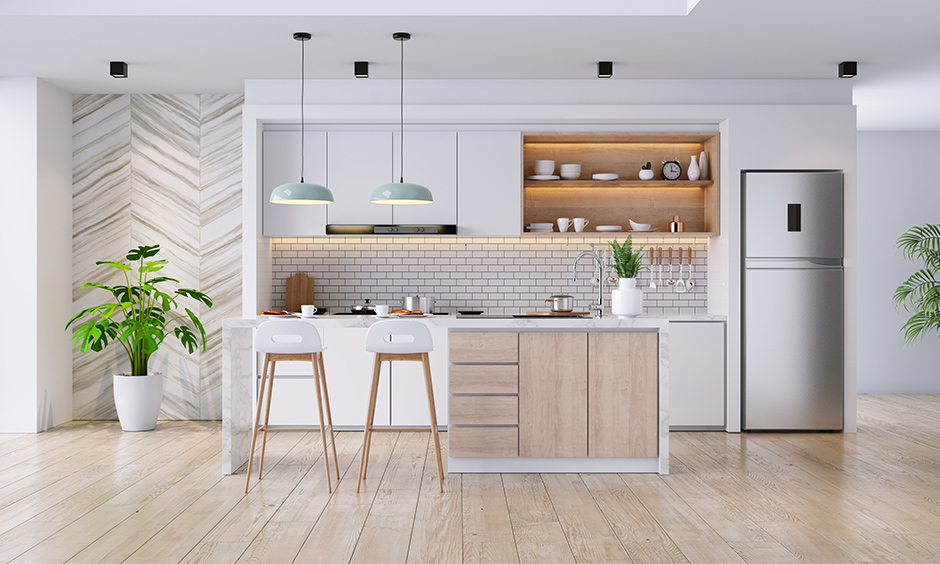 source: foyr.com
If you want the traditional twist but don't want to alter your conventional furnishings, this small kitchen interior idea is a good place to start. The tile flooring's neutral tones merge with the bright wallpaper and furniture textures, while minor touches of blue occur in various places of the space. A white island with modern-retro seats and waterfall countertops provides a contemporary touch to the space. Which is accented by wood tones underlying.
Pop-Up With One Hue
You already know the rule: whiter=brighter. Keep it all white, then add bursts of color with tableware, vases, and flowers. The bursts of bold in the kitchen will things up just enough, and we also adore thofe reuse of soup cans for an economical pop art decor option.
Warm-Up Vibe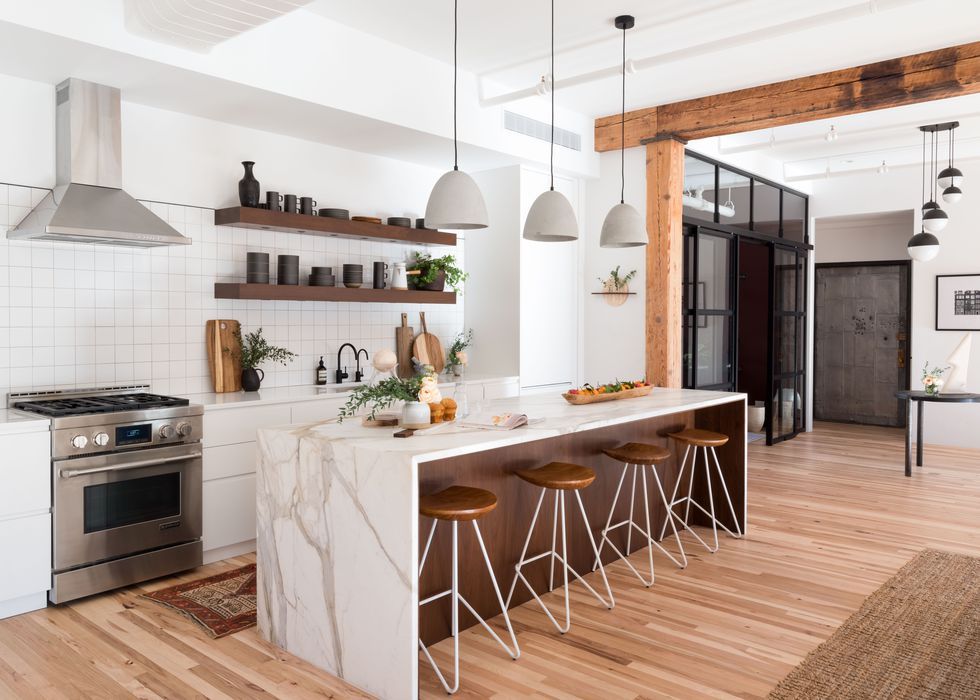 source: hearstapps.com
Do you want a rustic atmosphere but keep returning to modern design? Incorporate rustic wooden tones to get the best of both worlds like Interiors did in this area. The marbled backsplash and countertops bring the area together, and the mix of diverse textures adds visual interest while retaining a fresh, clean vibe.
Floating Shelves 
If you have a small kitchen, floating shelves can help you make the most out of the space you have by providing extra storage between cabinets. Floating shelves are not suitable for larger goods, but they are an excellent choice for lighter artwork, trinkets, or photo frames.
Get Inspired From Scandinavian Style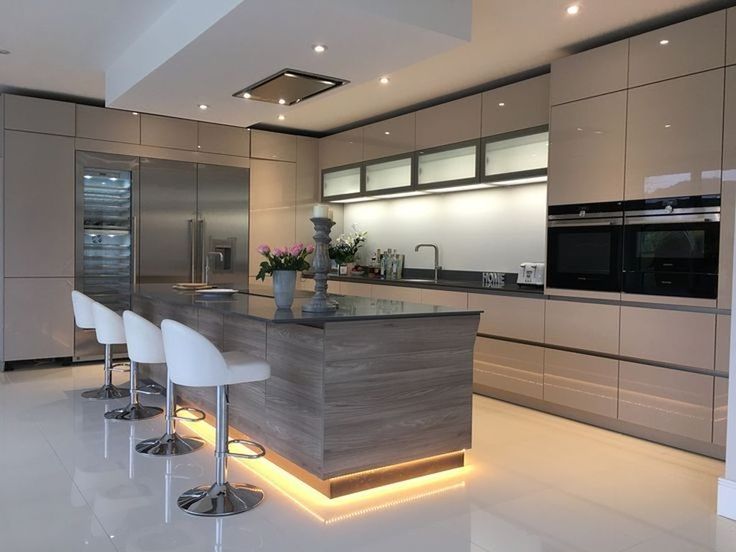 source: pinimg.com
Scandinavian design is primarily on neutral tones and simple furnishings. This kitchen interior design nailed the vibe with white walls and real wood accents in this kitchen. The dining table shines out from the hardwood flooring and barstools by combining wood grain textures while preserving the overall color scheme. Initiate with white walls and natural floors to obtain the Scandinavian contemporary design in your kitchen, then select one or two neutral accent colors and confine vibrant colors to your ambiance. 
Include Geometric Ideas
Including geometric pattern accents in your kitchen is one method to convey a modern vibe. These might include modern illuminated by a pair of cut-out glass cabinetry panes. Accent items and furniture with rough, inorganic lines might be used to draw attention to these geometric patterns.
Add Kitchen-Friendly Plants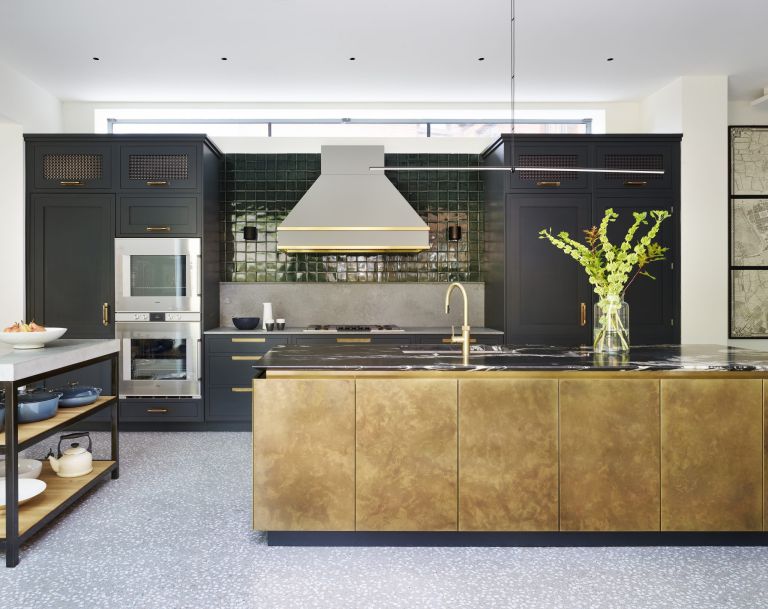 source: pinterest.com
Houseplants couldn't be more trendy right now. We're not upset about it. Because they are not only a terrific, low-cost way to spice up any kitchen, but they can also be quite handy in the kitchen. The appropriate plant may help filter your air, boost morale and productivity, and even provide first aid.
Ivory White & Metallic Accents
All-white kitchens are quite prevalent. Since they highlight how clean the room is! Stainless steel is the fixture material most commonly employ to match all-white designs. Copper fixtures are an unusual option, and duplicating the material around the space in metallic wreaths and a copper sugar bowl helps to keep the theme balanced.
Showcase The Beams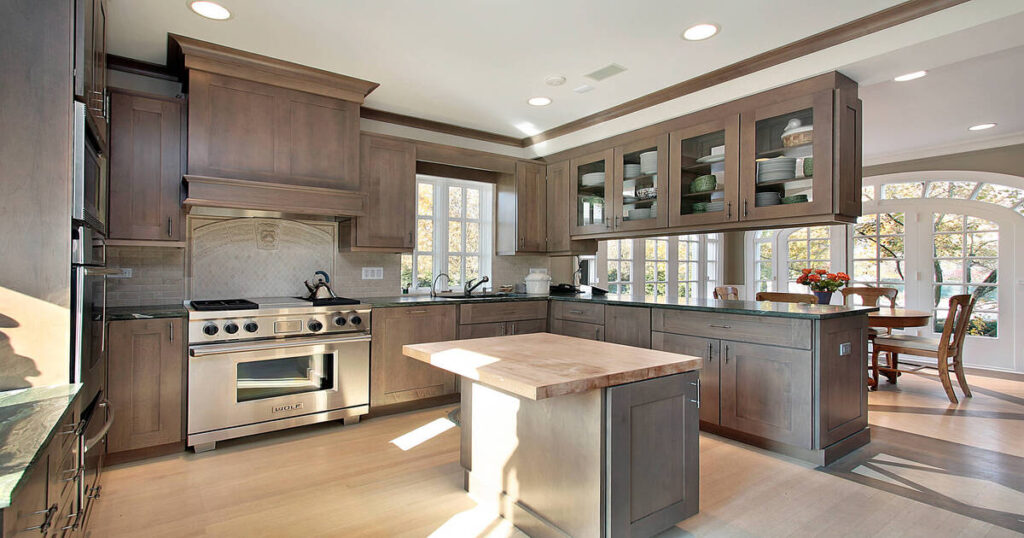 source: squareyards.com
If you want to give your kitchen a country feel, consider teaming uncovered wooden beams in the ceiling with copper cookware. The addition of wooden accent items such as the bar seats and cutting board softens the magnificent marble worktops.
Employ Bold Lines 
The use of lines to lead the eye across a room is a basic designer strategy. But it's particularly noticeable in this space. Rather than the huge beams used in farmhouse designs, this modern kitchen interior design makes use of tiny wood slats that run the length of the ceiling and along the wall. A one-of-a-kind chandelier, matched to the color of the wood, acts as a spotlight between the dining room and the kitchen.
Let It Be Natural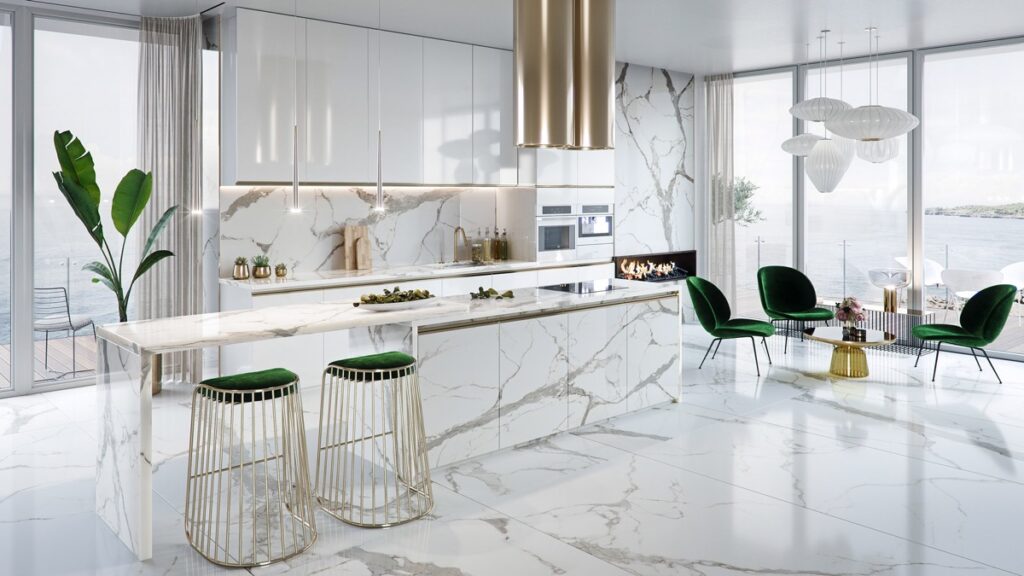 source: home-designing.com
The kitchen island is completely natural, in contrast to the rest of the area, which is contemporary and sleek. The kitchen interior design stone appears to have been extracted from the soil, yet it has been polished. The counters' neutral tones complement the warm wood shelves and gold hardware, while white walls balance the airy aesthetic.
Construct Serving Window
A serving window not only makes areas feel more open and airy. It also makes life simpler, even better. They generally connect the kitchens to a patio or deck space and encourage indoor/outdoor life. Hence making them particularly popular if you live in a warm and enjoy hosting outdoor terrace dinners.