Luxurious Vanity Decor is a dream of many people. Especially girls like to have a very classy dress-up area. In particular, Bathroom Vanity Decoration includes a sink, a countertop, and a mirror. Modern-day bathroom vanities have more features in them. For example lights, architectural styling details, and built-up shelves.
The bathroom is the place where you spend your time pampering yourself. It should be calm as well as refreshing. The looks and feel of the bathroom vanity area give you rejuvenating vibes. This is the reason why some homeowners spend lots of money not only on the exterior part of the home decor but also on the internal part, like the bathroom vanity with sink.
Let's discuss some of the modern bathroom vanity ideas that will make you decide to upgrade your bathroom decor. These styles will give you enough inspiration to live up bathroom space to its full potential. It ranges from traditional vintage looks to modern-day decorative pieces full of vibrant vibes.
1. Small Bathroom Vanity Design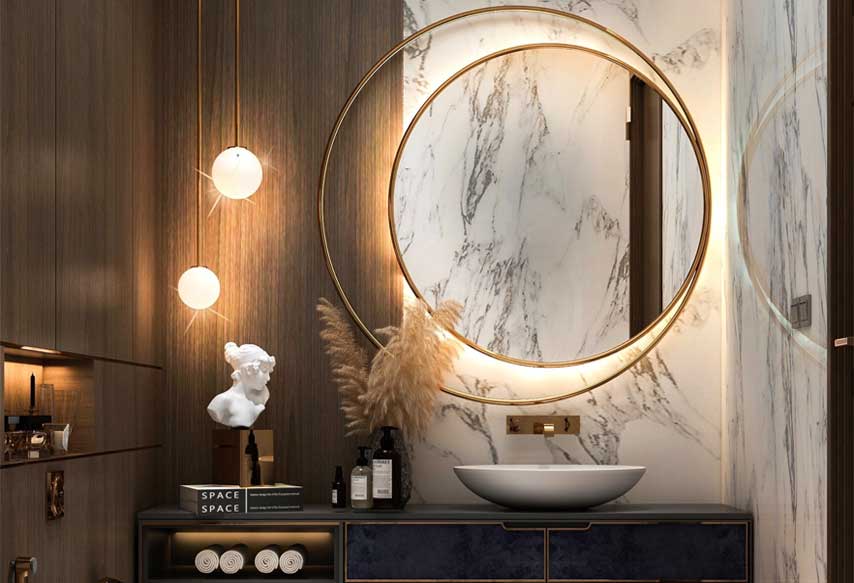 source: regalokitchens.com
You can opt for a mid-sized wall-mounted sink in the center. Beneath the sink, you can place a closed or covered cabinet for storage. A wall-mounted faucet is best suited for a narrow area. Keep the towel hooks on the wall. Another good idea is to go for a small pedestal sink and have a minimalist mirror on the wall. Cabinets can be designed in small vanity that store most of the items in your grooming kit and well the toiletries. 
2. Mirrored Style Vanity
The texture of glass will give you glossy vibes. A statement mirror in the vanity with a white-colored cabinet is the perfect example of this style. It will the illusion of a larger place. You can also opt for the mirrored doors for the cabinet. Glass partition in the shower area also act as a mirror. Most of the time Glass and mirrors are used in this style of vanity.
3. Use of Stone as the Statement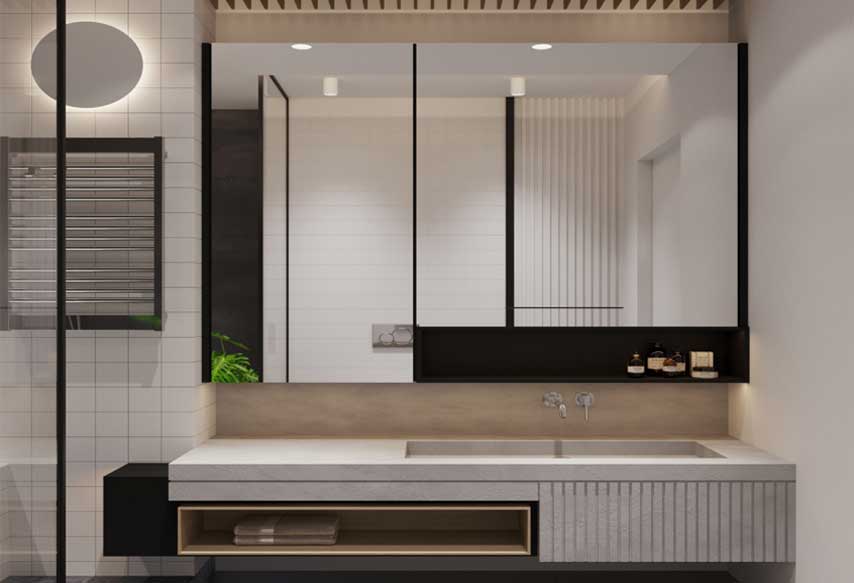 source: regalokitchens.com
Stones that you pick for your bathroom always show your style statement. They have varieties of colors and types. Marble is sturdy and can withstand daily wear and tear. Soapstone can retain heat. Your dressing or vanity area has some hair heating tools so soapstone can withstand it. Travertine stone has an excellent quality in that it is scratch-resistant and moisture resistant. Stones are the center part of your vanity decor.
4. Brass-Themed Vanity
Choose one material or texture and plan other things accordingly, this is the idea of this style. Brass is the metal that we choose as the center of the theme. Faucets, mirror edges, exposed pipes under the sink, and the scones are selected from brass material. Other things run with it cohesively.
5. Customized Vanity or Theme-Based Vanity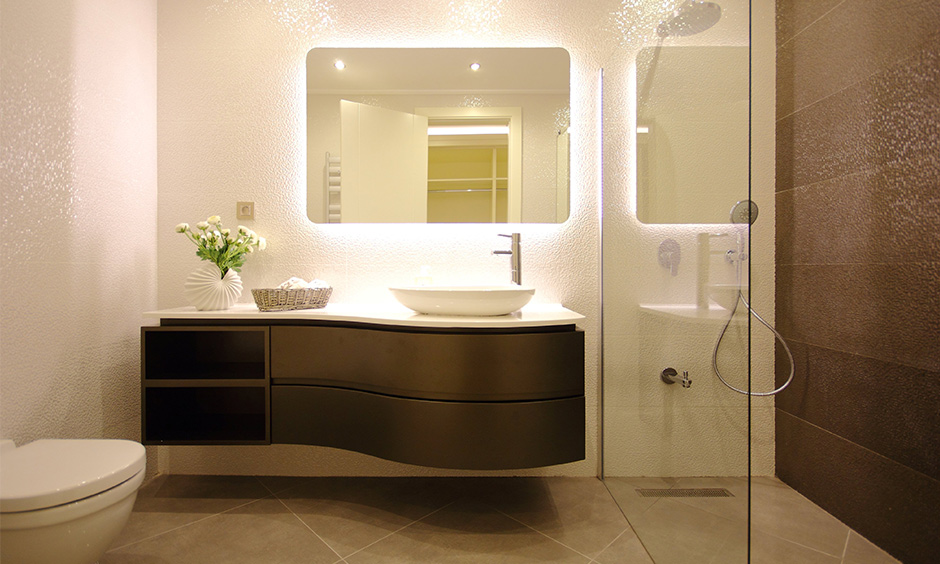 source: designcafe.com
Beach vibes theme, vintage theme, animals theme for kids, etc are the types on which you can upgrade your bathroom vanity style.Sea world theme has lobster print wallpaper, rope embellished mirrors and a beautiful fish shape stool in it. It can give an instant vibe of a sea-shore.In this way, we can imagine any theme and customize the detailing of every aspect of the bathroom vanity decor.
6. Blend Traditional With Modern Styles Vanity
There is a style that has a blend of both feelings – vintage as well as modern. In this style, some aspects are untouched by new fashion like the drop-in sink and porcelain tiles. They are original and traditional. So what is new in this style? Lightings and flooring can be modernized here. We can opt for chevron floors and modern pendant lights.
7. Floating Vanity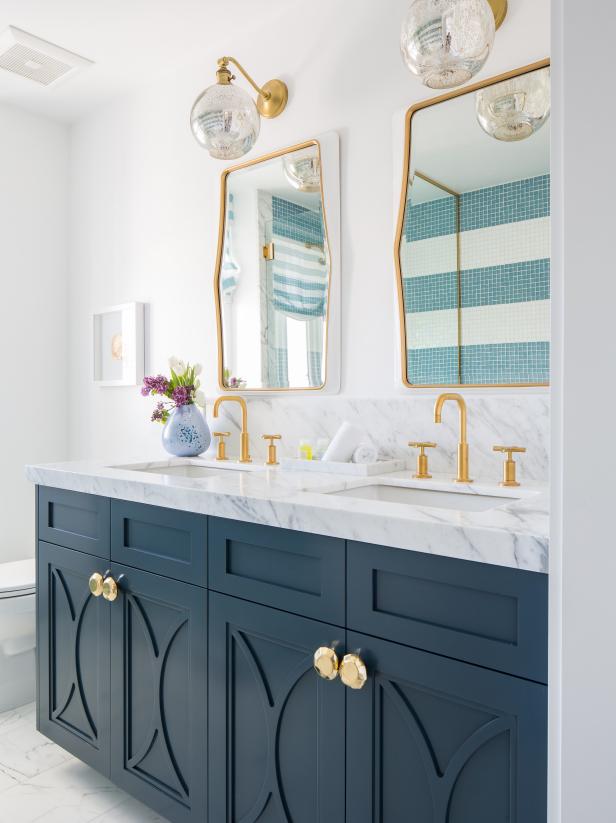 source: hgtv.com
This bathroom vanity style favors a minimalistic approach. Best for the functionality and gives a chic look. For wall design, you can choose wallpaper or have shiplap wall panels. Lamps should have vintage vibes and the mirror reflects minimalism. A stone basin is a must and floating shelves are the main theme of this vanity style. The floor of the bathroom appears airy and bright.No need to display bulky cabinets that go down on the floor. 
8. Double Sink Vanity
You may have a question that why we should opt for double vanity when the purpose can be fulfilled with just one? First of all, Double Sink Vanity provides space for two individuals to get ready simultaneously. More convenience and flexibility are there. Secondly, you can put a lot of stuff in the vanity. Grooming kits, bottles, dispensers,s, etc. It is recommended for a master bedroom or a room with a large space.
9 .Monochromatic style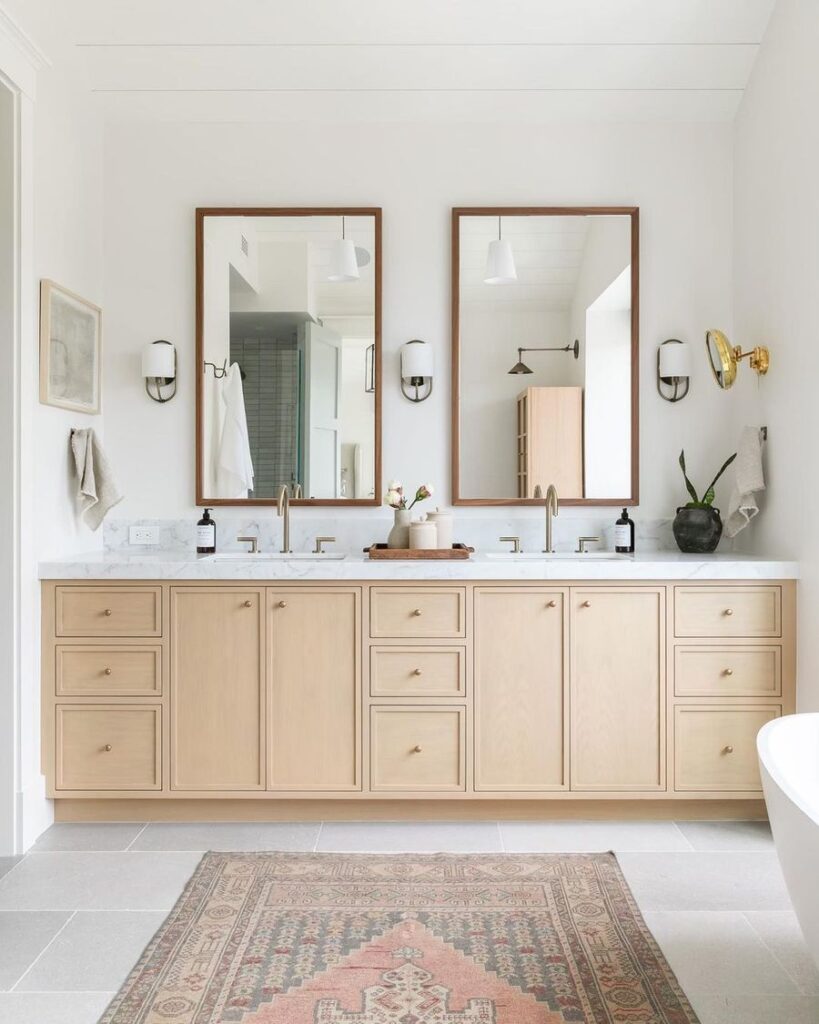 source: curatedinterior.com
Using one color in your interior decoration can make a huge impact. Use the same material or color if your bathroom is small to give it a monochromatic scheme. For instance, If you pick white marble stone as a countertop, then you have to choose other things which match to its white color background. Lightings, flooring, and other accessories can be matched with a single color/monochrome look.
10 . Modern Bohemian Style 
You will fall in love with bold colors, playful patterns, and textures in this bohemian bathroom design. Tribal theme wallpapers, rich colored rugs, and with matching floor tiles are the essence of this theme. Stone-based sink and rustic style cabinets with tribal and bohemian rugs with tribal embroidery are the combinations to make it a clear picture of a bohemian style. You can add some modern accessories to this bathroom like candles and plants.
Conclusion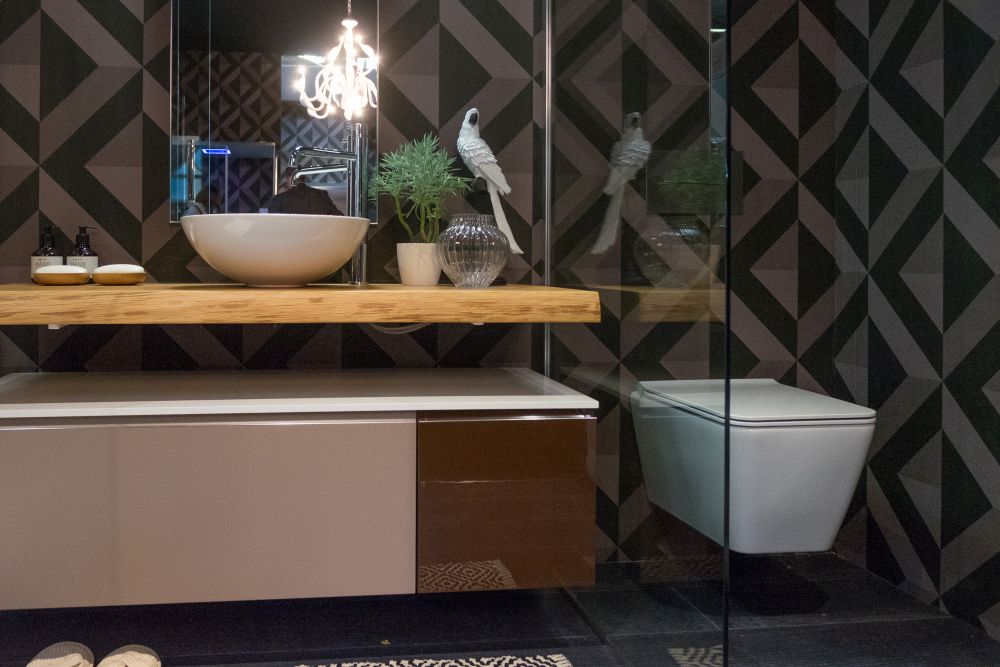 source: homedit.com
You do not need to have a  large space to create the bathroom vanity of your dreams. Just have to think outside the box by using materials of your vanity. You can take the help of DIYs for decor items. Try to keep the countertop clean. The only sink can be in the center of the countertop and the mirror should be the style statement on the walls.
Contemporary faucet designs should have a modern touch. Bathroom sink Cabinets must-have utility and sturdiness. Flooring can be upgraded according to the sink and cabinets. Keep your spirit refreshing whenever you visit the loo and upgrade with new vanity styles.