Many building owners seeking ways of cutting roofing expenses usually consider installing an EPDM roof. EPDM roofs are one of the cheapest roofing materials available on the market and are also popular; if your house was constructed recently, you may have already installed it.
Opting to install an EPDM roof saves a significant amount of money upfront; however, you will be compelled to make a few trade-offs if you choose this roof. It is important that you know what to expect with EPDM roofing before you select the ideal roofing material for your building.
The Definition Of EPDM Roofing
source: pinterest.com
Ethylene propylene diene terpolymer (EPDM) roofing, also called rubber roofing, is a common roofing solution for many building owners and construction companies, mainly because it is affordable and simple to install and maintain.
EPDM is mostly made from recycled tires that are mixed with slate and sawdust in certain amounts to make the material stronger and last longer.
During installation, the contractor may only need to spread out sections of the roofing material to fit the size of the building roof and apply adhesives, weights, and fasteners to hold it in place. These qualities make EPDM roofing quite affordable for many building owners. Ordinarily, it is likely to cost you between $4 and $8 per square foot to install this type of roof.
In addition, EPDM roofs are durable; they can endure for up to 50 years when exposed to optimal conditions. However, you will have to carry out regular repair work to ensure the roofing material remains in working condition.
Maintenance of an EPDM roof involves ensuring all the seams are sealed and cracks are fixed as quickly as possible. However, since EPDM roofing is made of rubber, which is resistant to UV rays, it rarely develops cracks and if there are issues you can easily get it repaired with cold deck flat roofs repair service.
Usually, EPDM roofs are black; however, you can apply white acrylic paint to cover the roofing material, which keeps it cool and preserves its durability. You can easily use tape, liquid membrane, or patches to address minor repair issues; however, it is best to replace the whole roof if you are dealing with substantial repair needs.
EPDM roofs are safe because they are extremely fire-resistant. In this way, in the event of a fire, your family, employees, or property will be safe. EPDM roofs usually come with warranties for up to 30 years, provided you take necessary precautions and only undertake the required work to avoid voiding the warranty.
Many people are usually surprised at how lightweight rubber roofs are compared to most roofing materials. Rubber roofs also come in different styles, such as shingles, for building owners who wish to adopt a traditional theme for their building. EPDM roofs can be used for a wide range of roof styles, which is especially helpful for buildings with roofs that have unusual shapes.
Alternatives To EPDM Roofs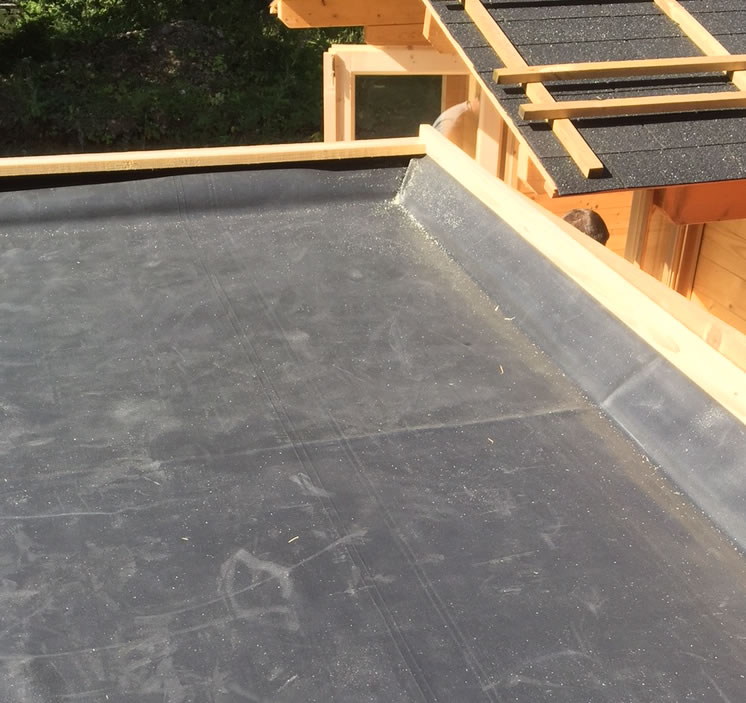 source: pinterest.com
EPDM roofs may be quite common, but there are other options if you want to install a flat roof, or if you already have one. Instead of EPDM roofs, you may consider installing other roofing materials that are more suitable for what you want. However, it is always helpful to understand the benefits and drawbacks of each roofing option before proceeding.
Other Single-Ply Roofs
If you are looking for a roofing option that can effectively reflect heat, consider installing Polyvinyl chloride (PVC) roofs. This type of roof can also be installed on restaurant buildings since you can easily clean chemicals and animal fats from the PVC roofing material.
Thermoplastic polyolefin (TPO)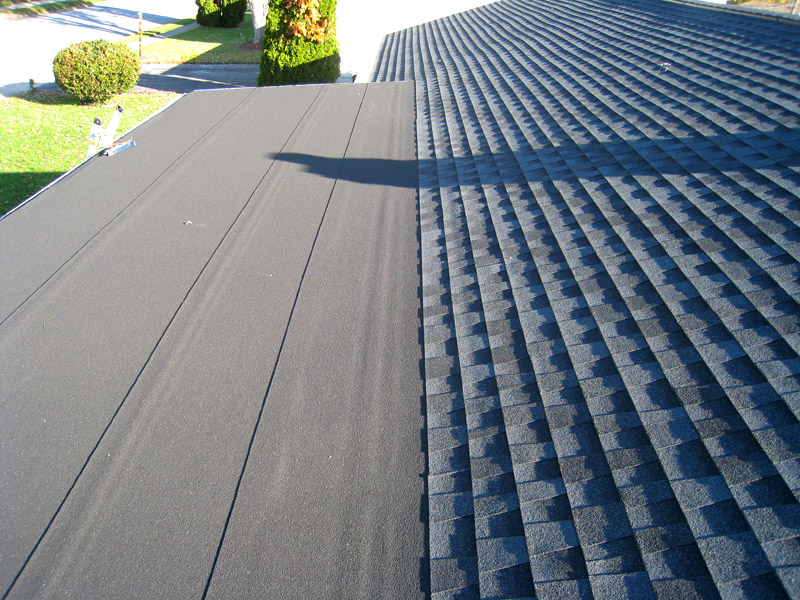 source: pinterest.com
Thermoplastic polyolefin roofing material is also quite common. It is light and does a good job of reflecting heat.Nonetheless, when compared to EPDM roof coating, this roofing material is easily damaged.
Asphalt
Asphalt is an affordable and long-lasting roofing material. It is also simple to install and maintain. It can be made to fit any rooftop vents or special features in your building. On the downside, asphalt is bulky and absorbs heat, which may make the building unbearably hot during certain times of the year. Eventually, the asphalt begins to dry and crack, causing leakage near the vents; you will need to maintain the roof regularly.
Metal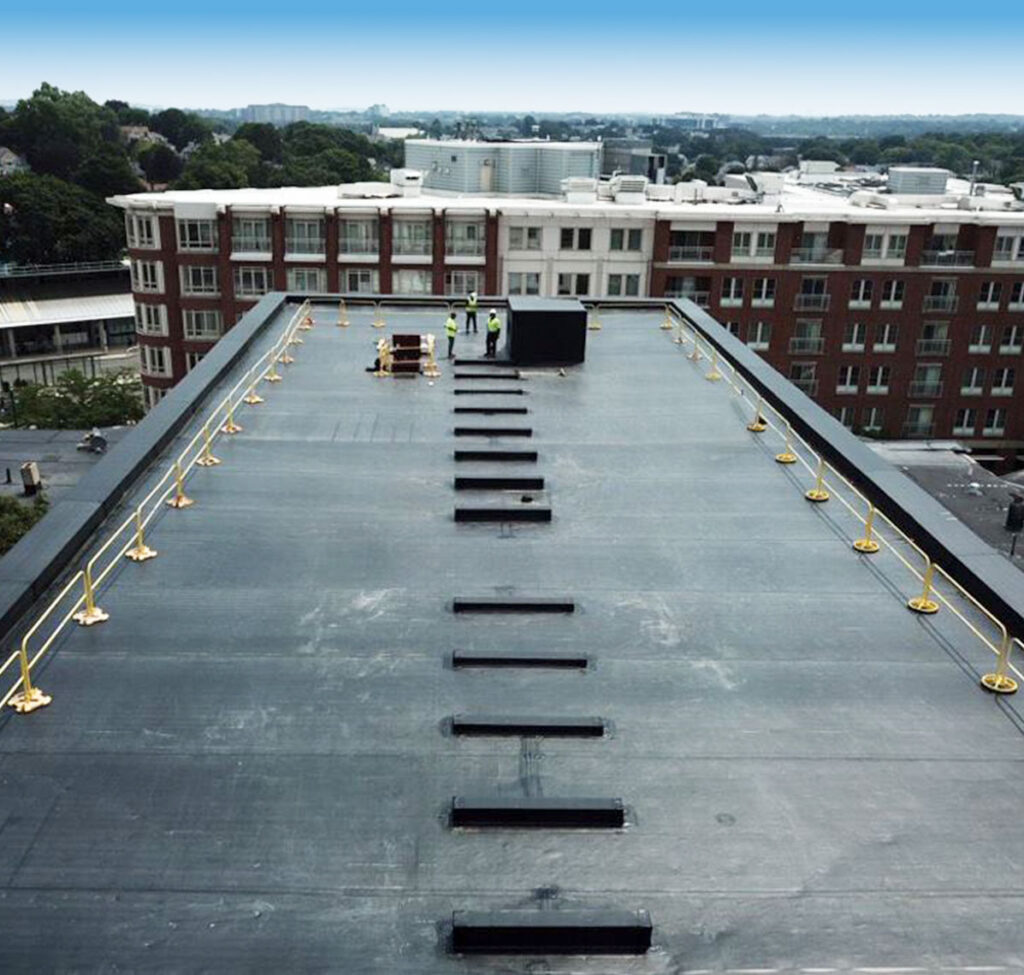 source: pinterest.com
Metal roofs are produced in different styles and may be suitable for your business, which can improve the aesthetic value of your property. Metal roofs need minimal repair and are great for shielding the building from heat; they are effective at reflecting heat. Nonetheless, metal roofs are usually expensive to buy and install, making them unsuitable for your business premises.
Steep Slope
Steep slope roofs are ideal when you do not require a flat roof for your building. Steep slope roofs are such as shingles made from tile, clay, slate, concrete, and wood. Steep-slope roofs may be more costly to install and maintain compared to EPDM roofs. However, steep-slope roofs are attractive and more suitable for your housing needs.