When it comes to landscaping around your home, the right elements can make all the difference. If you love the sounds and beauty of rushing water but don't have the space for a full-sized garden waterfall, a pondless waterfall may be the perfect addition to your backyard! With a pondless waterfall, you can enjoy all the benefits of an outdoor water feature without the hassles and costs associated with other similar options. Create a beautiful retreat of calming relaxation, and add a bit of character to your backyard, with this unique water feature! Continue reading to learn more about pondless waterfalls, what they are, how they work, their benefits, and everything else you need to know!
What Is a Pondless Waterfall and How Does It Work?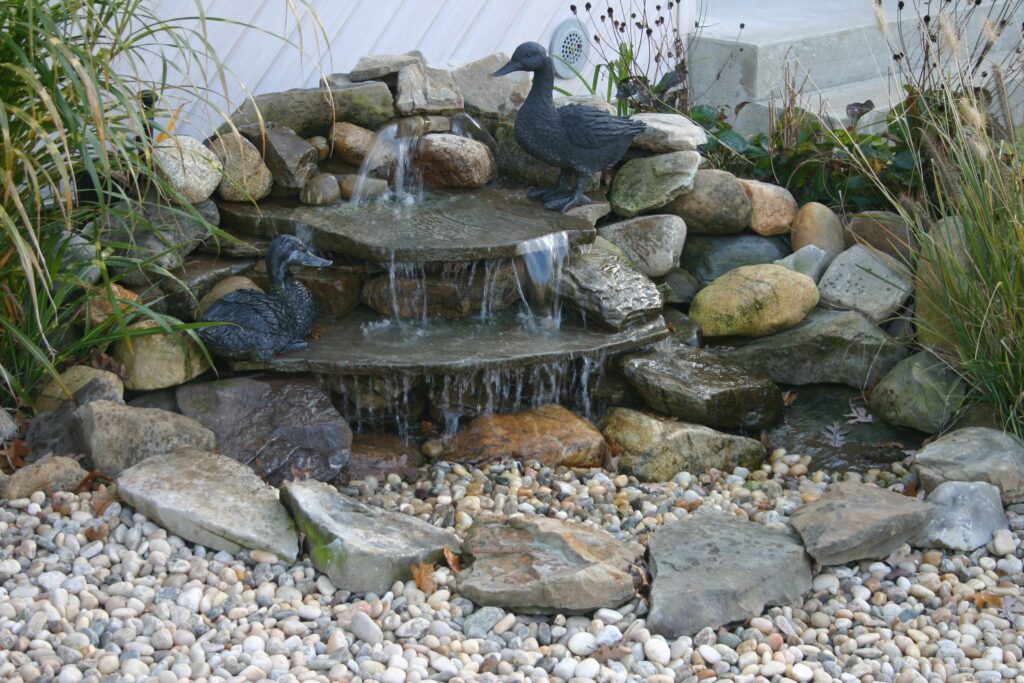 source: pinterest.com
A pondless waterfall is much like it sounds, a waterfall that does not flow into a body of water. Instead, this water feature gives the impression that the water is never-ending. In reality, the system works by disguising a small reservoir, under garden stones, that creates the illusion that the waterfall simply disappears. Underneath the stones, this hidden reservoir collects the water and then recirculates it to the top of the fall using a pump system. The result is a beautiful, natural-looking waterfall that will add charm and elegance to any landscape.
What Are the Benefits of Pondless Waterfalls?
There are so many great benefits offered by pondless waterfalls. These include:
Affordability– One of the best things about these systems is that they're very affordable and can last up to 20 years or longer depending on the size and quality of the components used in its construction. They are typically much more affordable than other outdoor water features, making them a great option for those who want to add something special to their landscaping without breaking the bank.
Ease of Maintenance– Another benefit of pondless waterfalls is that they require little maintenance. Since they only hold a small amount of water, you eliminate much of the cleaning and maintenance requirements that traditional garden waterfalls require.
source: pinterest.com
Beauty– Pondless waterfalls create interest and add beauty to your landscaping. Nothing makes your backyard stand out from the others like the added curb appeal of a pondless waterfall!
Improve Your Mental Health– As mentioned earlier, pondless waterfalls give the appearance that the water is free falling. This makes them a wonderful addition to any landscape because they create a sense of calmness and serenity. During the day they promote peace and rest and at night they can be illuminated to create a beacon of light in the darkness.
Peaceful Sounds– Another benefit of pondless waterfalls is that they offer a peaceful soundscape. There is nothing more beautiful than the sounds of falling water. Relax and let the stress of the day fall away when you visit your waterfall after a tough day at work.
Space Saving– Since they do not require a large body of water to flow into, pondless waterfalls take up significantly less space than traditional waterfalls. This means that you can place them anywhere in your yard that you'd like. Thus, even if your yard is on the small side, you can still enjoy the beauty and tranquility of an outdoor water feature.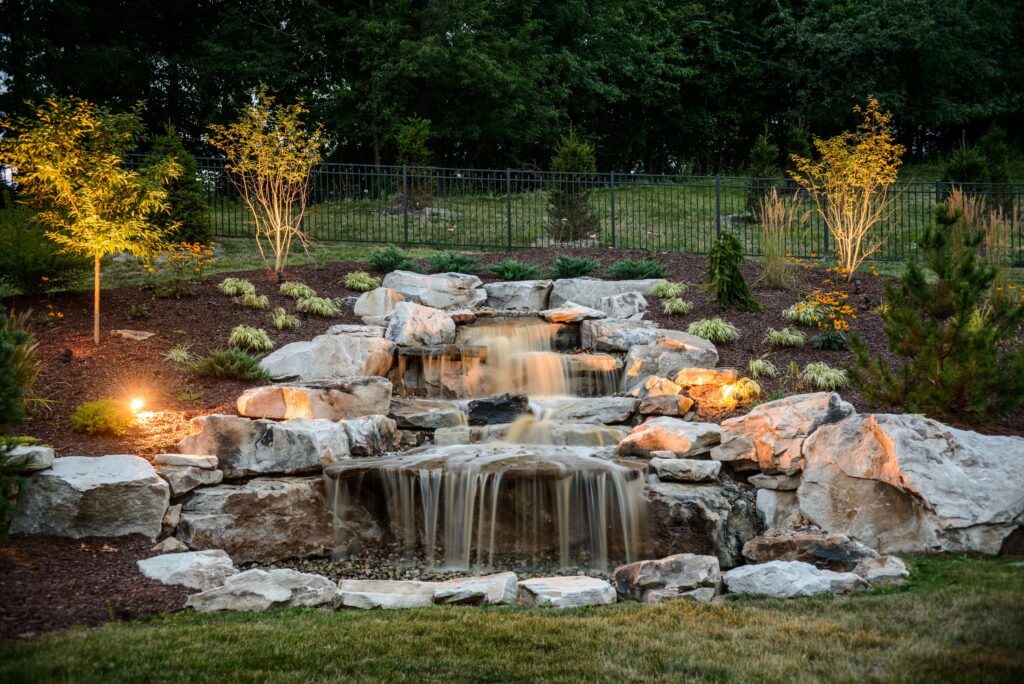 source: pinterest.com
Superior Safety– Pondless waterfalls are a great choice for families with pets and small children since they provide all the beauty of a traditional water feature without compromising on safety. Your children and pets can enjoy playing by the water and you can rest easy knowing that your water feature won't cause an accidental drowning accident. Moreover, you won't experience issues of liability or increased insurance premiums as a result of upgrading your landscaping with a pondless waterfall.
Attracts Wildlife– When you add in a water feature it is only natural that nature will thrive there. Enjoy watching birds, frogs, and butterflies while you relax near your pondless waterfall.
Add Equity– When it comes to upgrading your home or landscaping, it only makes sense to choose an option that adds equity. When you go with a pondless waterfall, you are investing in yourself and the value of your property. If the time comes that you wish to resell your home, it is sure to bring more money and interest with the addition of this gorgeous landscaping feature.
Why Pondless Waterfalls Should Be Outsourced to The Professionals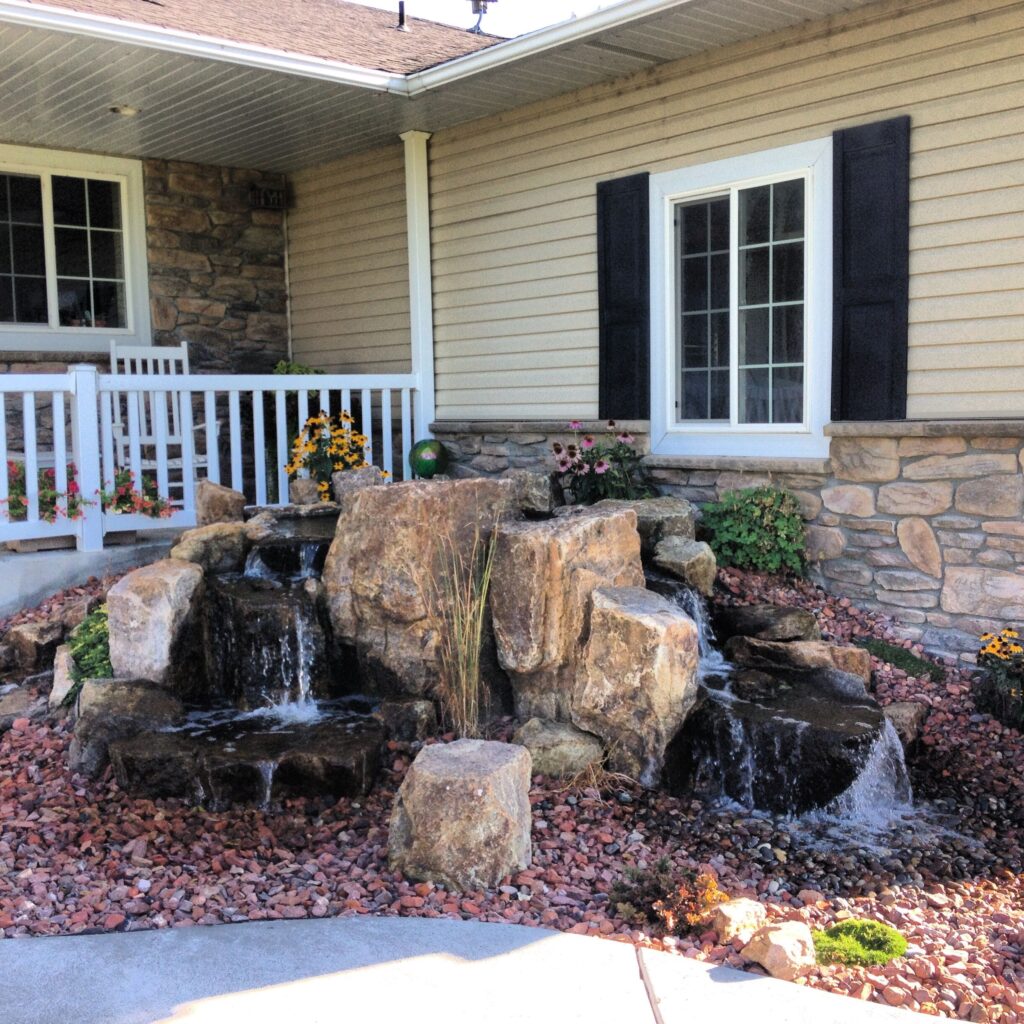 source: pinterest.com
When it comes to adding a pondless waterfall, many people make the mistake of thinking they can do the job themselves. While the actual installation process isn't overly complicated, there is much more that goes into planning the design and location of the feature than most people realize. The professionals have the training and experience to ensure your feature turns out exactly how you envisioned.
The experts have the knowledge to properly design your waterfall in a way that enhances your entire property. They take the time to consider wind/weather patterns, traffic patterns, the sun's position, and a host of other considerations that will help ensure your waterfall's placement is precisely where it needs to be to provide maximum enjoyment for you and yours. Not to mention, the professionals are aware of applicable local laws and take care of any necessary permits, so your water feature is guaranteed to be within the regulations of your state and local governments. Ultimately, you can say goodbye to the stress and back-breaking work of doing the project yourself and hello to a job done right. All that will be left for you to do is to enjoy your beautiful oasis!
Why Should I Choose a Pondless Waterfall as Part of My Home's Landscaping?
source: pinterest.com
In general, water features, of all kinds, are one of the best ways to enhance any landscape. Whether you're looking for something simple or complex, there is a water feature to suit nearly every preference. While ponds tend to be one of the most popular water features, they aren't practical for every situation. Thus, if you are concerned about space, maintenance, safety, or flooding, a pondless waterfall can give you all the benefits of a water feature with minimal risks involved. If you are still on the fence about taking on the commitment of a traditional pond but desire the beauty, sounds, and interest of water features, a pondless waterfall is undoubtedly the right addition to your home's landscaping! 
With so much to love, isn't it time you took the plunge and added a pondless waterfall to your outdoor landscaping!?