Most people consider lighting an integral part of their home's interior. But many other spaces in your home can come to life with good lighting. A good example is your garden. With good lighting, this exterior space can become a showstopper.  
Outdoor lighting offers a good source of light when reading or eating in the garden and highlights unique features like flower beds, hardscapes, and gardens that may not be visible during the day.   
Good outdoor lighting can set the tone for your garden and make the space feel bigger. Essentially, exterior lighting isn't about brightening your yard; it's also about drawing attention to the most attractive features in your garden during the night. 
If you're looking for outdoor lighting ideas for your garden, here are some top ones to consider:  
Light Your Garden Paths   
source: homebnc.com
Lighting garden paths is an excellent outdoor lighting idea to explore. Garden paths allow you to distinguish walkways from the yard space. If you pick this idea, consider using soft to bright lights to highlight your walkways and make them safe and easy to navigate. 
You can install path lights on the ground on both sides of the walkways or along stepping stones leading to unique garden features like fountains and flower beds.   
Go Vintage With Hanging Lanterns   
Another Oregon outdoor lighting idea worth exploring is hanging vintage lanterns in your garden. This classic idea involves turning traditional glass lanterns into decorative garden lights for outdoor events such as parties and weddings.  
You can also use Moroccan-inspired hanging lanterns to give your garden a classic touch and a distinctive look. Hanging lantern lights are easy to fix. All you need to do is hang antique glass or metal lanterns on tree branches and enjoy your evening. 
Spice Up the Garden With Exterior Wall Lights  
Add glamour with exterior wall lights if your wall looks flat or plain. These lights bring an additional dimension to your garden and a modern feel to your garden. You can use them to highlight entries and exits, increasing safety in your exterior spaces. They're highly cost-effective and versatile and come in multiple styles. 
When you prefer a contemporary or traditional design, you can always find lighting to complement your taste. 
Highlight Plants With Spike Lights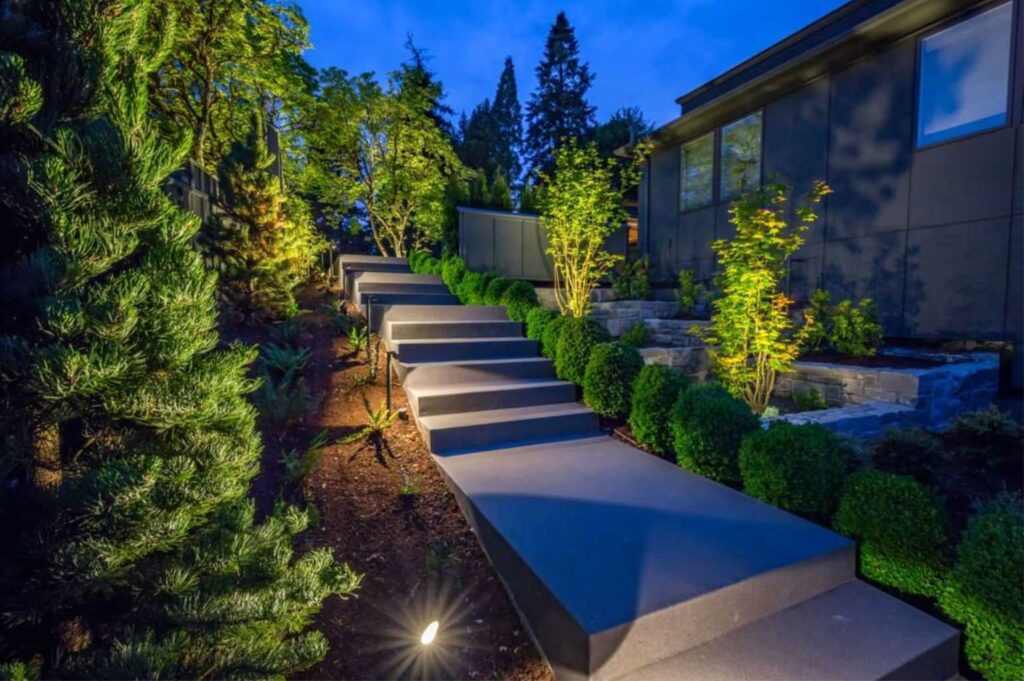 source: pinterest.com
An exciting but subtle way to light your garden is to attract attention to your outdoor plants. Spike lights are less dramatic. You can use them to enhance the natural beauty of large potted plants by placing them between them.   
The lights are highly versatile; you can apply creativity in placing them in your garden, depending on the plants you wish to highlight. For instance, you can place them around garden soil, form patterns around flowerbeds, or create walkways through the garden.   
Add Glowing Orbs To Your Garden  
Placing glowing orbs in your garden is another exciting way to light your yard. Orbs are dome-shaped light designs with a spherical sculpture look during the day. Glowing spherical orbs are affordable pieces that can brighten the atmosphere in your garden significantly. If you love colors, go for multi-colored orbs and place them strategically in your garden.   
Place Lights At Varying Heights  
Placing lights at various heights is another outdoor lighting idea you can use in your garden. Although anyone can layer outdoor lights, this idea works well if you have a large garden area in front of or behind your property.   
Layered lights can help you highlight essential features in your home, including the swimming pool, garden steps, covered patios, seating spaces, and entertainment areas. Besides enhancing the beauty of your home, raised lights also boost the security of your home and separate outdoor rooms.   
Bring The Chandelier Effect Outdoors With Garden Parasols 
source: pinterest.com
You can bring the chandelier effect to your garden by hanging your lights from a garden parasol. If you have a space for dining in the garden, keep your parasol shade and use it to hang solar light pendants when nighttime comes. 
The pendant lights bring a chandelier effect to your garden. Alternatively, you can wrap festoon or fairy lights around the pole if you don't have hanging lights; those would be equally effective. 
Install Security Lights With Sensors   
Although you want your outdoor light to enhance your garden's beauty, good lighting enhances the security of your home. Add motion sensors to your garden lights to deter burglars and other trespassers. 
You don't have to install garish floodlights to achieve this; you can fit sensors to any stylish outdoor lighting, including lanterns. With this type of lighting in your garden, you can tell when someone steps into your yard.   
Use Contemporary Wall Lights On The Front Door 
Your front garden and the front door need lighting when darkness sets in. Although you can install a single light to light your home's front side, you can opt for two lights to achieve symmetrical balance.  
Contemporary wall lights make an excellent choice for front garden lighting. If your home's exterior walls are white, consider installing black wall lights that complement your door design. The contrast of color and exposed bulbs make your front door look stylish and welcoming.  
Add Life To Garden Patios With Festoon Lights 
source: pinterest.com
Consider hanging festoon lights in your garden to bring life and a carefree, relaxing vibe. Festoon lights are inexpensive and simple to set up. String them on a patio or covered deck to spice up your seating accessories. 
These ornamental strings are available in a variety of colors that can go with your chosen theme. If you have a hammock tied to your overhead structure, you can string the lights over it. They truly are among the best ways to illuminate your garden.  
Frame Furniture Pieces With Lighting  
Integrating lights into outdoor furniture is another lighting idea you can apply to spruce up your garden. You can frame your furniture with festoon or fairy lights to create an evening focal point in your garden. Consider wrapping tiny LED lights on the back of your furniture for immediate charm. This idea works well on permanent furniture like outdoor benches and outdoor sofas. 
Create A Warm Ambience With String Lights  
String lighting is perfect for your garden if you enjoy outdoor activities after dark. String lighting evokes an intimate, warm ambiance ideal for entertainment due to its low-voltage, soft light. 
When you have an activity, you can use these lights to brighten your outdoor kitchen, patio furniture, gazebo, or pavilion. If you install string lighting in your garden, opt for solar or battery-powered waterproof lights. 
Install Lights Close To The Water  
source: pinterest.com
Placing lights close to garden bonds or any other water that you might have in your yard can make your space look magical. When the soft light reflects in the water, it turns the garden into an inspiring scene. Alternatively, you can install pond lights under the water for a beautiful glow that highlights aquatic plants.  
Explore Sleek Styles With LED Solar Lights 
LED solar lights are simple and easy picks for outdoor lighting. With these lights, you don't have to consider the risk of open flames and plug sockets. You can create a dreamy glow in your garden using solar lights and move them around as you deem fit. 
Opt for varying sizes to give your garden a sculptural look. Consider pairing your lights with natural stone walkways, a neutral rug, and a few low-level furniture pictures for extra calmness and comfort.   
Create A Canopy With Pergola Lights  
If you have a sheltered outdoor garden, pergola lights can help you transform the space into a warm, inviting place to gather with family and friends after nightfall. You can use layers of string lights to form a twinkling overhead canopy in your seating area. Consider placing cushions with throw pillows to add warmth and comfort to the space.  
Elevate Your Mood With Complementary Pendants   
source: pinterest.com
Pendants can add a unique look to your garden if you prefer a different lighting design in your back or front yard. Complementary pendants are crafted using knitted ropes. They can boost the aesthetics of your garden while fitting perfectly into your tropical theme.  
Additionally, pendant lights can cast shadows across the terrace or patio with their intricate design. A great way to place pendants is to hang them on leafy branches. For a great display, consider placing three pieces of varying sizes together. Dim or beam the lighting to suit your mood. 
Final Thoughts   
Outdoor lighting can create a warm, welcoming ambiance in your garden every evening. This type of lighting also helps keep your home secure and illuminates pathways for easy movement after dark. The brightness of outdoor lights largely depends on what you want to achieve. Generally, security lights are much brighter than decorative or functional lights.  
Pay attention to lumen value when buying outdoor lights. Bulbs with high lumens produce brighter light, and those with lower lumens produce less light. If your home has a front or backyard, exploring the above lighting ideas can turn your garden into an exciting space for hosting night activities.