Do you enjoy rearranging your furniture or redecorating your home frequently? Do you do a lot of entertaining and want a way to adapt seating as needed? If you answered yes to either, there is one type of sectional sofa that is a must-have. 
When your seating needs change often, modular sectional sofas allow you to accommodate as many (or as few) as you like. Sectionals of this type allow for so much versatility that anyone who entertains will be ecstatic with the many arrangement options. Although not exactly new, modular sofas are becoming more common and easier to find. 
What is a modular sofa?
source: amazon.com
A modular sectional sofa is one that allows for the pieces to be moved and rearranged to create the optimal conversation seating area. Modular sofas come in many shapes and sizes, but modular sectionals are the most popular. Sectionals with added optional pieces allow you to create a sofa as large as you could possibly need. 
Meanwhile, you can arrange the furniture as suits the occasion. Some modular sofas are designed to be left alone but still come apart in pieces for easier moving from home to home. Optional one-seat cubes can allow you to extend your sectional as large as required for your family.
Most modular sofas have pieces that are easy to move around the room. Because it is designed to be taken apart and moved, the pieces are kept small enough to make them lightweight and easy to maneuver for nearly everyone.
Most popular modular sectional brands
source: home-designing.com
As modular sofas become more and more common, there are some brands that have been doing it for a long time. These are often the best quality because they have already had the opportunity to work out the kinks in their design. Here are a few of the top-selling modular sectional sofa brands.
Cloud Puff
source: ikea.com
Cloud Puff offers quite a few sofas and sectionals, including modular sectionals. Some of their furniture collections can come with as many as 6 pieces for one sectional. These typically create a U-shape instead of L-shaped seating, but they are perfect for entertaining or large families. Cloud Puff is a trusted brand in all types of sectionals, offering plush and soft options that are as beautiful as they are comfortable.
Chelsea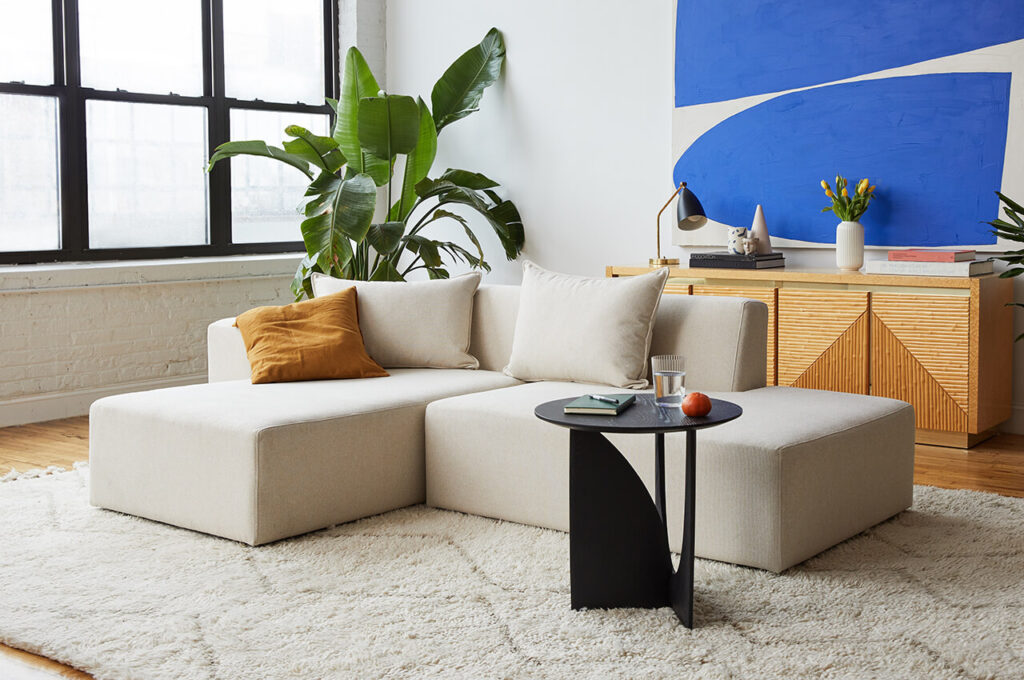 source: design-milk.com
Chelsea's Willow furniture line offers some great options in modular sectionals. They offer sofas in the same style with varying colors or patterns, giving you versatility in choosing your pieces. Although most of these sets come with just two to four pieces, you can purchase additional pieces with one or two seats to match any modular sofa you are interested in from Chelsea.
Diamond
Diamond offers several different modular options, from 2 piece collections to 4 piece collections. Like the other brands, you can opt to purchase additional pieces to add more seating. They offer both traditional seats as well as chaise sides for your L-shaped sofa.