Indian swings are a charming addition to any home, whether you have a small or large home, whether indoors or outdoors, a swing can easily provide the focal point in any living space. There is something nostalgic and heartwarming about swings and even at any age, when one sees a swing, it is very difficult to not try sitting in it. Swings have been around since the early days; they provided an alternative seating arrangement when couches and sofas were not popular or occupied so much space in a room.
Most traditional Indian homes have these swings and they were called Jhula swings, it was simply a plank of wood that was hung from the overhead beams in the home. It can also be found around the porch and outdoors. The swings are a reminder of a less complicated life and one that puts a value on family, togetherness, and harmony, thus who would not want an Indian swing at home? At present, you can no longer find the old swings as it has been deemed unsafe for the most part as it was usually a do-it-yourself project and there were no standard rules on how to make it.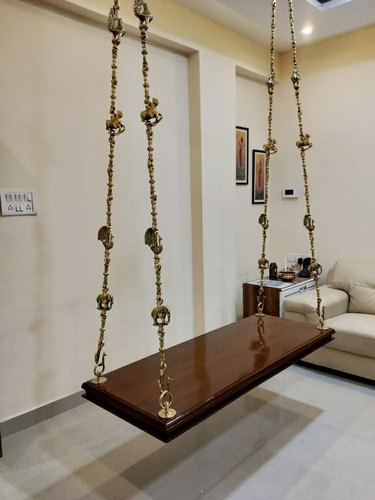 source: Indian Swing
The new swings are made from wood and a steel cable that has been carefully designed to handle up to 600 pounds of weight safely provided that it is attached to a joist in the house. It is made from treated and polished wood; it is sturdy but light enough that it can be suspended from the cables. The swings have been designed as a modular piece of furniture which means that they can be re-arranged or be made into several forms depending on the preference or need of the owner. These new swings can be for seating, it can be for lounging, and even for relaxing. Read on to find more about why you need an Indian swing at home. 
Indian Swings are Functional and Endearing
Indian swings are not something that you just hang in your home and then treat as a decoration or statement piece. Swings are meant to be used, it has a practical value and they can give you a lot more too. It can be used as additional seating in an otherwise tight space or room. Since it is suspended from the ceilings it does not eat up as much space as a large sofa bed or couch. It can also be hung in the kitchen nook where you can put a little table and make a breakfast cubicle for you and your loved ones. It surely will make eating breakfast enjoyable, especially for the little kids.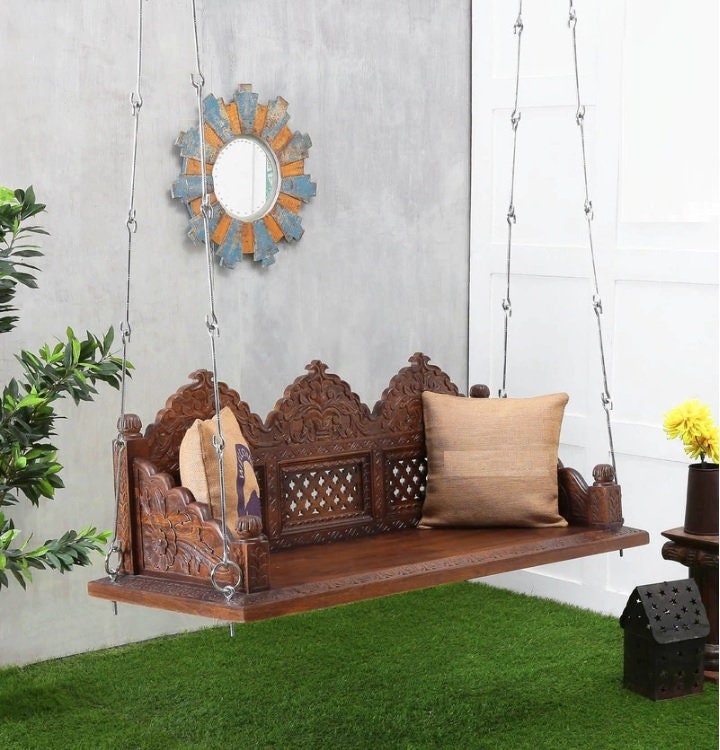 source: etsystatic.com
Nowadays it has a built-in backrest that you can move around the swing so that you can use is a chair, a swing, or even an elongated swing where you can stretch your legs. The swing is highly functional and you get 2 to 3 different seating spaces for the price of one. More importantly so, swings have their special charm, it brings you back to good memories about your youth or when life was simpler and peaceful. It makes you want to relax kick off your shoes and enjoy a quiet moment or two.
You can also add design elements to your swings like a knitted throw or a pillow in your favorite color so that it will become a part of the home style or design. It can be an excellent showpiece in any home, especially if you use it in a very unlikely place like in a living room or a reading nook. 
Indian Swings are Inexpensive and Easy to Use 
source: pinterest.com
Indian swings are inexpensive when you compare them to other furniture that has the same functionality. Also, you get 3 different styles in one swing and that is already a bargain. For sure couches and sofas make for a comforting space but they are quite heavy, bulky, and expensive and when you do get one, you would not have any space left for anything else. If you are looking for an alternative to a sofa, then the Indian swing might just be the right one for you.
Now that it comes with removable backrests you can make it into a chair for two when you have company around and then make it into a hanging divan when you are alone. It does not even need any special tools or equipment to change the style, you just remove the backrests and then snap it on the sides that you want to attach it to.
Most importantly it is easy to install and you can use it in no time at all. All you need to figure out is the correct size of the joists you are going to hang the swing from and just attach the cables to the planks and that is it. You can adjust the height of the swing to your liking, but if you are not sure about it, then leave it as it is. If you decide to bring the swing outdoors, you can also easily remove it from the joists and then just transfer it to the new area. 
Indian Swings are Available Online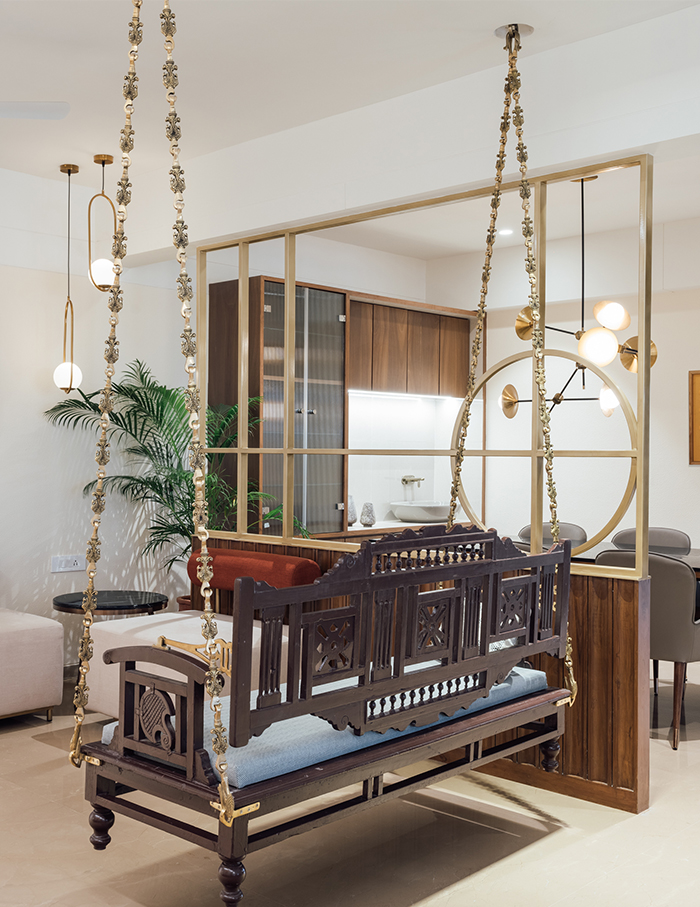 source: etsystatic.com
If you are wondering where you can buy Indian swings, look no further because they can easily be ordered online. The changes that we have experienced due to the worldwide pandemic have made it even more necessary to be able to buy anything online, whether it be furniture, food, or medicines. You just need to look for an online shop or supplier that carries Indian Swings and then you can contact them or visit their website and do your purchases on the site. It is easy, fast, and convenient, you would not even have to go through the trouble of going from one store to the next to find the swing that you want.
You just have to visit two or more online shops or websites and surely you will find the swing of your dreams. Once you have ordered the swings, you just need to wait a couple of days for them to be delivered to your door and then you can install them and enjoy your alone time with the swing.