It is incredible how much rugs can change the look of a room. An area rug is a smart option if you want to roll out on a big style on a shoestring budget. When choosing an area rug, opt for one that is about the same shape as the matching furniture. Arrange the furniture around or on top of it, and center it with a table, desk, or bed—and you are set to go! 
Why Use Rugs?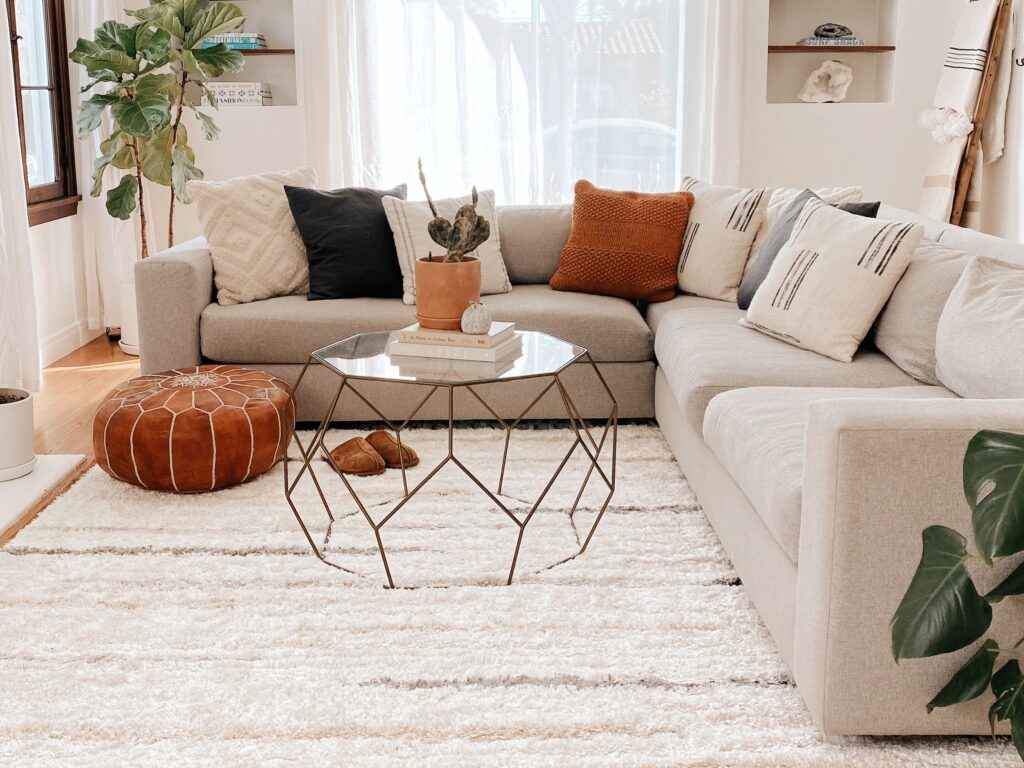 source: thespruce.com
Area rugs help tie a room's color scheme together. 
An area rug works just as well, if not better, than paintings or toss pillows to unify your color choices. 
Rugs like Whiskey River Turquoise are an effective way of providing a soft surface to walk on. Rugs can transform a room space in a variety of ways. 
A rug has the capacity to enhance (or alter) a room's color scheme. Changing the ambiance of your home is as simple as switching two rugs. For example, you can purchase two distinct living room styles: one for summertime and another for winter. 
It improves your décor.
Rugs enhance one's home décor. They come in practically every color, style, material, and shape imaginable. 
A vibrantly colored rug may make an impact. A neutral or traditional designed rug, on the other hand, may complement a room theme. You could also contrast a dark rug with a light floor and vice versa. 
Rugs offer warmth and texture to a room while also adding a decorative element. They are an easy way to add color and texture to any area. 
A graphic, modern rug is suitable to create an entirely different world in which our furniture can be displayed. An antique and valuable rug creates a theatrical atmosphere that can be accentuated with the soft wall color or printed curtains and other home textiles. 
It anchors furniture together.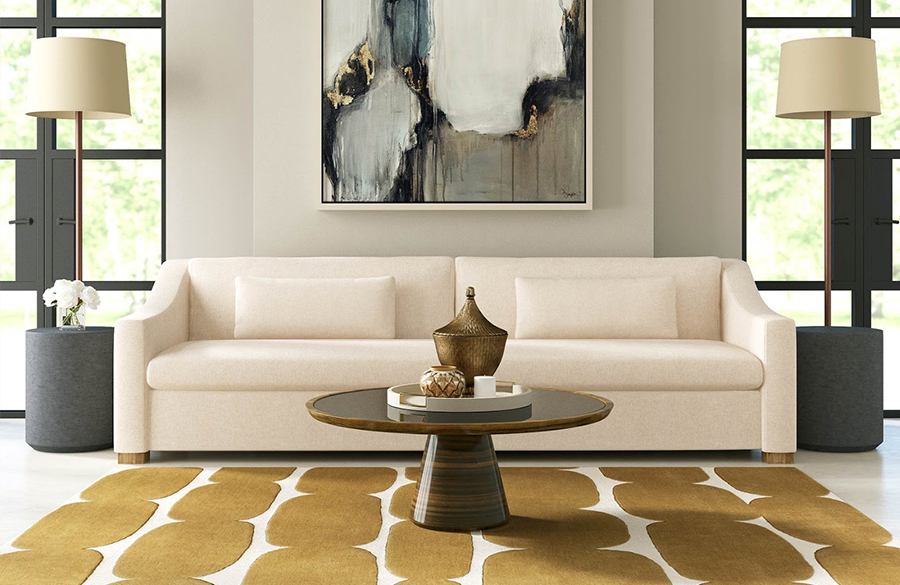 source: pinterest.com
Area rugs give rooms a sense of unity and cohesion. Use an area rug large enough to fit beneath the front legs of the furniture in family rooms and living rooms. If your rug is too small, center it beneath your coffee table. 
Rugs are considered works of art.
Area rugs can create a vibrant meeting space by infusing color and graphic elements into a room. Certain area rugs, such as those with a handwoven design, can also be displayed on a large wall at a lower price than that of large-scale artwork. 
Rugs offer comfort, warmth, and safety.
Those who have solid-surface floorings, such as hardwood, concrete, or tile, will love the velvety relaxation that area rugs provide. 
Rugs are perfect for cushioning our steps, preventing slips and falls, and limiting injury in the event of a fall. It protects the entire family, but notably toddlers and the elderly. 
Rugs give a huge impact in all rooms.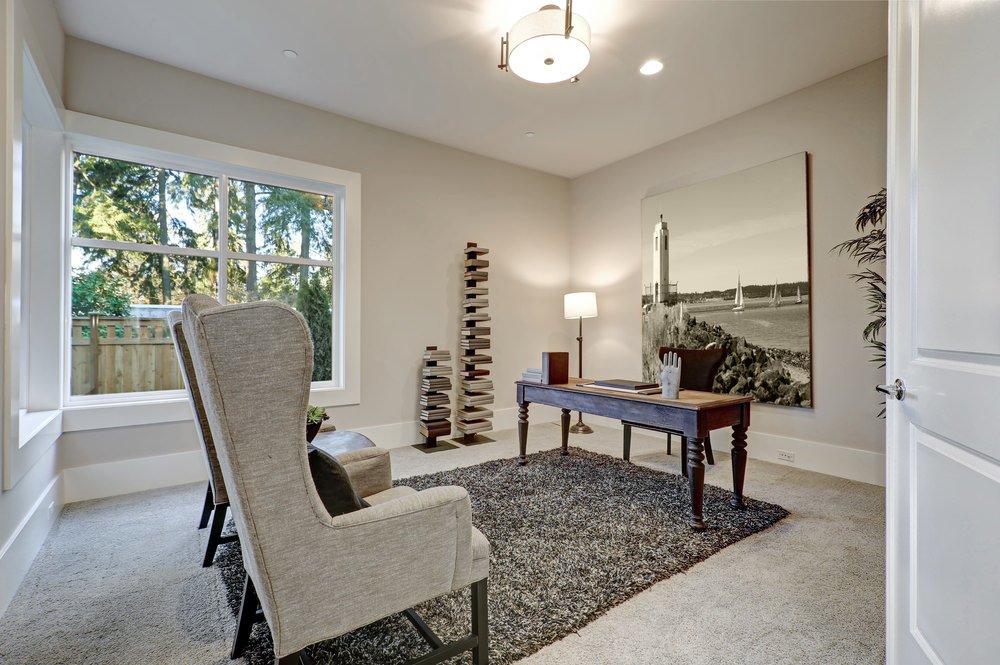 source: homestratosphere.com
Area rugs look and feel right at home in any room, whether it's the living room, bedroom, or dining area. As a general rule, place an area rug beneath the room's largest piece of furniture or set of furniture to anchor the entire space. 
They are perfect for sound absorption. 
Area rugs are excellent noise absorbers, especially when paired with a substantial rug pad. 
Many homes have open floor designs and big areas. While these rooms offer numerous benefits to homeowners, they can also be detrimental to noise levels. If you have a large room with a tile or hardwood floor, you have probably observed that noises carry and can become a bit out of control. A rug provides an additional layer of sound attenuation that is surprisingly efficient at quieting a room.
It covers imperfections.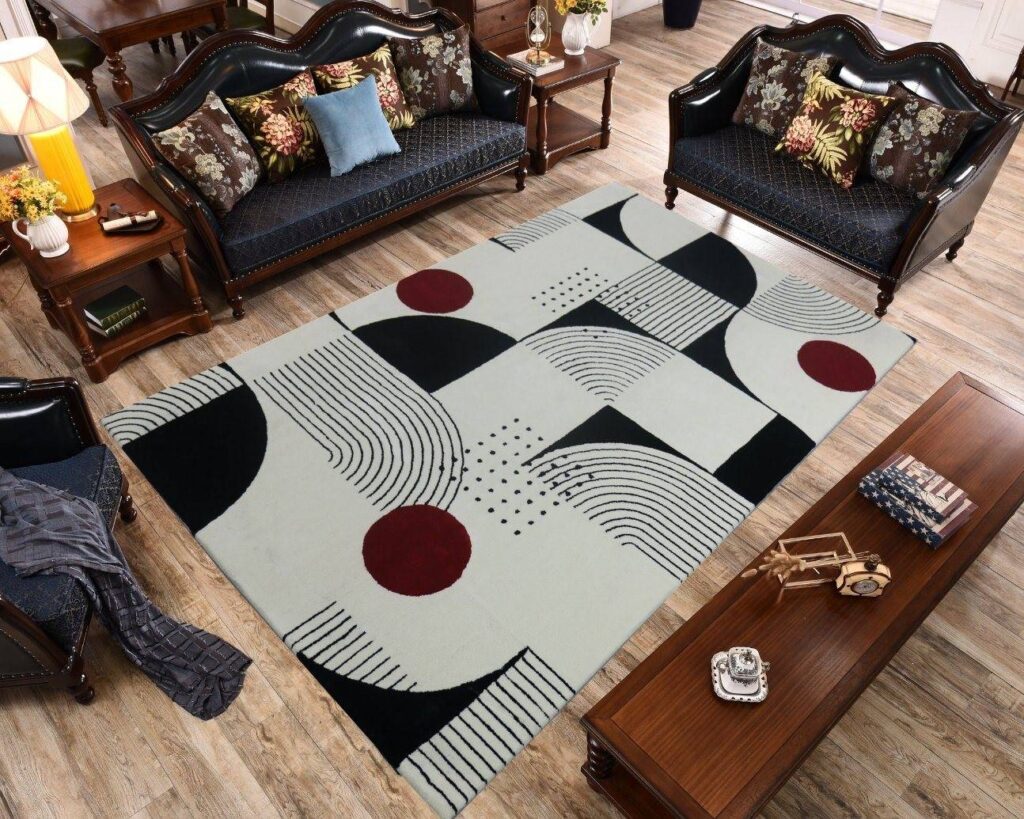 source: decoist.com
For flooring issues such as damaged tiles, for example, a quick repair would be to cover them up with a rug to conceal them. Idealistically, these rugs should coordinate with and blend in with the other pieces of furniture in the room.
A stain or distracting defect in wood can be a fantastic reason to cover a portion of your floor with a rug, and there are many options available. Nonetheless, if you see any damage to your floor, you should notify your landlord as quickly as possible. Tripping hazards on flooring should be repaired rather than just covered up in order to prevent accidents. 
Help in grounding a room.
Many people usually know that rugs serve to make a space feel more grounded, although they do not understand how or why this is so. There are a couple of factors contributing to this. 
One main reason is that it can help ground a room is that they serve as a place of rest for both the body and the energy it contains. If you believe in Feng Shui or similar concepts, or even if you just innately perceive it, a rug has the effect of slowing the flow of energy through a room. A rug creates a sense of peace in space by slowing the energy flow through it. 
A Few Facts About The Materials Used In Area Rugs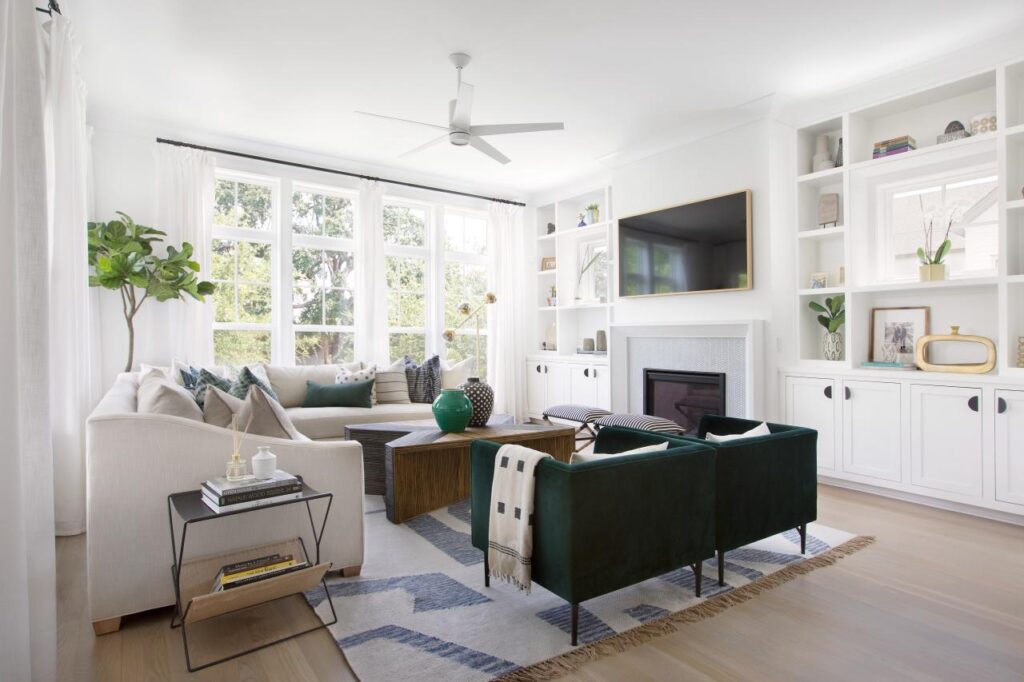 source: hgtv.com
They are well-liked for their brightly colored designs, durability, and affordable cost. 
Wool rugs are a step above the others because of their amazingly soft and have a fluffy feel. Hand-tufting loops of yarn produce a cut-pile surface into a cloth, which is then backed by latex and sheared to create a cut-pile surface. When wool area rugs are brand new, it is totally normal for them to shed a bit. 
Jute rugs are yet another type of natural fiber area rug to consider. These are typically made by hand weaving. Despite their association with more informal and casual settings, they are a designer's top choice in many homes today because they create texture, lie flat, and are uncomplicated to clean for and maintain. 
Here are some suggestions for keeping your area rug looking as good as new: 
Invest in a rug pad to minimize movement on the floor and avoid rug wear. 

Vacuum regularly to keep dirt accumulation to a minimum. 

Blot spills as soon as they happen.

Rotate the rug occasionally to minimize the effect of foot traffic and direct sunlight.