Welcome to a world where innovation thrives and sustainability coexists. Prepare to be astounded as we look at mind-blowing shipping container homes ideas that redefine what a home is.
These residences, which range from urban flair to rural getaways, are models of resourcefulness, eco-friendliness, and off-grid living. Come along on this illuminating exploration of these shipping container house images, where options are unlimited and limitations are disregarded.
We select the best shipping container homes pictures for you and I'll explain these further in my article.
Shipping container homes pictures are as follows:-
Off-grid Design
If you are looking for eco-friendly shipping container ideas, opt for this fusing modern design with sustainable living. It emphasizes clean lines, contemporary finishes, and a tasteful incorporation of nature.
Elegant modern container home
This is an elaborate design of a container home. Inside the container, there is a floor to ceiling, glass window, and every facility. It is nothing but a small recycling house.
Modern Design Steel Structure
Looking for classy shipping container ideas? Check out this design. It is a modern design for a shipping container home that features a sleek steel frame, simple lines, and a minimalist look.
Luxury shipping container home
The container home contains all the luxuries in it.
Black Container Design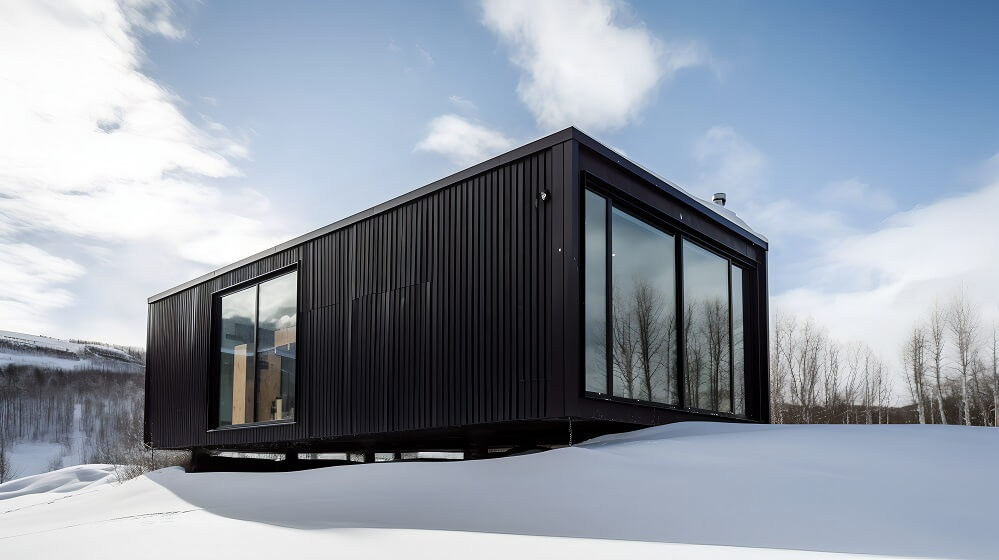 The striking black container home in this design is the center of attention. It stands out among its surroundings with a strong presence that commands attention. This unique color of black makes it a must-see attraction among shipping container homes
Can Also Read, How to maximize space in my shipping container?
Minimalistic Container Home In Iceland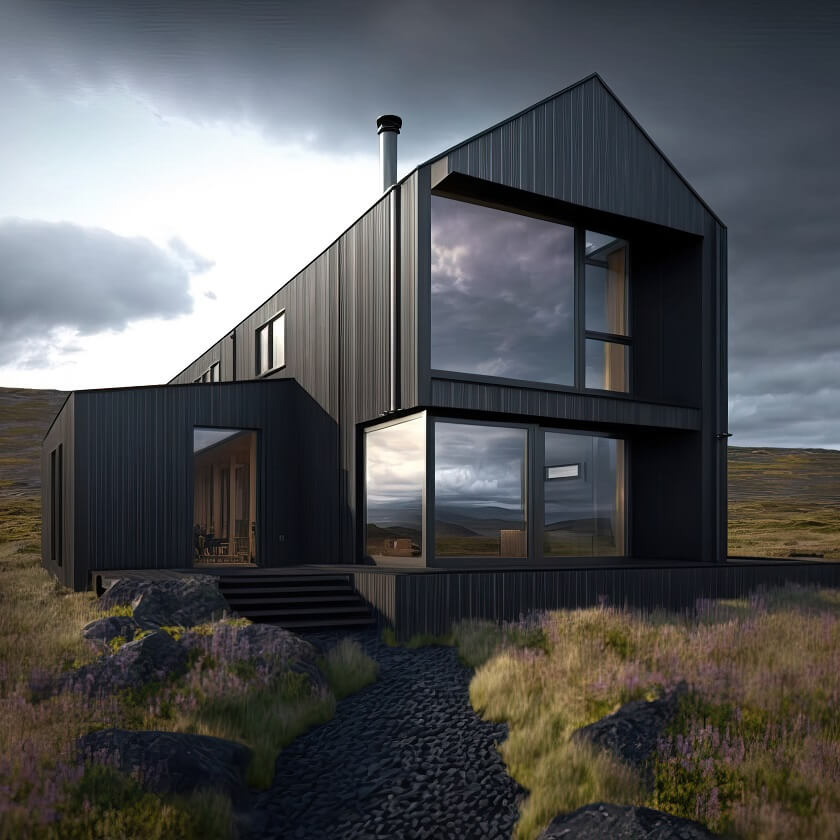 This container home, which is snuggled away amid Iceland's breathtaking countryside, embraces sleek simplicity and blends seamlessly with its surroundings to create an idyllic oasis where contemporary architecture and the unbridled majesty of nature dwell in perfect harmony.
Modern container beach house
Convert the container into a beach house.
Two Storey Shipping Container Home
Distinctive and functional living space is provided by inspiring container home ideas that make inventive use of stacked shipping containers.
Small Modern design container home
Plan a house with a single or more than one container.
Beach House Container House Design
From adorable container house images, this design is a beachfront refuge that offers the ideal fusion of coastal lifestyle and cutting-edge architecture. You can see the tranquil and gorgeous environment it has around it.
House built with cargo container
This house is made with 5 cargo containers.
Container Cabin In The Catskills
Embrace sustainable living in the serene Catskill Mountains with this off-grid container cabin. Combining natural materials, panoramic views, and cozy interiors, this rustic retreat offers a harmonious blend of eco-friendly functionality and enchanting aesthetics for a truly immersive getaway
Green Country Drywall
It is the best contemporary design among all designs of shipping container homes. It has big windows, a brilliant green exterior, and an elegant, industrial look.
Container home and studio
To make a container as a house keep the original interior in it.
Take a look at these related posts, Outside Stairs Design
Copper Hues
This container home image has a wobbly atmosphere. Its overall demeanor is eye-catching and has copper color undertones.
Shipping container guest house
Your guest feels the same at home in this container with their privacy.
Deck And Wooden Roof Design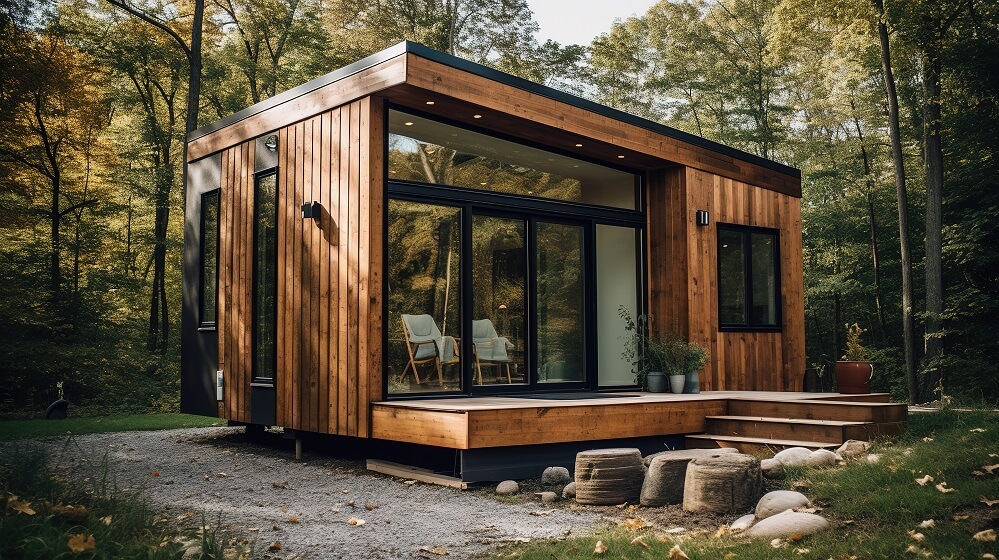 Shipping container homes may hardly have a deck and a wooden roof. But this design is unique. By utilizing a shipping container as the main structural component, this design adopts a minimal and creative strategy. It has a little house with a cute wooden roof deck. Additionally, it produces a perfect fusion of use and outdoor life.
Tiny scale shipping container house
A single container can also give you a home like filling if you decorate it with perfect planning.
Three Storey Apartment Style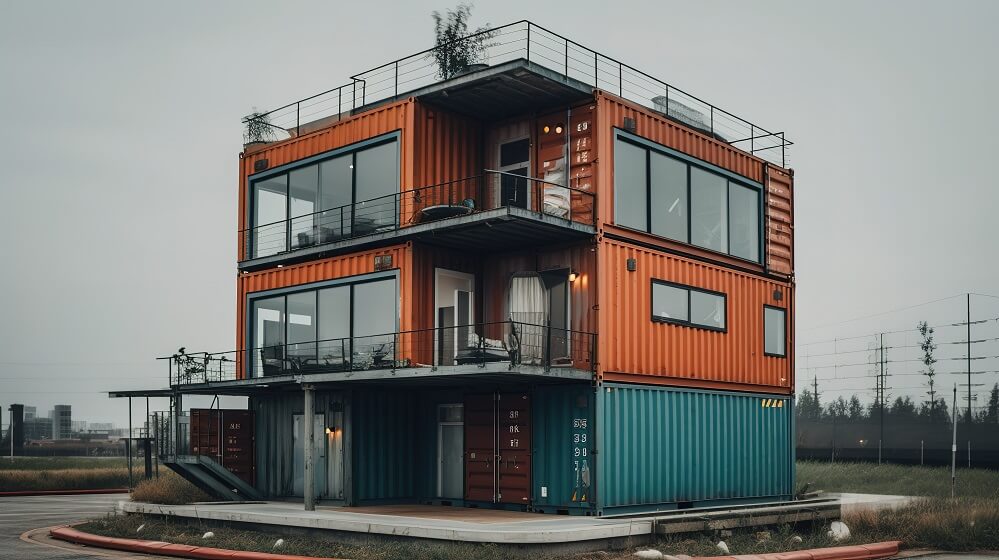 This contemporary container house apartment is spread across three stories and offers a functional and fashionable urban living area, maximizing verticality without compromising usability or aesthetics.
Alterra Glamping shipping container home
If you like to sleep outside but you scared to use this container with goof floor.
Ventilated Facade Design
A perfect design choice among all shipping container homes, if you wish to have open space. A cleverly designed house with strategically placed perforations and open panels, allowing for natural airflow and ventilation throughout the structure.
Tiny container home
We must keep in mind that we don't fill our container with more interior, but decor with beautiful wall art and photo, and also decor with custom framed canvas photo prints for the best look.
Container guest house with eco roof
If there isn't a guest room you may convert it with eco-roof.
Cool Costa Rican shipping container house
A simple, inexpensive, and perfect container house with a normal interior.
Stylish cargo container home
This container is designed as you will not find this is a cargo container with a beautiful interior.
Helm Container Home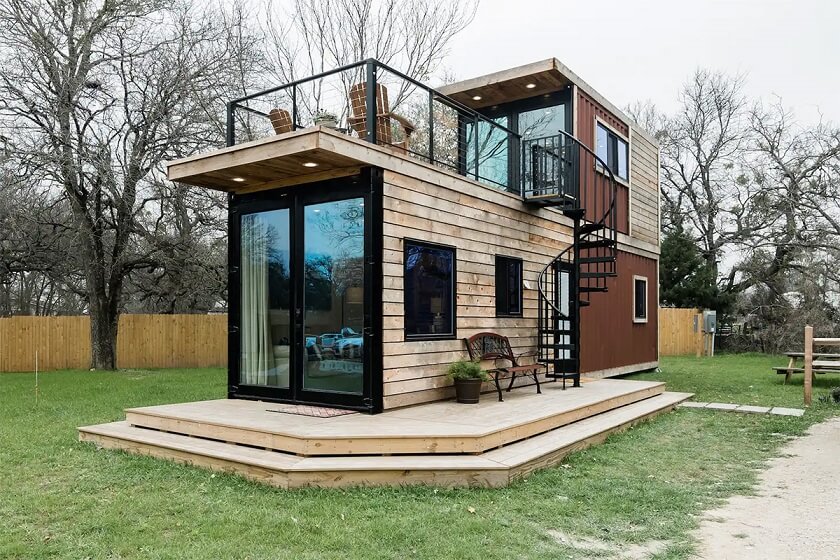 Helm Homes, inspired by the grace of a ship's helm, navigate you towards a truly unique dwelling. Experience the allure of nautical charm, where creative design meets coastal vibes. Moreover, it creates a captivating abode that stands out amidst the sea of ordinary homes.
Small Modern Container House
View enthralling pictures of container homes that have a spectacular architectural design, opulent extras, and magnificent outdoor areas—the ideal choice for anybody looking for the height of extravagance.
Modified sea container home
If you want to hide sea container then cover it with wooden interiors.
Container studio with a garage
This container studio may also your home with two door garage and an outdoor staircase.
Two-story off-grid design
In this green building plan, stacked shipping containers are combined to create a two-story house with off-grid possibilities. It combines self-sufficient, environmentally friendly vertical living in the context of sustainable container home ideas
Rustic container country house
All the interior of the house you will find inside this container.
Nomad tiny shipping container home
Living space of this container is 200 square feet with solar-powered.
Tiny Village Made From Shipping Containers
Enter a fanciful hamlet where tiny shipping container homes made from recycled shipping containers form a friendly and ecological neighborhood. This special hideaway exemplifies the appeal of small-space living by providing a creative and eco-friendly way of life in a lively and close-knit environment.
In A Nutshell
Shipping containers are the perfect material we can use to upcycle or recycle as our most beautiful dwellings. Shipping Containers homes are versatile and good in aesthetics. You can design an eye-catching eco-friendly container home and create an entire tiny little village from them. So what are you waiting for? Go and apply these ideas to make your dream shipping container home!

Now if you are Done with the Exterior Also Check out Interior Ideas for small space