Festivals are the events that cannot be judged by anything, hence even size doesn't matter to celebrate your holiday sessions. So, if you are worried about the space which seems small to you, then keep it just like that which just seems because you are going to make your holiday more spacious and eventual with just that small space.
Whether you have just lived in a small space for years, this round-up of mini Christmas tree ideas has something possible for everyone! However, the Christmas session is such a big event that can really take you to a space-related problem. Room for a standard tree can mean sacrificing your couch for the season, while a small tree can actually be insanely festive; it can feel a little…extravagance.
 But, you don't have to worry about it! As we have some beautiful and attractive ideas for the things that you want in your decoration. When you will look at the 20 ideas of a small Christmas tree then you would love to downsize – even if you actually have enough space for a real Christmas tree, and you will be like these are really pretty cool to have in the space!
Wall-Hung Christmas Tree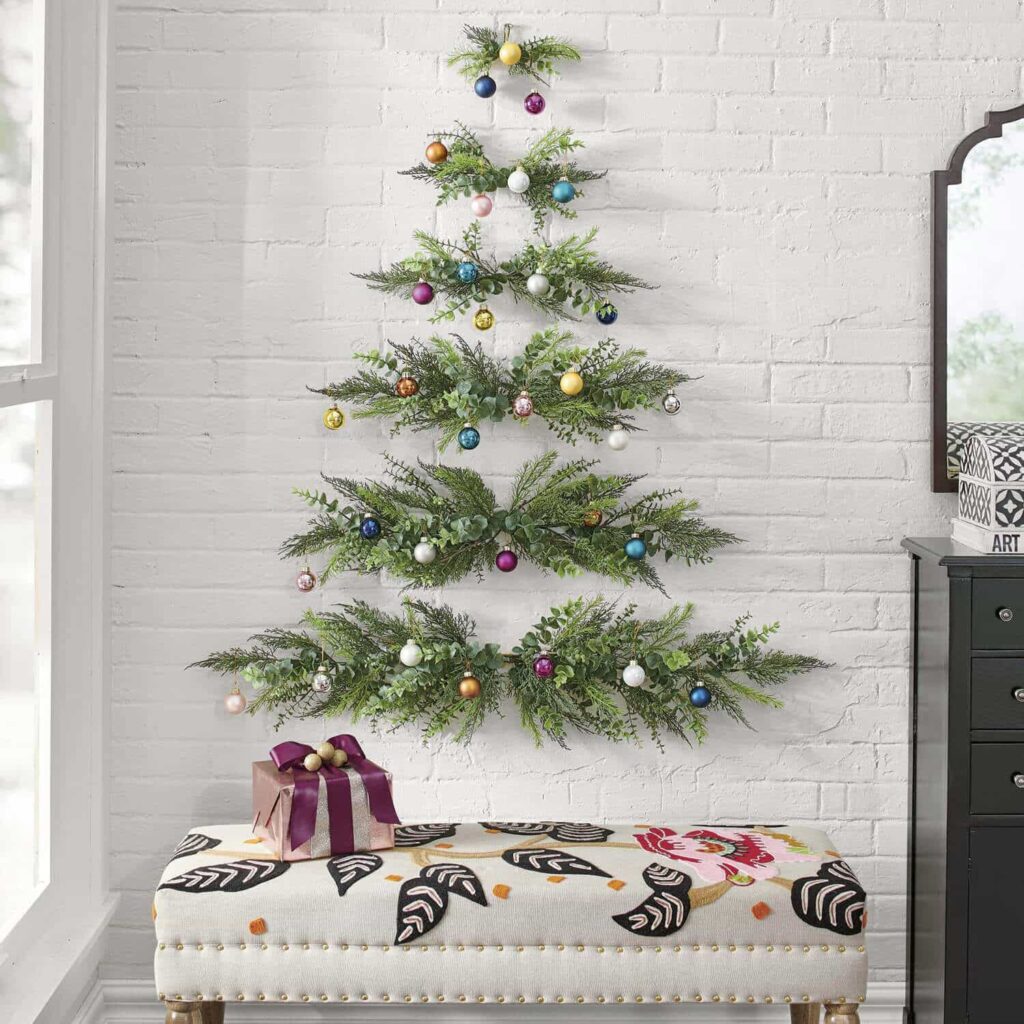 source: thegreenhead.com
Isn't it better to décor your wall with a small Christmas tree, which was going to cost you double by thinking about the décor items for the wall and tree at the same time! You would love this idea which can even save the space on the floor at Christmas time and storage space for the rest of the year. You can deck your hall – while staying true to your style and budget.
In a container
You would love to have a balance between rustic and sophisticated style. For this entryway, you want the galvanized metal planter to balance perfectly with the small pine plants, so you can leave it like that for all seasons. To pull the eye, close it with a plaid bow.
 Mini Pine Tree With Clear lights
If you want something traditional then this idea can really help you. Even in the small space, you can adjust the mini pine tree keeping on the pre-lit tabletop. Adjusting clear and beautiful lights on that tree with all possible elements that you think can make it beautiful, add it on. You can also add the golden cloth-bag base, which gives a perfect elegant touch. 
 White pretty Tinsel Tree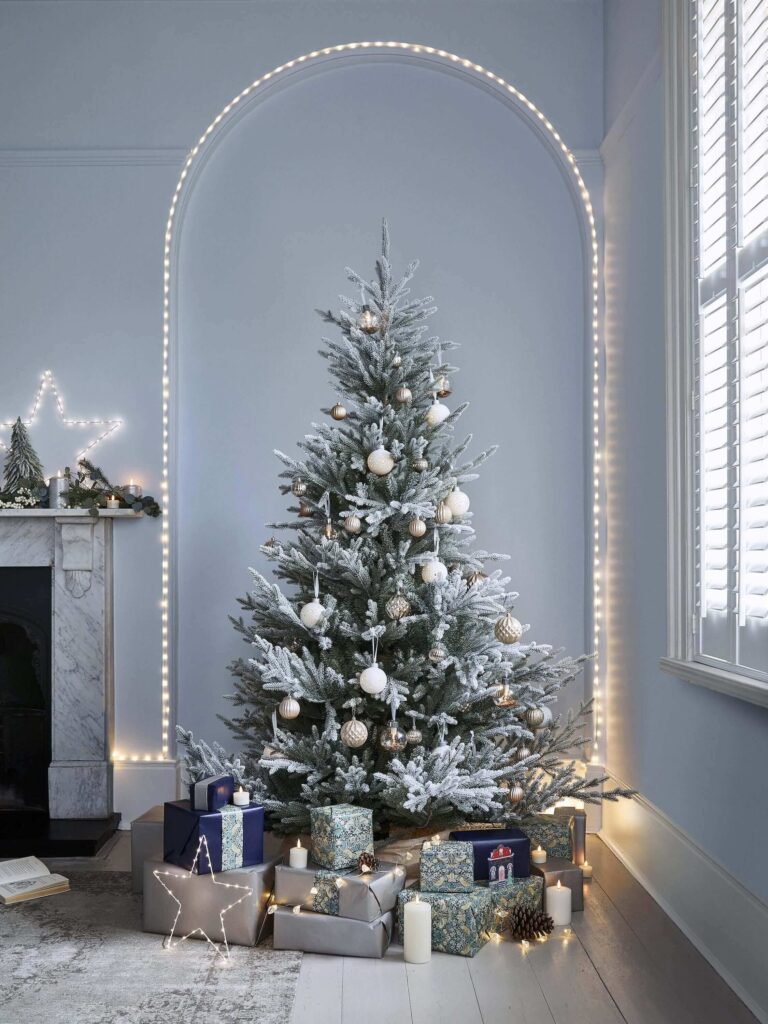 source: hearstapps.com
So when you can't think about a thick tree, maybe you can go for a long time like this gorgeous tree. It is the thinnest, smoothest, and will tuck right into the corner in your living room. The tinsel look is a fun way of shaking things. Sometimes, we can be intrigued by these non-traditional colorful Christmas trees. This is one of the best ideas to work with a little space, which is going up!
 In a Pitcher
So, we were thinking if we are trying to fix it in such a beautiful manner, then why shouldn't we try keeping it in a pitcher! A mini tree in a pitcher is like a farmhouse Christmas tree of our dreams. You can even find a pitcher that can depict a scene, a thought you can write on it, or make it unique in your way. 
Wall-Mounted Tree
Yes! You can display an enchanting tree on your outdoors, not only this but also you can think of it as an attractive option for anyone with limited space for a Xmas tree. A clever feature of this wall-climbing tree is the energy-efficient timer. This enchanting tree is sure to add a sparkle to any home. It's as fun, kids have to go to bed, when the lights of this tree are out, which means the party is over!
 Christmas With Whites
You can get white artificial trees and elements, Garnish it with bright pastel or jewel tones; you can get in touch with the outdoors by trimming the white tree with shades like grassy green, earthy brown, and pumpkin orange. The white decoration on the white tree provides a feeling of freshness and snow. 
Flocked Christmas Tree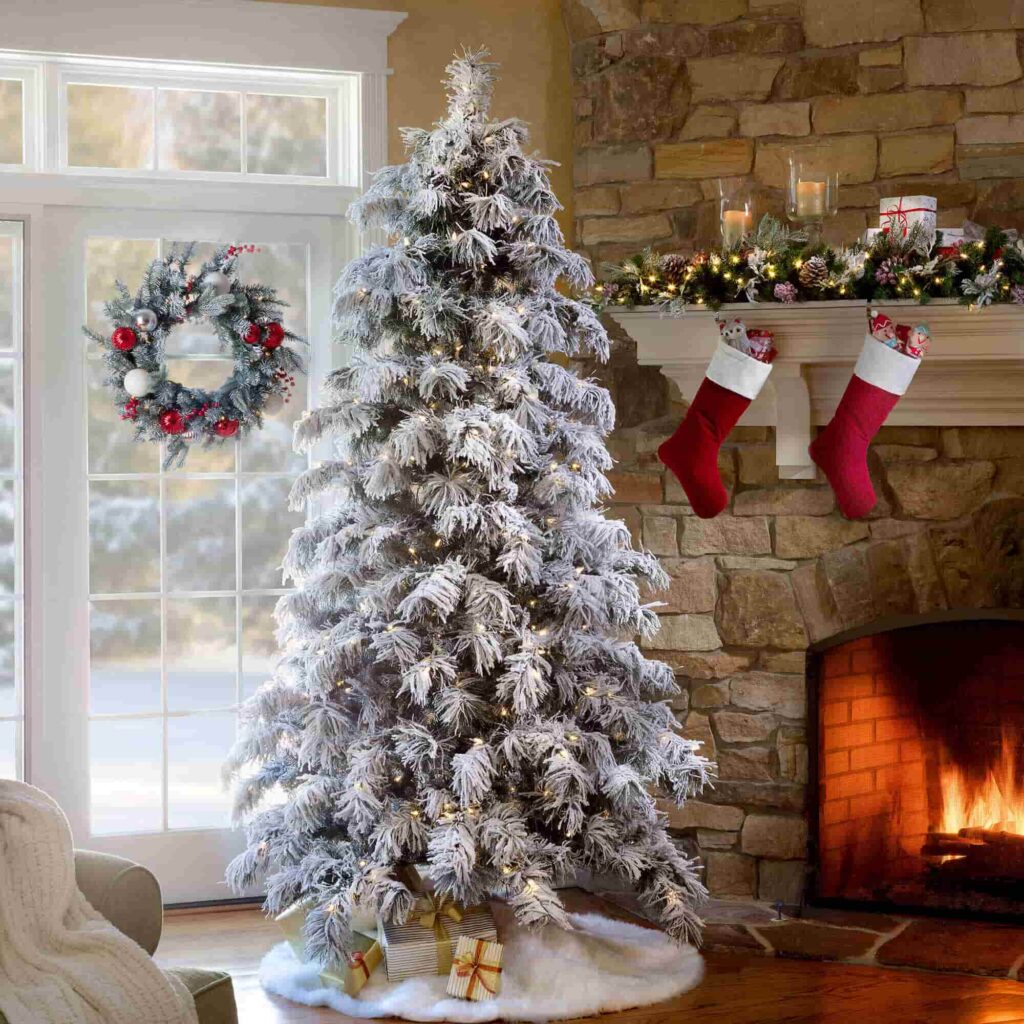 source: wayfair.com
What about a set of trio flocked Christmas trees! The huge trees of varying sizes have artificial pine branches, silver powder, and string lights placed on the wooden base. This trio of tiny trees can become a part of a rustic centerpiece throughout the holiday. They actually give a stunning look! 
Bottle-Brush Collection
You can create a snowy forest to serve as a backdrop. This tiny bottle-brush Christmas tree is the perfect way to decorate a mantle. These tiny trees with wooden bases often offer a vintage look that is minimal, festive, and elegant. You can scatter them anywhere, even on the bookshelf, on the top of the table, and wherever you want!
 Topiary
This mini tree is letting you practice by clipping the shrubs into ornamental shapes. These mini trees in planters are adorable. To give an alike effect – you can put in the living or bring them in a bunch on the front porch – simply tie a bow around the planter and add small ornaments.
 Pine Tree
Despite its small size, the tree looks very realistic. This gives a classic look to the tree and burlap base. The base of this tiny tree is strong and heavy; burlap coverings are traditional and innocuous. The tree itself is fun to fluff. If you are lacking with pines then why don't you try to build with pinecones?
Bouquet-style Tree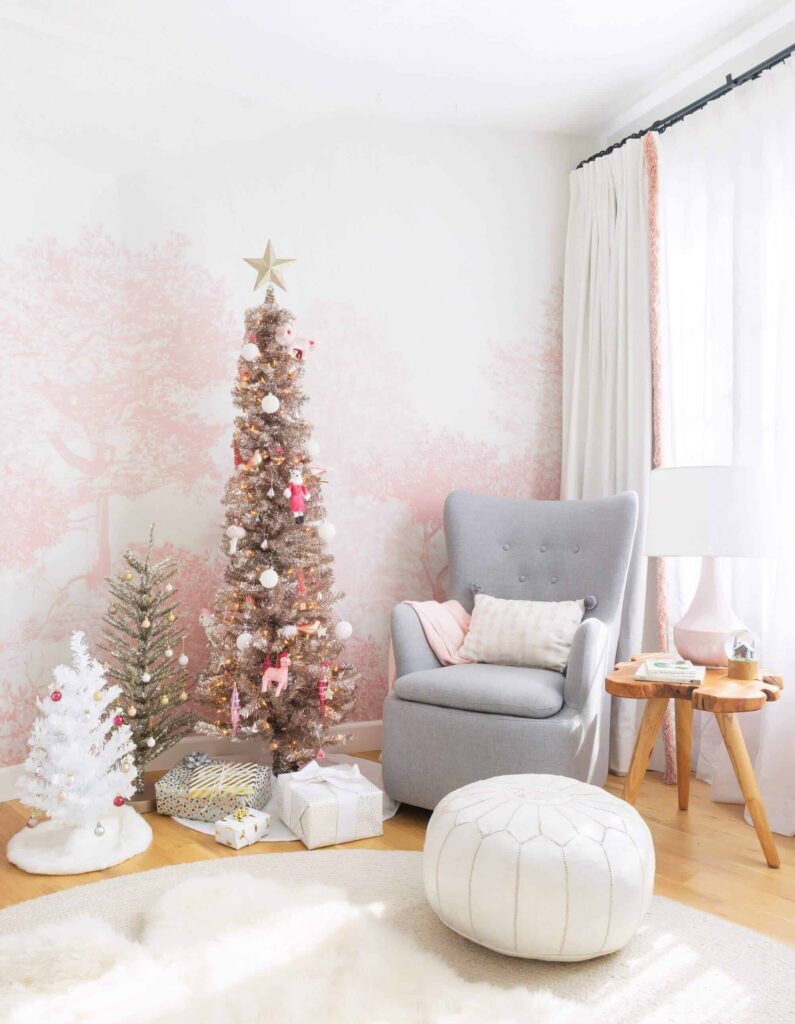 source: hearstapps.com
A very simple and unique way to have a minimal and festive mini tree is by fixing boughs of pine in the jar which is filled with water, you can add some brighten elements (glitters or thermion) in water that can increase the glowing effect. Further, you can decorate it with your favorite ornaments.
 Crazy Papers
You can become DIY expertise, with the help of the colorful papers, which can give plenty of personality to the small Christmas tree along with the string of lights. Papers are a very flexible element that can be extended in any design. So, think about all possibilities! Make unique and innovative designs from this colorful paper that is going to make your tiny tree crazy!
 Wrapped Mini Tree Décor
Your tiny tree is brimming with festive ornaments! Try wrapping strands of burlap around a beautiful twinkling and swinging tree, to get a rustic vibe. It is just 18 inc. tall, it seems to be the perfect centerpiece on the tabletop, featuring 20 warm LED lights to gently light-up the room. These lights are warm and give a lovely Christmas decoration.
 Scandinavian-style Tree
What you have to do is? Hang the branches on the wall vertically and parallel to each other then you can nix the pine with this simple, inspired Scandinavian-style DIY. Attach the birch branches with the help of the strings and you can hang your favorite ornaments on these twines with fishing lines.  
 Artificial Pre-lit Christmas Tree
This small size tree is a counter to having a standard huge Christmas tree. This idea is great for saving space and fills the feeling of having a full-size tree. This artificial tree design features branches and hoofs, featuring 552 branch tips and 150 pre-lit white LED lights. If you are confused between real and fake trees, then you can go through the pros and cons of each. It is loved by everyone in the family, never minds whether it is in a small space.
In Jars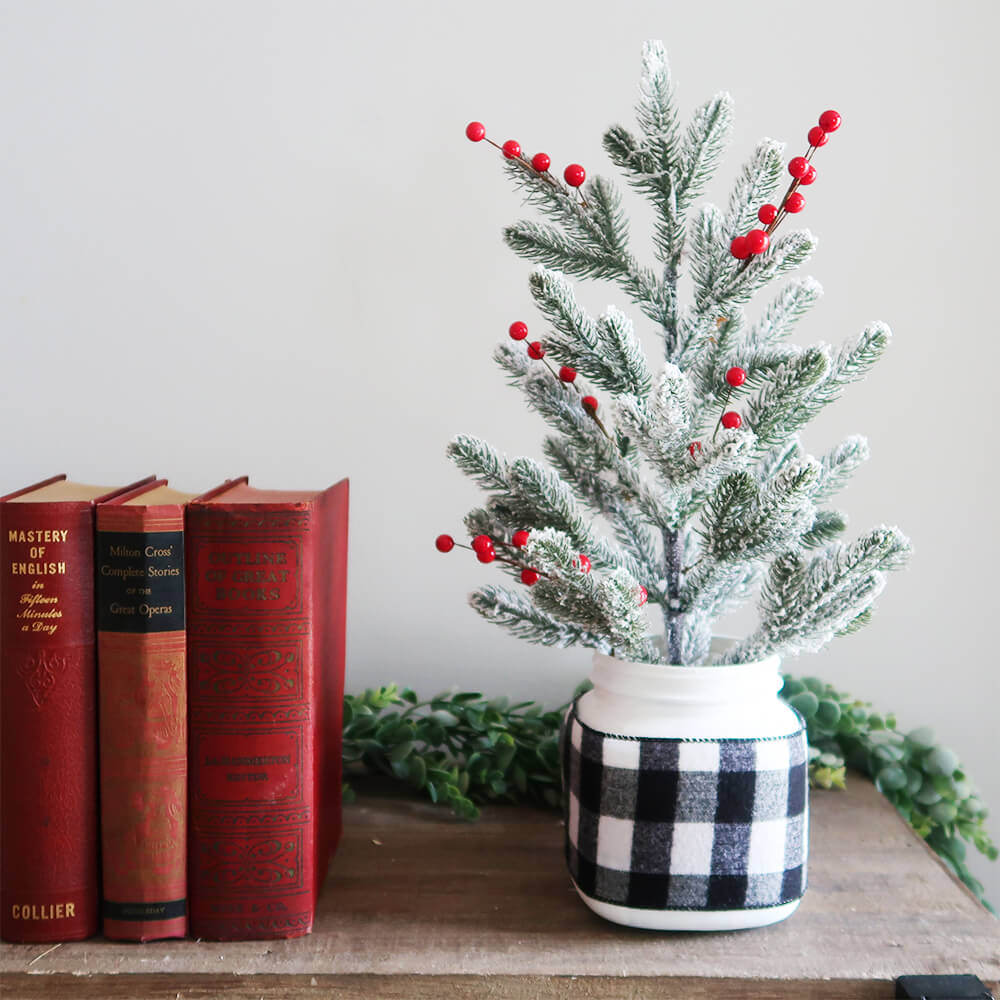 source: weekendcraft.com
You can bring the jar in which your pine tree can last for many years with the contribution of healthy soil in it and water them frequently. These potted pine jars will give fresh and real looks, obviously real. Hence, it is worthy to keep in the small space which can fulfill the Christmas tree ideas, along with that you can keep it life-long in your home.
 Pink Ceramic Tree
Lighted Ceramic Christmas trees are back again in a big way! Everyone's grandmother had used once these and now they are used-up once again, showing them in Christmas decorations. As a result, pink trees are growing, in every impending year. The height of this tiny tree is 11 inc. tall and has a 5 ft. Power cord.
Along the stairs
You can keep them on the steps, fixing with the kinds of stuff like galvanized flower buckets with fresh pine, light it with flickering lights, and then you can draw a festive message on it. You can decorate it with many ornaments, keep lying around it. You can keep them in trio or sets, as per your wish!
Double's the Look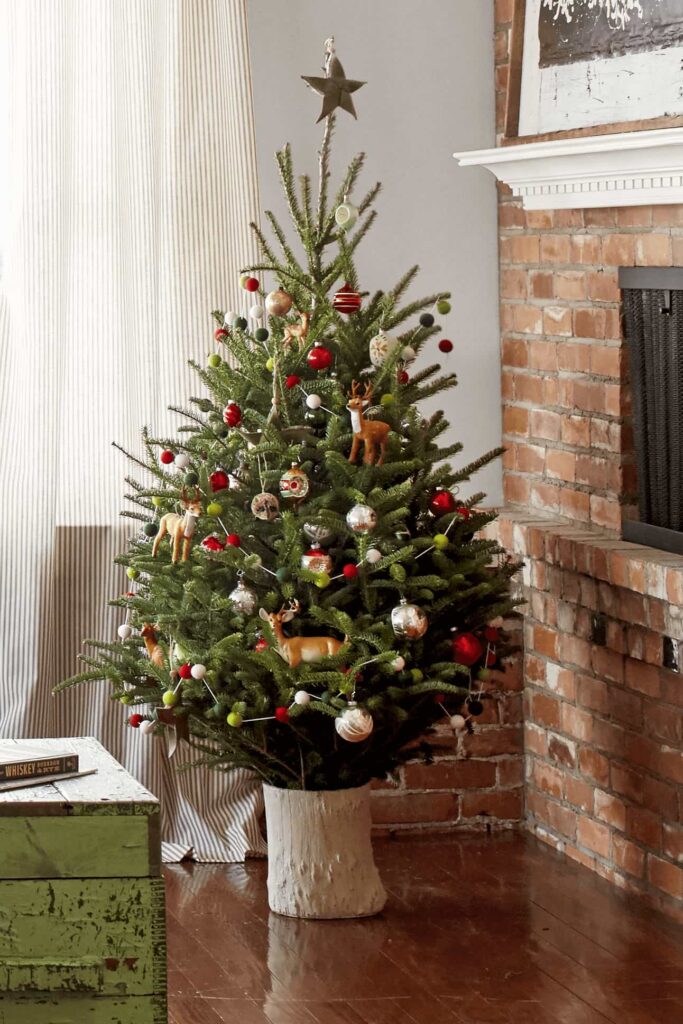 source: hearstapps.com
Your table centerpiece can be doubled with the help of this mini tree. Add pines and red berries or poinsettia rash to your mini tree, and immediately it is going to fill the space in fluff. This is a lovely and innovative way to make your decoration cozy and attractive. 
Similarly, there are few more ideas we have for your small space which will not let you feel like, 'is this really small'! Hence, you can use the above ideas, if you think for really more than have a quick look:
    Tree made up of stacks of books and the final touch at the top of the tree with pine.
   

You can cluster sets of tiny Christmas trees of various heights and colors together.
   

ornaments hanging on properly placed nails make this small, hand-drawn tree 3D illustration.
   

Traditional but shrunken, which means it is a small spheroid, except as its goliath counterpart, further you can start digging a faux chimney designed to set the mood.
   

Accordion paper, so let's make paper playful by sprinkling it on the tree.
   

With elegant citrus, simply put the tree in a vase and hang dried orange slice from the branches
   

If you want to save time by not cleaning up the branches, then here you can go for a pegboard tree.
   

Using a cake stand, despite the decoration of a small tree, you can place these ornaments on the base and around the tree.
   

In the style of coun-tree, which completes its duty by giving a rustic tin base and jolly ornaments is perfect for a country Christmas.
   

Do you know what time it is! Ragtime, which means you can prepare a tree made up of magazine paper and look like your mind is blowing!
   

Tree stand part 2, you have to use your breakfast table for a few months. Yes! Please say goodbye to your table.
   

Stuff on stacks, install picture LED shelves in the shape of a Christmas tree for a festive twist.
   

Spoon Christmas tree, this plastic spun project dominates interest right now – and we can see how it can dominate!
So, from these several ideas, you can refer to as many, you want! Then what are you waiting for, go be ready to make your small space with the best decorations!