Ready to make your deck halls beautiful and attractive for Christmas! It might become a great time for making your year pleasing, and also this occasion. Decking out your residence with Christmas decorations everywhere will set the mood of everyone, and give an amusing feeling. To make every inch of your home into the feasting spirit, look at the cue for innovative and festive decorating ideas, for any big or small spaces. It's up to you; whether you want it traditional décor or something a bit more out in your home, we will ensure that you come up with something new that would balance true budget and style for you.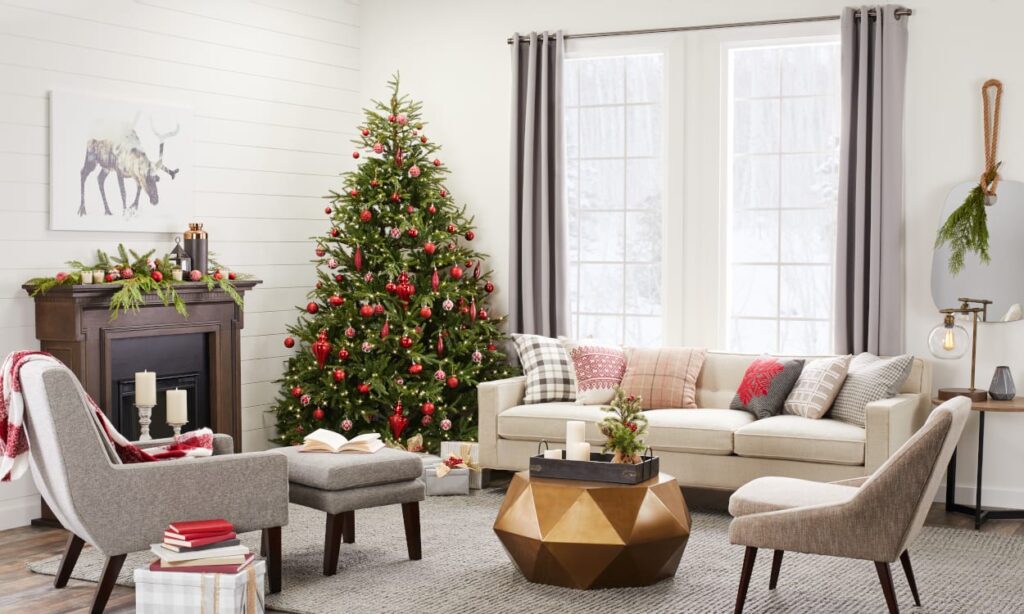 source: overstock.com
Well, there is no time limit; you can start your home decoration before a month, or it's up to you how you invest your time for it? Many prefer that they should begin decorating after thanksgiving. Whereas, some people choose to begin until December 1 because they are exact for the month.
There are innumerable ideas for decorating your house, before this occasion. You can add your creativity to your house or else if you are confused about what to do? Then why don't you go ahead with this, so that it might help you make a decision clearly about it? I am here with almost 17 ideas, if you like it then do try it.
Display your holiday cards  
Prepare your holiday cards in that you can stick photos, write any quotes or whatever, and pile them up on the counter or walls, which can get over-cluttered and messy. Throwing them away might feel you unhappy, but what about paper piles-up, this is seriously going to shake you. So you are going to entail cute cardholders that can keep your things in an organized manner. They will make your cards more attractive and you would like to display it on any side. Let's explore where you can handle your crafting in well-manner.
       

Piling them on a mantel

       

Display them on themes of tiles

       

Hang them on the string that can pass through any window or door

       

It can be hung on the ladder

       

You can pin it on any woody item, on any wallpaper, you desire.
Go for dwarfs or nuts!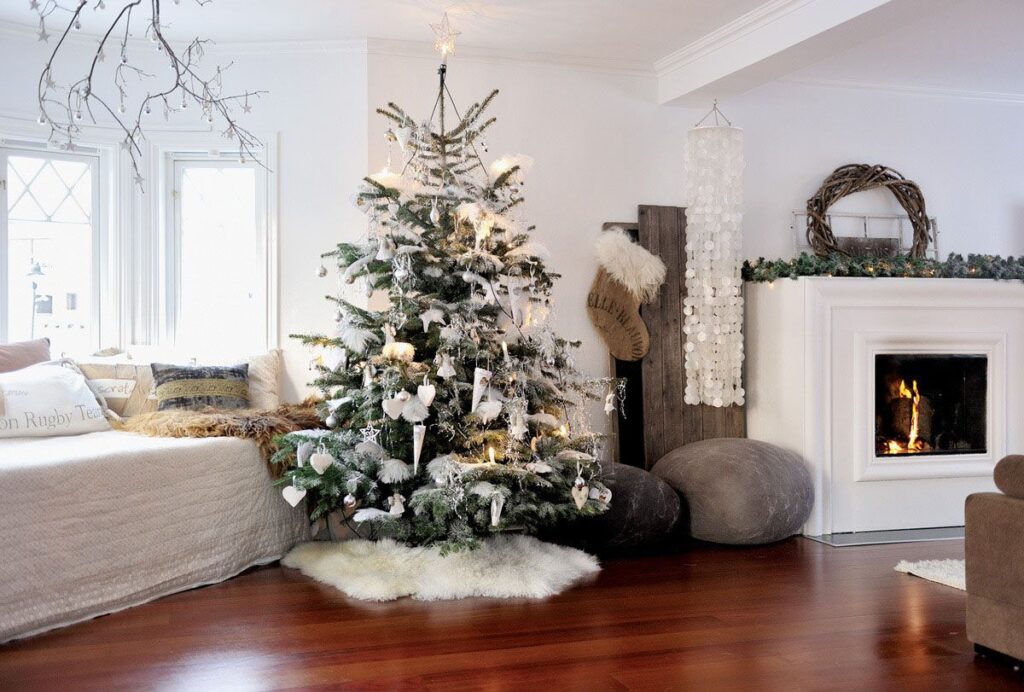 source: roopantaran.com
You can find these in different types of sizes, colors, shapes, and designs. For a retro appear, why don't you break out the nutcrackers. This appears cute in collectible pairs, well and adjustable with any other variety of holiday décor. You can get silver and golden dwarf or soldier that can be paired beside the metallic lantern or near to any frosted trees. Making vintage weather, isn't it affable for many?
Christmas trees are incomplete until pine ornaments are visible!
Pine cones are the ornaments for the Christmas tree such that they bring glam to make them even more exceptional. These pine ornaments are very easy to prepare within an hour or less, here comes your zone to show your creativity. It might be very quick for kids to prepare them, a perfect activity they can do in their holiday because the results are charming. You will be lucky, if you already have an evergreen pine tree in your territory (or nearby park), as you can make these pine ornaments for free!
Else, you can find materials at any store and a few plain inexpensive crafts items such as glitter and glue. You can make some extras, so that if any empty space is left then this can be attuned over there. You can place in niches and crannies around the house or in a basket or in a wooden container with greenery items in it, which will make a lovely long-lasting brogue.
Go with a rustic look!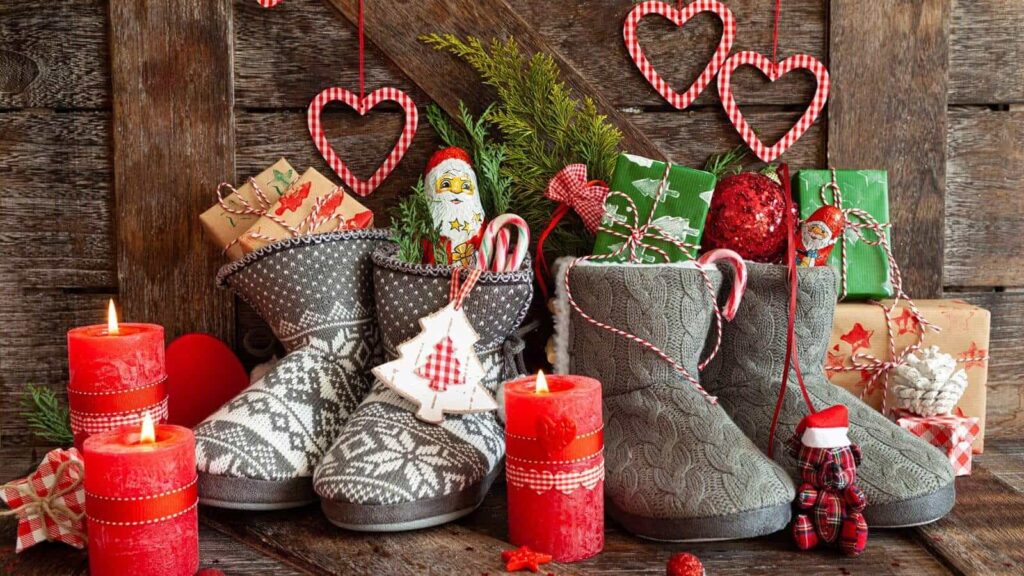 source: jacobschristmas.com
Natural details like woods, holly sprigs, pines branch seem perfect for the holiday's décor. These can be fixed anywhere and being attractive to your house. Here also, you can explore with your talent of creativity, 10 ideas to making anything from twigs and wood scraps:
       

Painted horizontal twigs with the shape of a heart

       

Twigs and canvas trees with any material of leaves connected to the corner

       

Puppets of the stick with different kind of eyes and ears

       

Different sizes of woods on the wall joined tightly to each other.

       

Bouquet of twigs, painted with beautiful colors

       

Cute sailboat made up of branches

       

Owl, of tree bark and décor of a face with seeds

       

Hanging your photo in a twig frame

       

Family of dears

       

Tree leaf dragonfly
Welcome with surprising wreaths!
Nothing is to be said more charming and a 'welcome', if there is a wreath on the front or backside of the door or on your window or indoors. Actually, there is no place remained where you cannot use wreaths for the decoration. These ideas of the festive wreath are inexpensive and fun-to-make, some of the wreaths can be used all winter for a touch of cheer and color. Basically, if you place them, you won't feel to remove it. If you are not feeling sneaky, then you can get it from any store, for decking your halls. If you deal with real live greenery wreath, this can last really long, if they are maintained correctly.
Whether you are looking for a bit of fancy or have a propensity to be more traditional, we have got up with ideas for the wreath.
       

Christmas wreaths

       

Fiber optic wreaths

       

Spring wreaths

       

Dried wreaths
Confine a quote!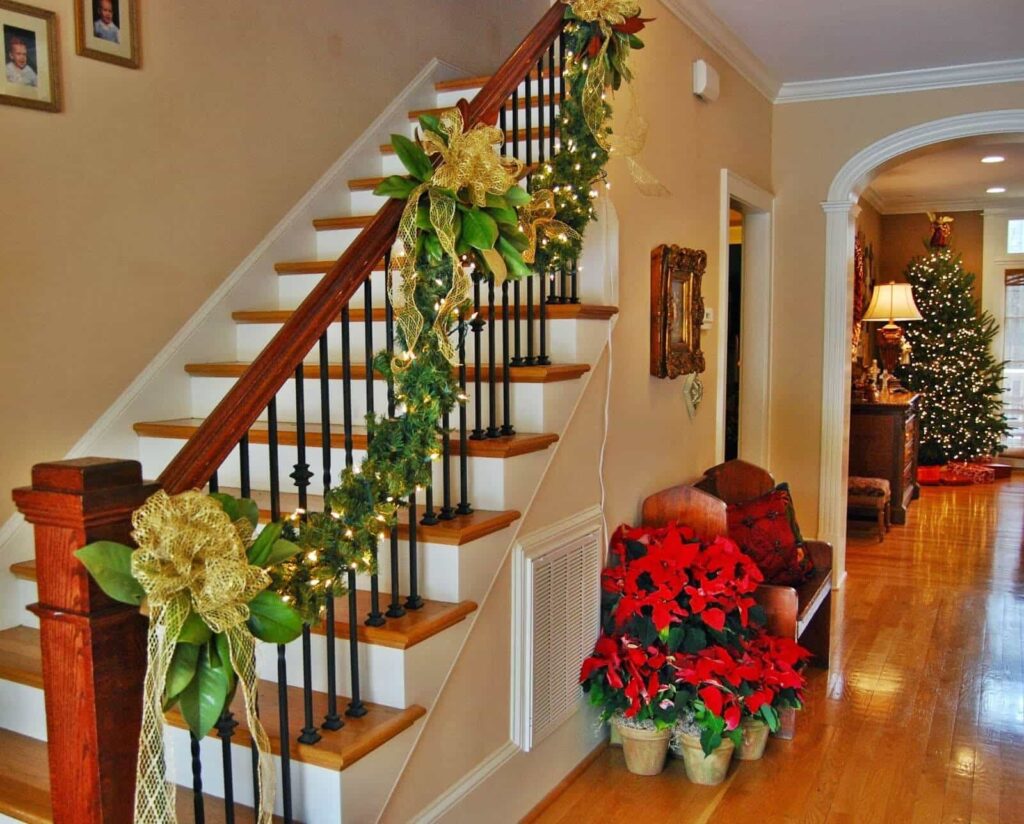 source: thedomesticcurator.com
How if you share your thoughts or quotes or any lyrics that you would love to see! Or else it is your favorite song lyric or a sound bite from your preferred holiday movie, you can't go mistaken with a Christmas extract. You can flaunt it on a chalkboard or on walls with different colors for all to see it.
Wine bottles Christmas tree! 
You can excuse it, to open a bottle of wine. But you can construct a decorative tree with these wine bottles. It may sound you tacky, but once it is built, you will be stunned. But, if there is trouble about you can't break the tradition of displaying a real tree? Then why don't you try to show-off both?
It's not necessary to keep a filled bottle of wine; you can have a stalk of empty bottles of wine. The main thing is that you should have a number of bottles lying around you. The end result of the wine bottle might look daunting but it is not exactly terrifying as it seems to you. That's like a challenge; if you start it then you have to end it until it's done. You can buy empty bottles too.
Set a theme in your mind!
If you are planning for the holiday meal, then be prepared with the theme in your mind which looks delightful. Offer your dining table a theme! Almost everyone loves to have an idea about Santa feast. After all, it's a long winter holiday that you think might not get ended. There are several ideas to have a Santa brunch in what order! You can go for a ready-to-make breakfast and plenty of coffee. Then do plan for some little snacks or anything given initial. What about incorporating gingerbread into breakfast!
So, lastly, think about a menu that everyone would love to have in Santa brunch.
Good time to have cocktails!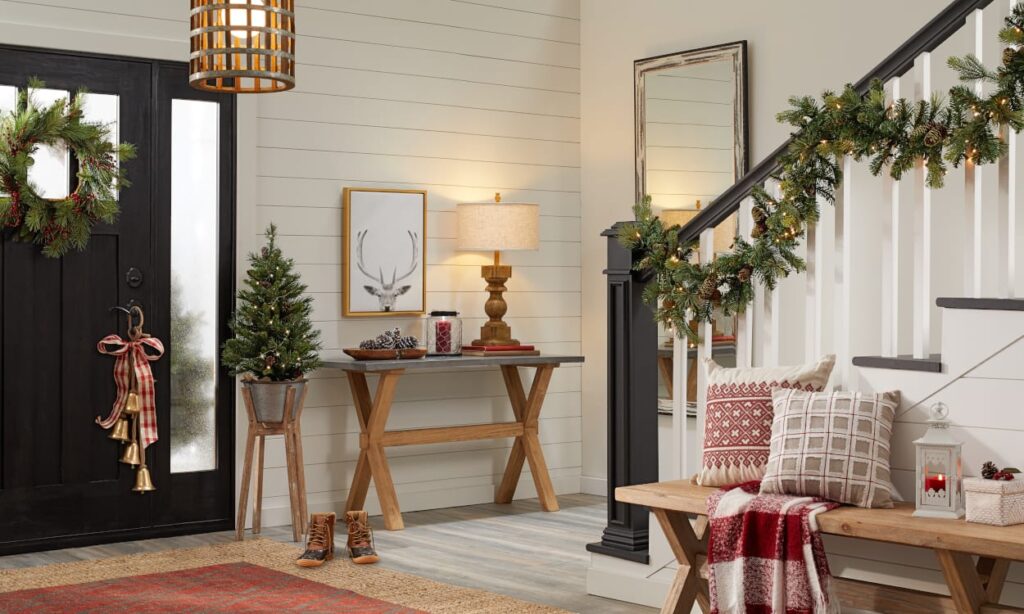 source: overstock.com
Incomplete menu, if there are no cocktails on this festive holiday. The event party would miss a real party if cocktails are missing. So, while planning your holiday bash, ensure about adding a cocktail to your menu. Keep reading for the day of you admire cocktails to say ovation with this holiday season. We have got up with typical holiday flavors here. They could have double as dessert, as some of them are so decadent.
Playing with ornaments!
Ornaments are like, not only for trees these can be fixed anywhere. You can prefer bowl, vases, and other vessels, and fill it up with Christmas ornaments. It is an oh-so-easy centerpiece. I might be right about there are no such things as too many ornaments for a Christmas tree. You are probably looking for something new to be added to your collection. Think about it, why not to try making some DIY ornaments! Rather than buying, it will save you money too.
Your family can come together to make homemade ornaments that are not only fun and easy to make, is going to look stunning on the tree. Your home will feel so comfy and warm with these together homemade items hanging up, rather than pricy items from the store.
Dressing of kitchen!     
I do know that in this holiday season, most of your time might pass staying tuned in the kitchen, between baking cookies and pounding up a ham dinner. You can cheer up your space by decorating the kitchen with innovative linens, mugs, dinnerware, and even a wisp of garland. You can arrange ornaments of red and green color in the kitchen. What can be arranged in the kitchen?
       

Wooden trees around the sink

       

Red poinsettias

       

Ribbons and wreaths of red and green color

       

String up lights

       

Farmhouse Christmas in kitchen
Christmas signs can take you to next level!
Not only wreaths and garlands have the opportunity to be hanged for decorating your home in this holiday season, but some opportunity is also handled by rustic wood, these occasional signs are perfect for displaying them indoors and outdoors. When you are done with this craft, you will feel super cozy, you might think not to remove these signs for years!
Go crazy with pink!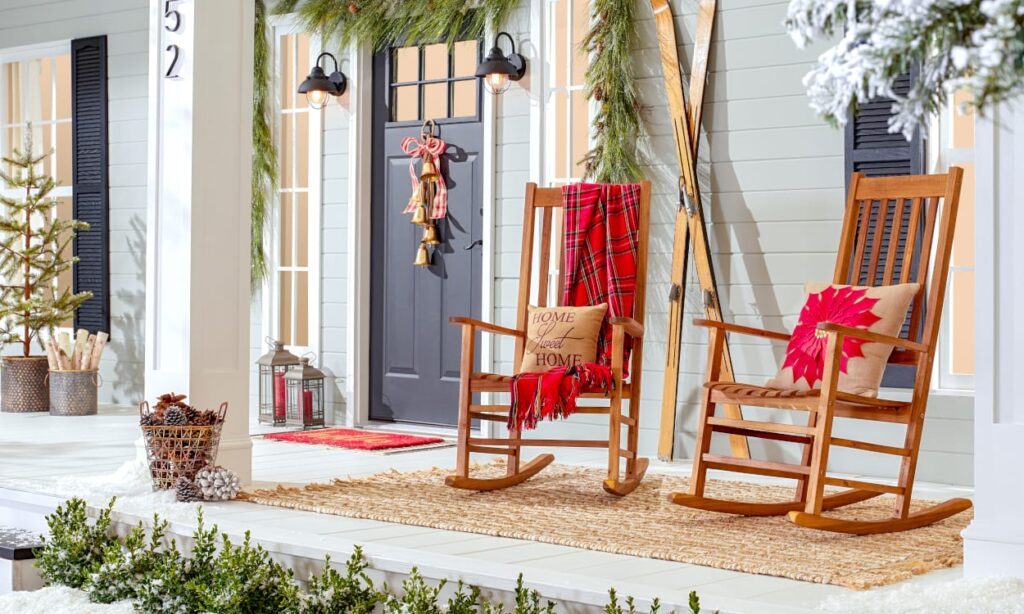 source: overstock.com
It is obvious that red and green are the classic colors for this previous day. But don't you think it is cool to use different colors in your house. Feel free to bow out and design your décor to another shade. We are possessed with a soft pink theme, but you can try with blue, maroon, or purple are equally stunning.
Construct an advent calendar!
How can we forget to nix the chocolate advent calendar! Isn't it is a decoration and a kid-friendly activity? You can make a homemade one with a paper bag hanging on the string passing by, and try to hang it with different lengths and sizes of bags. You can hang it on the wall to double the décor of the wall.
Create a winter wonderland!  
All along with winter outside, make a winter wonderland indoors too! If you are confused between combining with pretty colors then pick a theme, you can't mess up with: winter whites! After, all you have to construct a snowman and all the metals and instrument whites. This wonderland color design uses the same type to craft a stunning, snow-kissed tables cape.
String lots of lights!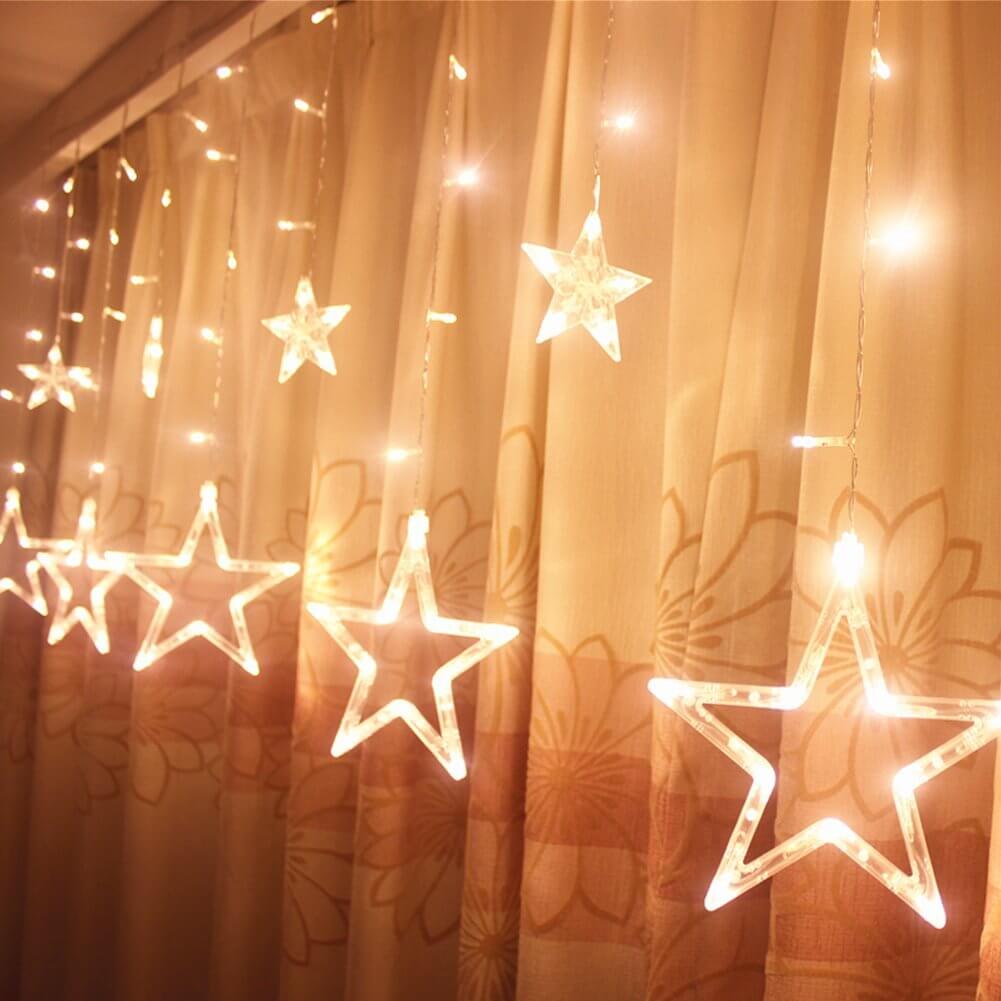 source: homebnc.com
Lights are one of the most twinkling items, making your room glow and remove the darkness. The easiest way to turn a simple room into a cozy space is with twines of twinkle lights. Don't use them just on the trees; you can twine your favorite on the doors, windows, on mantels, and even making your tables cape stunning. You can even fix the battery-operated version to do conservation of power.
Add some poinsettias!
As you know the poinsettias, are the shape of poinsettia flowers, and leaves are thought as a symbol of the star of Bethlehem, which is all related to Jesus. Then how can you forget to have poinsettias in the decoration of your home! If you ever feel your room is lacking something to Christmas cheer, then add this poinsettia or two. This pretty poinsettia can be found in various types of colors and sizes, and you can get it with no more cost, easily (at nearby stores).
So, what are looking for, grab your wine, have fun, and make yourself cozy and start working!