Everybody wants to live in a convenient home. We are looking for ways to get the maximum with the budget we have. One of the options to boots the functionality of your accommodation is to automate some furniture pieces. What about the design? Well, if you automate some items properly, the design of your home will benefit, too.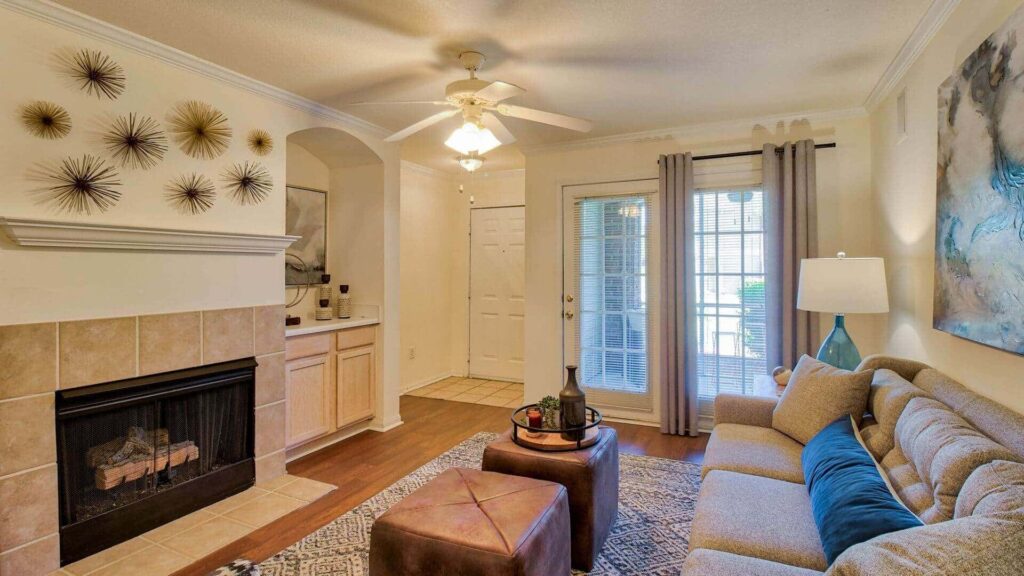 source: ellectorquellevasdentro.com
First, let us check where automation can serve your needs properly:
– Many items in the kitchen can be automated. It is a wonderful way to accommodate all the devices you have always wanted to have and still to have enough space.
– Your home office is created for automation. There, only your budget can set the limits.
– In the living-room, you can arrange many things with those miniature actuators and lift systems.
Now, let us move to every room and check what benefits the technology offers us.
Your Kitchen Can Turn into a Fully Equipped Hub for Cooking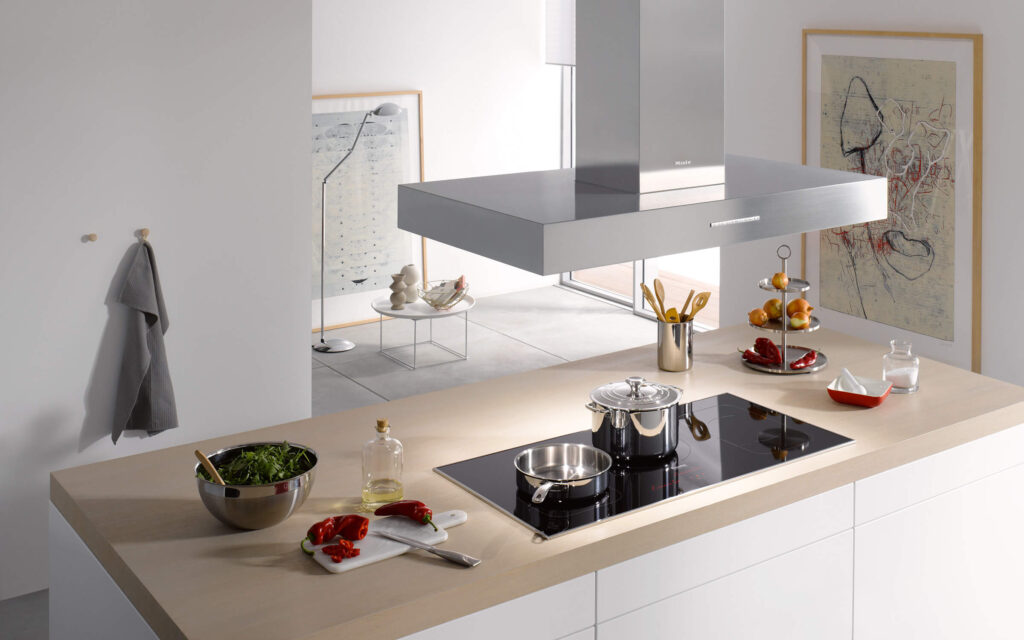 source: nonagon.style
Do you want to buy a new food processor, but all the cabinets are taken already? Well, do not worry. There are always plenty of dark corners where nothing is stored. What about using all the space in the cabinet?
We are not telling to clean up all and fill the cabinet. We are telling about a nice automation idea that will help you to accommodate that food processor or whatever else you want to get.
– Make a lift platform for it. It is easy. Install a lift system on the bottom of the cabinet, fix it as close to the wall as you can. Like this, you will occupy the space that is the least efficient in any cabinet.
– On the lift system, install a platform, and on the platform, fix the device that does not fit in any other place.
– Cut out an opening in the cabinet cover. In this opening, your device will be lifted when you need it. And when it shall be stored, the platform will hide it into the cabinet.
– And use the piece that you cut from the top to close the opening when the device isn't in use.
Yeah, you can install as many platforms as you need. They can be not only lift platforms but drop-down, too.
Make Your Home Office Comfortable and Functional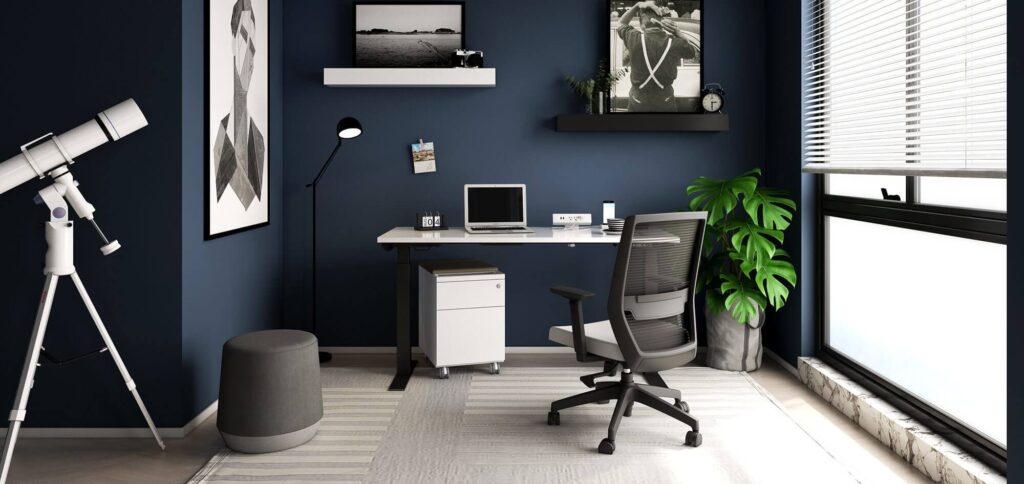 source: friant.com
Your home office design is the place where you earn money to support your family. Thus, it shall be as comfortable as you can arrange it.
The first thing we recommend is to install a lift table. You might buy a ready one. But if you have your office table and you like it, you can convert it into a height-adjustable desk.
It is easy to do so. Get a lift system and install the top of your desk on it. That is it, you have a super-advanced and extremely functional piece that will boost your efficiency and will help you to stay fit and healthy even after years of work at your desk.
What about rotatable shelves? If you work with papers or need to store your information on physical bearers, a shelf that can rotate with a push of a button will save you at least some minutes every time you need to get something. Imagine how much time you can save during, say, 10 years of work. Moreover, you cannot deny that it looks just stylish and your motivation will boost.
Your Living Room Is a Perfect Space for Any Kind of Automation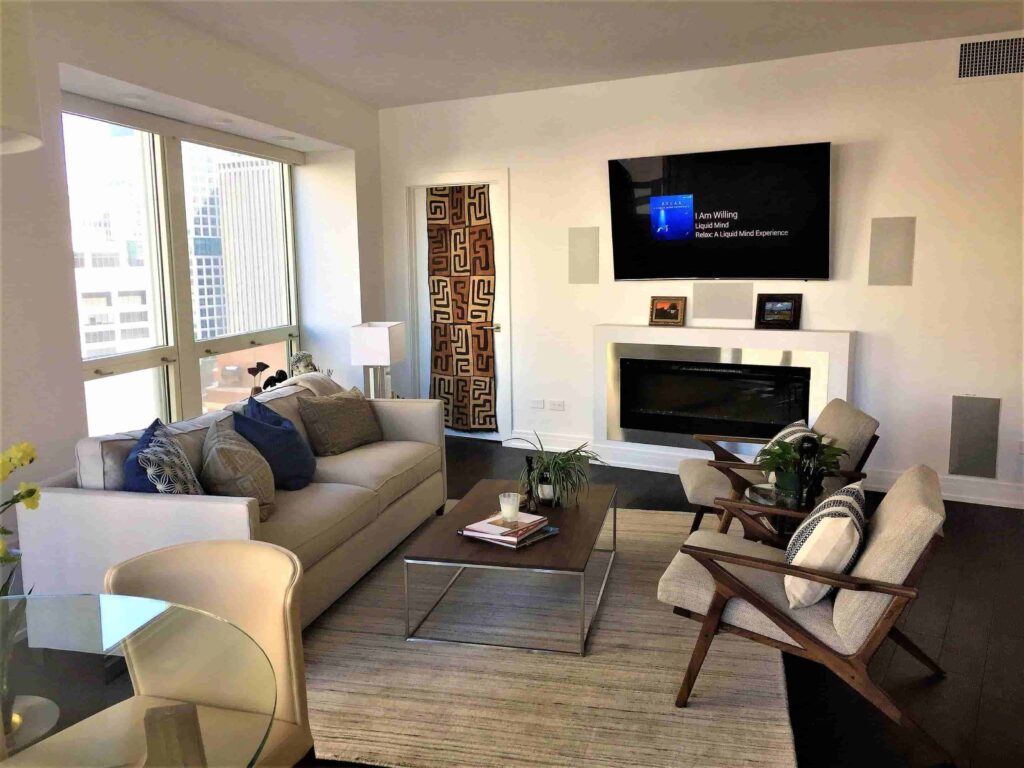 source: pinterest.nz
In your living room, you can automate everything, without exaggerations. A trend nowadays it to install automated TV lifts. They look nice and stylish, especially those that are fixed on the ceiling. Though you might also consider lift systems that popup from a cabinet. Or maybe your choice is to hide your new TV behind a panel and make the panel make the device appear when you need it, and vanish when it is not needed?
Shelves that can rotate to expose the side that you need right now also save space and look impressive. Well, you can even change the interior style depending on your mood just by fixing several such shelves and arranging every side in a different manner.
A height-adjustable table will be a perfect addition to the interior of your living room, too. If the tabletop can also expand, you can easily turn it into a fully functional table when waiting for visitors or when you need a bigger space to arrange, say, some documents.
Final Thoughts
These ideas are just the most common examples. But it depends on you only what ideas you want to implement. Have a look at your accommodation. Remember about your dreams and wishes. What of them you had to delay or even abandon because there is no space in your accommodation? Check what can you do to make them true and do it.