Is your living room looking a bit bland and drab, but your budget isn't going to accommodate a complete makeover that replaces the furniture and allows a total transformation?
In this case, it's worthwhile to consider small changes that can make a significant difference. Instead of stretching your budget in hopes of replacing everything, consider these effortless ways of sprucing up the space. 
Luxury Throw Pillows
source: thespruce.com
A few luxury throw pillows can make a meaningful difference to your living room. Choose a high-quality fabric like velvet, cotton, wool, or even more textured options like faux fur or faux leather. 
You also won't need to add too many; a single new throw pillow per sofa is more than enough to add substantial luxury, elegance, and comfort to the room. 
Invest In New Drapes
Living room drapes can also spruce up a room and add elegance. Opt for high-quality heavy fabric like velvet, silk, or thick black-out cotton. 
Otherwise, if you aren't too keen on buying new drapes, or want to make a small living room seem larger, opt for chrome or white blinds. Blinds are the ideal choice to ensure you can make the most of natural light during the day. 
Moreover, when purchasing new drapes, be sure to avoid common mistakes like choosing the incorrect length and width, selecting the wrong heading style, and settling on the wrong fabric choice for the room. 
Add An Accent Wall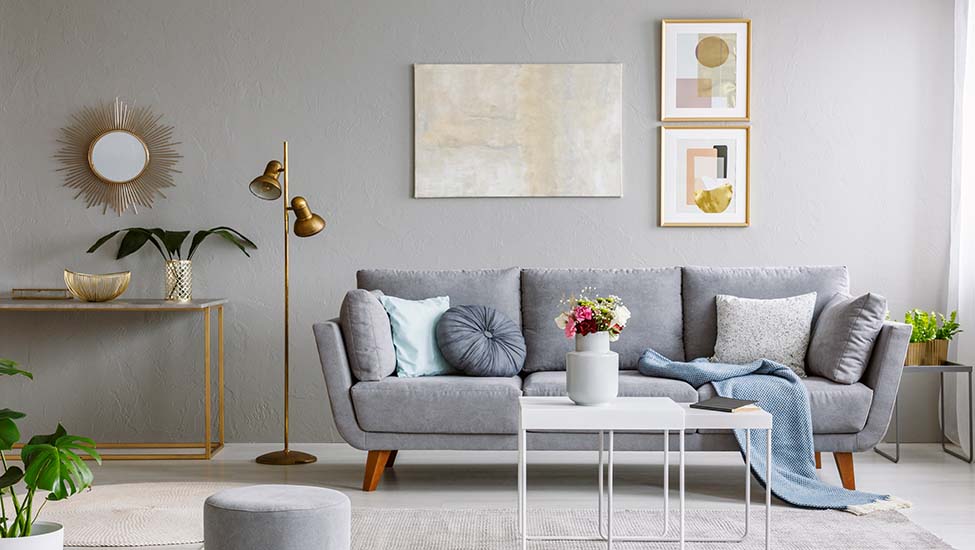 source: decorpot.com
An accent wall can also make a notable difference to the overall look of your living room. 
You'll need to find a textured or patterned wallpaper and select a wall in the living room to spruce up. Otherwise, you can paint one wall a bold varying color so that it stands out from the others and draws attention. 
A Welcoming Area Rug
Area rugs are another way to instantly change up a room without breaking the bank. There are tons of different designs and styles to consider as well. 
If you're after a luxury living room theme, consider a luxe shag rug or a vintage print rug. Otherwise, you can also consider vibrant contemporary rugs or minimalist plain area rugs. 
Reupholster The Sofas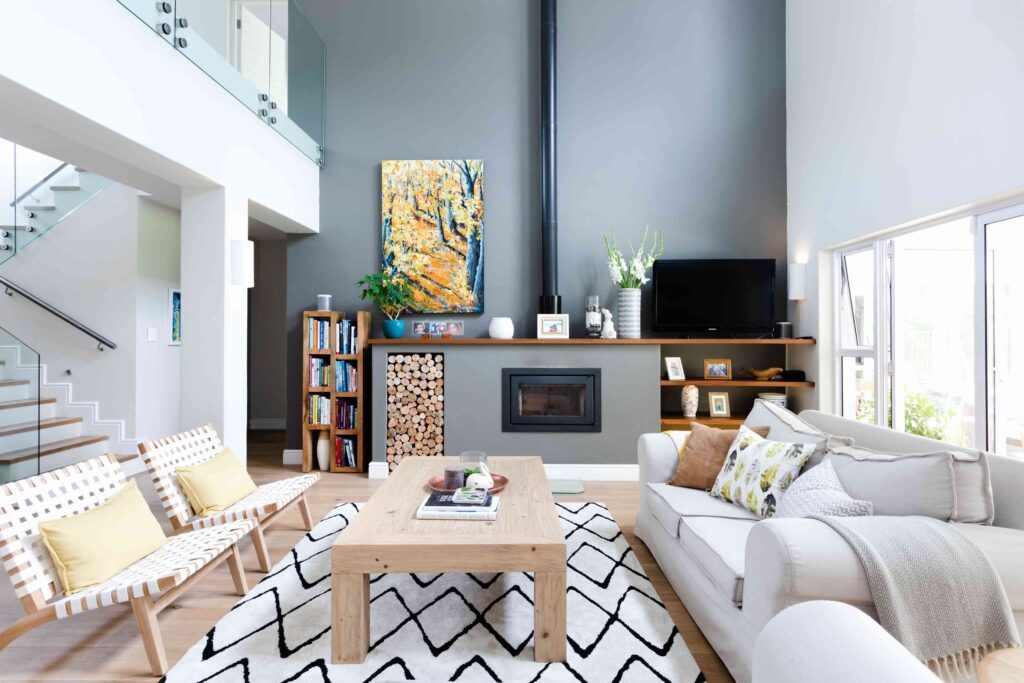 source: thespruce.com
If your budget can't accommodate new sofas, but your existing sofas are looking shabby, and out of style, you could consider reupholstering your sofas instead. 
With this, you could have your sofas retouches with vibrant gem-colored velvet or comfortable textured cotton, or even opt for a minimalist leather look. The sky is truly the limit when redoing your sofas. 
In addition to the budget-friendly makeover ideas listed above, it's also wise to consider decluttering your living room. 
Decluttering is effective enough to give your living room a makeover without having to spend a cent. And it's as simple as removing excess decor items, clearing surfaces, ensuring everything has its own space, and keeping the space clean and tidy over time. Decluttering can also make small rooms seem a lot larger.
With that said, whether you decide to add an accent wall, reupholster your sofas, or pick out the perfect area rug, it's key to keep to the existing theme of your living room when making small changes for a big impact.