Although you may love your living room decor, after a while, you may need to have that decor update to give your space and, most importantly, that instant mood-boosting lift. 
The usual culprits are a sofa, a coffee table, a television, a lamp, a rug and maybe some pictures to put onto the wall. However, it may be that these items provide only the bare bones of your living space and are missing that special something to make the space shine. 
The best way to make your space more interesting is to add more personal decor pieces that are guaranteed to add more character to your space. Now, this does not have to break the bank as there are many different options such as marketplaces, charity shops and even car boot sales that are usually packed full of interesting things.
It can be difficult to know where to start, particularly since the possibilities are endless, so we have compiled a list of potential new decor changes you could make to your space. 
Mix Up Your Wooden Furnishings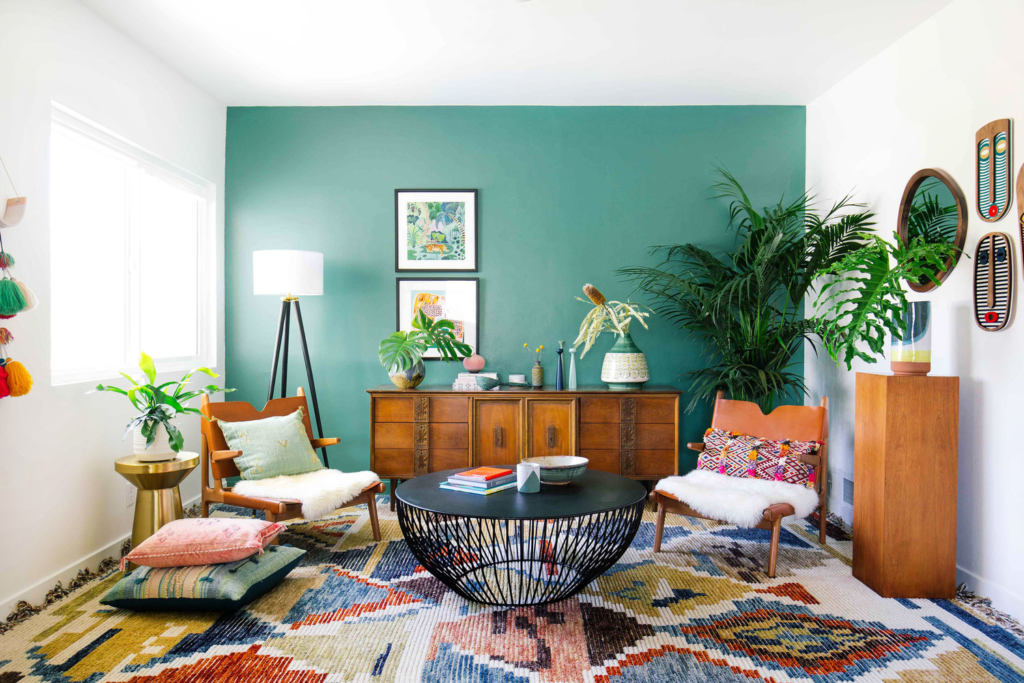 source: pinterest.com
A common mistake that many people make when it comes to making your place seem boring is matching all your hard surfaces: having your coffee table, bookshelves, and even chairs match within one tone of wood or colour. By ensuring that your hard living room furniture is different, whether through mixing dark and light wood colours or even painting one of your existing pieces into an attractive colour, you can be sure to add more life to your living room. Hunter Furnishing has a fantastic range of light-coloured wood furnishing that can help with this decor idea!
Create A Gallery Wall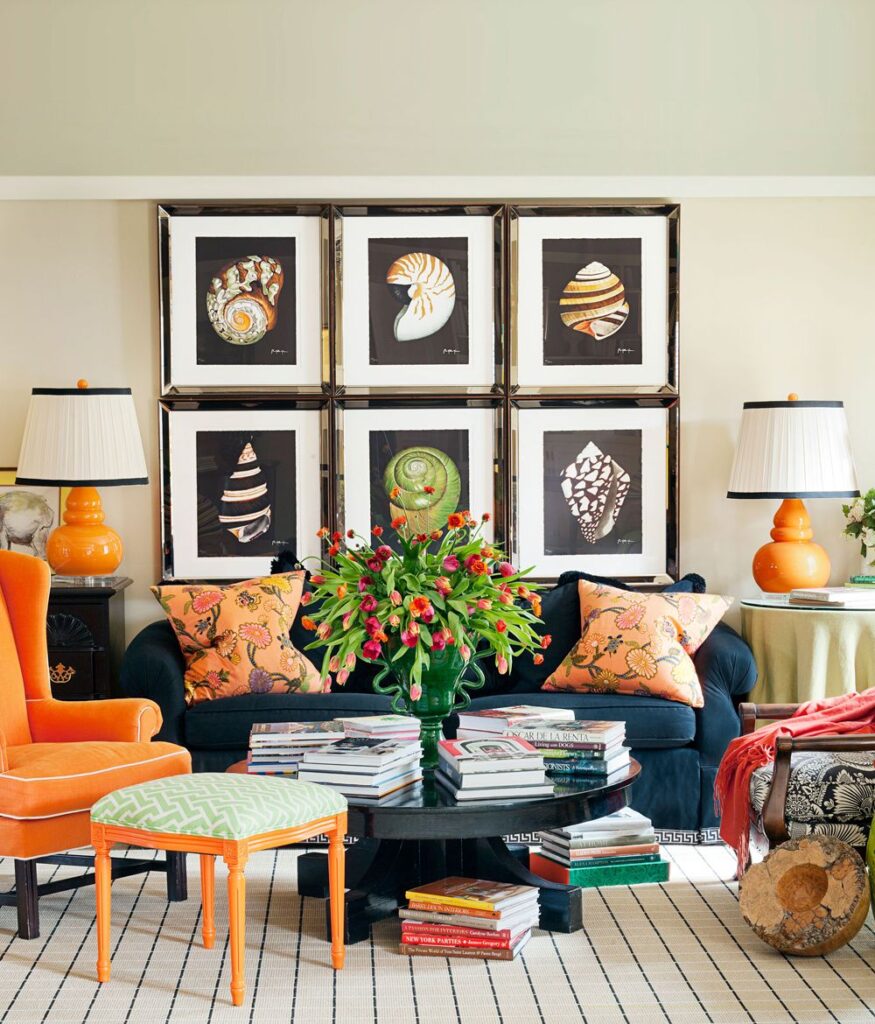 source: hearstapps.com
The best and quickest way to create a talking point for all your visitors and guests is to create a personalised gallery wall of different pictures. This can instantly add splashes of much-needed colour to any white walls and draws the eye towards something interesting. 
There are many different ways to create a gallery wall, with one to bear in mind being that you do not have to follow any rules. You can mix and match different frames, sizes or pictures and different themes. Maybe you love a particular animal or have a favourite quote you live by? In that case, you can showcase those things in your wall gallery together. 
For even more personalisation, how about curating different pictures taken on different outings or holidays? It is a fantastic way to keep memories alive and on full display for you to enjoy and reminisce over time and time again.
Open Your Space With A Mirror
If your living room space is quite small, adding a mirror is the best way to create an illusion of more space. This can be as simple as adding a tall standing mirror to a corner or a small mirror above a fireplace.
A mirror will help reflect any light, thus creating more natural light within your space. If your main worry is adding a mirror may mean more cleaning, as it can be very evident when a mirror gets dirty, many different products on the market can help keep your mirror streak and dust-free. 
Suppose you happen to share your space with any children or energetic animals. In that case, you may opt to wall-mount your mirror to avoid any potential accidents.
When In Doubt, Add More Plants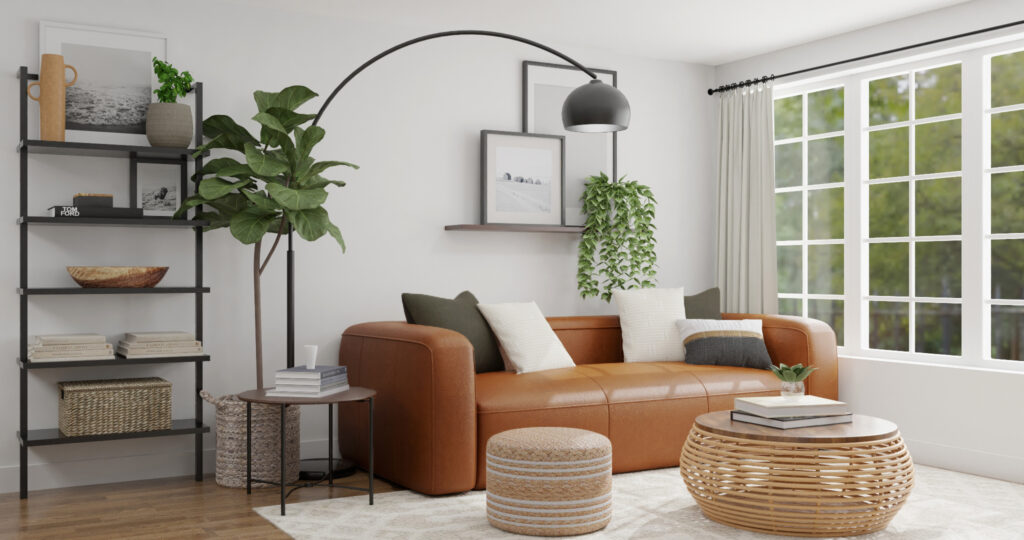 source: pinterest.com
A great way to improve your space is to bring the outside in by adding more plants to your room. This decor suggestion can be as simple as adding a new potted plant to your coffee table or adding some hanging baskets of ivy to your windows. By adding plants, you can improve the air quality of your room alongside helping create a moment of calm within your home. 
Suppose you find that your lifestyle does not allow for any real plants as you may not be in often enough to water your plants. In that case, artificial plants are a great alternative. 
Better yet, you could always create a shelf or wall of plants by installing shelving directly into your walls. This option will allow you to play around with different plants with different colours and textures.   
Add Some Novelty Lighting 
Adding a table or floor lamp may be just that little something that your space is missing. However, it may be an idea to opt for an alternative lamp in a fun shape which can be readily available from specialist and vintage shops. It may be that you can also easily re-vamp your existing lamp by changing its lampshade. 
A great way to brighten up a space in a fun way is to add a neon sign. This will help as an interesting focal point that will look great in the evening and night. This is a step up from simply stringing some fairy lights around a window.