Isn't it obvious that almost everyone wants their ideal house to seem lovely and flawless? Whether you're an architect designing a home or the homeowner, planning takes effort and time to ensure that everything runs well. Many people believe that interior design and decor are the most important aspects of home construction. However, there are other elements that must be considered in order for a home to be an ideal living place. The Front Elevation Design is among the most important components!
Today in this article, we'll talk over elevation design and its significance in the building and architectural fields. We've also gathered some of the greatest and most recent front elevation design ideas for your inspiration. So, let's begin with elevation designs at The Architecture Designs.
Elevation Design, What Is It!
source: pinterest.com
The elevation is an orthographic or 2-dimensional projection drawing that depicts the front, rear, or side aspect of a structure.
This two-dimensional estimation is parallel to the vertical plane, giving the spectator a flat picture. Elevations, in layman's terms, are used to depict the independent sides of the visual appeal of a specific side of the house.
Many individuals mistake elevation drawings with floor plans and believe they are interchangeable. There is, however, a significant difference between them. A floor plan only shows a two-dimensional image from above to a down observer. An elevation sketch, on the other hand, presents a detailed, real-life perspective.
What About Front Elevation!
source: darchitectdrawings.com
The front elevation, often known as the "entrance elevation," depicts the whole front side of the structure. It is also a component of a scenic design that showcases some of the scenic features or the complete set as seen from the front. Depending on the needs, this might be with or without dimensions.
Usually, building front elevation designs include accurate measurements, allowing the architect to gain a better knowledge of the structure. It will assist them in rapidly and properly drafting or drawing objects.
The front elevation sketch or design comprises a variety of elements such as the entrance door, windows, and the front deck. Any things that extend from the house, such as corner porches or fireplaces, are also included in the design
2022 Front Elevation Design Ideas!
Elevation design is some of the most effective methods for determining how your home's frontage will appear. This allows you to view the design and make adjustments or updates as needed. Here are some fantastic front elevation design ideas to get you started on identifying the best front elevation design for your property.
Budget-Friendly Front Elevation Design
source: darchitectdrawings.com
This elevation design is a front elevation design intended for single levels or floors. This style will provide you with an excellent view of your property. All of the characteristics, such as the security doors, windows, entryway, and so on, are visible from the pass or area.
Single-story homes do not reveal the side walls in the budget-friendly front elevation design unless they are constructed at specified angles or protrude from your home. The entire design adds beauty and utility to the exteriors.
Simple & Classic Front Elevation Design
This is a basic home elevation that is becoming more popular by the day. The clever and uncomplicated architecture of this structure, paired with the neutral grey hue, works nicely, connecting all the pieces together beautifully. A simple parking spot is given at the front of the house, which may be adjusted to meet your specific needs.
3-D Front Elevation Design For Small Houses
If you really want to add a touch of elegance in front elevation design for small houses in your range of properties, 3d elevation is a great option. The relationship between the building model and elevation is obvious. Because the front elevation is a pre-construction step, you may always adjust the specifics included in the design plans to meet your demands.
Double Floor House Elevation Design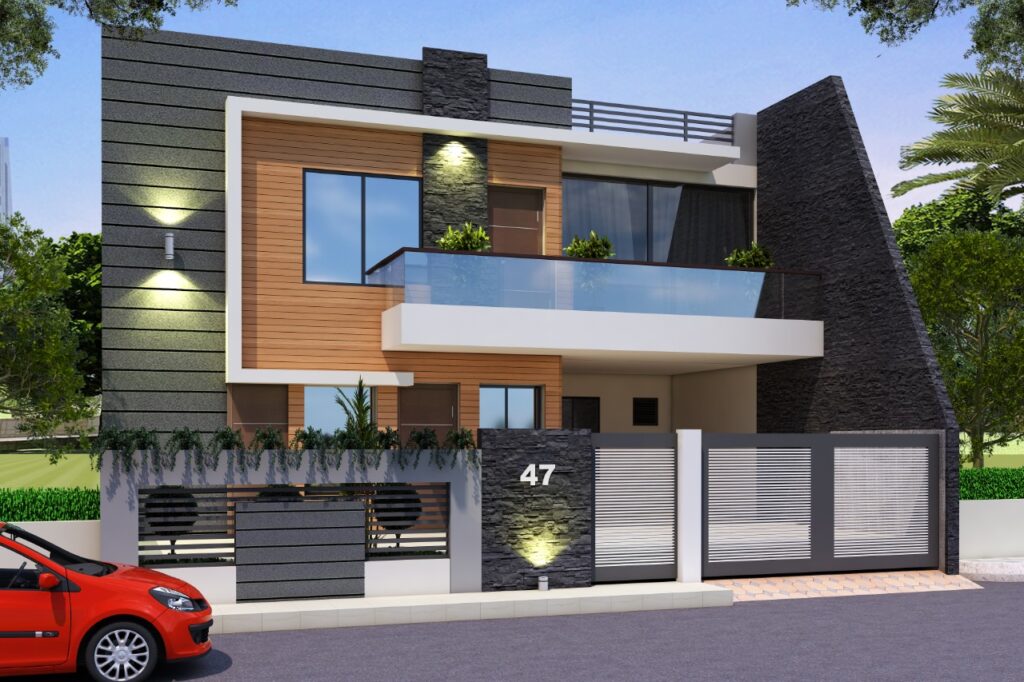 source: makemyhouse.com
Except for the addition of a floor, the front elevation of a double-story structure is identical to that of a single-story house. This is yet another case of a front elevation that distinctively and precisely exhibits all of the projecting characteristics of this double-story structure. The modest parking area in front of the house is a first-floor balcony with elegant wall designs.
Three Floor Building Front Elevation Design
Three-floor structures are widespread in many regions. These dwellings are built by people who aren't big fans of apartment living but nevertheless wish to integrate certain characteristics. This front elevation design of a three-floor building depicts a clear picture of a three-story construction. Although this is the final version, you may always make adjustments based on your needs.
Magnificient Bungalow Front Elevation Design
A bungalow is often a single floor or a partial second floor with a cottage design. This bungalow's lovely elevation features a pitched roof with a protruding chimney-like structure. You may see all of the designs in their raw form, offering you a sense of what you're having. Parts of the structures appear to be embedded in the blocks, creating a one-of-a-kind design.
King Villa Front Elevation Design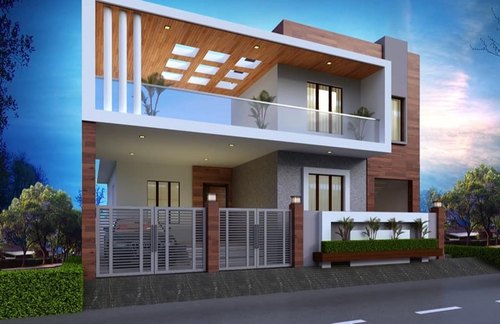 source: piterest.com
Owning a villa is a daydream for many people, but it requires a significant financial commitment to make this dream a reality. Having a great elevation plan in place provides you with a concept before making a final decision. This big house elevation includes the front and side views of your home. You may enjoy a great view of your parking spot, terrace, and courtyard.
Trending Front Elevation Design For Small Houses
The modern house is another style of dwelling that is gaining trend these days. These kinds of houses are typically seen in the suburbs. That doesn't mean you can't experiment with your home's design and architectural representations.
These sorts of residences or structures are ideal for individuals who desire a trendy and luxury appearance without making too many design alterations. Front elevation ideas for ground-level residences are less difficult yet extremely eye-catching.