Many people are embracing the concept of engineered wood flooring. Although it offers the same premium aesthetics of hardwood, engineered wood flooring is far more environmentally friendly.
Furthermore, it tends to be more versatile than traditional hardwood flooring. It's also far more resilient than standard hardwood, making it a versatile solution that can be used to re-floor just about any space.
Below, we explore four styles of engineered wood flooring that you can use to breathe new life into your home or commercial spaces. 
Long Plank Flooring: Stylish and Versatile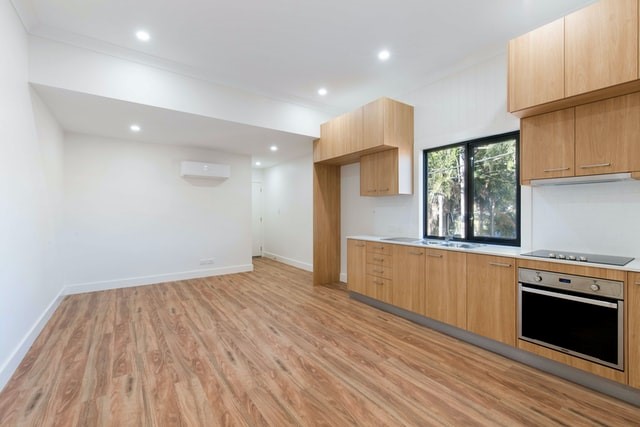 If you're looking for something simple that will work well in any room, long plank flooring is the way to go. Long planks are often used in contemporary spaces but look equally at home in traditional interiors. 
Long planks are particularly effective in smaller interiors, helping create the illusion of extra space. However, longer planks can also be used effectively in more sprawling interiors and open-plan arrangements. 
If you're planning to overhaul an interior with engineered wood flooring, long planks are one to consider. Compared to other types of flooring, long planks are surprisingly affordable. Furthermore, they're far more versatile and can adapt to any room in the home.
Because of their stripped-back design, long planks allow the rich character and natural grain of the veneer to shine. You will also find long planks in a variety of thicknesses. If you're eager to add more character to your floors, opt for narrow planks. If you're re-flooring a larger interior, thicker planks are the way to go. 
Chevron Flooring: A Classic Option with Plenty of Character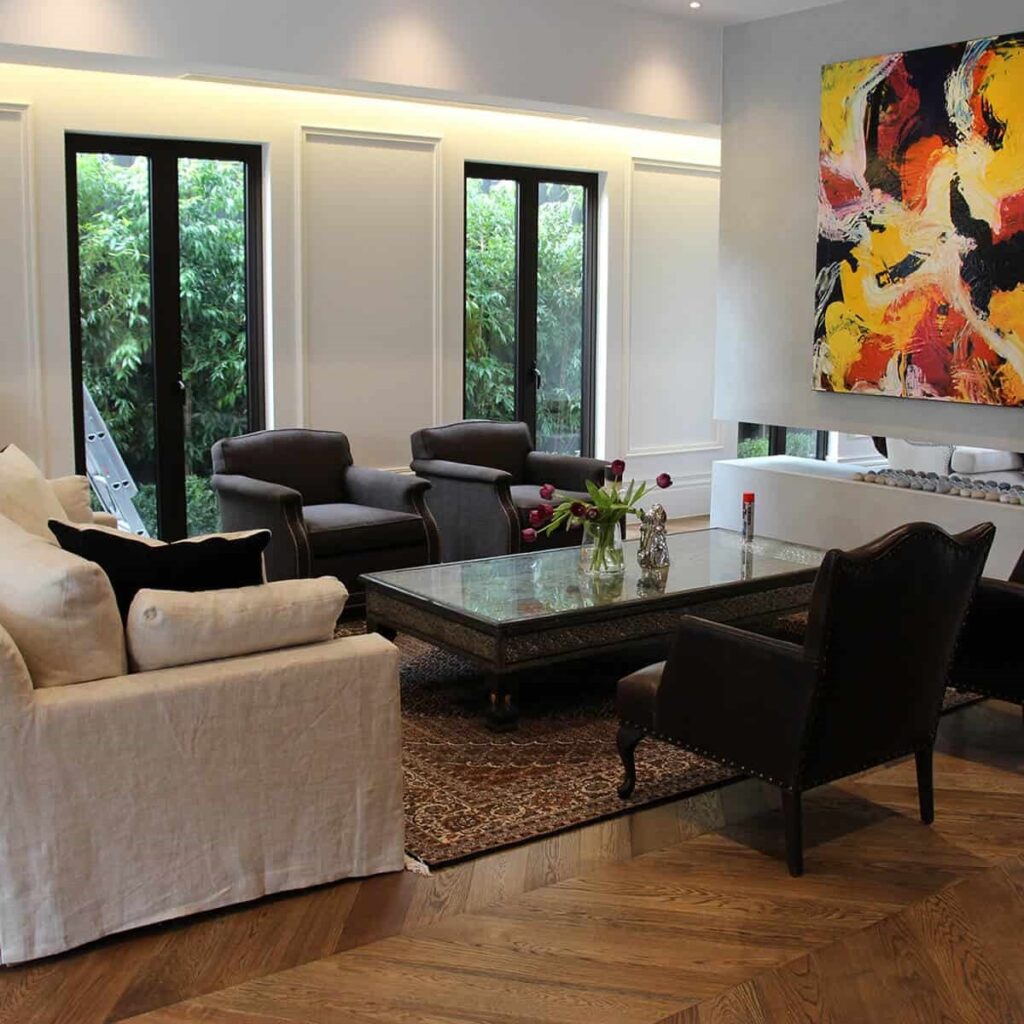 Chevron flooring has been around for many hundreds of years. However, it only emerged as a popular flooring style during the 17th century. Since then, it has become a go-to design for those looking to inject a touch of elegance into their interiors.

Chevron floors are made up of many individual oblong angles. The shorter two edges of each of these panels are cut at a 45-degree angle, Once properly aligned, these panels create a distinctive arrow shape. This pattern not only adds character to a room but can also introduce a sense of flow to your interiors.

Although often used in more traditional spaces, chevron flooring is a good fit for contemporary interiors. Choosing panels with a variety of grains and hues produces a dramatic aesthetic. However, you can opt to keep things more subtle with pale veneers in white and gray.
Herringbone Flooring: A Timeless Design Choice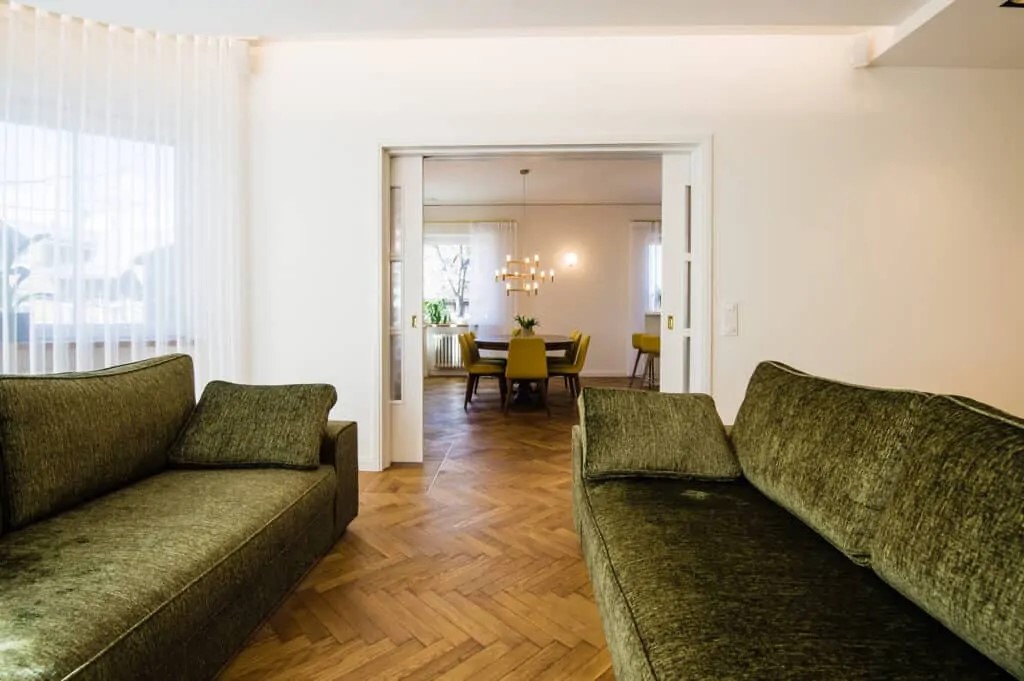 Herringbone flooring instantly evokes a feeling of luxury. This style of parquet flooring has been around for several hundred years and remains a popular choice when it comes to renovating interiors.

Herringbone flooring shares some similarities with chevron flooring, although individual planks are cut into true rectangles. When properly laid out, these rectangles produce an impressive zig-zag pattern.

This pattern instantly adds personality to an interior and can be used effectively in spaces of all sizes. Although this zig-zag motif is staggered, it's incredibly uniform. This makes it an excellent complement to contemporary decors. However, herringbone flooring in darker hues can lend itself well to traditional interior design equally well.

If you are limited by square footage, herringbone flooring can help create a sense of space. The eye is naturally drawn to the V-shape where individual panels meet, creating the illusion of more generous dimensions. 
Versailles Panels: The Luxurious Option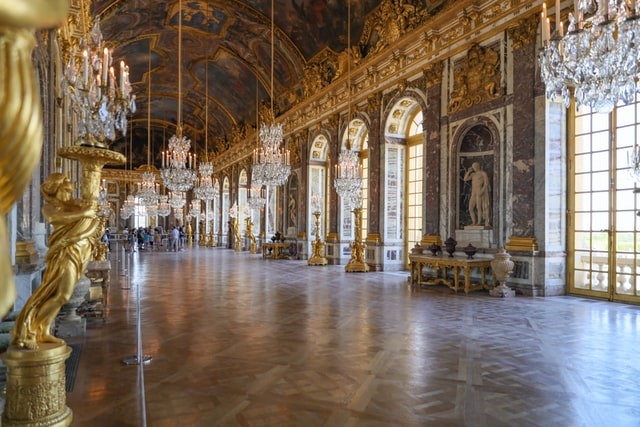 If none of the above flooring styles is luxurious enough for your tastes, Versailles panels are sure to tick every box. Versailles panels take their name from the Palace of Versailles. It was at this historic Parisian palace where these elegant panels were first introduced.

Before Versailles panels came along, marble flooring and premium tiles were considered the epitome of elegance. However, these breath-taking wooden tiles with their intricate arrangements changed all that.

Although originally produced purely in hardwood, you will now find many engineered wood alternatives on the market. Despite being more inexpensive and durable, engineered wood Versailles panels are by no means less sophisticated.

You can use them just about anywhere. If you're looking to add a real sense of grandeur to large spaces, they're the perfect fit. However, you can also use them to transform the aesthetics of smaller areas. 
Enhance Your Interiors with Engineered Wood Flooring
If you're searching for a cost-effective and hard-wearing alternative to hardwood, engineered wood flooring is the obvious choice.

Looking to keep things simple? Long planks are a budget-friendly option that can be introduced to almost any space to great effect. Do you prefer your flooring with more personality? Chevron and herringbone flooring can introduce texture and incorporate flow into your interiors. Finally, there are Versailles panels for those seeking something that exudes elegance.