Summertime is the perfect opportunity to take a stroll outside, host a cookout or just relax in your home without feeling too stuffy. However, high indoor temperatures can often leave you exhausted and drained. 
Thankfully, you can maintain a perfect indoor climate with a few adjustments to your air conditioner settings. But how cool it'd be if you didn't have to micromanage temperature settings? 
Well, guess what? You can make your old units, such as window air conditioners, smart in minutes! Then you can sit back and relax as your AC turns on/off automatically.  
Keep reading to get started! 
Make Your Window AC Smart 
source: cielowigle.com
Before getting started, make sure to clean your window AC unit. Regular maintenance helps improve your air conditioner's efficiency, especially in the peak season. 
Now, let's make your window AC smart. There are two ways you can do that. Let's look into them in detail: 
Smart AC Controllers
The best way to automate your home climate using your old window air conditioner is by pairing it with a smart AC controller. They use infrared technology to connect to your AC and require a WiFi connection to link to your smartphone. The setup just takes a few minutes, and you're all set to enjoy the comfort of smart air conditioning.  
Smart AC controllers allow you to control your AC using your phone even when you're away. You can set location-based triggers so your air conditioner will automatically turn on/off as you enter a predefined radius. Moreover, you can set weekly schedules, keep track of AC usage, give voice commands for hands-off control, and so much more. 
Smart Plugs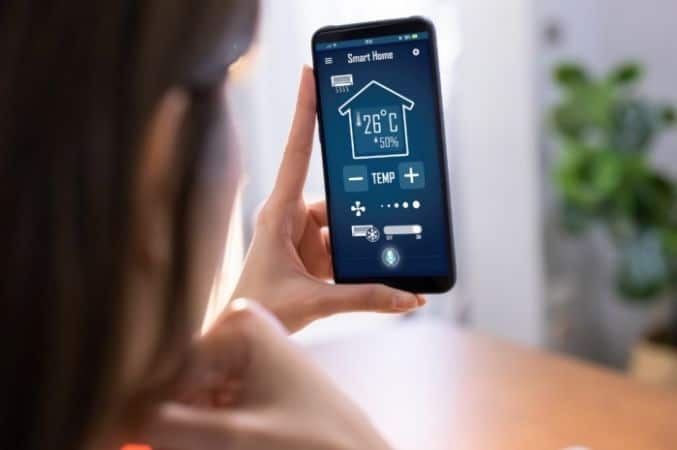 source: howtodigitalstuff.com
A smart plug works like any ordinary plug, only that you can control it through your smartphone. All you have to do is plug it into an outlet and connect it to your WiFi using the mobile app. Then, you can plug your AC into the smart plug, and you will be able to turn it on/off using your phone.  
On the downside, these smart plugs are of limited functionality. They are not programmed to communicate with an air conditioner, which is their biggest drawback. You'll only be able to turn your AC on/off. With a smart plug, you won't be able to enjoy smart features like weekly scheduling, geofencing, or usage history. Moreover, you cannot change temperature, fan settings, or mode with them. Even after investing in a smart plug, you'll need the remote to perform basic functions. 
Save Energy With Your Smart Window Air Conditioner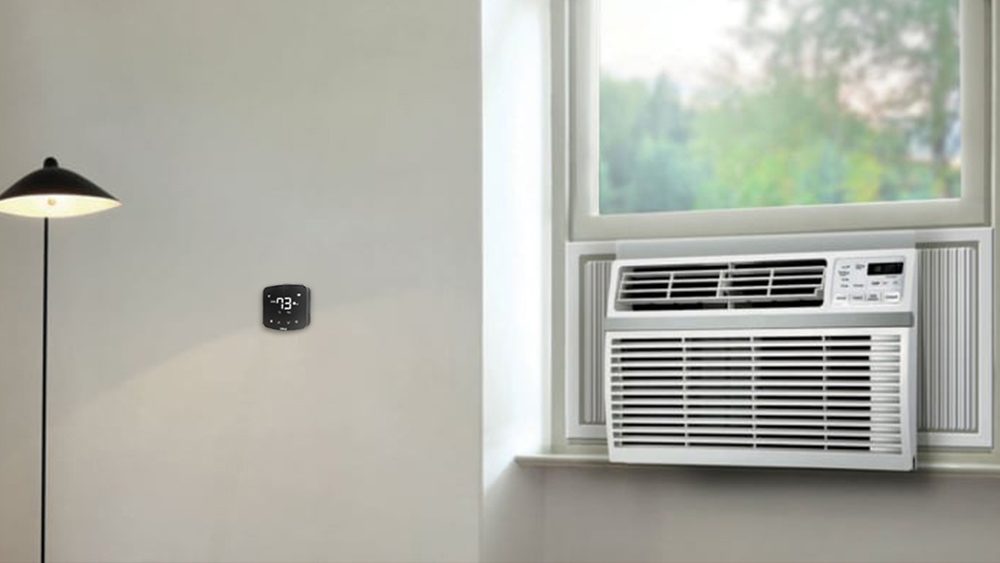 source: cielowigle.com
Some of the features you can use for better climate control while saving energy are:
Geofencing: Using this feature, your smart window air conditioner will automatically turn off when you leave your home. It'll turn back on before you arrive, so your home always welcomes you with a perfect temperature. With geofencing, you can stop worrying about forgetting to turn your AC off.  
Weekly Scheduling: You can set weekly schedules to automate your home climate as per your routine. Scheduling allows you to customize different temperature settings for different times of the day. You can even have varying schedules for weekdays and weekends.  
Climate Zones: HVAC zoning system allows better and personalized climate control to cater to different temperature needs. Each zone can have its specific air conditioner settings that can be controlled through your phone. For example, you can have one zone for the kitchen and basement and have another for the bedroom and home office. In addition to convenience, zoning also helps save 30% on air conditioning costs. 
Maintenance Alerts: Smart AC controllers send maintenance alerts like when your next air filter cleaning is due. This ensures your window air conditioner is working at its maximum efficiency at all times.  
Getting your hands on a smart window air conditioner might not tempt you at first because of the hefty costs. But pairing your ductless AC with a smart AC controller to make your old unit smart is definitely worth it. The best part? It'll cover its cost in terms of energy savings over time.