Parquet floors are classic and elegant flooring that could add a touch of class to any space. One key factor determining the quality and durability of parquet floors is the type of wood used in their construction. With so many options, selecting the best wood for your parquet floors can take time and effort.
This comprehensive guide aims to give you an in-depth understanding of the best types of wood for parquet floors. Each wood type has unique characteristics, including durability, colour, and grain pattern, which can impact your parquet floors' overall aesthetic and longevity. By the end of this guide, you will better understand the different types of wood available and the factors to consider when choosing the best type of wood for your parquet floors.
Oak Wood
source: pinterest.com
Due to its inherent strength, durability, and resistance to wear and tear, oak wood is a timeless choice for parquet floors. It is known to last long, and its natural golden colour only adds to its beauty. Because you can stain it to any colour you want, it's a versatile option for any interior design style. Furthermore, oak wood is reasonably priced and widely available on the market, making it a popular choice among homeowners and contractors.
Oak wood can withstand heavy foot traffic for an extended time due to its dense composition and hardness. It's also resistant to moisture, rot, and insect infestations, making it a good choice for wet areas like the kitchen or bathroom. Furthermore, oak wood is environmentally friendly because it is sourced from sustainably managed forests, ensuring responsible and ethical production practices.
Walnut Wood
Walnut wood is a popular choice for parquet floors, renowned for its deep brown colour and distinctive grain patterns that lend sophistication and character to any room. While softer than oak, walnut floors can last decades with proper maintenance. 
Regularly clean the parquet floors with a soft-bristled broom or vacuum to prevent scratches. While preventing warping or cracking is crucial by avoiding exposure to moisture or extreme temperatures. By taking these simple steps, investing in walnut parquet floors can provide a luxurious and stylish addition to any home that will stand the test of time.
Maple Wood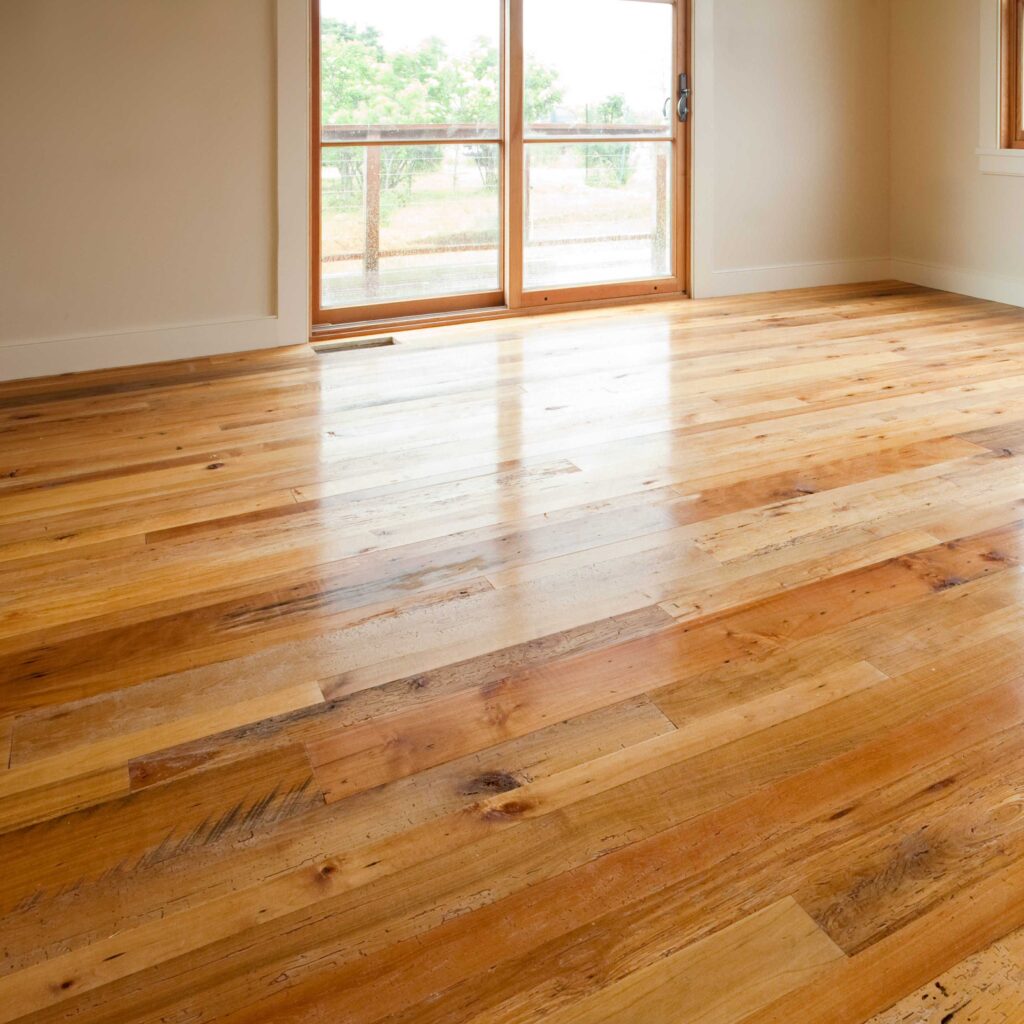 source: pinterest.com
Maple wood is an excellent choice for those looking for a lighter wood colour for their parquet floors. Its delicate, even texture and subtle grain pattern make it an ideal choice for modern and minimalist interiors. Because of its exceptional durability and hardness, it is suitable for high-traffic areas like hallways and living rooms.
Maple wood is a terrific option if you're searching for a low-maintenance material that still gives your home a modern, sophisticated appearance. Its light colour can help to brighten up darker rooms, making them appear more spacious and inviting. Maple wood is also environmentally friendly, as it is sustainably sourced and harvested. With its combination of style and durability, it's no wonder that maple wood is a popular choice for parquet floors.
Mahogany Wood
Mahogany wood is a highly coveted hardwood due to its rich, reddish-brown hue and luxurious appearance. It is a dense and long-lasting wood that resists dents and scratches, which makes it an excellent option for high-traffic areas. Although it is more expensive than oak or walnut, investing in mahogany for your parquet floors is worth considering because of its long-lasting beauty and durability. 
This wood's unique grain patterns and colours create a stunning visual impact that can elevate any room's aesthetic appeal. Overall, mahogany wood is an excellent choice for those looking for a high-end and timeless option for their parquet floors.
Cherry Wood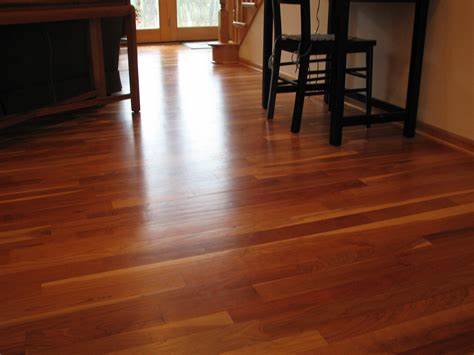 source: pinterest.com
Cherry wood is a luxurious and elegant hardwood that adds sophistication and character to traditional interiors. Its warm, reddish-brown colour and unique grain pattern create a parquet floor with depth and dimension. Although softer than oak, cherry wood is highly durable and long-lasting with proper maintenance. 
Its natural ageing process develops a rich patina over time, making it an ideal choice for those who appreciate the evolving beauty of their home's interior design. With its durability and timeless beauty, cherry wood is an excellent option for residential and commercial parquet floors.
Teak Wood
Teak wood is a highly sought-after tropical hardwood renowned for its remarkable strength, exceptional durability, and impressive resistance to water damage. It's a unique golden-brown hue and intricate grain pattern only enhanced with age, adding character and depth to any space. 
Teak wood is ideal for flooring in high-moisture areas like bathrooms and kitchens. Traditional hardwood flooring can easily sustain damage due to its innate ability to withstand moisture and humidity. Its natural resilience and aesthetic appeal make teak wood a top choice for residential and commercial flooring projects. Its remarkable durability and longevity make it a sustainable option providing long-lasting beauty and functionality for future generations.
Ash Wood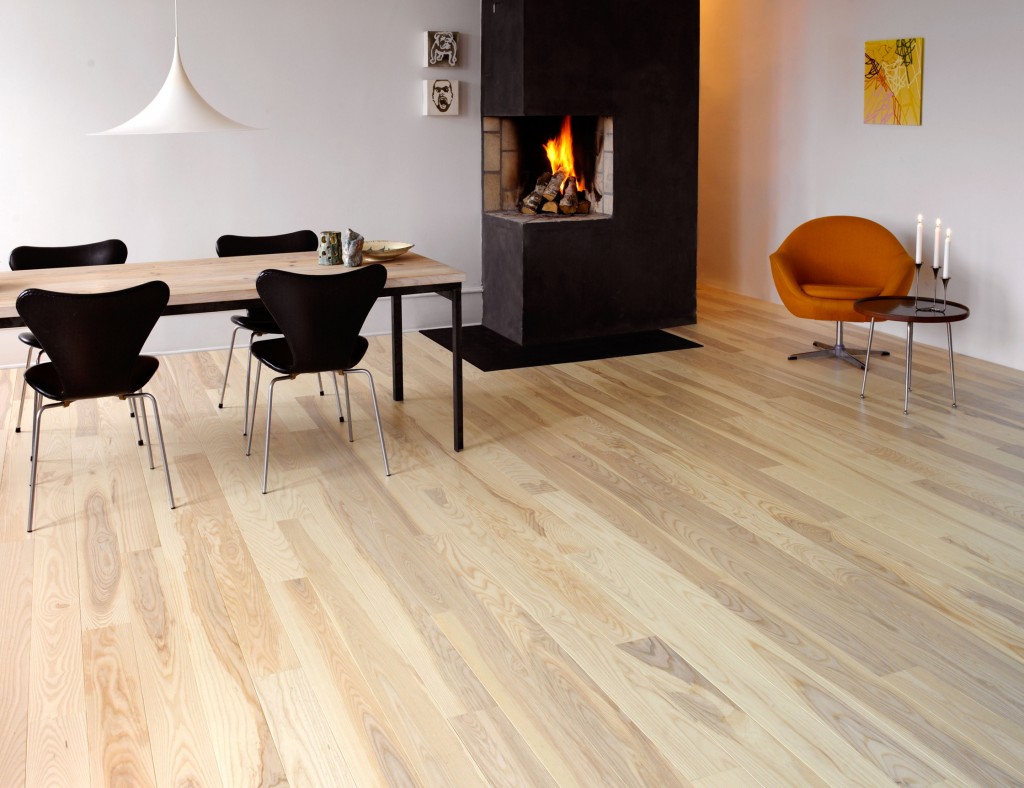 source: pinterest.com
Ashwood is famous for those seeking lighter-coloured hardwood for their parquet floors. Its distinct and appealing grain pattern offers a unique look that can complement various interior design styles. It is also a durable and cost-effective option for homeowners. It is, however, slightly softer than oak and could be more prone to wear and tear. 
Proper maintenance, such as regular cleaning and refinishing, can help to extend the lifespan of ash wood parquet floors and maintain their appearance. Overall, ash wood is an excellent choice for those seeking a stylish and durable parquet flooring option on a budget.
Conclusion
The kind of wood you use for your parquet floors impacts the overall appearance and durability of your flooring. Each wood species has unique characteristics that can enhance the aesthetic appeal of your home. From the classic and sturdy oak to the luxurious and exotic mahogany, the range of options available can be overwhelming. 
However, by considering your style, the amount of foot traffic your floors will endure, and your budget, you can confidently select the best type of wood for your parquet floors. Investing in high-quality parquet flooring adds value to your home and provides a timeless and elegant look that will last for generations. So, take your time, research, and select the perfect wood for your parquet floors – you won't regret it.