Light fixtures can be found almost anywhere, so we completely understand if finding a new one proves difficult for some of our readers. It's not easy to select the right wood light because it has to provide just the right amount of light fixing, not be tiring on the eyes, and also match your existing decor.
It may appear to be a lot, but it is not the most difficult thing in the world. Among the many different material options available, wood light fixtures are worth discussing because they add a natural appeal to the room, which stands out from the other options. Are you ready to continue the discussion?
Wood Light Fixtures: Maintenance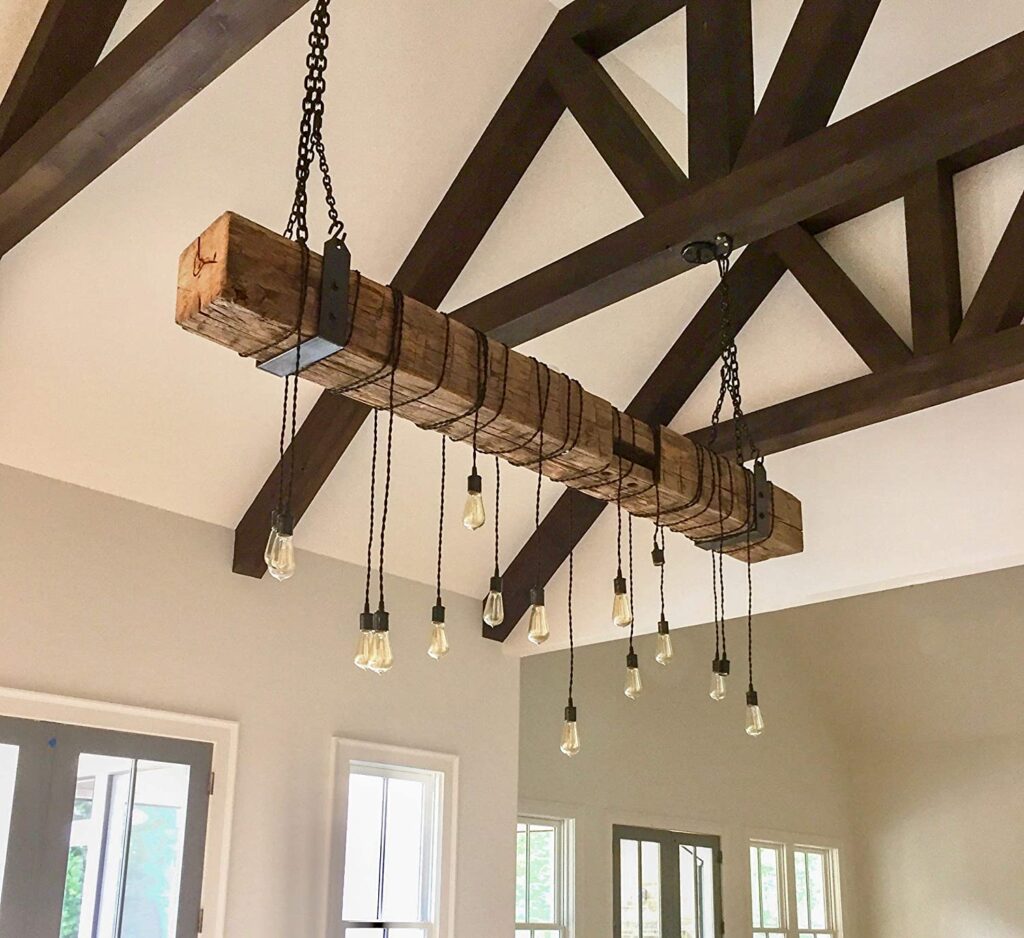 source: amazon.com
Cleaning a wooden light fixture is similar to cleaning some other piece of wood furniture. First and foremost, if you aren't going to remove the wooden portion of the fixture from the floor. Despite the fact that you don't want any water or moisture to get between the electrodes, you must be extra careful when cleaning them.
Cleaning tools such as a feather duster or a microfiber cloth can help you remove dust from the wood fixture, while a soft brush may help you remove dirt, grime, or any items that might have on the material's surface. When cleaning a light fixture, whether made of wood or any material. Make sure not to use any liquids, switch off the lamps, and, if possible, remove the shade from the rest of the fixture to make cleaning easier.
DIY Wooden Light Fixtures 
When it comes to wood that can be used to make a light fixture, the choices are almost endless. There are several projects available that will show you how to make a bed lamp by drilling a hole in a wooden bowl or how to paint wood pallet planks and use them to create an interesting floor lamp.
If you're even slightly interested in designing your own wood light fixture, we found a tutorial that you're sure to enjoy. To complete the project, you will need a wooden slab (in any color), light housing and LED Edison bulbs (depending on how long the wooden slab is, you can install various light mounts – this project requires three), a chain to hang the fixture, hardware parts such as wiring and wire connectors, loop screws, and final coating for the wood.
Modern Basinger Chandelier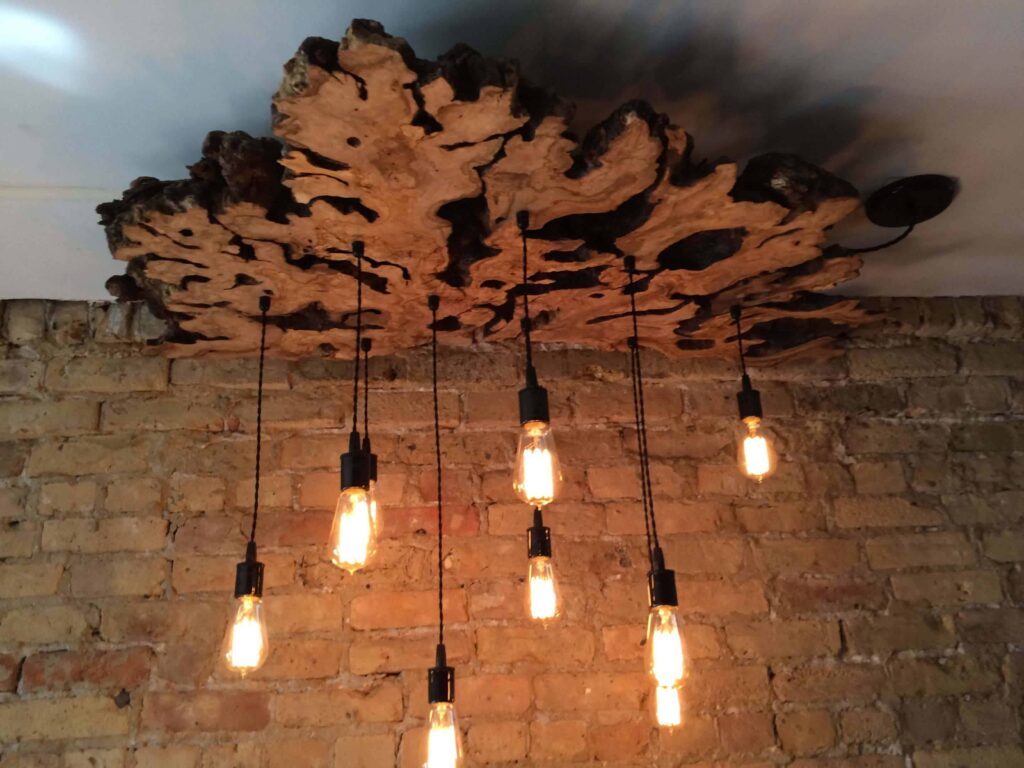 source: custommade.com
When we think of chandeliers, we always envision them with curves and drum-shaped silhouettes, but Basinger proves that there is no limit to the simplicity of a light fixture. This chandelier is ideal for hanging over the kitchen island and is made of metal and wood, presenting an industrial-style choice for those who want to complete their decor. It can house up to five lamps, each with a maximum power of 60 watts.
We continue with another stunning chandelier that is well worth the cost. It's one of those items that draws your attention as soon as you walk into the room, providing a lovely sight in a product that blends a wooden body with a metal chain hanging from the ceiling. This ambient light has a distressed antique white finish and is compatible with candle-style bulbs, supporting up to five of them at 60 watts each.
Rachael Sphere Chandelier 
source: walmartimages.com
The Rachael is another chandelier that uses wood in its creation and does so in an interesting manner. This natural wood chandelier is built to have a rough appearance while incorporating beautiful elements. We can't decide whether it looks like a bunch of burning fireworks or the meanest snowflake ever seen. In any case, it can handle up to eight bulbs with a maximum wattage of 60 W each.
Marley Global Chandelier 
The Marley globe chandelier is constructed of kiln-dried aged wood. The process's aim is to stabilise the wood and make it less susceptible to cracking. This chandelier's architecture is beautifully stunning and will look great in both contemporary and traditional-style homes. The globe is made of wood, but the fixture is made of solid metal, and the six ramifications are compliant with 60-watt mini bulbs.
Ermera Globe Chandelier 
This stunning globe chandelier measures 28.4" H x 24.8" W x 24.8" D and hangs from the ceiling by a metal cord. The wooden sphere holds five lights, each with a cumulative wattage of 40 W. The fixture is made of birch wood and is rich in elements such as teardrop crystals and distressed metal features. It has dimmable lighting and an interchangeable cord.
Siford Antique Chandelier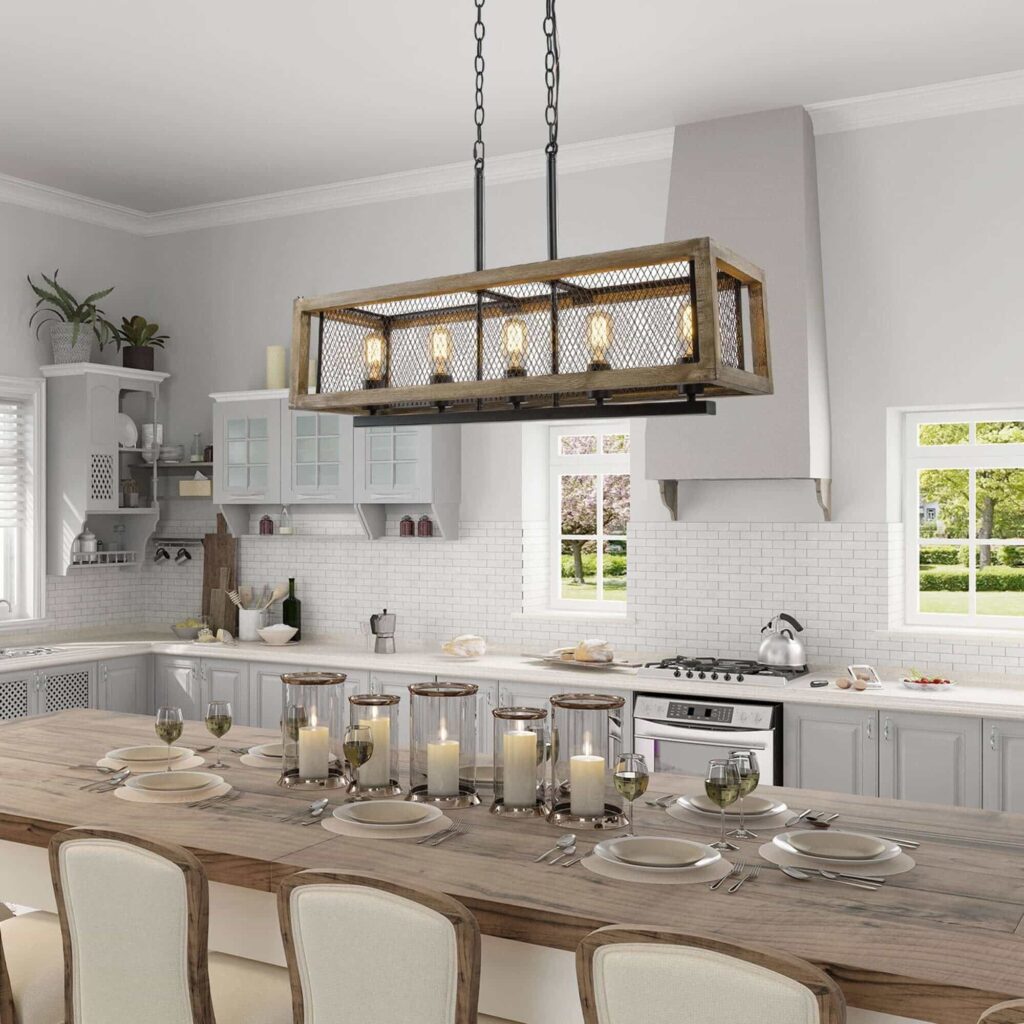 source: overstock.com
The Siford chandelier has a playful geometric pattern made of natural wooden components and has retro-industrial vibes. The lamp-style lights are suspended from metal strings, with transparent glass shades encasing each bulb. There are a total of eight lights to deal with, which should be enough to illuminate a medium-sized space.
Auberge Bulb Chandelier
This industrial-style lighting fixture is made from a blend of wood and steel and looks incredible. It is simple to put together, and the lights come with cords that allow you to loop them around the wooden beam and hang them as low or as high as you want. The fixture takes eight 60-watt bulbs and measures 3.5″ H x 32″ W x 5″ D overall.
Fennimore Chandelier 
We have another cool-looking product to discuss with all of you who are looking for farmhouse interior decoration: the Fennimore chandelier. This drum-style chandelier features a lovely curvy wood design that is both cosy and stunning. This chandelier, measuring 18″ H x 15.9″ W x 15.9″ D and available in a stunning antique finish, includes three light bulbs with a maximum wattage of 40. The metal chain can be lengthened by simply removing the links.
Bach Wheel Chandelier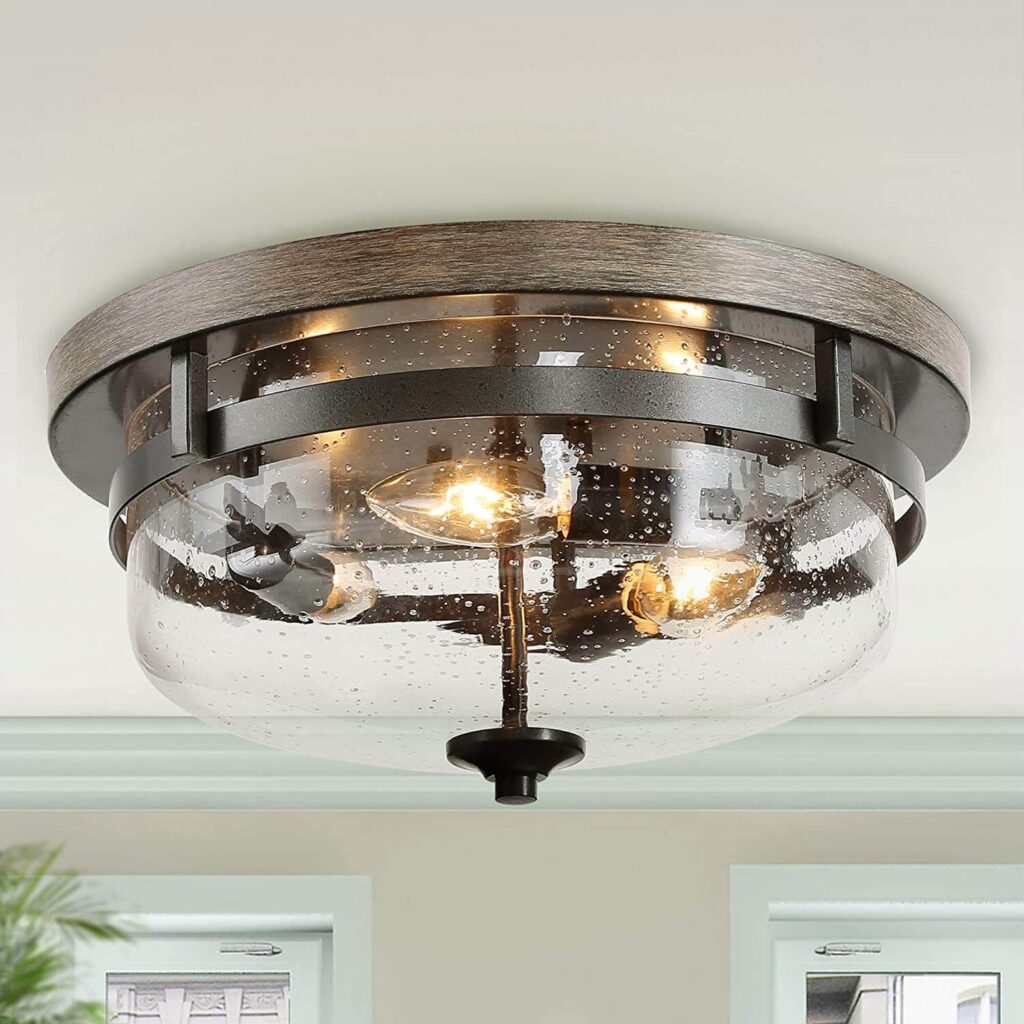 source: amazon.com
The Bach chandelier is an excellent option for anyone looking to add sophistication to a cottage or rustic setting. This round-shaped piece, similar to a wagon wheel, features a metal ring that supports the six lights attached to it via metal brackets. The embedded rope that surrounds the hanging rods completes the look. The six bulbs are shielded by clear glass shades. Each bulb has a maximum wattage of 60 W.
Blue Clifton Chandelier
The final item on today's list of the best wood light fixtures is a very colorful option for you to consider. Forget everything you thought you knew about what a wood light fixture should look like because this is truly unique. Unless you have a room with a lot of bright colors, the Clifton chandelier will be the first thing people notice when they walk in. This chandelier's empire silhouette has a shade that combines a complication of blue-hued wooden beans that contrast with the metal frame adorned with red beads. The fixture can accommodate a single light bulb with a maximum output of 40 watts. 
Conclusion 
Having a welcoming home includes investing in products and decor elements that make it feel cozy or give you a sense of belonging to that specific place. Wood light fixtures in the home can help to create a cozy atmosphere, so if there is even a slight chance that they will match your existing decor, you should give them a try and browse the product we've shown you today. Who knows, maybe you'll fall in love with them as we did.