The great outdoors. Experts recommend you spend at least 120 minutes a week outside, but for outdoor enthusiasts, even that feels a bit low. Once you've taken those literal steps outside, an all-important issue is just how comfortable you are once you're out there. 
This is where garden furniture comes into the equation. This is not a simple, one-size-fits-all situation, but one where you need to make the right decision for both the setting and size of your outdoor space. To cut out the stress and steer you in the right direction, we present ideas to help you choose the right outdoor furniture. 
Choose a comprehensive furniture package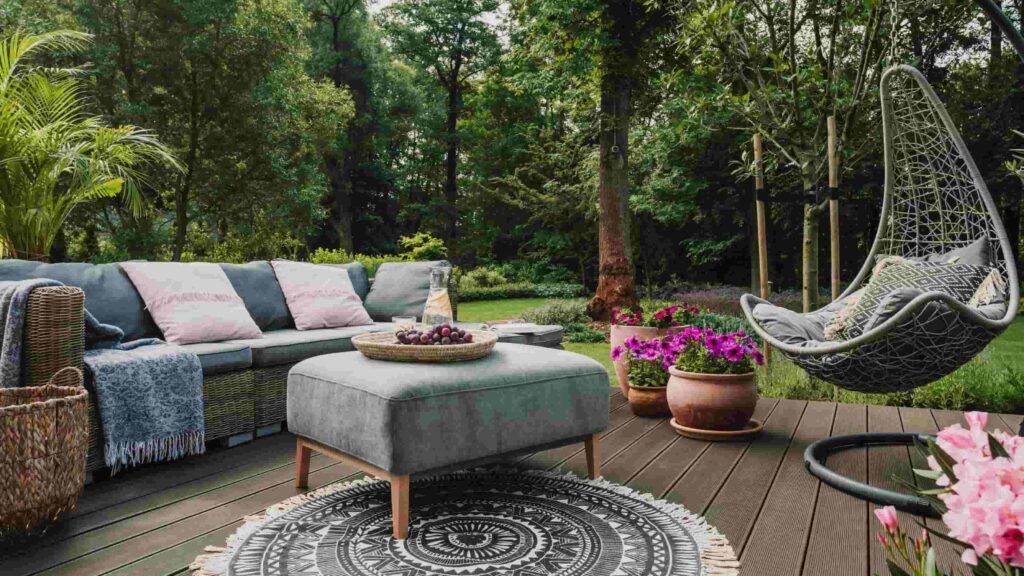 source: usatoday.com
This is obviously going to depend on the size of the space you're working with, but buying everything you need in one fell swoop is going to save you a lot of stress. The benefit of buying a rattan sofa set, for example, is the fact that this package is going to come with all of the trimmings, saving multiple trips and being cheaper than individually purchased pieces. 
Though it has to be acknowledged, if you are something of a style-guru, this may not be your preferred method of furniture acquisition. You are limited in the variety of what you get, so it's possible that you may be a trading style for convenience.  
Make a list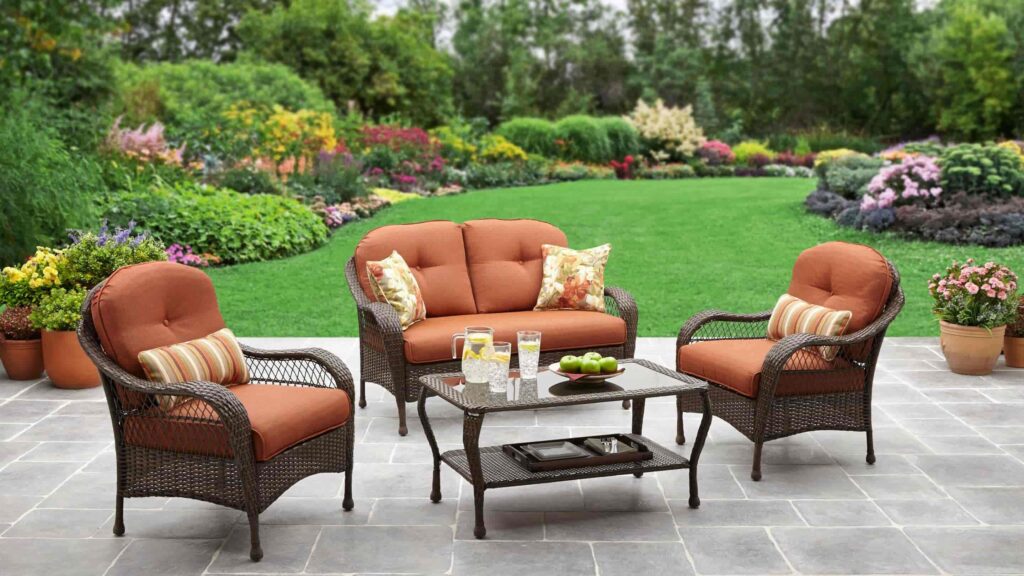 source: usatoday.com
According to the American philosopher, artist, and writer, Elbert Hubbard, "It does not take much strength to do things, but it requires great strength to decide on what to do." Arranging yourself and your thoughts takes time, energy, and intelligence. And it sounds like Hubbard was a fan of the humble list.  
Lists are a fantastic way to get moving with any activity, whether leisurely or not. Writing down your intentions on a piece of paper is a way of collecting your thoughts and presenting your own priorities. In addition, lists are also known to reduce stress and anxiety. When buying outdoor furniture, preparing a list will help you understand the furniture you need, your design preferences, and your budget. With that list in hand, you can visit a site like Furniture Maxi to see some of your options. 
Try before you buy
If you're buying outdoor furniture from a shop, make sure you give it a test drive before you commit to any purchases. When you see a full outdoor suite laid out, park yourself down, close your eyes, and try to envision yourself enjoying the same comforts in your own outdoor area. If you feel chemistry with the furniture, then it's probably a sign that it's right for you. 
Match your furniture to your outdoor environment
Not all outdoor spaces are created equal. Some of them enjoy sprawling patches of grass, while others may consist more of smaller concrete terraces. Regardless of the box, you fit in, having the good sense to match all of these elements is a universal necessity.
Think about the natural colors of your outdoor space, the presence of trees, fences, buildings, gardens, and anything else that contributes to the aesthetics of your space. Consider whether the furniture colors match or contrast and if your possible choices will positively contribute to space's overall style of outdoor space. 
Prioritize quality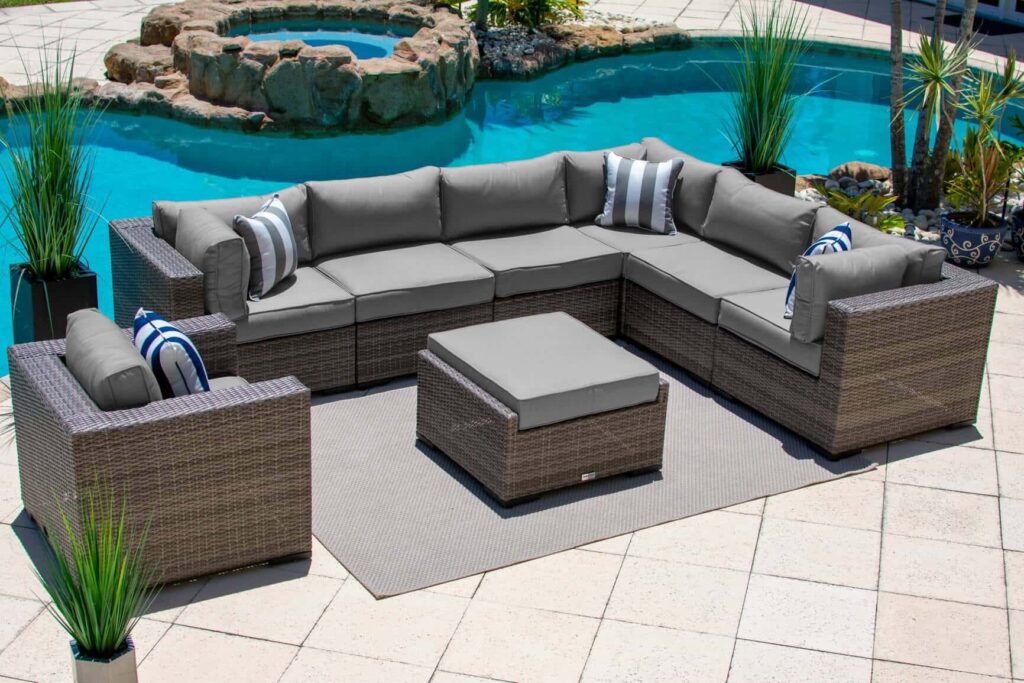 source: shopify.com
Garden furniture is going to spend most of its life outside and accordingly, choosing something durable enough to withstand outdoor conditions should be part of your MO. 
A recommended material is wood. In the wood, the sugar particles are broken down, a process known as hemicelluloses. Without sugars in the wood, this removes the nutrient concentrations required for the growth of mold and fungus. Effectively, the natural hemicelluloses process acts as a kind of protective conditioning for the longevity of the wood. 
Think about storage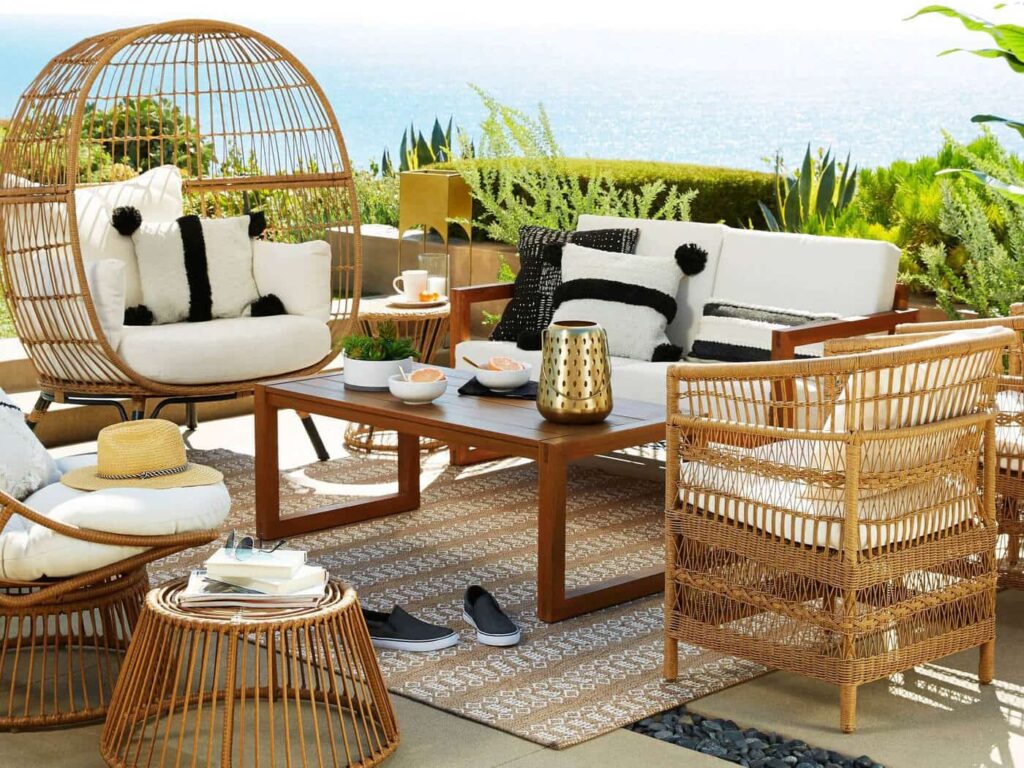 source: sheknows.com
Unfortunately, it's unlikely that all of your furniture has been through the hemicelluloses process, meaning that storage will be a top priority. In colder European and northern American climates, there can be months at a time where outdoor furniture isn't in use, meaning it will need protection from the elements. 
Think about whether it will fit in a storage space like a garage or under the stairs. If there are limitations on just how much storage space you have, opt for furniture that is foldable or is simple to take apart. If available, stackable chairs are another great option. 
In Conclusion
A solid set of outdoor furniture is a must for your outside area. Knowing what to buy can be daunting, but there are ways to take back control over this process. Think about buying a package, collect your thoughts with a list, consider style, storage, and keep an eye out for furniture that has been through the hemicelluloses process.