Introduction
We all know that browsing through Pinterest will lead you to your dream home, which has – a stand-alone copper bath, a kitchen with a peninsula, and furniture that immediately enhances every room. And it will stimulate you to renovate your house. But, at the same time, it isn't easy to find the right work to get it done for you!
But, don't worry, we have got covered! To know more, keep reading. 
So, are you searching for any home improvement ideas?
Then you should go to Instagram's home improvement section to get some ideas for redesigning your home! There are several pages with a plethora of smart ideas, hints, tricks, and shortcuts to make the home renovation easy.
As a result, we have compiled a list of the top 15 Instagram accounts for home renovations. The work they have done to turn houses will astound and stimulate you.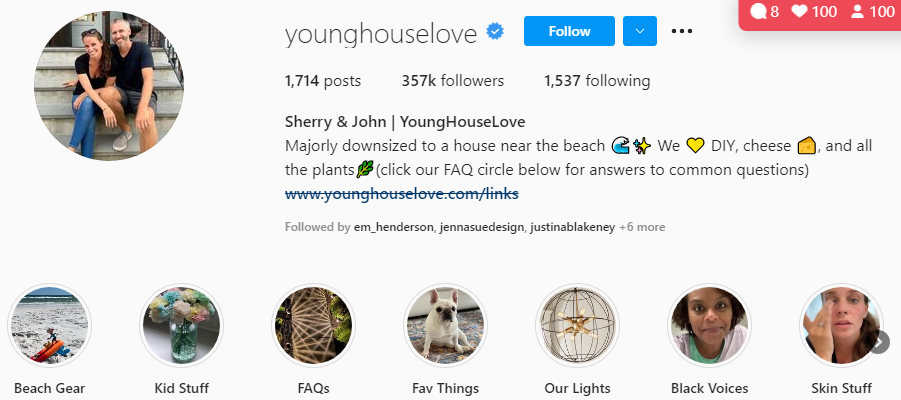 The couple Sherry Petersik and John started renovating home designing back in 2007 with a motive to renovate their home and give it a little sparkle to it! But over time, it started getting big, and now they have over 3000+ DIY projects, authors of a book, podcast, and Instagram account with 350k+ followers. 
And if you are looking for some home redesigning ideas and tricks, you must follow this account for a daily dose of inspiration. However, as shown by their breathtaking Instagram photos of their operation, there is no better pair to tackle a project when it comes to decorating your house.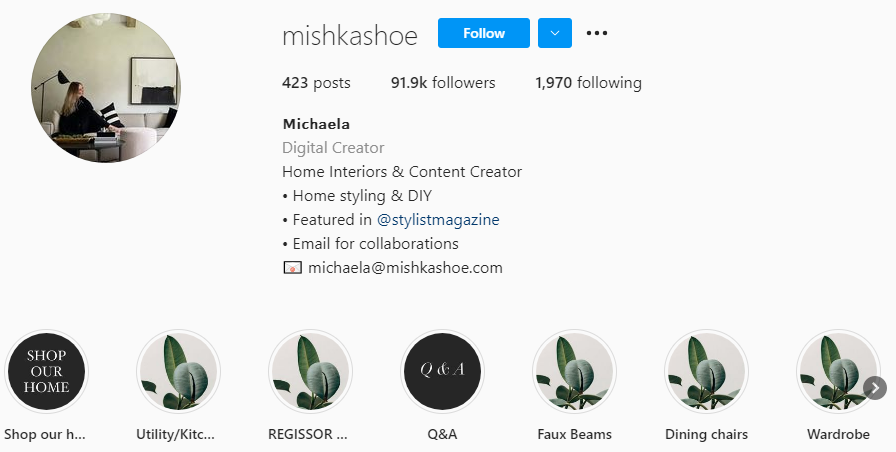 If you want to remodel your home in a Scandinavian or bohemian style, you should look at the account of Mishkashoe. She has over 90k Instagram followers and focuses mainly on Home interiors, home styling, and easy DIY ideas to keep you updated. 
You will get awesome regular interior inspiration tricks, how-tos from beginning to end, and the most incredible before and after renovation videos. In addition, you are sure to be impressed by new ideas to decorate your house.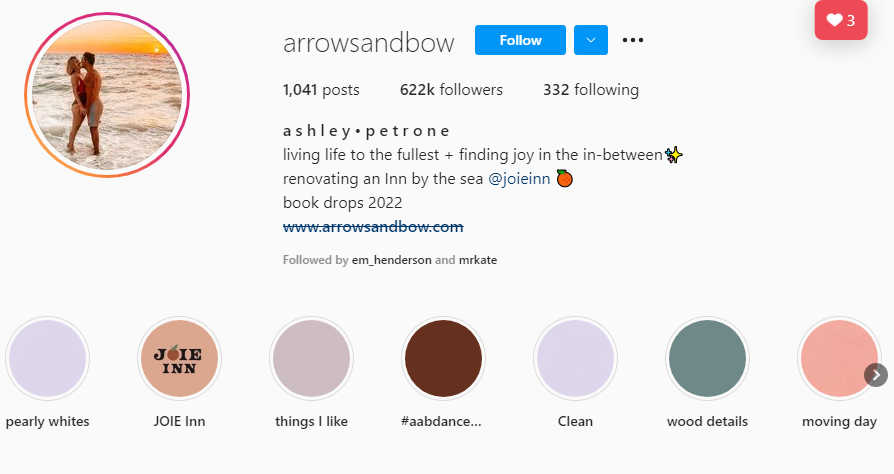 Ashley Petrone's Instagram is a visual representation of her deliberate life in the architecture of her home.
It is the account to follow if you want furniture reviews, style tricks, color palette ideas, and home tricks to redesign your dream home in a way you wanted to. She has over 620K followers on her Instagram handle and if you are also looking for some astonishing inspiration, then check out her account now!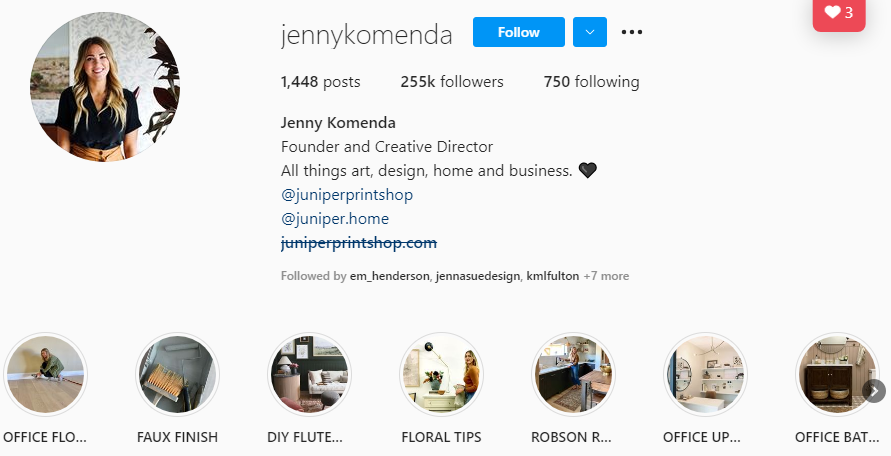 Jenny Komenda demonstrates that there is no need to be afraid of matching styles. A mix of prints will make a beautiful statement if done correctly, and Jenny is pleased to teach her followers how.
She used to be an interior decorator and magazine columnist before becoming a house flipper and print shop owner. Her Instagram demonstrates her concept skills are stronger than ever, and you can walk away with a good dose of creativity.
That is why her 255K Instagram followers adore her and abide by her creative ideas for their home renovation. Check out the account if you are also looking to mix & match styles & colors into something new & unique.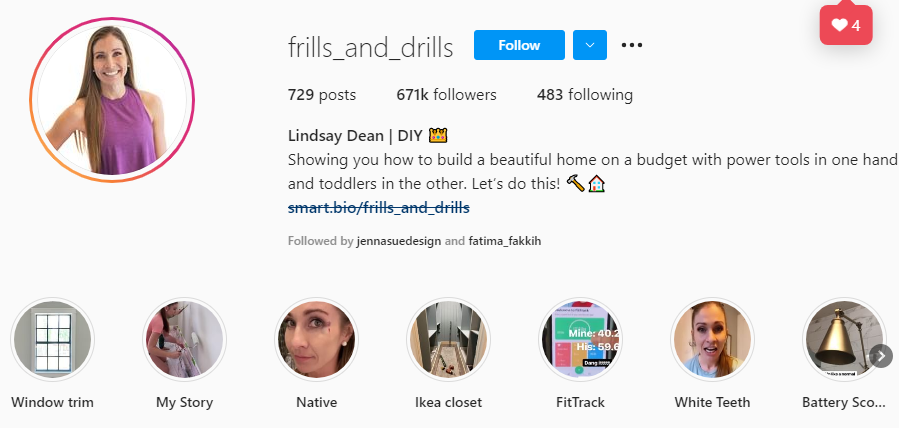 Frills and drills by Lindsay Dean is all about using power tools to create gorgeous spaces on a budget. Her design is sleek, breezy, and feminine. Not just that, but her creations are simple enough to complete in your own house.
Her Instagram is full of amazing ideas to renovate your house in a pocket-friendly way. She is currently managing 668k followers on Instagram by providing them amazing tricks & tips. 
She is a perfect example of a woman defying expectations of taking on home improvement tasks. Instead, Lindsay will provide you with hints, tricks, and shortcuts to make your home everything you have ever dreamed it to be.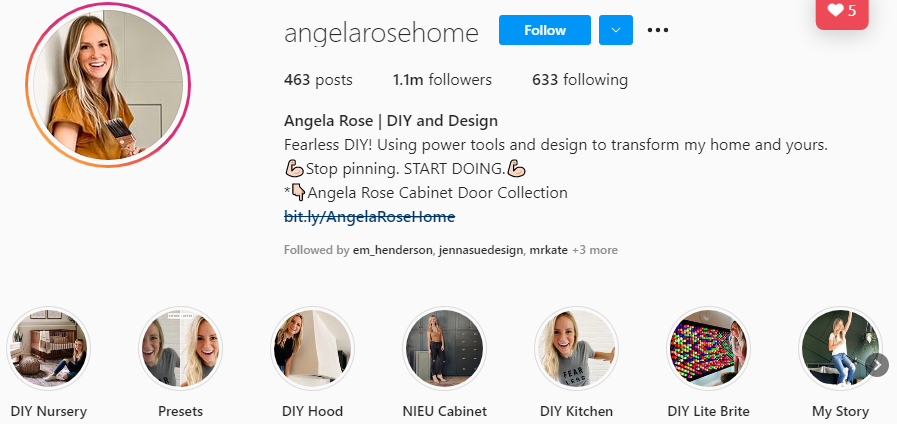 Angela Rose's Instagram has always been about the transformative force of DIY. It is not necessarily enough to employ consultants and waste a lot of money on experts.
Angela Rose has 1.1 million followers on her Instagram handle, and her page demonstrates that you can sometimes do things anyway. It is the page to follow if you are searching for DIY ideas for your home improvement project. She is using some power tools and creative DIY ideas to renovate the house.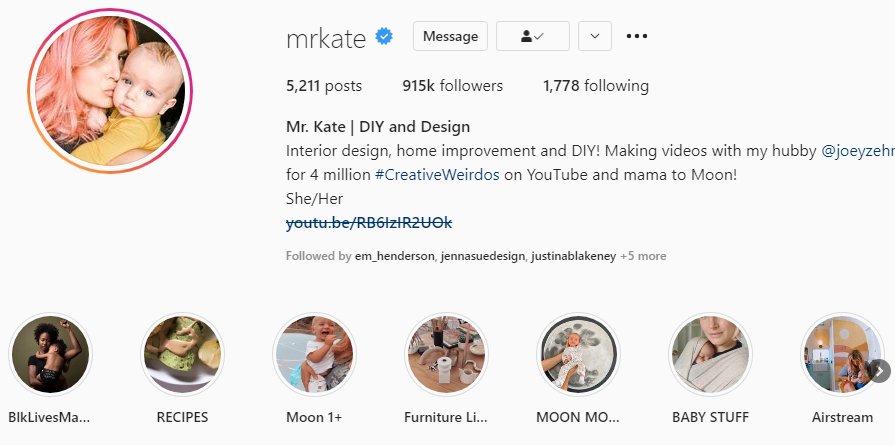 Follow Mr. Kate on Instagram for pastel hues, lots of sass, and breathtaking before-and-afters pictures & videos to her 900K followers. She amazes her followers with new & amazing ideas to make the house look like home every day. 
She is an interior designer who gives her 3.5 million YouTube subscribers a lot of advice and suggestions. Her Instagram is equally awesome, with brilliant fashion concepts and incredibly adorable baby pictures. Mr. Kate is a must-follow if you are concerned about home improvement and even interior design.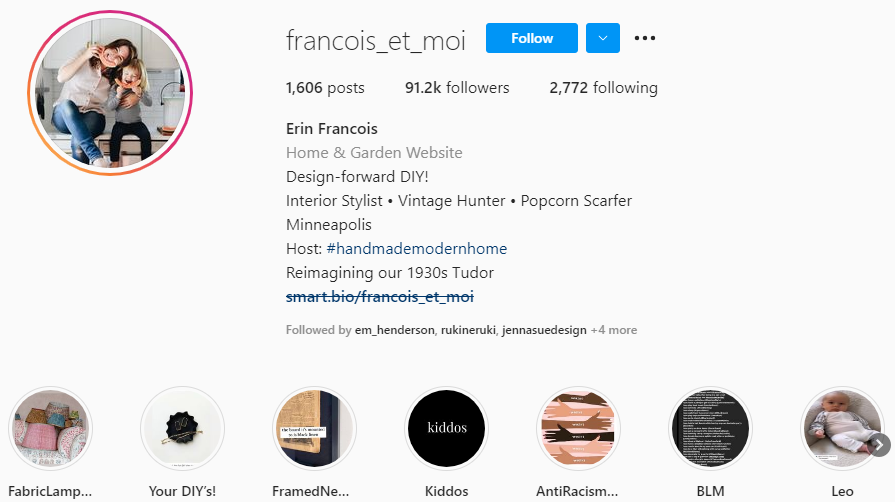 Erin Francois revitalizes her 1930s Tudor duplex and shares sleekly designed vignettes with her over 90K Instagram followers. She uses traditional ways to give home an aesthetic look with her sophisticated hand-made items that add originality and a special look to the house. 
Erin's specialty is design-focused DIY and interior decoration. With loads of color, tiny accessories, and easy hacks, you may want to incorporate some of Erin's style through your own house.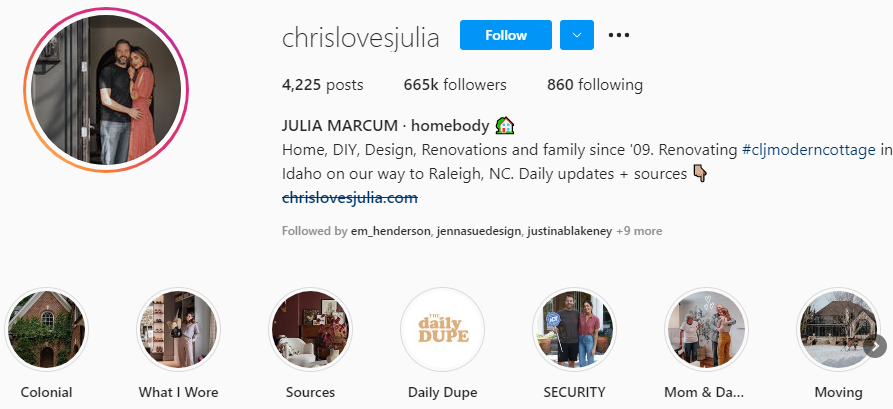 Julia Marcum is a homebody who works as an interior designer. When it comes to home improvement, her Instagram is trendy, elegant, and incredibly insightful. This account is managed by the couple Chris and Julia, and they have over 660K followers on Instagram. 
They also have their own youtube channel and have over 60K youtube subscribers. Julia's page features a variety of before-and-after photos, a one-stop-shop for home decor ideas, how-tos, cooking demonstrations, and much more that stand for themselves and demonstrate Julia's ability to transform any space into something new and special. Their Instagram account is a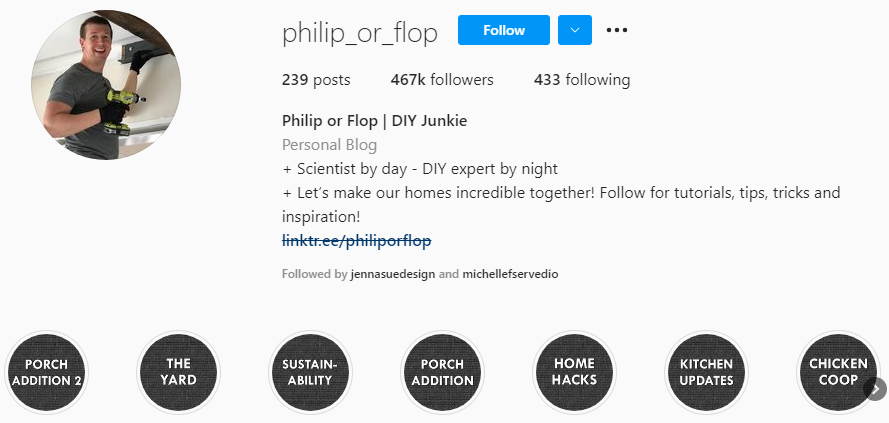 Philip's page is stunning. He offers several guides, hints, techniques, and encouragement to his fans to help them make their homes the best they can be. He has over 450K followers on his Instagram page, and his main focus is renovating homes that are budget-friendly and sustainable at the same time. 
You will not go wrong by following Philip's DIY, and home improvement path, which includes everything from incredible kitchen remodels to bathroom makeovers to living room transitions.
Philip or Flop is a simple DIY Instagram account for anyone who wants to add dimension and beauty to their residence in a Proper manner.
If you are planning to remodel your house, his Instagram page will provide you with some new tips and ideas for your next big project! Almost every weekend, he is still very interested in his stories while doing projects and demonstrating all the progress.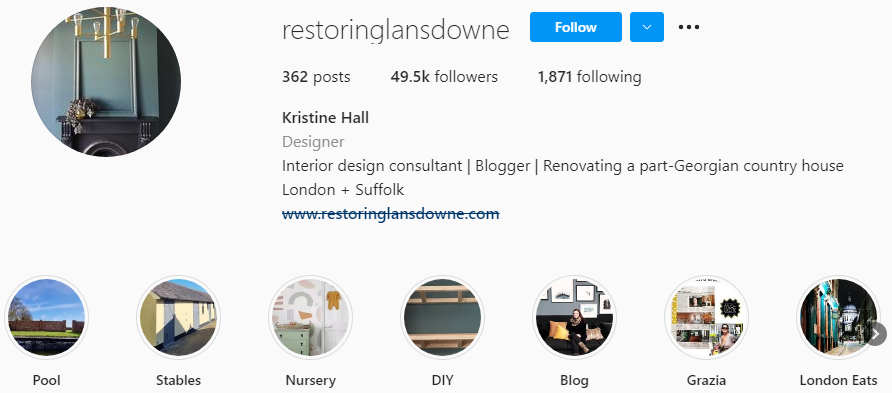 Kristine Hall, an interior designer, and blogger run the Instagram account Restoring Lansdowne. Her Instagram account has nearly 50K followers, and she uses it to show off her aesthetically pleasing interior renovation ideas.
Kristine is attracted to bold dark interiors and mid-century design, and she enjoys experimenting with various colors and working with Victorian terraces. Her Instagram profile has information about monochrome colors and antique furniture.
You can also learn how to transform a grimy shower room into a chic, compact downstairs bathroom from her social media. To know more, do follow her!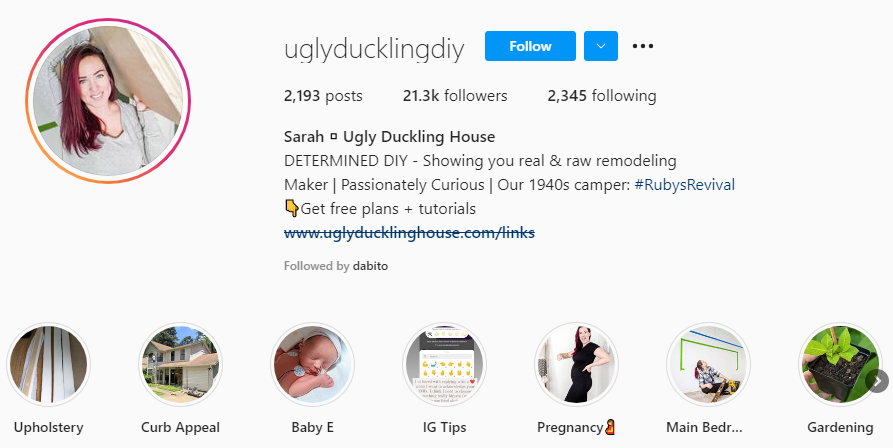 Sarah Fogle demonstrates her do-it-yourself restoration designs through her Instagram channel for both the inside and outside of your house. Her latest post illustrated how she designed a garden in textures while the other highlights built-in shelves.
Through her lengthy posts can be found on her website, The Ugly Duckling House. In addition, her Instagram feed gives us a sense of what she is exactly aiming for.
Do you know what the most important part of following her is?
Let me tell you, and she even offers free tutorials and plans which showcase you real DIY tips for remodeling your house. So I guess it will help you a lot if you are looking for some beneficial and pocket-friendly tutorials. 
So don't wait much; go check out her Instagram account now!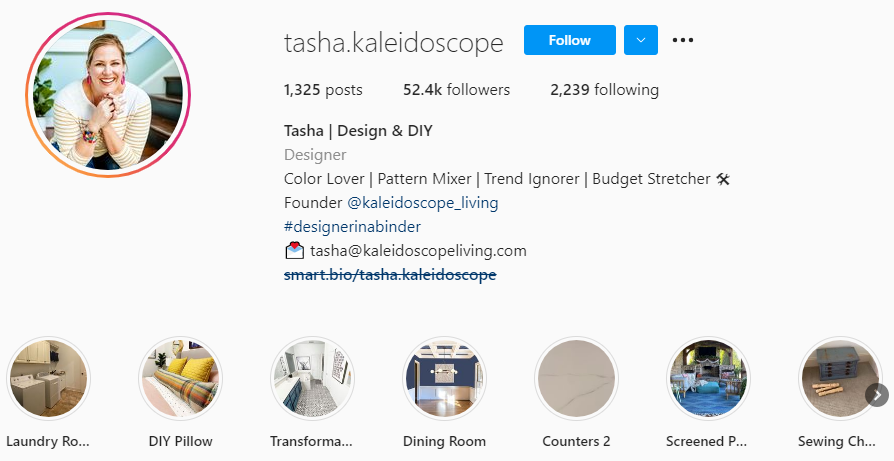 Tasha identifies herself as an interior designer stuck in the body of an attorney. Her Instagram posts highlight various aspects of do-it-yourself and art designs. For example, she shows off some low-cost flooring house wrap that can be used to build a plank wall.
Another project is a kitchen backsplash. Tasha's blog entries about the whole journey of how she went from point A to point B are quite useful and comprehensive. She has over 50K Instagram followers and focuses on colors, mixing patterns that too on a budget. 
She keeps updating her new projects and utilizes the colors and patterns on her Instagram page. To know more, hop into her account right away.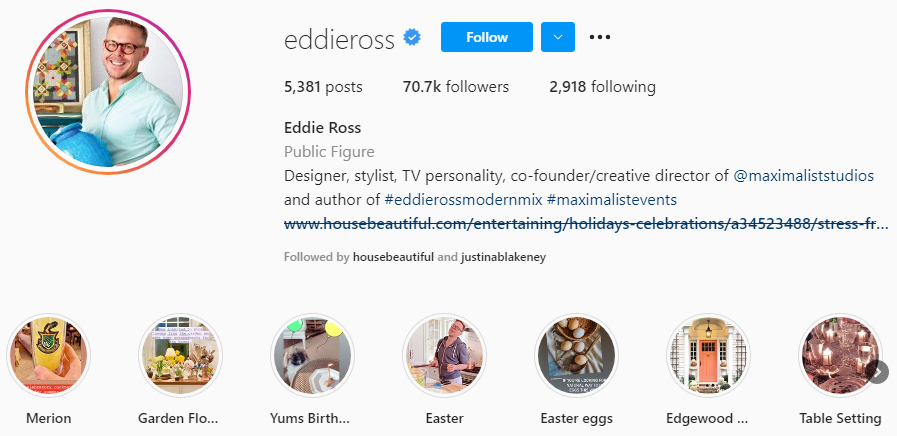 Eddie Ross, an East Coast editor for Better Homes and Gardens, has a sizable fan base of 70k followers on his social media page.
Eddie Ross' Instagram updates about his home and garden cover a wide range of topics, from antiquing and scrapping explorations in the Hamptons to visions of his own decorating style to portraits of homes and other things he considers exciting.
He keeps on sharing his inspirational and unique ideas on his Instagram page to keep you updated about trending patterns & styles.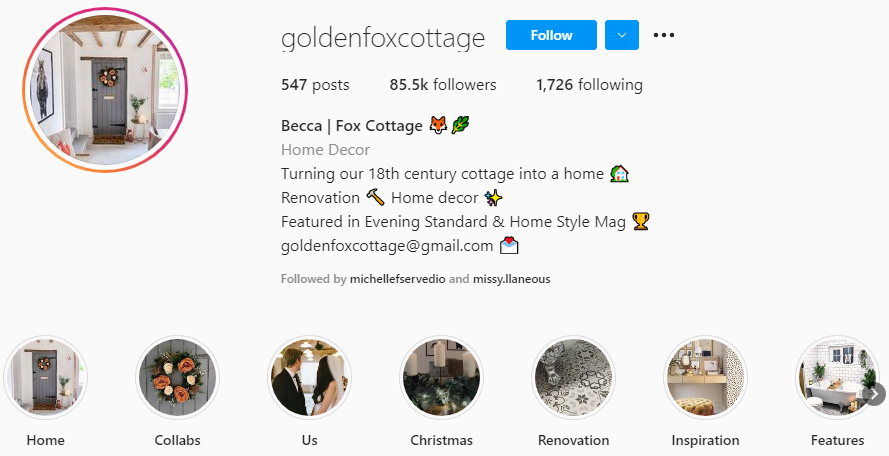 Golden Fox Cottage's Instagram account takes its followers on a path that leads them to their dream home. It is the ideal setting for those who fantasize about living in the countryside.
You will fall in love with the classic exposed beams and kitchen info on this Instagram site, which exudes a rustic feel. 
They are currently working on turning their 18's cottage into a sophisticated home. With over 85K followers on the Instagram handle, they even got featured in evening standard and homestyle magazines. 
Your feed is loaded with tons of aesthetic vibes, and you suddenly start loving wooden accessories. So for such beautiful inspiration, go check out their account now. 
Conclusion
When it comes to architecture, simplicity is important, as is being able to create a summary of important components that will make your home stand out and look its finest. You may be looking for design-friendly ideas, new designs, old designs, or even DIY designs seen on Instagram pages dedicated to home renovation.
Design inspiration can come in a variety of forms. You may be looking for ideas, advice on how to shift your belongings around, or how to make the best of what you already have. But, then, Instagram is the place because it is a treasure trove of the best tips & tricks for the best home renovation ideas. 
So, we have listed out the 15 best Instagram accounts at The Architecture Designs that you can follow for a daily dose of home decor and renovation inspiration. From ancient to modern, from minimal to sophisticated, these accounts got you covered. 
You can let us know in the comments below which account you loved the most and is there another home renovator's account which you absolutely adore on Instagram.