If you go online and search for "Kitchen ideas" you will be bombarded with an insane amount of results. Some of them will blow your mind while most of them will blow off your cabinets while you're cooking. Most of the designs you see out there are, very much, impractical.
As my mother used to say "A kitchen is a sacred place". For most of the families out there a kitchen is not just a place where meals are cooked. It is a place where your family sits together and eat. It is a place where important decisions are made. It is a place where everyone shares the details of the day before going to their separate rooms.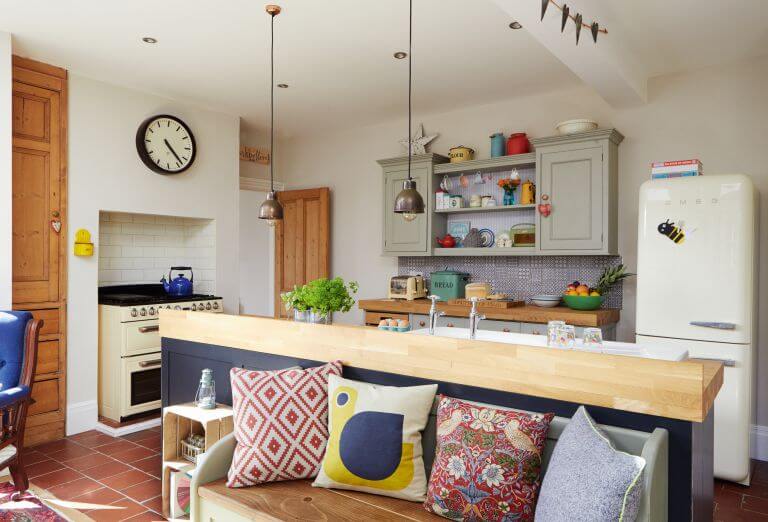 source:jplacroix.org
A kitchen is a place where your guest ask you if they can give you a hand. It is a place where bonds a strengthened between you and your friends while you're trying to create a new recipe like a mad scientist. It is a place that has seen your sweat and blood, literally.
Finally it the place that speaks about your home. No matter how much your house is squeaky clean, if your kitchen is dirty, full of unwashed dishes, spice bottles everywhere, cutting board still on the shelf with a dirty knife on top, your house is considered unclean.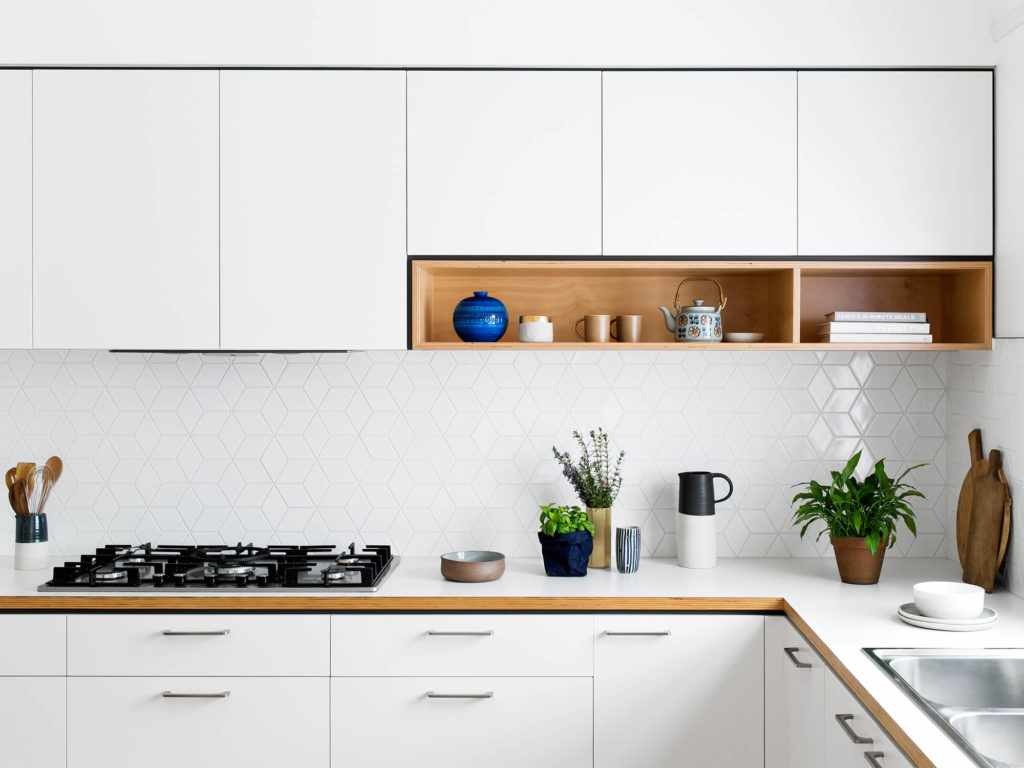 source: realhomes.com
It is our moral obligation that we keep our kitchen at the epitome of beauty and elegance. If the kitchen is not up to mark then it's time for high end kitchen remodeling contractors to do their job.
We are going to give out 20 amazing kitchen decoration ideas in categories. The categories will be of specific kitchen designs, not designs in an esthetic way but in the physical design of the kitchen. Confused? Don't be. Let's get right to it you'll understand in a moment.
One-Wall Kitchen Layout
In one-wall kitchen layout cabinets and appliances are fixed on a single wall.
Idea # 1: Monochromatic-Themed One-Wall Kitchen
Using a monochromatic theme for your one-wall kitchen will give it a look of elegance and beauty. This beauty will also scream out the cleanliness and hygienic nature of your kitchen.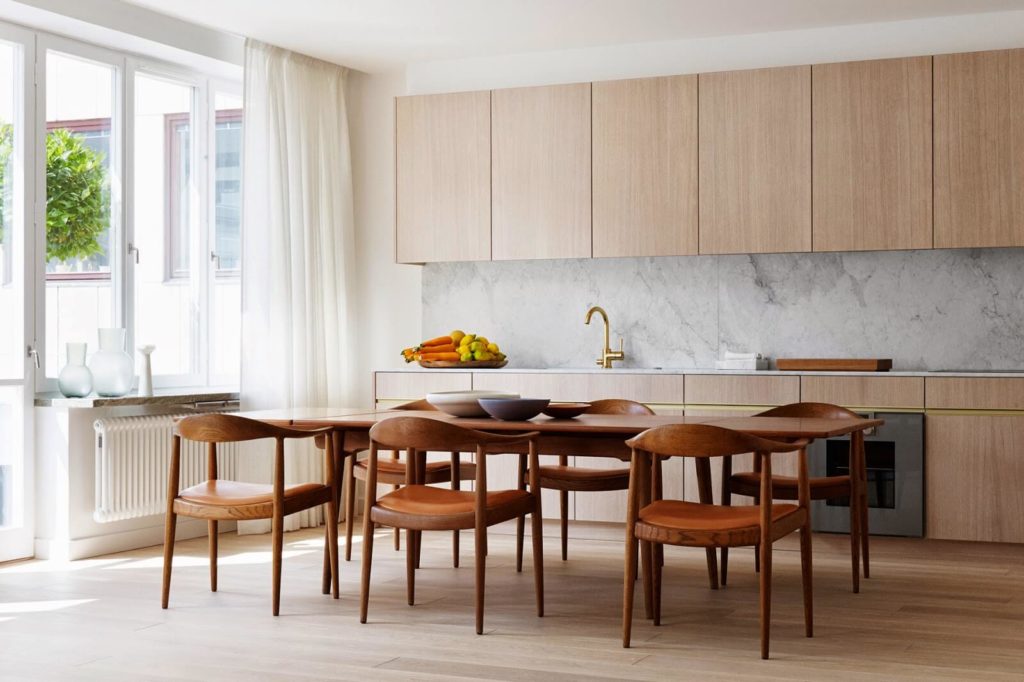 source: donpedrobrooklyn.com
Idea # 2: Vibrant Colored One-Wall Kitchen
If you want your kitchen to give off that warm welcoming feeling then going for vibrant colors will be the best choice for you.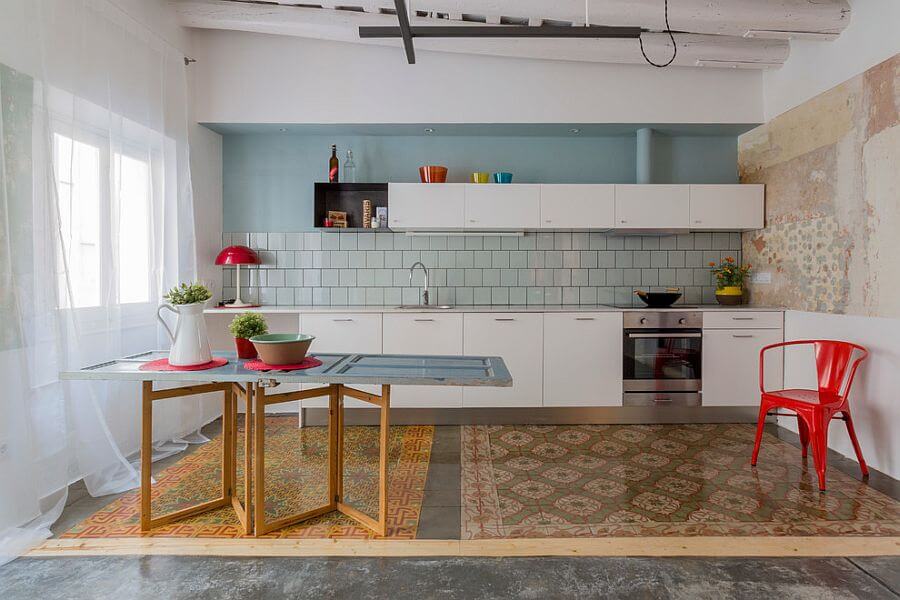 source: buy-clomid.tech
Idea # 3 Country Style One-Wall Kitchen
If you are looking for that simple yet exquisite look, country styled one-wall kitchen is the way to go.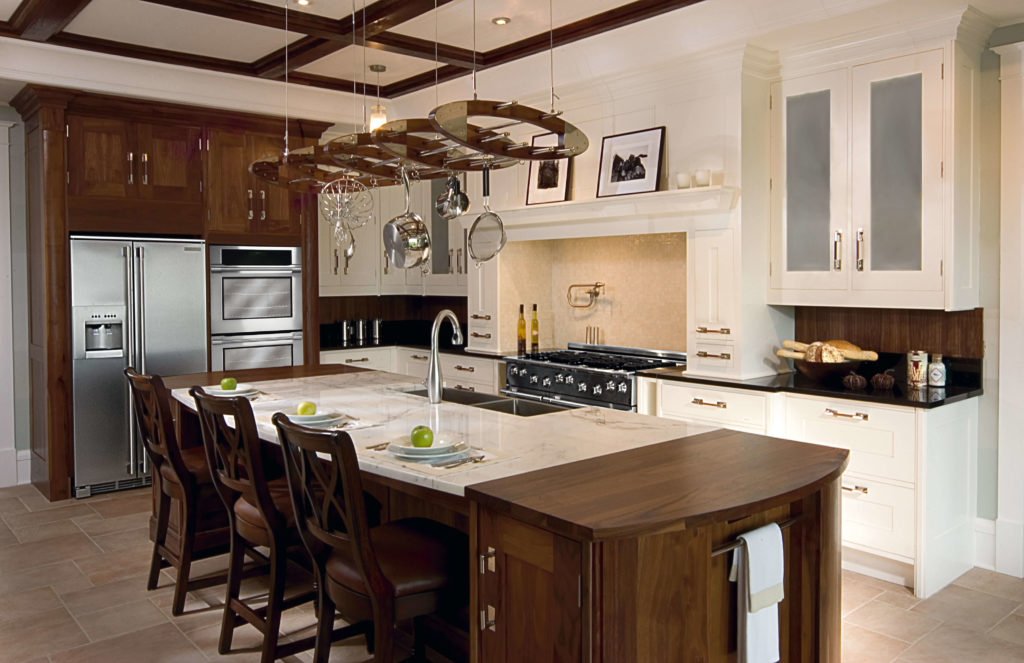 source: jacekpartyka.com
Idea # 4 Retro Design With Single Line Kitchen Cabinets
With this particular design, you have the freedom to place your fridge anywhere you want. This kitchen might just turn out to be the most interesting piece of interior design you have in your home.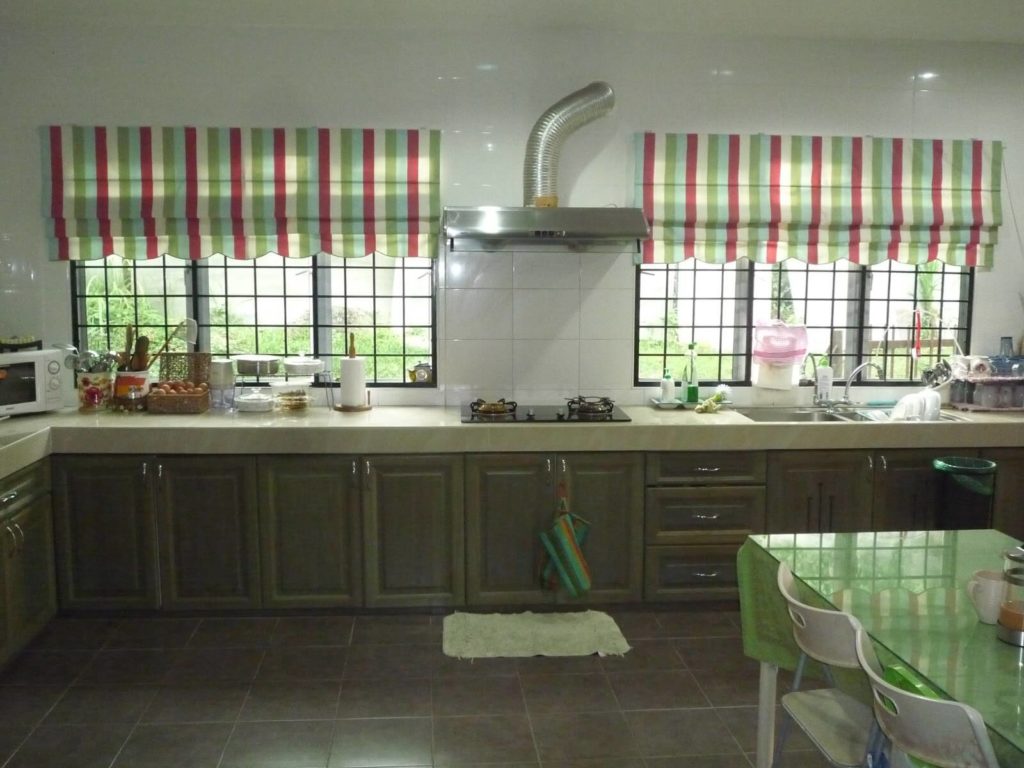 source: saetha.com
Gallery Styled Kitchen Layout
A gallery style consists of a central corridor with two runs of units parallel to each other.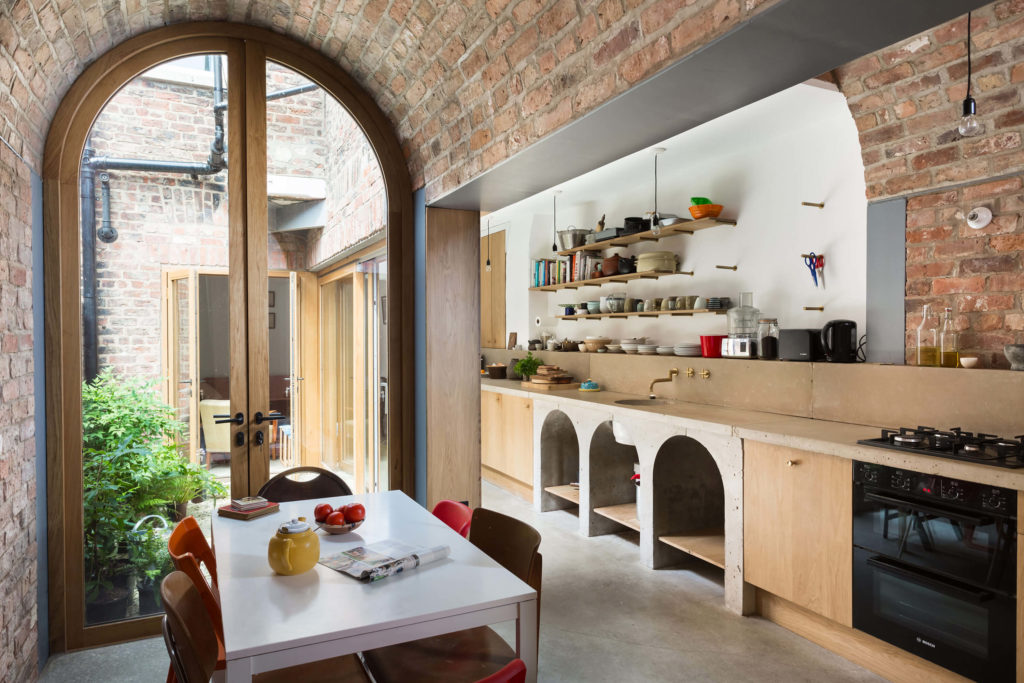 source: reddit.com
Idea # 5 Symmetrical Look
With gallery style, you can go for a symmetrical look. A sink opposing the stove. Shelves opposite to shelves and cabinets opposite to cabinets.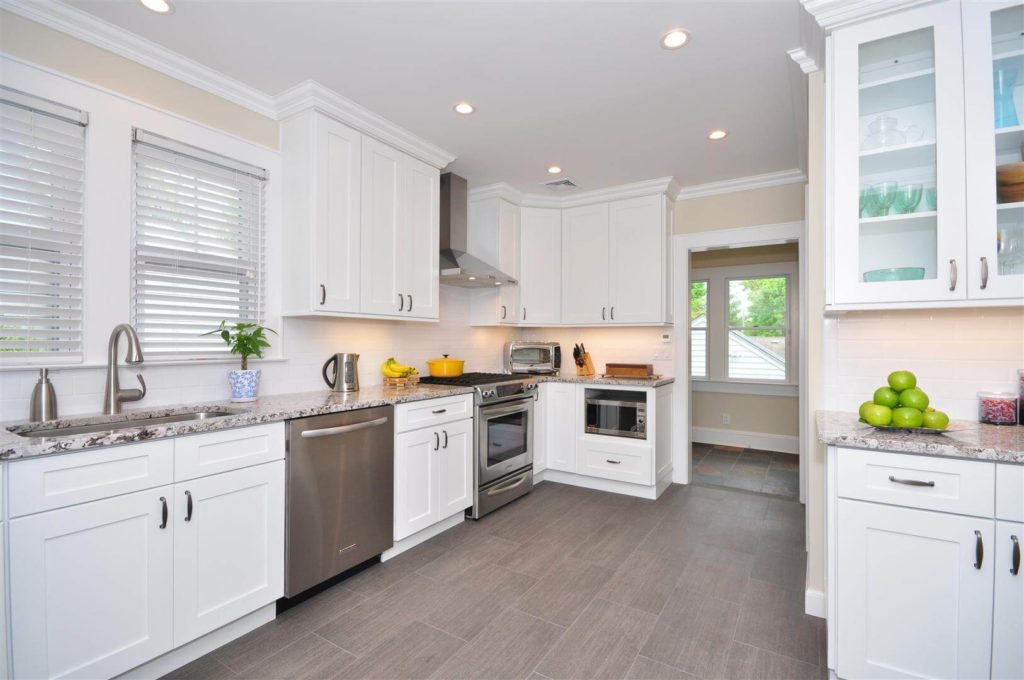 source: kitchencabinetkings.com
Idea # 6 Single Side Tall Cabinets
With one side tall cabinets, you will have an insane amount of cabinet space with a lot of room to comfortably move around.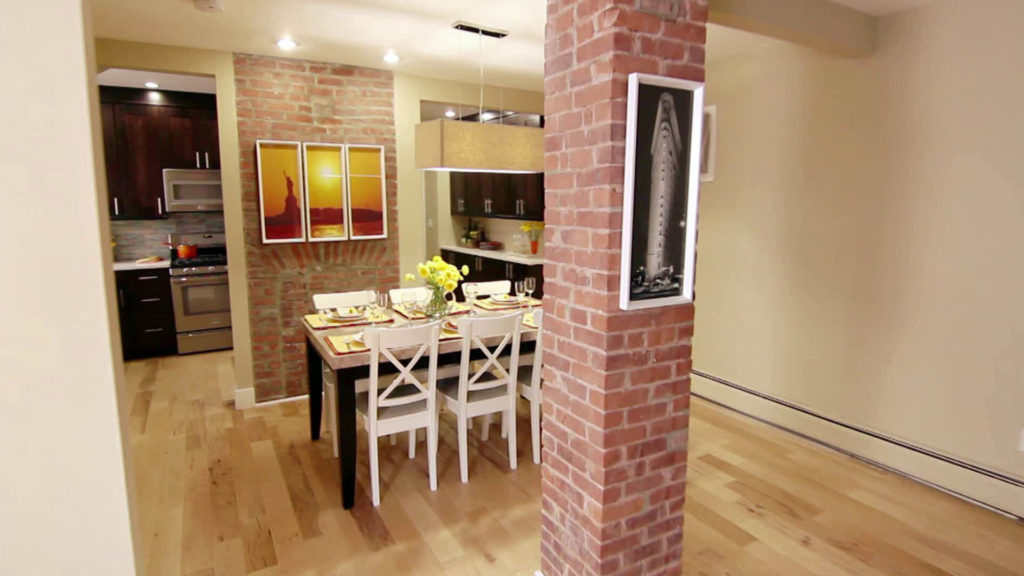 source: diynetwork.com
Idea # 7 Making Use Of The Closed Off Kitchen Wall
With gallery style, you might have a closed kitchen wall. Utilizing that wall is a great idea with practical uses.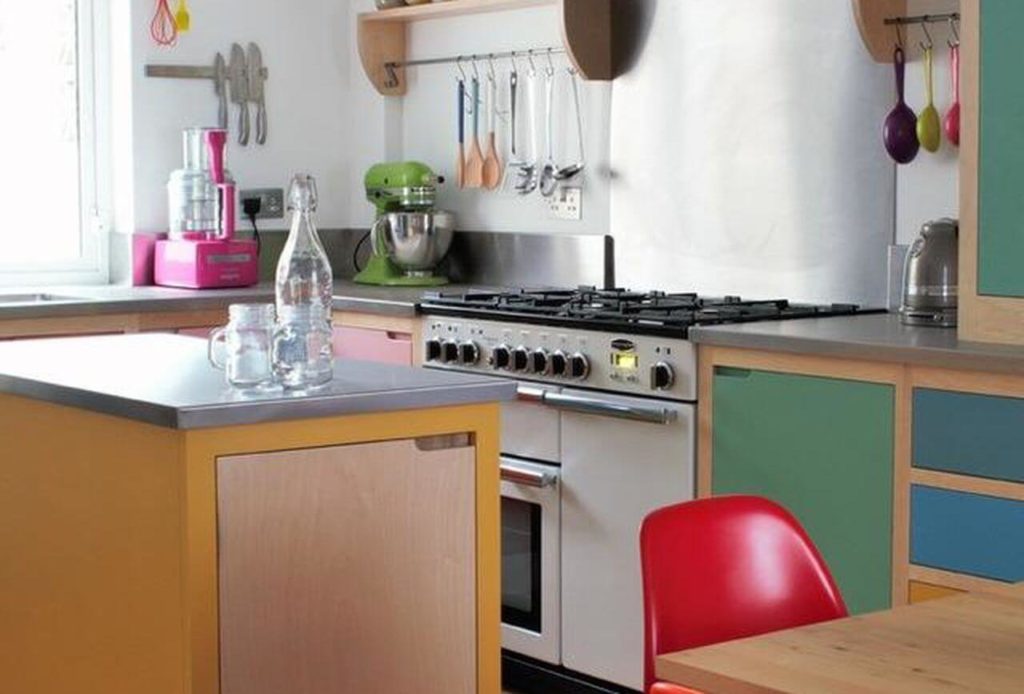 source: .facebook.com
Idea # 8 Gallery Style With An Island
Having an island can be of great benefit. You can get a sink and a tabletop together fitted on the island. It is practical and gives off a stylish look.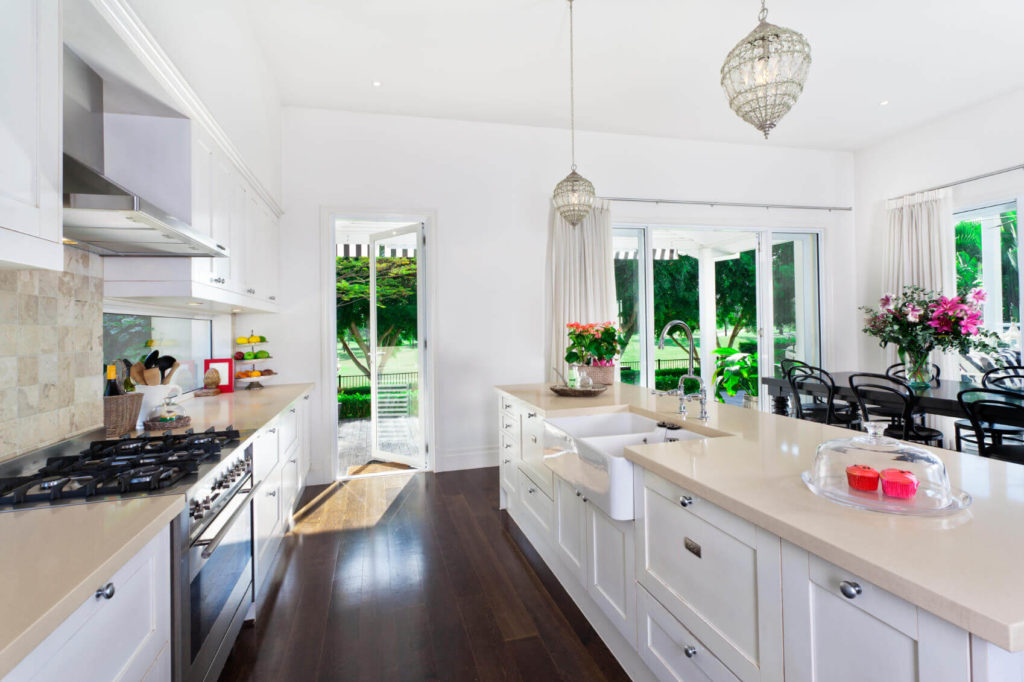 source: home-designing.com
L Shaped Kitchen Layout
L shaped kitchen spaces maximize the use of corner space and are a smart design for corner kitchens.
Idea # 9 Working Triangle
Having the three main units near each other, the fridge, sink, and oven you can make your cooking feel as natural as ever.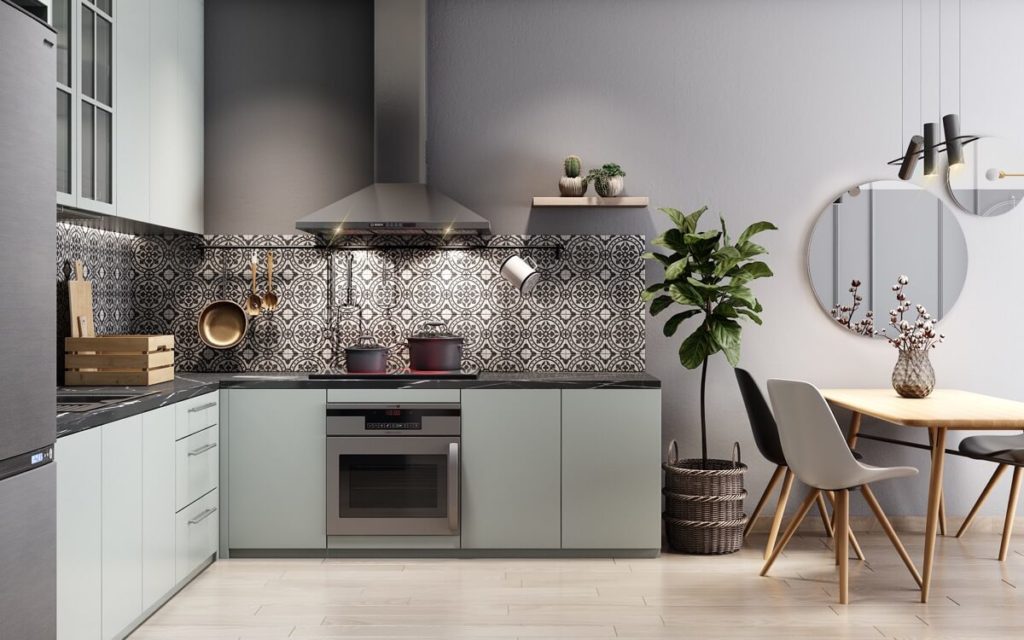 source:pinterest.com
Idea # 10 Tall Units
To remove that clutter that having tall units with L shaped kitchen is a great option.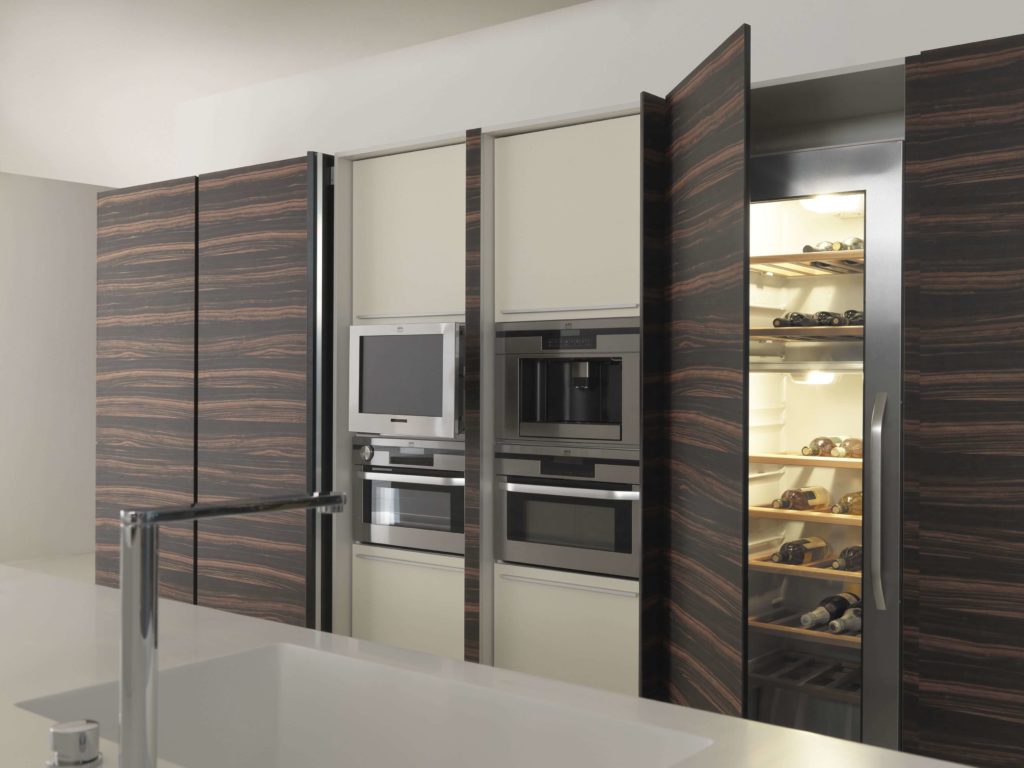 source: decoratingdecorandmore.org
Idea 11 # Extreme Finish
You can go for an extremely slick look by getting an extreme finish with your cabinets, shelves and appliance fittings.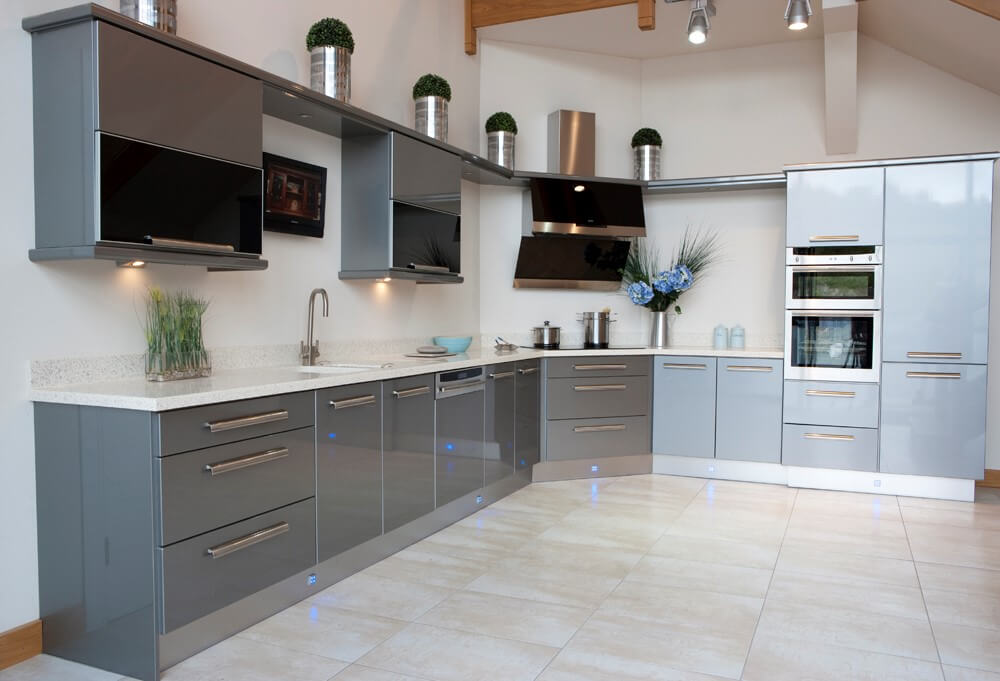 source: norbandys.com
Idea # 12 Tricky Corners
Transforming tricky corners in L shaped kitchen serve the true purpose of those trick opening cabinet.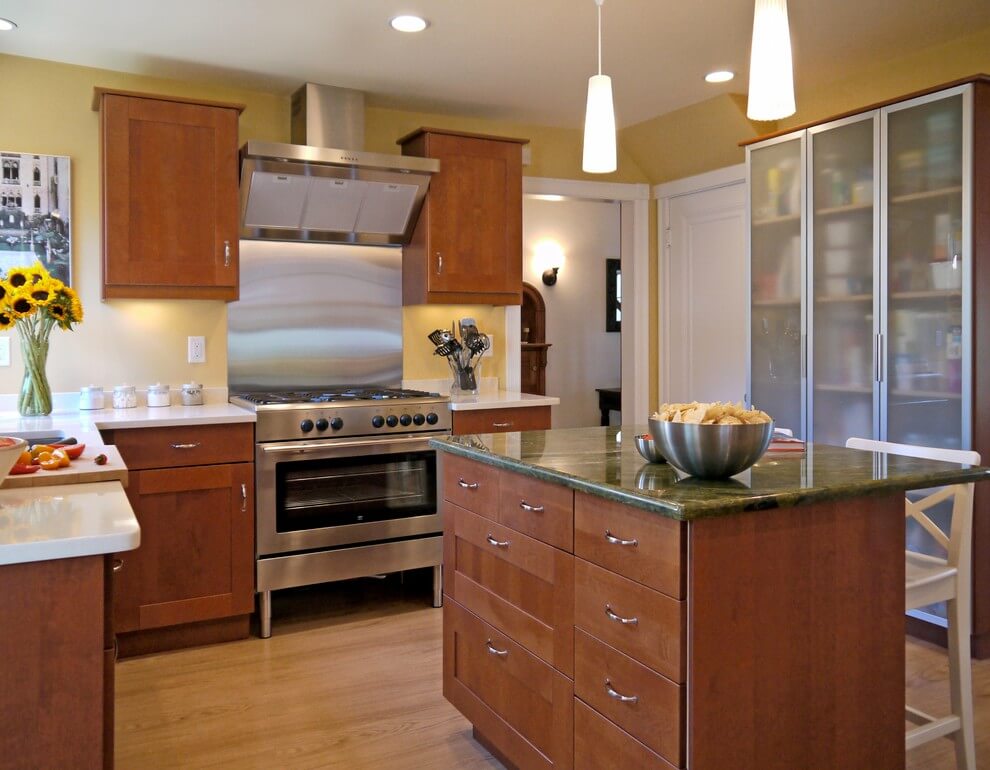 source: hgtv.com
Horseshoe Kitchen Layout
The reason for calling this layout "Horseshoe" or "U-Shape" is because it has three walls of cabinets.
Idea # 13 Work With Traffic
By adding a small island in the middle traffic inside and out the kitchen can be effectively managed.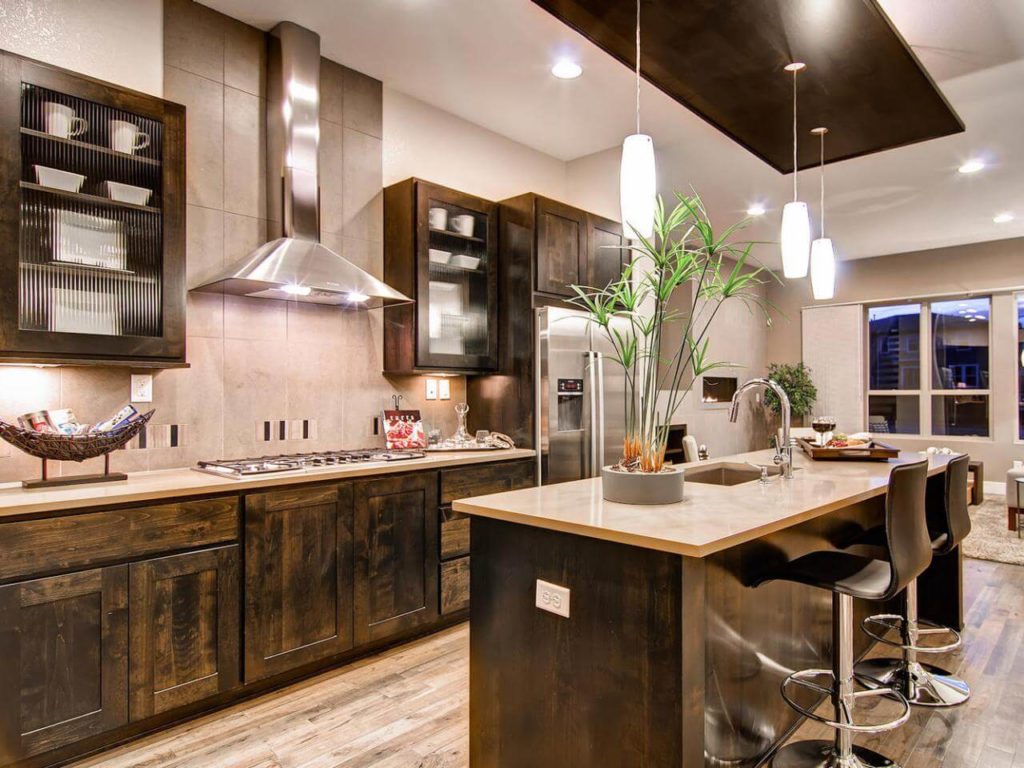 source: carringtonconstruction.com
Idea # 14 The Island Wall
Making the island your third wall you will have the option to convert your kitchen into a small dining area.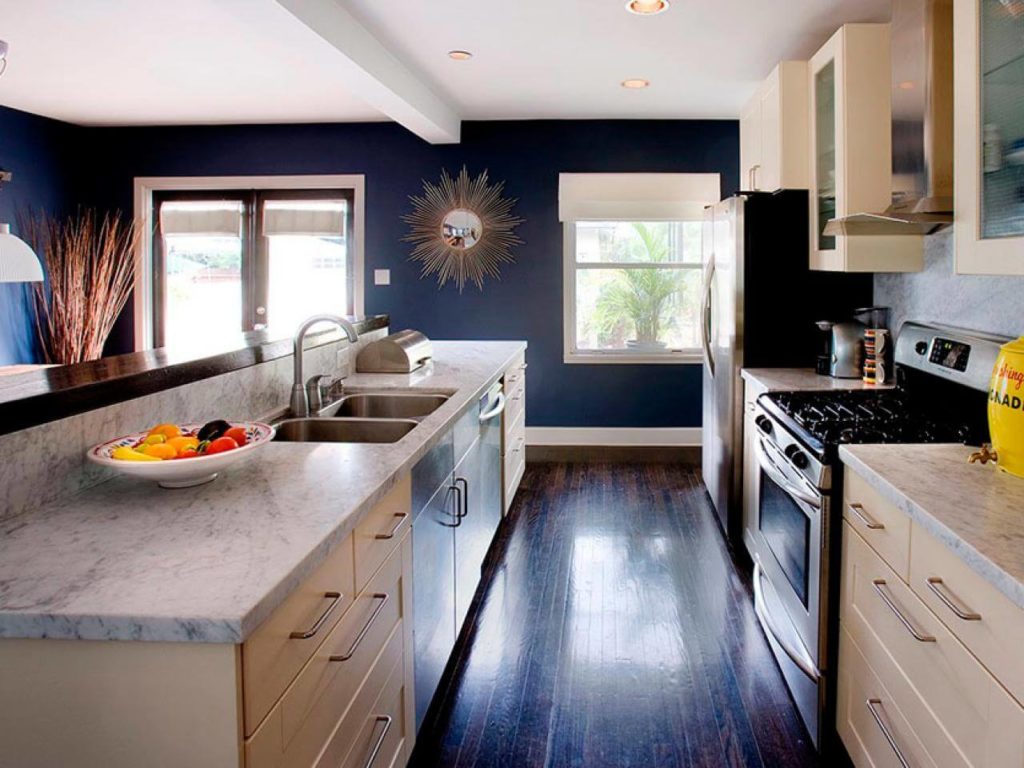 source: bydesigncabinetry.com
Idea # 15 Natural Light Advantage
By introducing a glass door to the backyard you can add natural light to the kitchen and give it a livelier look.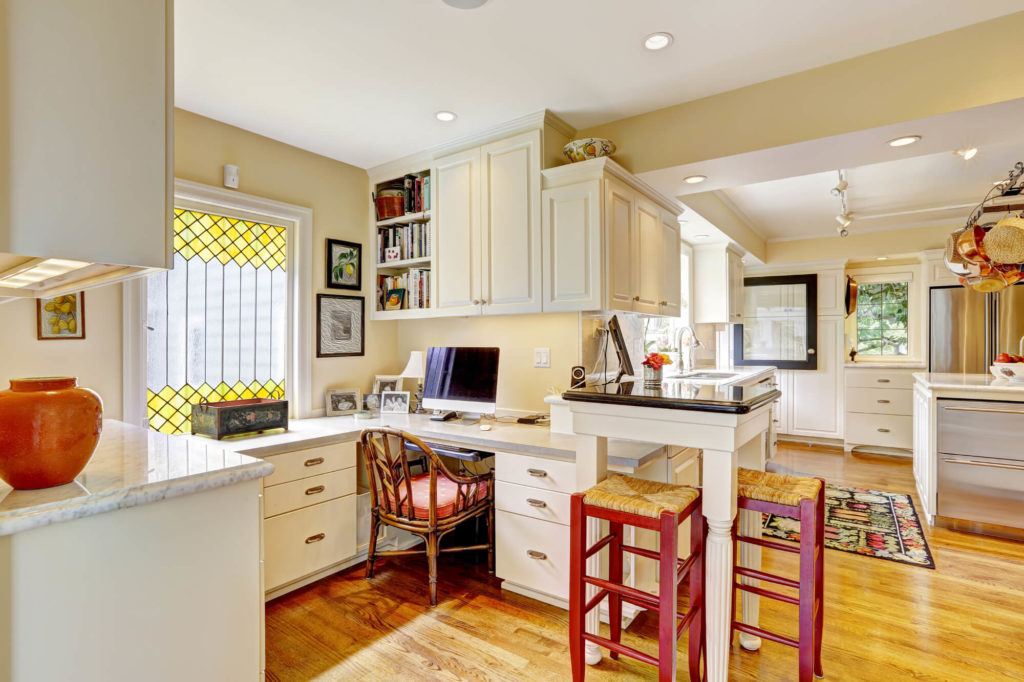 source: howdens.com
Idea # 16 Bright And Open
By introducing an elegant large window in the kitchen, matching the theme you can bring more light and an open feel to your kitchen.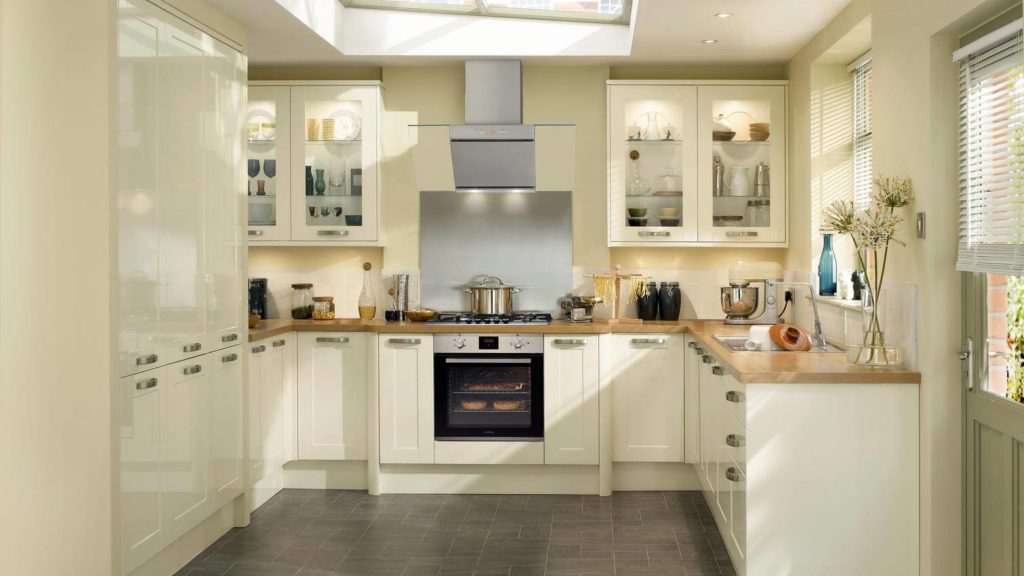 source:  today.com
Kitchen Island
Kitchen Island adds a lot more space to the kitchen. It provides space to eat and to prepare food and so much more.
Idea # 17 Add Counter Space
You can use the island to add more counter space to the kitchen. This design is great for those whole like to cook a lot.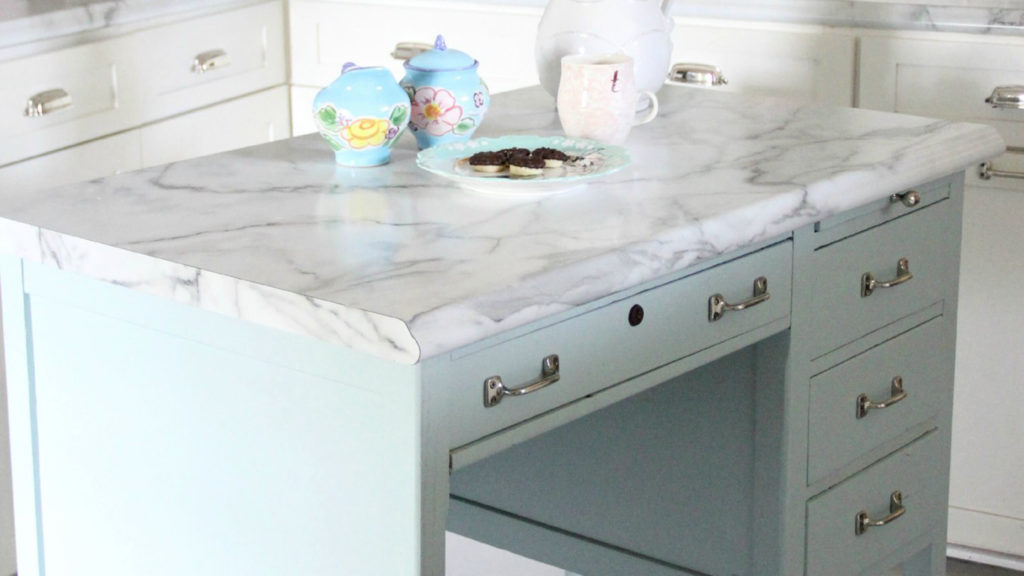 source: pinterest.com
Idea # 18 Seating Place
You can use the island to create a space for your family to sit together and eat. This design is great if you love to cook for your family.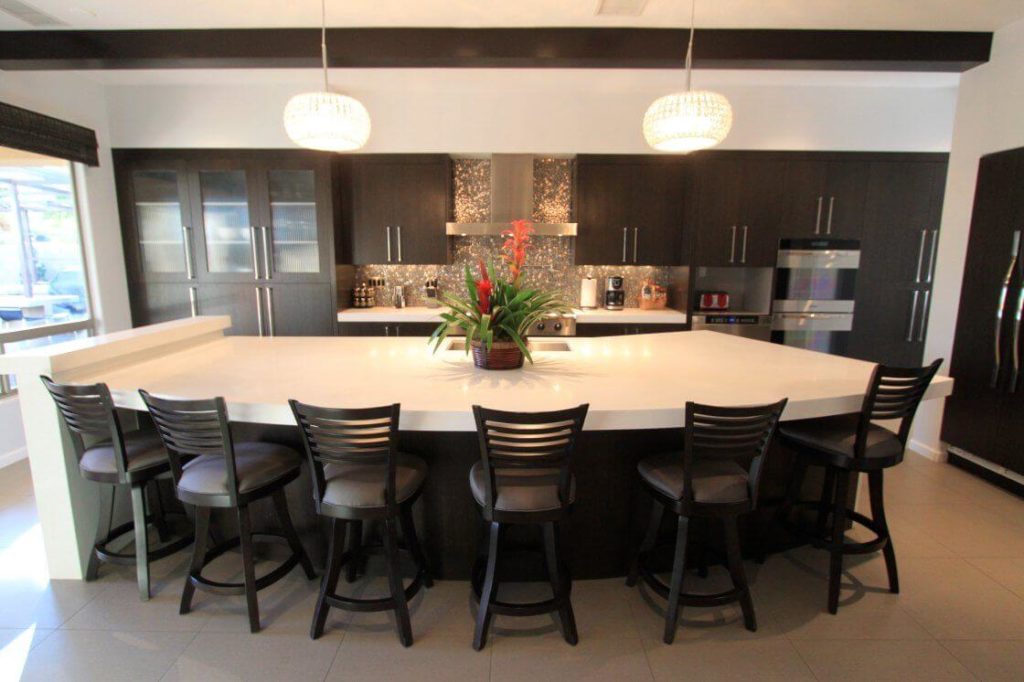 source: caloricappliances.ca
Idea # 19 More Appliances
You can get custom space created to add more appliances to the kitchen by using an island. Make sure for this task you take the help of a kitchen remodeling in Commerce Township MI, as there is a lot more to do when electrical equipment comes in to play.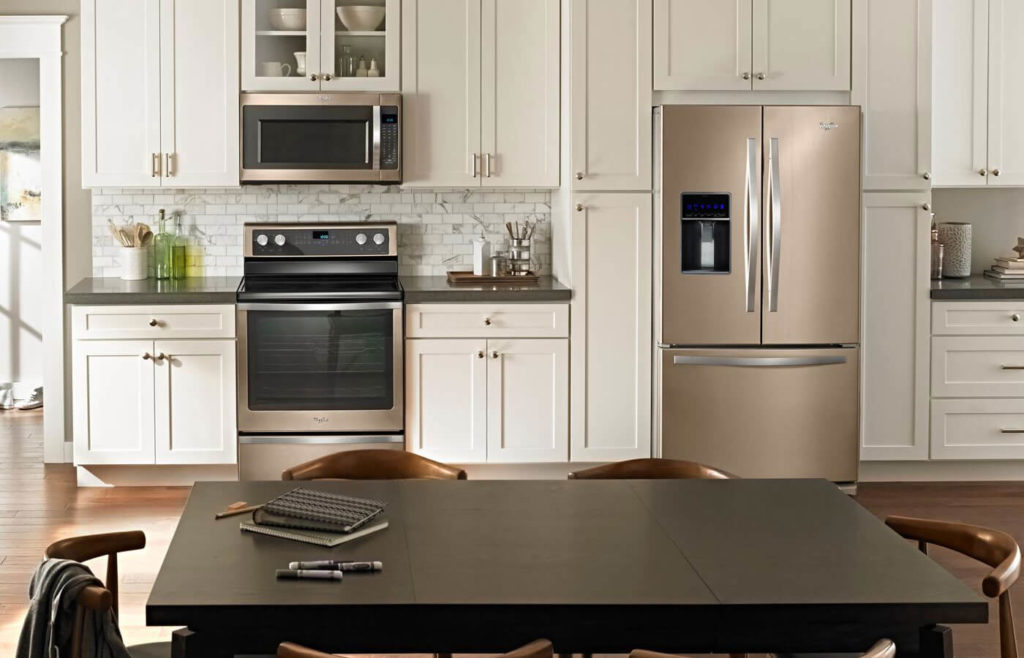 source: houzz.in
Idea # 20 More Storage
If you are a cooking nut just like me then no amount of space will do, more is always needed. Making your island full of cabinets might do the trick.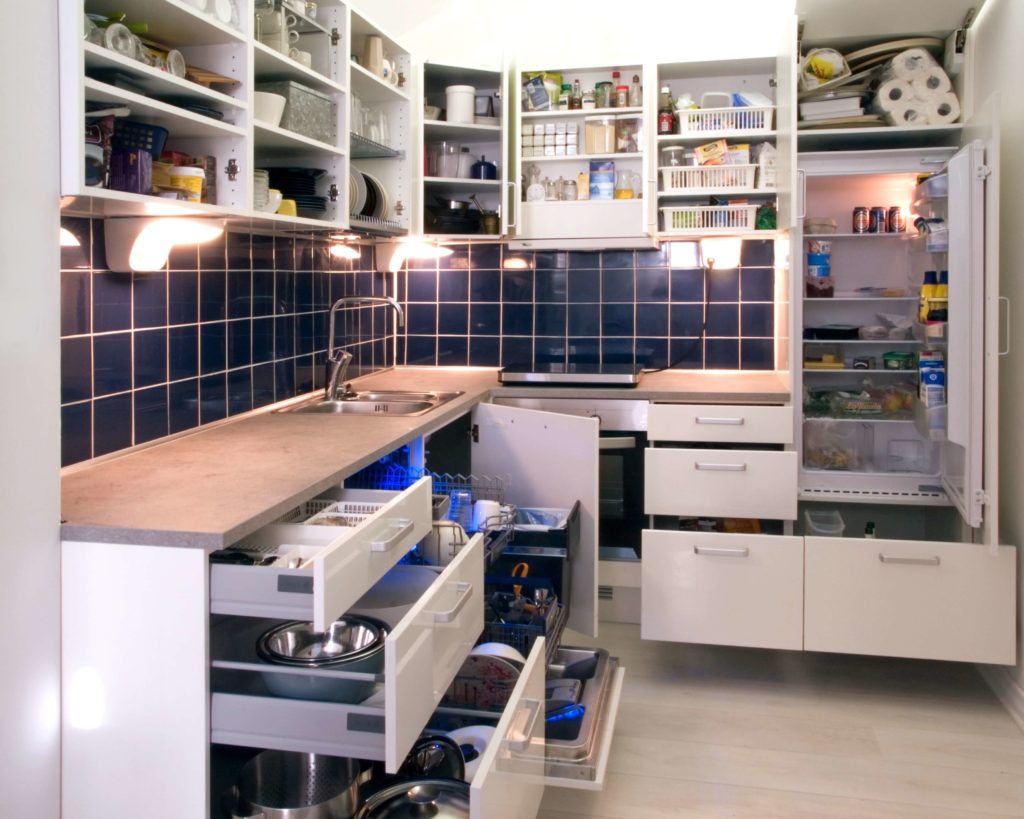 source: homestratosphere.com