Outdoor living space can be incorporated with a porch, a balcony, or a small garden you like to stay at. This area is where you can experience the elements of the outdoors in comfort and bliss, and there are easy ways to create it the way you want it to be. 
Achieve A Cozy Outdoor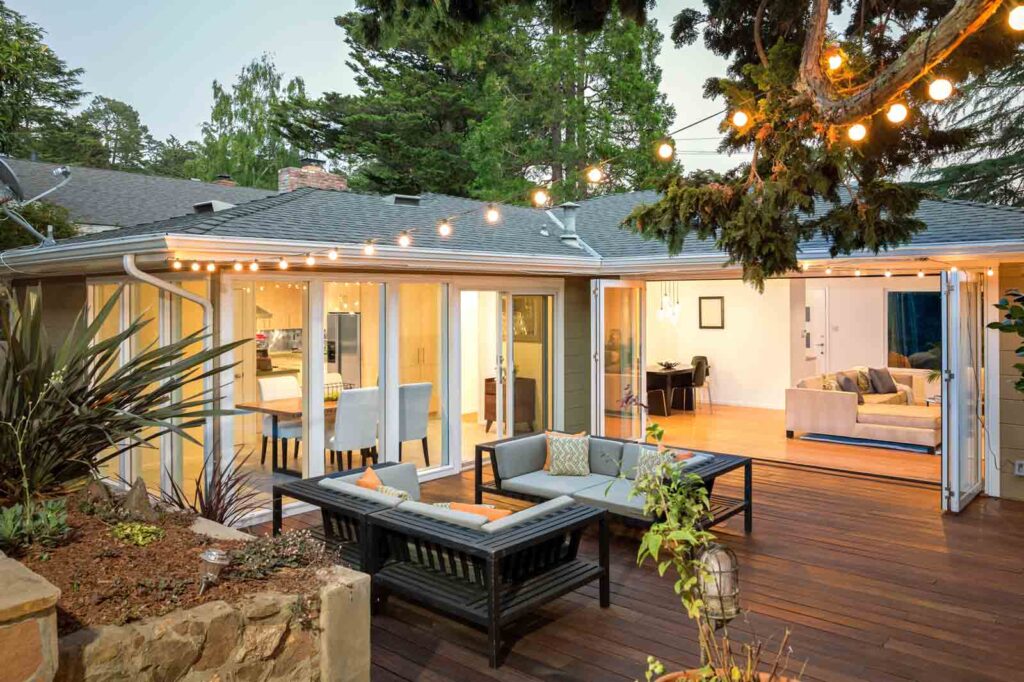 source: larsremodel.com
The following are some ideas on how you can turn your outdoor space into a place of peace and comfort for you and your loved ones:  
Add Teak Furniture 
When you want to add aesthetic and comfort to your outdoor space, you can never go wrong with teak furniture. Teak blends well with the environment, and the material has the durability to last under harsh weather conditions.  
A set of teak chairs must be high-quality, marine-grade, and resistant to mildew. They must be comfortable and have quick-drying cushions as well. In this way, the furniture will look inviting in an adequately measured space.
The appropriate number of chairs also allows freedom of movement in the living space. Teak furniture has endless design options you can mix and match with the rest of your décor.  
Place Outdoor Rugs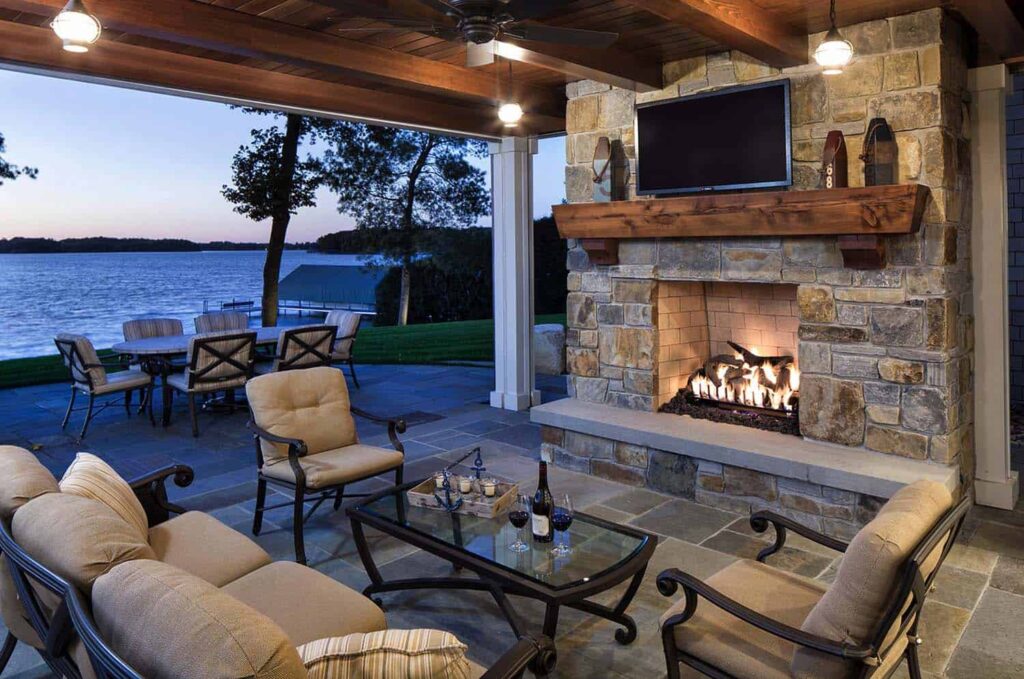 source: onekindesign.com
If you have a home with a deck area, it's a nice place to spend summer nights for dinner or a drink with family members and friends. But not every deck is to the owner's liking because it may have been stained or painted in a different color than what they want.
If that's the case, adding a lighter-colored rug with a neutral design can suffice. You can use it as a base to add more furniture, so choose a size that'll cover the floor space.  
Use Lighting And Fabrics 
Make an outdoor lounging area, a patio, or a sunroom extra special by incorporating outdoor lighting and textiles into the setting. Festoon and solar lighting are extraordinary because you can leave them outside for the whole year. They're great when you want to relax on your own or enjoy a night with loved ones. Table centerpieces, napkins, and throw blankets also add an inviting coziness to the setting during summer nights.
Another tip you can use is to list down the furniture and accessories that fit your intention in setting up your space. The act alone can help you focus and prioritize what you need over what you want. It can also help reduce your stress.  
Surround Yourself With Plants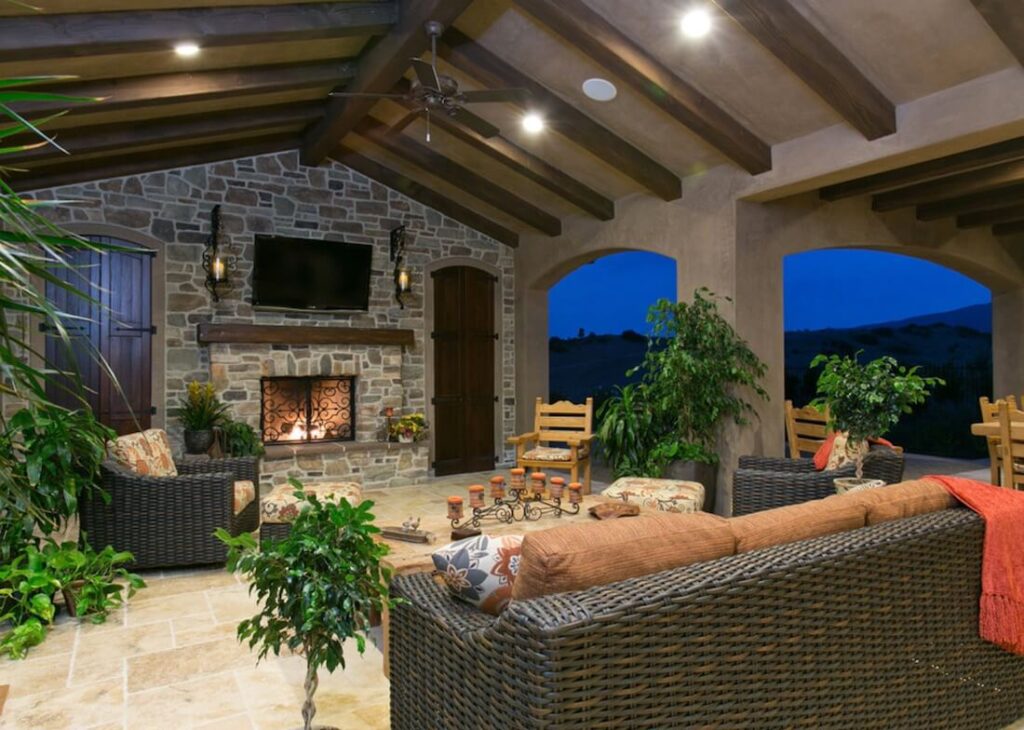 source: properties.ghost.io
Outdoor living spaces allow you to be closer to nature at a comfortable distance. Plants add tranquility to your area, and being surrounded by other life forms makes any space more inviting. If you have enough room, bring in potted plants.  
You can choose to have tabletop terrariums or create a vertical garden that spans upward like wall-type pouches or pots if you have a small space.  
Hang Unique Sconces Overhead 
A patio or lounging area with a dining set can also benefit from overhead lighting, sparking imagination and creativity. There are various types of sconces you can hang to give your area a bit of personality and vibe. They're typically not expensive and there are different types you can choose from. You can go for the colorful, metallic, or antique-style sconces that can go well for the look of your outdoor living space.  
Consider Checkered Flooring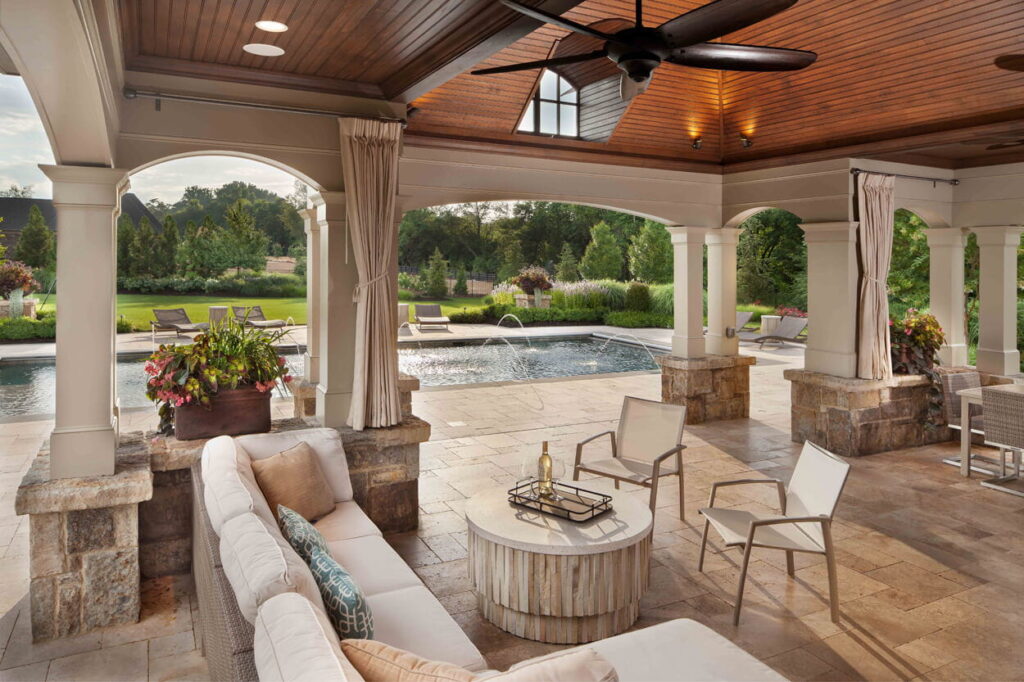 source: surroundslandscaping.com
If your outdoor space has dull flooring and you have the budget to spare, you can have them replaced with checkered flooring, which can be an inspiring outdoor patio decor. There's much outdoor furniture to mix and match with the flooring, depending on the design. 
Tile flooring also gives a good foundation for your outdoor space and it can also be a basis for your outdoor theme. Getting the furniture to go with it is the first step if you don't know where to start.  
Create A Dish Display 
If you and your family have a habit of dining outside, you can make setting up more accessible by creating a space for your dishes. It can be shelving for colorful plates, cups, glasses, and utensils. Setting up for lunch or dinner will be quicker and they can also double as a set of displays, complementing the look of your outdoor space.  
Conclusion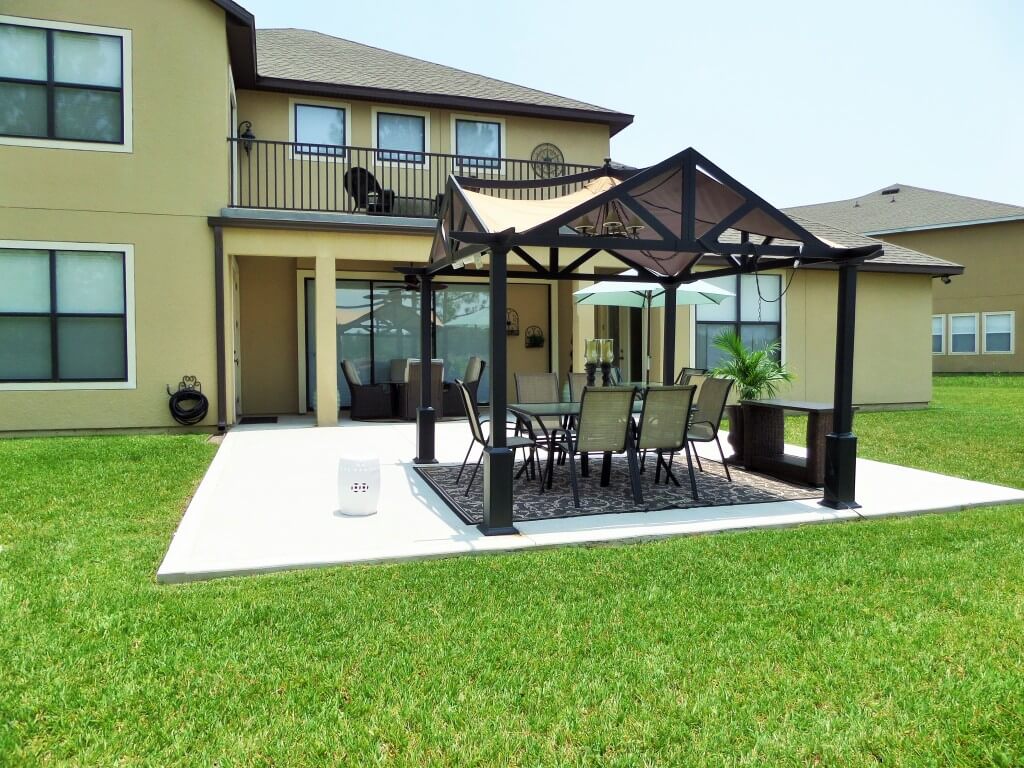 source: secureservercdn.net
There are many ways to make your outdoor living space suitable for your style and taste. The tips mentioned above are only a few, but the elements you want to have are entirely up to you. Know that you don't have to spend so much money to achieve the look you want and that creativity and resourcefulness can come a long way.