Introduction
There are many types of outdoor living furniture, like sofa sets and chairs. For the new or inexperienced buyer, it's tough to choose which seating to use. It's best if you know what the purpose of the furniture is before making a purchase.
– If you want an area for relaxing, then a loveseat or armchair is ideal since they offer more comfort than dining chairs.
– If you need more seating during gatherings, then a sofa or couch is best since it provides enough space for more people to sit.
– An outdoor sectional is perfect for a large family garden because it can provide extra seating on demand.
Things to consider before designing outdoor living. 
Materials – It is not difficult to find environmentally-friendly outdoor furniture. The majority of natural materials, in particular, are weather resistant. Marble, concrete, and certain varieties of wood are examples. If you are going to use synthetic materials, opt for ones that have been recycled. There is nothing quite about loving nature but still benefiting from it.
Attractive lightning – When it refers to outdoor lighting, experts advise that less is better. So, more than ever, let nature take centre stage. Create an outdoor living area that the moon and the stars will illuminate. Show tiny, pleasant outdoor light fittings to draw attention to the pathway or dining room.
Importance to nature – When designing a space, the focus should be on nature in order for homes to have seamless flow between the outside and the inside. Greenery is needed indoors, but traditional outdoor furniture, such as a swing chair, is like the cherry on the cake. It is also something you can do.
Multifunctional furniture – Outdoor living trends for 2021 include multifunctional outdoor furniture. Garden furniture must be practical, ergonomic, and environmentally friendly. Several pieces of furniture can be used both indoors and outdoors.
Meaningful gardens – Meaningful gardens are another common outdoor living design theme. What are useful gardens, though? Meaningful gardens are organic gardens in which kitchen herbs and small fruits, such as strawberries, can be grown. As a result, the gardens in which edibles are grown is known as meaningful gardens.
Furthermore, by establishing a compost station, meaningful gardens can be used to reduce waste. Meaningful gardens have a diverse range of trees and plants that encourage species to live for a while.
Ten best ideas to decorate your outdoor living
Metallic grey can never go wrong!
source: walmartimages.com
In your backyard, you will not go wrong with a little grey. It is a subtle shade that adds a contemporary twist to every conventional setting.
Simply combine soft, anthracite-colored cushions with durable metal for a chic and cozy seating environment. Fulfill this entire outdoor design with a flexible sofa, giving you the most versatility when setting up your space. You can also add slatted fence panels to the scene to make it look even more stunning.
Multifunctional stuff is a big yes!
Picking items that do two jobs at once is a hassle-free choice for garden furniture ideas.
Choose to seat for your outdoor living area that is not only comfortable but also trendy. Furniture with wooden end panels for resting beverages, sweets, or beautiful accessories is very useful and fashionable presently. Of course, to build a trendy and uniform look, you should still add coordinating accessories.
Hangings, flower pots, and other things may be added to liven it up. Then, for an extremely bohemian flair, add one or two from one of our pergola concepts. Then, to light up the corner of your house during the winter, bring them inside.
Accessories do the work!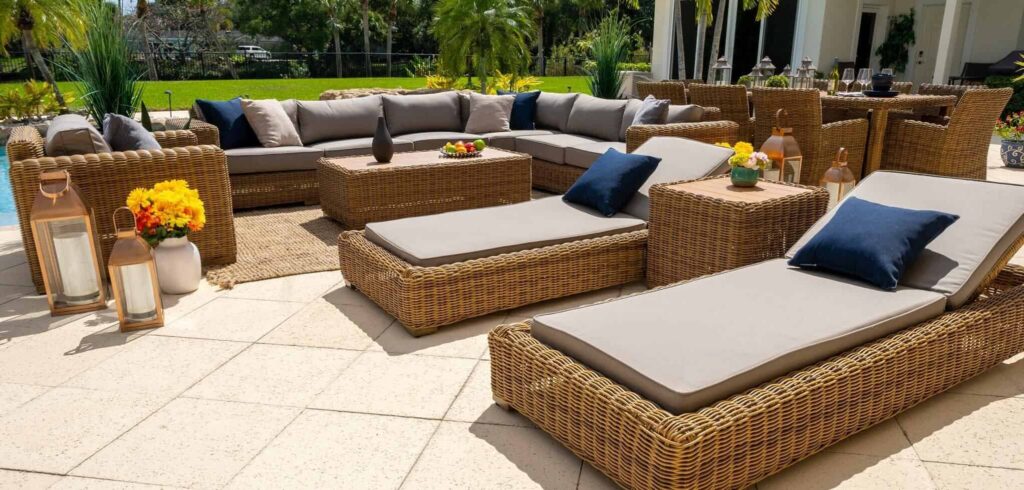 source: shopify.com
Get imaginative with decorations for your patio furniture arrangement if you want a homey look. Add embellishments of jazzy cushions, colorful designs, and dangling plants to your plot – it is a simple and economical way to make your mark.
Do not forget a couple of coffee tables, where you can rest your cup of tea, a nice book, or a jar of newly selected flowers.
Always try something new!
A rounded sofa set-up is a fantastic way to increase your plot's lovely aspect. To keep things looking modern, choose cool and subtle colors that will look great covered with fluffy blankets and tasseled cushions.
Simply put, an easy-to-clean, glass-topped desk in the midst, along with a lantern to add some flair. Then, heat up the best BBQ in the town, and you can have the ideal location for lunch or warm summer drinks with friends in no time.
Incorporate some calmer shades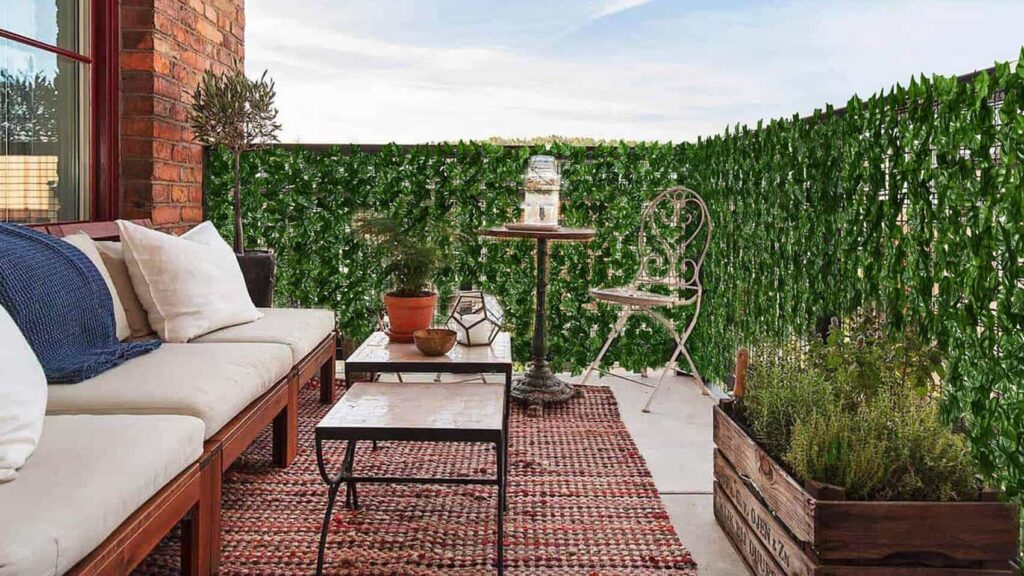 source: cnn.com
White fabric in an outdoor space? It may sound a little unusual, but this is the truth. These days, though, you can get a cloth that is not only water-resistant but also dirt-resistant.
Isn't this wonderful news? Well, indeed!
So, for your outdoor seating, go for light colors to brighten up your outdoor place. The blend between subtle shades and the leafy green environment is stunning. Choose furniture from a customizable range for added convenience. That is to say, and you can alter the form and scale to match your needs.
Green-toned cushions, as well as wood finishes on the contrasting seats, contribute to the personal touch. If you prefer lighter colors, especially white, this is a good choice to consider.
Right planning is vital!
Mix and match colorful pieces with fuss-free wooden furniture for a more eclectic look. Cushions, spreads, lanterns, and colorful plant pots are scattered around to complete the cheerful scene. Each of our patterned new paving ideas may also add an additional layer of appeal.
Do not forget to install lots of glowing lights after dark – the right garden lighting ideas will make every plot feel cozier and more inviting.
Utilize rattan furniture for outdoor furniture
Rattan is extremely popular right now, and we are not surprised. It is a classic and timeless look that fits as well in your living room as it does in your backyard.
Weather-resistant and simple to scrub, rattan made specifically for outdoor use is a lovely option for an exterior dining room. Choose trendy grey tones and a big, coordinating table to complete the look. That way, everyone in the family will share a meal together and in style.
Outdoor poufs are a must!
It is nice to have a room that is solely for relaxation, whether it is on your decking or balcony or by your pool. A cluster of poufs and the right outdoor bean bags are both ideals for developing a laid-back atmosphere.
source: hgtv.com
For a sleek look, use subdued colors. Think again if you think the right outdoor rugs are just for the floor. They can also be used as wall-coverings; you just have to attach them to a fence for a stunning backdrop simply.
Monochrome is so trendy right now!
A monochrome palette would still be fashionable, but mix black and white colors with natural textures and shades for a smoother look.
Wicker, rattan, velvet, and wood-fired clay are all lovely fabrics that will give every plot a warm, rustic feel. Position against a black background for a healthy, thoughtful, and bold design.
Incorporate some sunbeds. 
The greatest use of an outside scene is often just lying down and soaking up the rays of the sun. We hope you would like these pared-back sunbeds if you like a minimalist style.
Plant some ornamental grasses alongside, as well as one of our water feature concepts, to add a bit of action and tone. What you need now is a cool drink, and you are ready to spend a sunny summer day.
Wrapping up
So, here we are at the end with the ten best outdoor furniture settings that really help you enjoy your outdoors to the fullest. We have also listed out things to consider before decorating your outdoors with your preferable furniture. Because material, lightning, and other things also play an important role in adorning the space. 
Once you are done with all this setting and arrangements, you are set to host a big party on your lawn and even plan a family dinner to enjoy the cozy environment. We hope it will help you out in utilizing your outdoor area.