Choosing outdoor furniture might be a bit trickier than buying new items for your home interior. Read this article to get to know about the blunders that you might want to avoid.
When choosing outdoor furniture, you probably want it to fit your house exterior and the style of our garden or backyard. You need to coordinate the new items with the ones that you already have and make sure the purchase fits your budget. In this article, you'll find a list of the most common mistakes that people make when choosing outdoor furniture. It should be rather easy for you to avoid them and turn your garden into a stunning and highly comfortable place.
Choose Furniture Only by Its Looks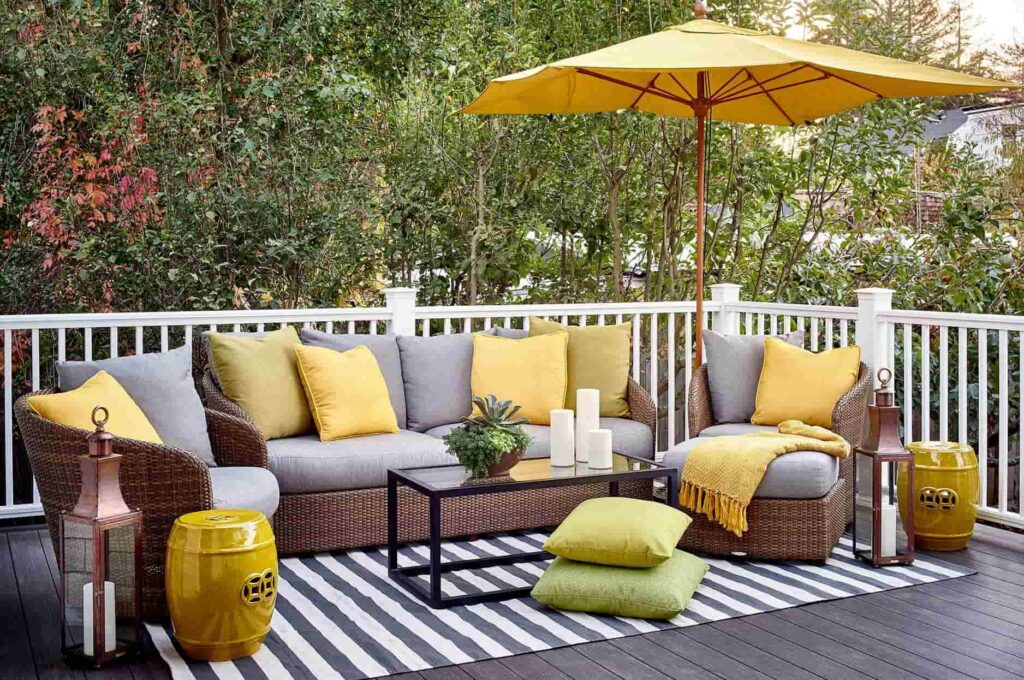 source: bhg.com
Before heading to an offline or online shop, you probably check designer blogs for inspiration. If a certain picture produces a particularly big impression on you, you might want to recreate it in your garden. Yet instead of making impulsive purchases, you should think of the functionality — here are a few examples.
If you have a large family and like to 

invite guests

, make sure to buy enough chairs.

If you enjoy reading and napping in the shade, consider making a patio umbrella the central element of your garden landscape.

Chair legs might look elegant — but you shouldn't put them on the decks. The legs might get caught in gaps or sink into the grass.
Never skip the sit test. You should assess the quality, materials, and construction of each item that you're planning to buy.
Opt for a Wrong Material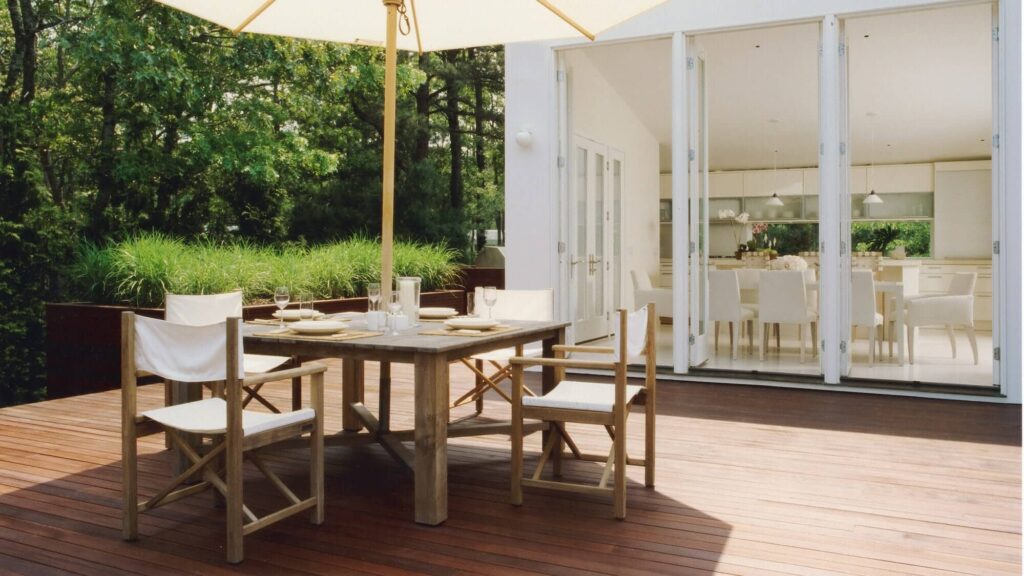 source: gq.com
The material of your modern outdoor furniture should fit the climate where you're planning to use it. These are just a few examples.
Aluminum quickly absorbs heat. In summer, it might become too hot to touch or sit on.

Many fabrics tend to fade in the sun. If possible, try to buy furniture with fabrics that have UV protection. Such fabrics have a coating that prevents them from fading.

Showerproof fabrics can withstand light summer showers but not heavy rains.

Due to salty air in seaside areas, certain types of metal might corrode. Frequent rains and high humidity might also

cause the metal to rust

. Wrought iron and coated aluminum might resist moisture better than other alternatives.

If you live in an area where pine trees grow, you might want to discard wicker furniture. It might be too challenging to remove the needles from its nooks. You might consider replacing wicker with synthetic resin because the latter is much easier to clean.
At the same time, all the materials that have certain shortcomings have their advantages too. For instance, aluminum is very lightweight. You'll be able to easily move furniture with aluminum frames around your garden. It's anti-rust and can withstand the rain. Plus, it's available in lighter or darker finishes.
You shouldn't discard newer and more advanced alternatives to traditional materials. For instance, traditional glass is too fragile to be used as an outdoor table top. But frosted glass is weather-resistant and easy to wipe clean. It looks sleek and doesn't produce a glaring reflection in the sun.
When choosing the material, you should pay primary attention to three factors: aesthetics, weathering capability, maintenance and care required.
Forget about Protection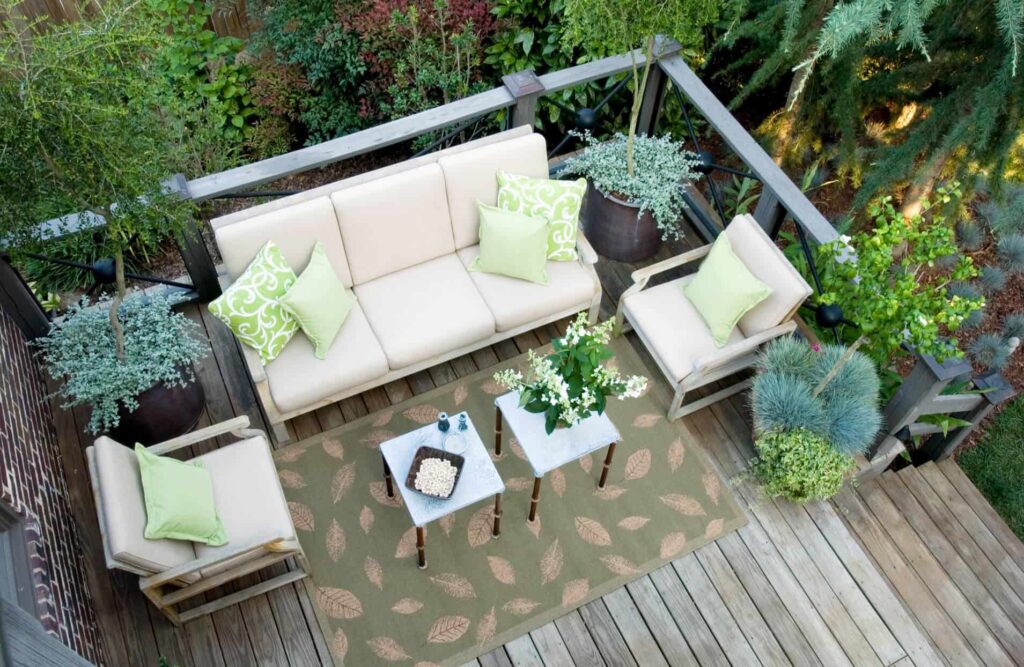 source: meredithcorp.io
Any outdoor furniture is designed to withstand the rain and elements to some degree. Some parts of it might be made of water-repellent fabrics. Yet its cushions might not necessarily be weather-proof and thus can spoil easily. To make them last longer, you can cover them with a plastic sheet when you notice that rain is approaching — or you can bring them indoors.
You might want to purchase covers to protect your cushions during the offseason. Some outdoor sets have individual zipper cases that protect the furniture from rain, snow and spring pollen. It would be wise to purchase or build a container to store large cushions in a dry place so they don't get dirty or attract mildew.
Pay Little Attention to Dimensions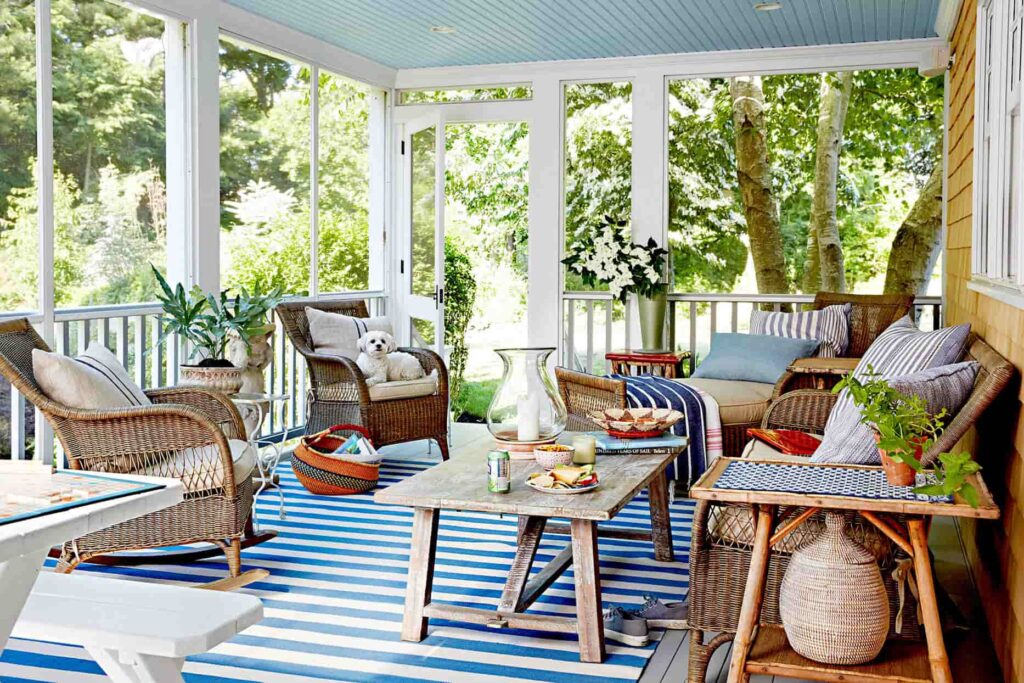 source: meredithcorp.io
Before buying the furniture, you should measure the space where you're planning to put it. Ideally, you should make a 3D project in a design app. But even if you think you can do without the project, you might want to use a measuring tape to achieve the following goals.
Make sure every item that you want to buy will fit your outdoor space

Check whether the doors will be able to open

Leave enough free space where you and your guests can walk and move

Estimate the level of comfort

Detect the areas where your furniture will be likely to spoil (because of moisture or other factors)
After you complete the measurements, you might need to tweak your initial plans. For instance, if you lack free space, you might want to install a firepit with artificial fire instead of a natural one. Even if you opt for the former, you won't be able to put a sofa right next to it. But the distance that you'll need to keep between the two items will be smaller than if you use natural fire.
It would be perfect if you could utilize just a portion of your garden with furniture. If you can leave the rest open, that would only add to the aesthetics of the space.
Buy Cheap Furniture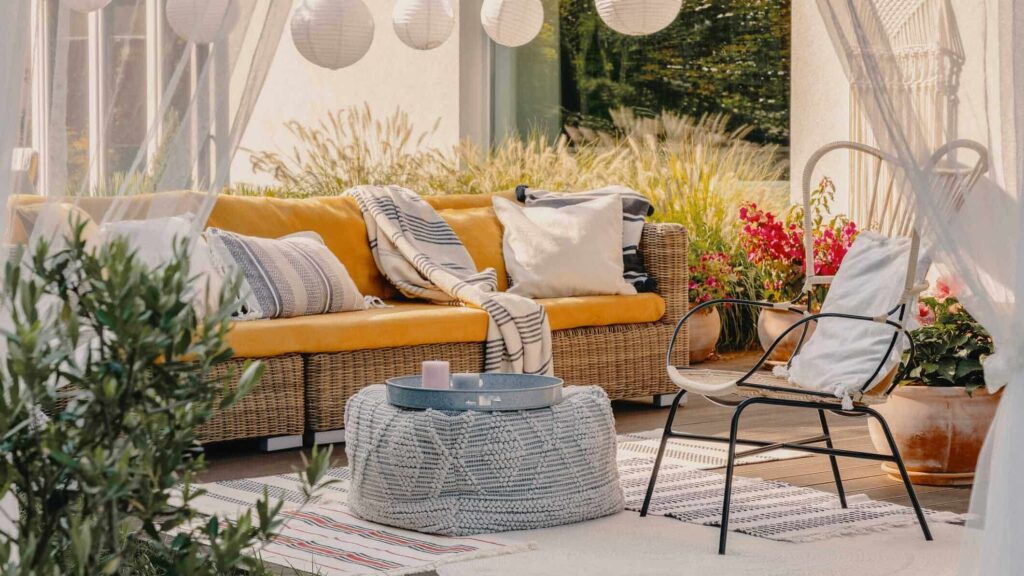 source: pinterest.com
Mind that your outdoor furniture will be subject to the elements. It should remain in good condition for years to come, without requiring regular repairs or replacements. Items with a very light frame might have very attractive price tags — but they might be too unstable and tend to slide around too much. Low-cost sofas, tables and loungers might end up costing you more in the long run.
Final Thoughts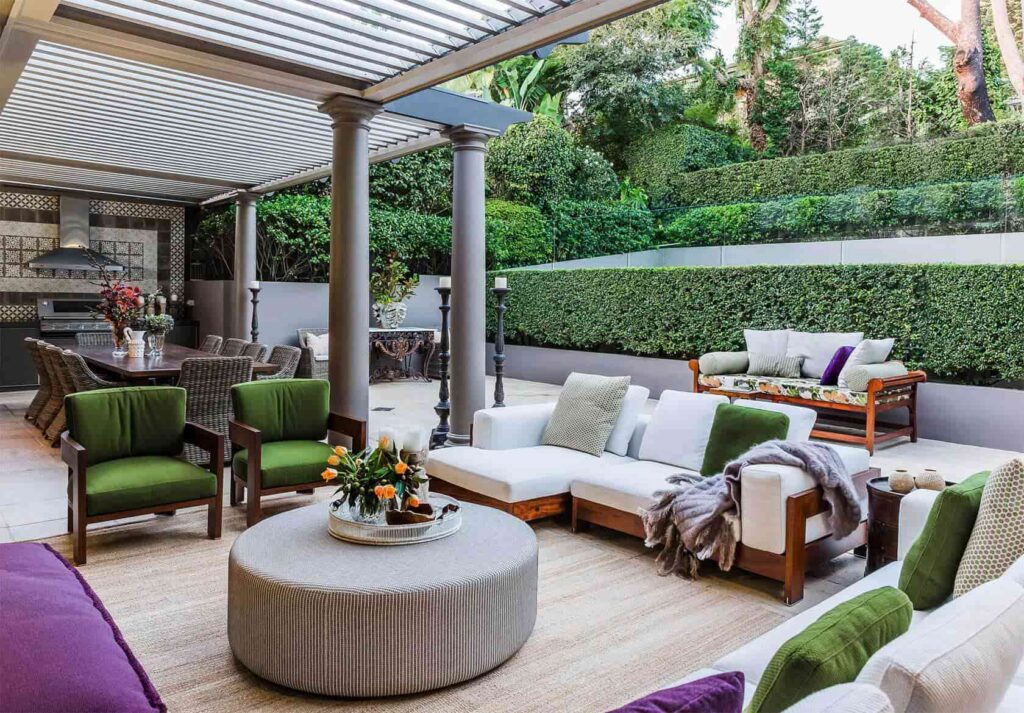 source: mydecorative.com
Hopefully, this article came in handy, and now you better understand how to choose top-notch outdoor furniture. Make sure it will fit the overall design of your house and the climate of your area. If you don't want your furniture frames, fabrics, and cushions to deteriorate prematurely, you need to make sure that they are weather-resistant. You should be ready to pay a fair price for high-quality furniture and provide good protection for it.