Interiors are primarily decorated with woods staircases. However, it is possible to obtain the desired look by combining different types of wood.
Designers frequently employed wood to give metal and concrete architecture a feeling of warmth and refinement. Other materials, such as stainless steel, cast iron, and other metal elements can be used to complement the hardwood staircase.
woods stairs in the home are an essential part of the interior design, and they will add to the space's style and grace. Here The Architecture Designs explore a wonderful collection of stunning woods staircase ideas that can bring elegance and class to any interior design!
Floating staircase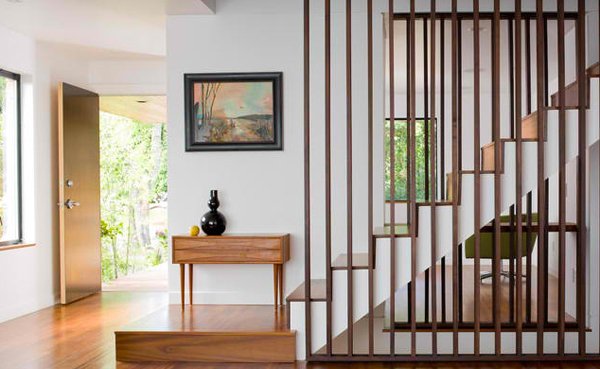 source: homedesignlover.com
If you want to have a floating staircase, add some aesthetic lights. The steps are also built into the wall, and the steel rods are there for decorative purposes rather than for support. The open approach to staircase design is a smart concept for compact interiors.
There's a reason why floating staircases are so popular. There's more to this design than meets the eye; it's pretty simple in look but capable of creating wow-factor. In this modern interior, this design emphasizes the overall illusion.
Functional staircase 
The sleek woods staircase leads to a loft bedroom and is an excellent alternative for tiny rooms. By putting a workstation on the space beneath the steps, it becomes functional as well. 
The glass-cased railing allowed for safe mobility down and up the stairs and matched the glass half wall in the bedroom, providing security and privacy.
Make it look effortless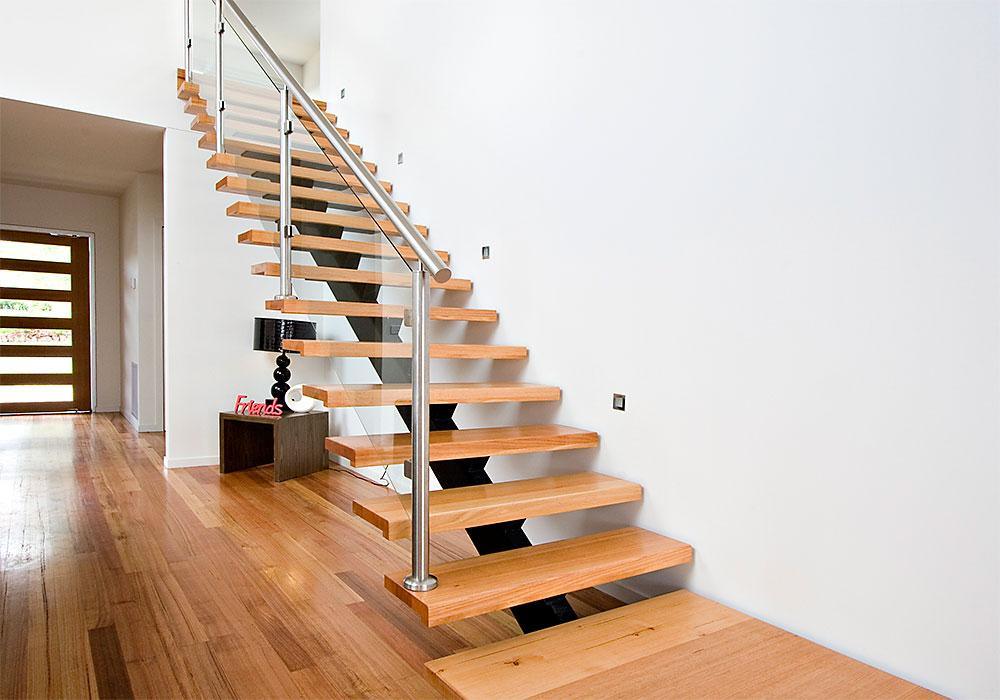 source: pinterest.com
The double-height barn conversion staircase may appear unique in the large environment, but all you need to do is paint ply planks to develop an interactive contrast to the white walls and concrete floors.
To make it look more effortless and specific, try to coordinate the colors of your home with the color of the staircase.
Keep it simple 
An exposed woods stair design is vintage and traditional staircase design that is still popular in the twenty-first century. It allows you to take the stairs more appealing by displaying gorgeous tiny plants over them.
It is also fully safe for both pets and children, and it can even withstand heavy foot traffic. However, to maintain the shine of this staircase, you need to wash it frequently. It is the oldest and most basic woods stair design that will predominate in 2022.
Make it useful while creating storage options. 
Every household's largest issue is storage. Normally, the space beneath the steps is vacant and never used. As a result, you can opt for this option, which allows you to create storage beneath the steps. With some creative thought, it can become more appealing and beneficial.
We can make wooden racks that can contain a lot of items. These racks can also be used to decorate your home. 
Making an extra space to keep things secure is a fantastic idea. However, it would be best if you did not use it as a trash can. Don't throw everything in there because it'll appear messy.
Stair idea for studio apartment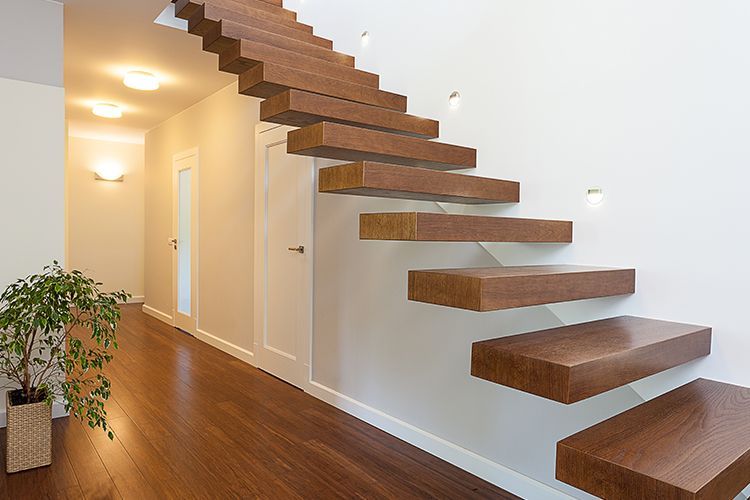 source: livmatrix.com
If you live in a studio apartment, this staircase will be really beneficial for you. With monochrome furnishings, a darker-toned woods stair design will bring contrast to your area and give your home a more aesthetic vibe. Choose a simple metal railing for your staircase's railing, and you'll be good to go.
Garden staircase design 
Choose a woods staircase with space in between if you want to give your garden stairs a truly unique yet lovely appeal. 
The platforms enable effective leveled plant distribution, while the steps provide access from one level to the next. Decorate the stairwell with lovely plants, flowers, and even lights to make it appear even better at night.
Spiral woods stair design
You may be aware that spiral stair ideas are popular these days. If you want a wood spiral staircase, choose one with an abstract sculpture design for a more refined appearance. 
You can design your staircase in any shape you like, but make sure it fits in with the rest of your home. Wood is curved to perfection in spiral staircase design to provide adequate base design.
Wood tread staircase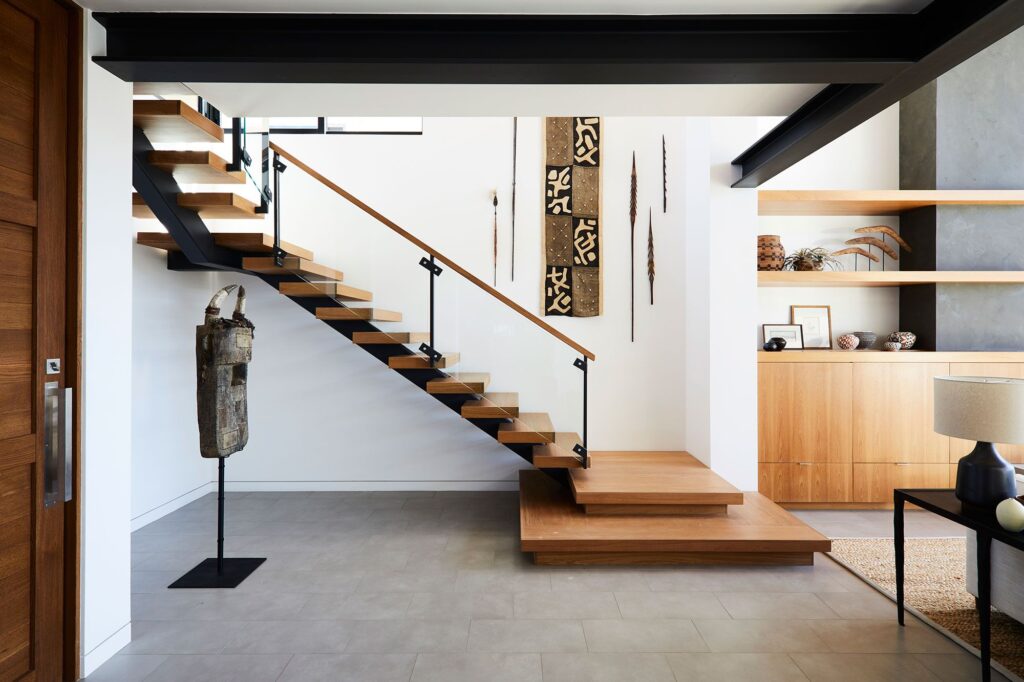 source: hearstapps.com
The most significant challenge in a room with stairs is the passage of light. An open wood tread stair design is a practical and great solution for increasing the light flow in a corridor or room.
Because this woods staircase was built without a riser in between the steps, it may be difficult for toddlers and pets to walk or crawl in the absence of a riser.
When it comes to aesthetics, open wood tread steps give a property a stunning impression.
Glass woods staircase 
The combination of glass and wood is widely regarded as one of the most appealing. Because glass and wood both have a beautiful sparkle. When it comes to mixing them in a staircase, this will turn out to be amazing.
From all sides, the glass will entirely encase the stairwell. As a result, it will have a pleasing appearance. However, it'd be a little more expensive because you'd have to utilize high-quality dark wood and glass.
So, if you have a sufficient budget for the same, then only go for it!
Paddle style modern woods stair design
Paddle-style modern design is a woods staircase that boasts a unique design that exposes the complexity of contemporary architecture.
The free-flowing spiral construction of the wooden paddle stair idea is complemented with broad and innovative stair treads that are just gorgeous.
The paddle stairs reduce room while also adding a glitzy touch to the decor. This staircase is suitable for homes with limited space. If you have little children in the house, you may wish to avoid this sort of stairway.
Boat-shaped woods staircase 
How about installing a boat-shaped wooden, stylish, and effective staircase that fills colors and makes the basic setting of your house's hallway impactful and beautiful?  
It is indeed a splendid idea! 
The pedals are made of light wood, and the handrails have intriguing geometric patterns. This boat-shaped woods stair design is a beautiful addition to any home and is an excellent option for single-floor climbing.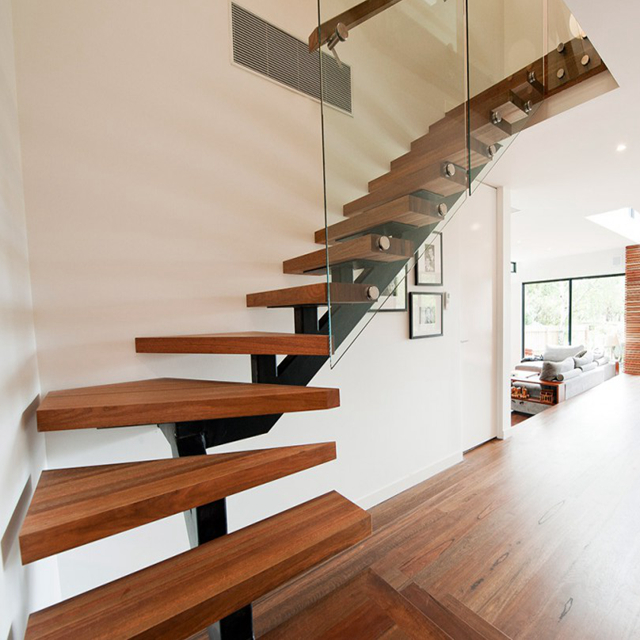 source: pinterest.com
Illuminated stair idea
If you have steps in the corner of your home, this notion of lighting the stairs from within would most likely appeal to you. Once again, a huge shelf and other materials have been installed beneath the steps. 
A wooden pillar additionally supported the entire frame. This style of hardwood staircase improves the overall appearance of your home.
Tornado style woods staircase 
Who doesn't want their home to look very sophisticated and out of the box with a stylish woods stair design? This spiral staircase in the shape of a tornado is a modern-day thrilling staircase design that will bling up your space.
This staircase is gracefully enveloped in a white supporting structure, instantly elevating the elegance factor of house interiors. 
The spiral takes on the shape of a tornado, giving the interiors a unique look. This staircase is ideal for a large residence with contemporary architectural ideas.
Cantilever woods stair design 
Another modern staircase design is the cantilever staircase, which is a form of the floating stairway. It will give your room a simple, modest, and magnificent appearance. 
The minimalist staircase design shows a very easy staircase design that is perfect for modern buildings with minimalistic interior design. The steps are spacious and comfy, enabling you to save a lot of room. 
In addition, these sorts of wooden flooring staircase designs provide a lot of storage space beneath the stairs, which is ideal for modern residences with limited storage space.
Rustic steel staircase design 
Steel stair ideas aren't always the most popular choice, particularly for interiors. But, on the other hand, current times necessitate modern designs, which is why modern steel staircase models for homes are the next frontier in staircase design innovation. 
Steel staircase designs are becoming more popular in house interiors, mostly due to their visually attractive appearance and durability. 
Steel staircases have the advantages of versatility and cost-effectiveness, which is why they are so popular in modern staircase designs. They also give your home a rustic feel, giving it a unique individuality.
Hovering wooden pedals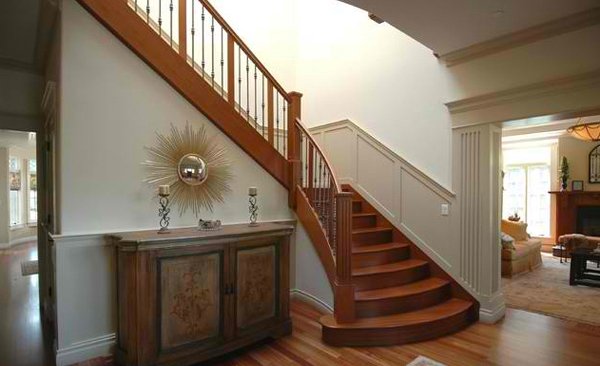 Set wooden pedals with hardwood and glass balustrades that seem to be floating above the ground. We can see how these stairs are simple to use and take up little space as they ascend up the level.
The space behind the steps is still unoccupied, and you can use it to store extra tables and seats.
Natural & sustainable staircase 
People are growing more oriented to natural, and sustainable living options as their understanding of an environmentally sensitive world grows. It is echoed in the interior design sector, where both residents and professionals prefer natural fibers and textures.
People are going all-natural in line with modern staircase design as well. While stone or bamboo stair ideas are popular in cafés and restaurants, this trend is quite prevalent in houses too. 
It is because natural materials have an organic appeal while still being useful and long-lasting.
Wrapping up! 
Staircases made of wood are just as common as those made of concrete or steel. 
The advantage of wood stairs is that they bring a sense of nature within. It implies that you can incorporate the natural beauty and sense of outside staircases into your interior decoration by using a woods stair ideas.
It is a collection of modern woods stair design ideas that will undoubtedly improve the look of your home's decor. So go ahead and use these modern staircase designs to take your home's design to the next level. Cheers!