Balcony gardening is arguably one of the most cutting-edge concepts in gardening. Many folks who previously couldn't plant due to a small yard have benefited from this concept. Even single-family homes occasionally lack the yard space needed for a garden, even though many people live in condos or apartments. People are now turning their balconies into gardens all over the world. Both expert and novice gardeners can find renewed optimism in this timely idea!
Make A Culinary Space in Balcony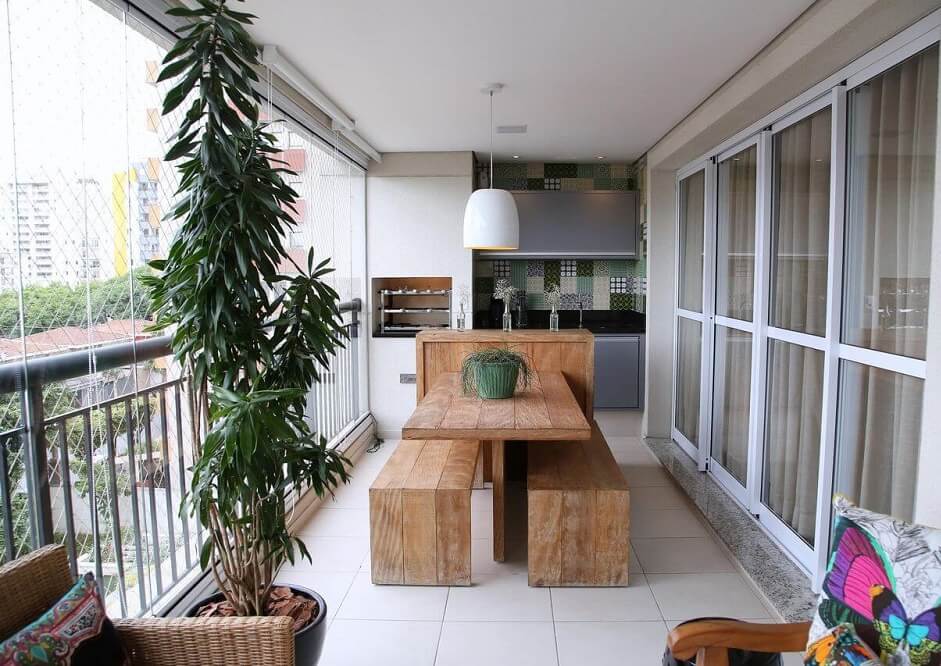 source: kreatecube.com
This balcony garden design demonstrates that even in a tiny area, you can cultivate a wide variety of culinary plants and herbs. This gourmet invention can be made using a wooden pallet and blackboard paint. Drill holes in the bottom of each level when designing a vertical balcony garden so that water may flow through. 
This straightforward adjustment prevents root rot in your plants and increases the lifespan of the wood. Make sure the wood hasn't been treated with a wood preservative when utilizing pallets for edible gardening as this can leak into your plants.
Garden With Vibrant Colors
This balcony garden design is modest and focuses on the use of bright colors. Use colorful pots and place them strategically on the wall. The plain wall is now transformed into a beautiful work of physical art. Matching plant markers maintain order without drawing too much attention to the plants. 
The wood flooring of the balcony carries the interior decor of the house outside. The pots and an ottoman in a vivid hue blend beautifully. A net around the balcony also makes it possible to leave the door open, letting in the fresh air and a clear view from within the house without worrying about birds or leaves flying in.
Garden With Upcycled Crate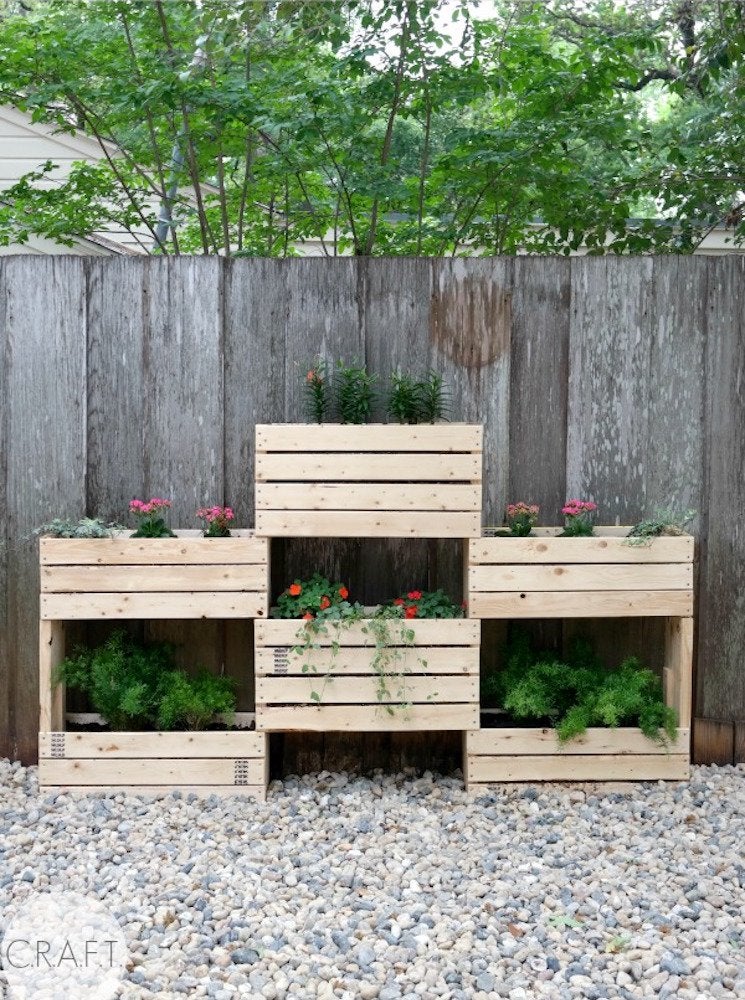 source: pinterest.com
Here, a recycled wooden container is used to make a raised garden. Because of the height, it is simple to care for the plants without bending. You may have a lovely raised garden on your balcony with a few straightforward alterations. You can ask around at local car, motorcycle, yard, and specialized stores to discover free wood crates. Parts are typically shipped in them. 
Food crates are also used at grocery stores for wine and produce. You can save money by using less dirt by filling the lower half of the bed with empty milk jugs, two-liter soda bottles, or broken pots.
Hanging Garden To Use Vertical Space
Garden balconies can be useful with a little footprint. Hanging pots and baskets are essential for making a balcony garden in a small area. This layout enables the growth of numerous plants in the sometimes ignored above area. Another fantastic option is to attach planters to the balcony railing because it doesn't take up any more room. 
A few plants have been placed on the floor in the designated floor space at the end of this balcony. The majority of the garden is grown above and to the side of this balcony. Thus, there is space for a table and chairs, maximizing the use of this little area.
Zen Garden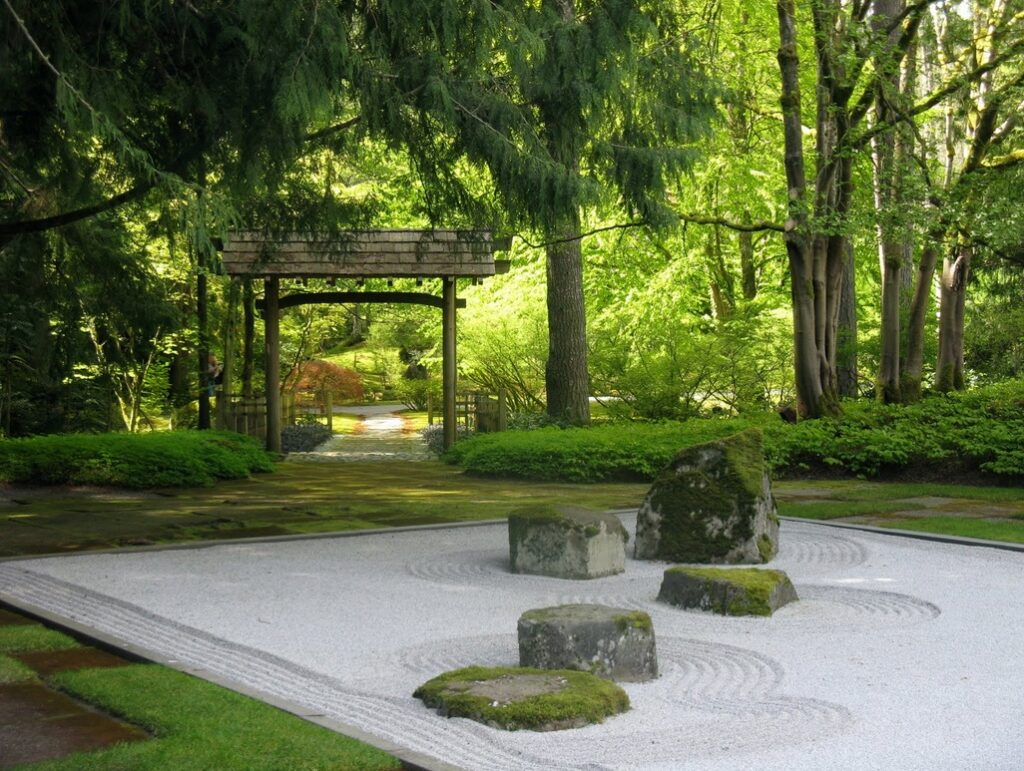 source: pinterest.com
This serene balcony garden concept uses water as its main feature. Your balcony garden becomes a relaxing getaway when you add a water element to it. The mind isn't easily overwhelmed on this balcony because it just has green plants. Feel the sense of firmness and earthiness in this balcony garden by incorporating the components of rock and wood. 
The dark seat complements the wood surrounding it and offers a comfortable spot to relax without drawing attention away from the water feature. Simple candlelight is used in this design to maintain the serene ambiance, making it a comfortable area both during the day and at night.
Tropical Themed Garden
On this tropical terrace, privacy is held in high esteem. On an overhead arbor made of PVC tubing and bamboo, vines are trained to grow out of pots. This balcony will feel even more tropical once it is fully enclosed. Further ensuring privacy is the placement of a bamboo roll across the balcony railing. 
The orange seats add color to the room, and at night, the overhead lamp creates a cozy atmosphere. The vertical gardening attraction comes from the upright plants on the rear wall. Even the white decorative sconce fits in well. It provides an eye with a focal point in this tropical setting.
Tranquil Blue Garden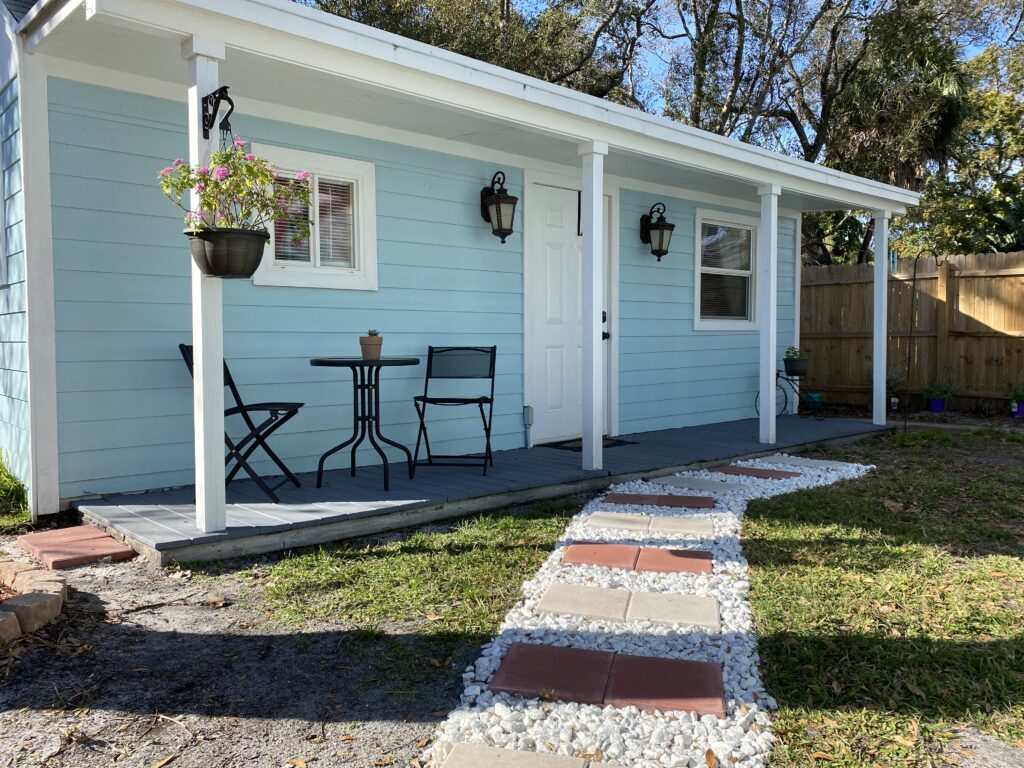 source: muscache.com
The color blue is the epitome of tranquility. It has the ability to lower our heart rate and blood pressure. The color blue commands attention in this balcony garden. Your immediate focus goes on the painted wood floor tiles, which add even more serenity to this balcony. The splash of yellow breaks up the blues. It keeps the design cohesive thanks to the coordinating blue planters. 
Comfortable pillows in neutral colors and thick navy chair cushions guarantee a peaceful experience. From nurseries to kings, blue has been a common color choice. It is now visible outside your balcony door thanks to this design.
Micro Park Concept
Is it feasible to have a little garden and yard on your balcony? Add both concepts when designing a balcony garden! You may make a yard in the city or on your apartment balcony by laying AstroTurf down on the floor. The Kale plant is not only colorful but also edible. You can plant it in wooden containers. 
In this design, hanging garden boxes give more growing space to the balcony railing. The flower's splash of fuchsia color stands out nicely against the landscape's predominately green backdrop. The little terra cotta pots lining the wall of this balcony are home to even the tiniest herbs!
Balcony With Hanging Chair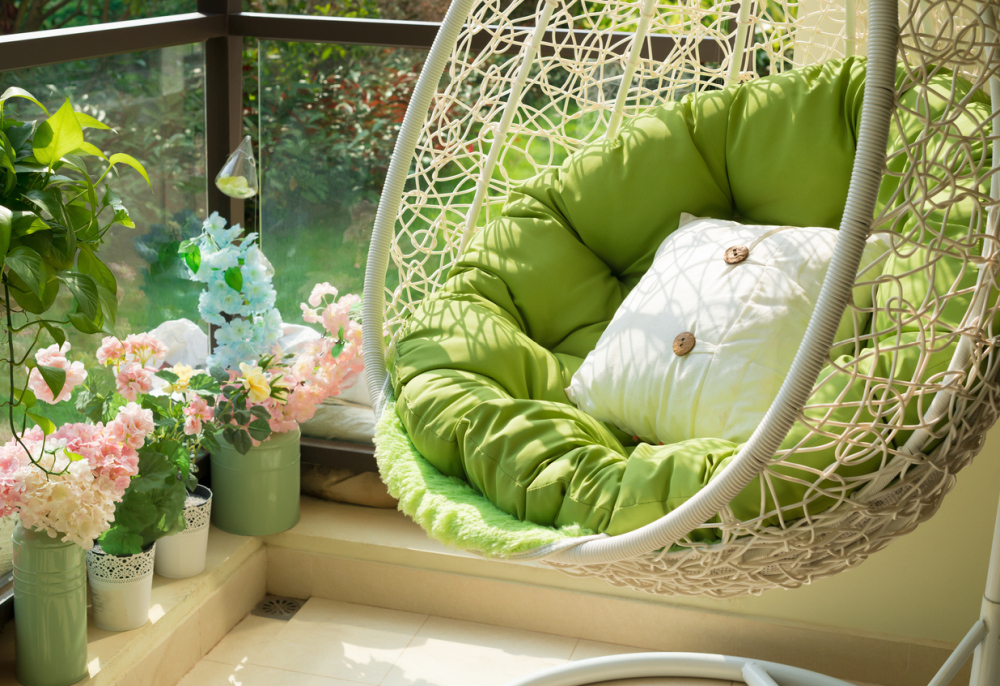 source: homedit.com
Hanging baskets are common in balcony gardens, but this balcony has a hanging chair. On the internet, hanging bamboo/rattan chairs are simple to find. Moreover, most of them come with hanging gear. The chair and table appear to be floating, which keeps the room feeling open and spacious. 
It produces the illusionary effect of a wider balcony with light grey walls without feeling cold or clinical. The plain wood boards serving as a clean, natural backdrop emphasize the herb boxes. This garden would be handy at night if it had lighting. The folks admire this balcony garden year-round thanks to the huge windows that surround it.
Conclusion
A balcony garden, if created effectively, has the potential to become the most fascinating section of an apartment. Convert your balcony into a cozy hallway. A plethora of edible plants, foliage, and flowers can be grown in balcony gardens. They have the benefit of becoming a multipurpose outdoor space as an addition to your house. Use your balcony garden for dining, relaxing, reading, working, or even entertaining.