Bathroom designs have evolved in recent times and you will get overwhelmed when you see luxurious bathroom decor at lavish apartments and homes. You can incorporate the same look for your small bathrooms with a little bit of creativity. 
Especially bathrooms of the house must have a thoughtful design and interior. For the last many years, there is a trend of having a bathroom partition that separates the shower area from the remaining part of the bathroom. Is it necessary to do that? Well, it is beneficial to have a glass partition in the bathroom. 
It will not only add beauty to your bathroom design but also keep the bathroom safe and dry to use for elders and kids. Here are some inspiring bathroom glass partition designs that will help you upgrade your bathroom decor to the next level.
Bathroom Glass Partition Ideas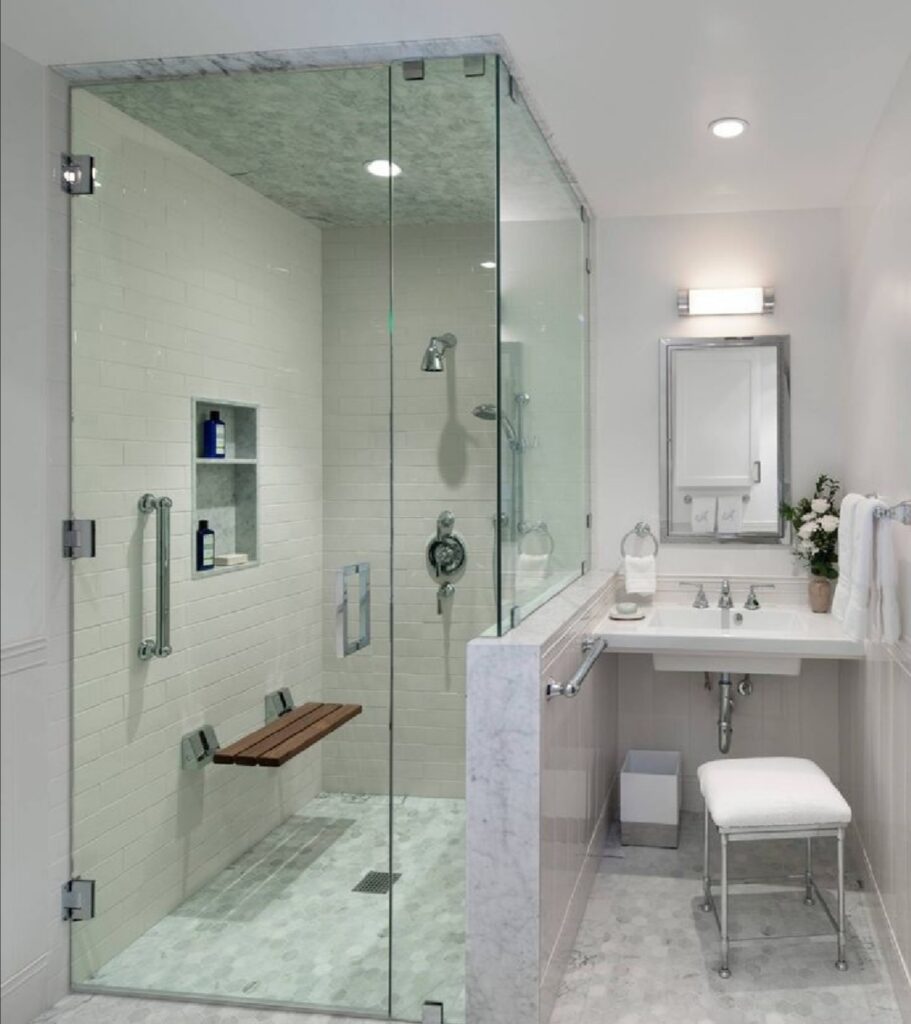 source: pinterest.com
The bathroom is regarded as the most practical area in the entire house because this is where you finish your skincare or body cleansing routine. To do this, your bathroom needs to be attractive, useful and maintained. To give your bathroom a high-end impression while also making it simple to manage, construct a glass partition in the bathroom.
Check out these intriguing divider designs, which range from transparent glass walls to sliding glass doors.
Black And White Bathroom Partition
Black and white glasses can be incorporated into your house. Designer prints like this contribute to the general jazziness of the room. The best course of action is to fill your bathroom with a lot of different dark things. This will aid in harmonizing the decor of the bathroom as a whole.
Bathroom Glass Partition That Spans The Entire Wall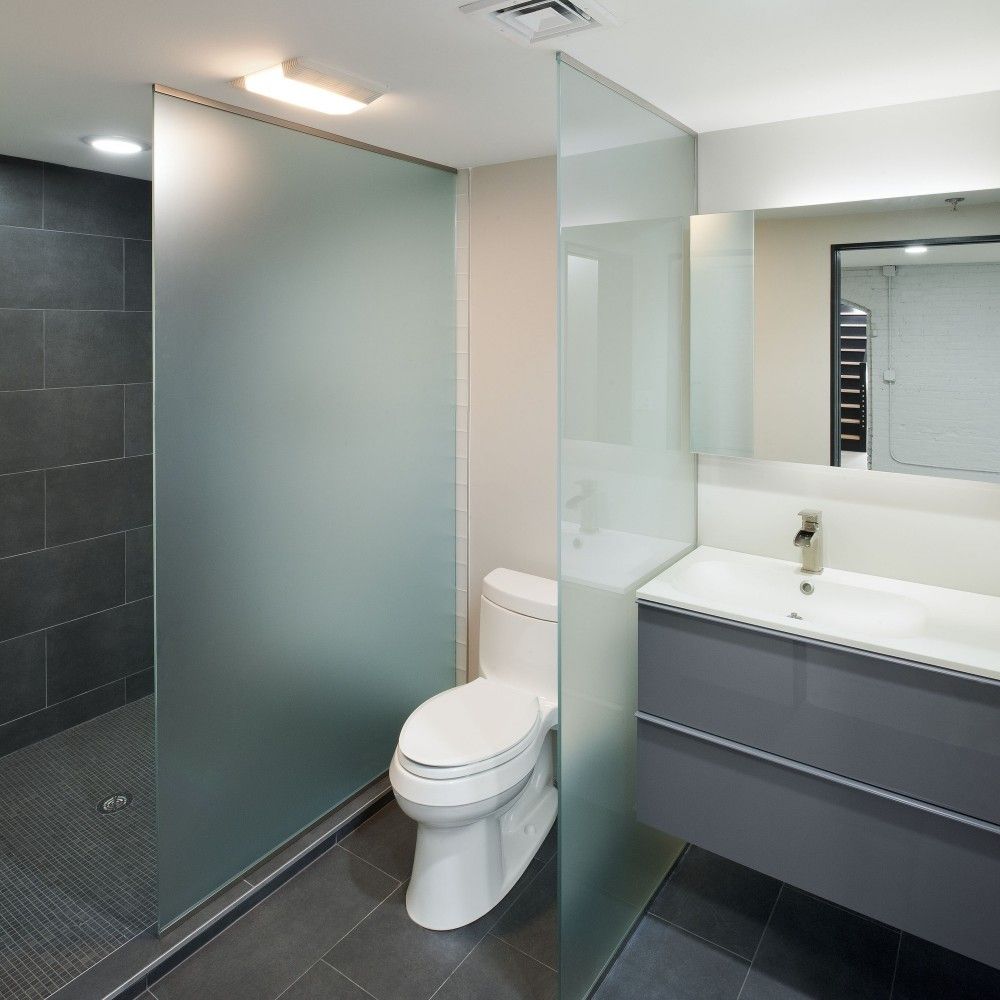 source: pinterest.com
This type of glass divider is an option if you want a room's bathroom to feel like it has a second section. Glass wraps across both walls in this area. It works best in bathrooms with a lot of space and with a long shower area. 
This will also help to separate the damp from the dry region and assist you in always maintaining the bathrooms dry.
Glass Partition In Bathroom For Shower Area
You may opt for a partition mostly in the showering area particularly if you desire a sleek design that will only permit you to separate the dry from the wet sections. Although it doesn't reach the ceiling, the wall is tall enough to prevent the water from the shower from spilling over to the opposite side. 
This design is primarily cost-effective, and even cleaning the partition is reasonably simple because the top is within arm's reach. Each day, you can just wipe it away.
Frosted Glass Partition In the Bathroom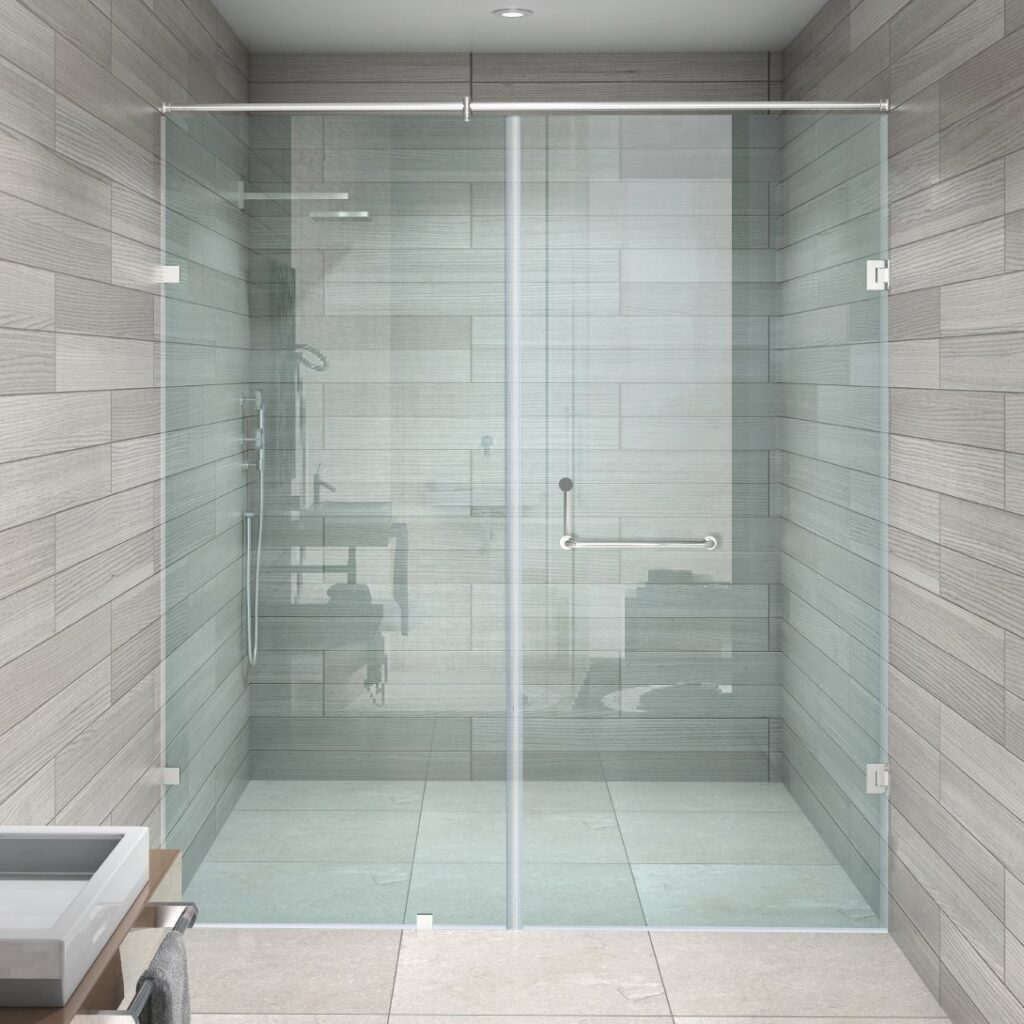 source: pinterest.com
Transparent plastic patterns give bathrooms a stylish look and feeling and can completely transform their aesthetic. Undoubtedly one of the most well-liked partition types is this variety. Although significantly more expensive than standard glasses, they are still worth the cost.
You will see the use of frosted glass in the majority of five-star hotels and formal settings. It considerably improves the restroom's attractiveness on the whole. The frosted glass seems like the best option if you are fastidious about how your bathroom looks and want it to have a regal and rich atmosphere.
Round Bathroom Glass Partition
Only use a circular glass partition if the bathroom's layout and style allow it. You must ensure that you are aware of the space design and the limitations before deciding to get the layout done appropriately.

Although exceptional, this is also incredibly useful and efficient for glass partitions in the bathroom. A round glass divider is frequently chosen by people since it gives your bathroom additional space.
The round glass partition might be a bit daunting to install, so you need to pick the best experts for the job. The finest approach to installing the partition without squandering any glass or space will be known by the proper expert.
Glass Partition From Floor To Ceiling
source: pinterest.com
You will have perfect isolation if you opt for a full glass partition. You can entirely lock off your shower area by opting for a glass divider that extends the entire length of the room.
The remainder of the area so remains completely dry. It also creates the sense that the restroom is taller. Make careful to buy decent quality glasses or else they can break quickly.
Sliding Corridor Design
You no longer need to look further for a fix for your bathroom glass partition slide issue. This is a good concept for a little glass bathroom wall.
Doors normally come in two varieties: those that open in both directions and those that open just in one direction. A sliding bathroom glass partition door can be fitted if your space is constrained. This will free up a lot of space.
Framed Glass Partition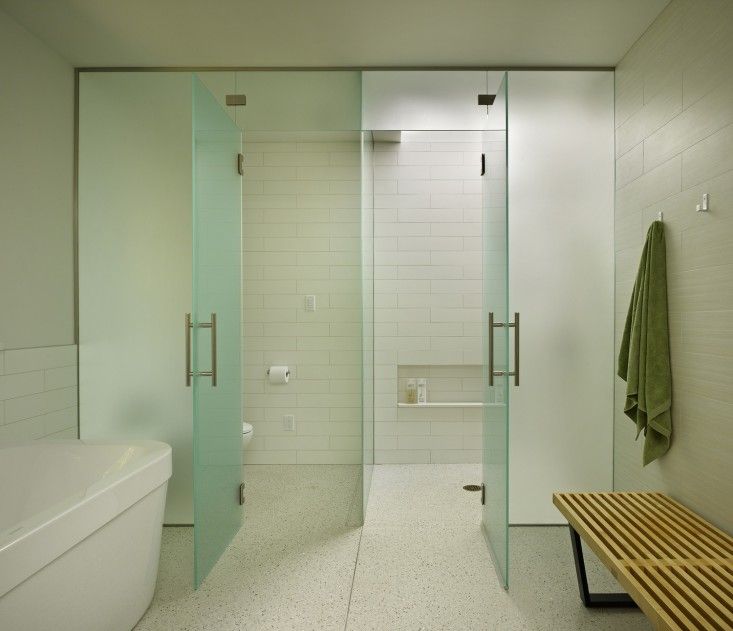 source: pinterest.com
The window frames and door of the glass shower divider are strengthened and supported by the metal frame. Brass (nickel- or chrome-plated) can be utilized to produce a timeless look, while metals like steel or aluminum can be used to provide a contemporary aesthetic. 
A black aluminum frame with black gallery frames that has a grid pattern on it is a great way to create an eye-catching design.
Tinted Glass Partition
Colored enameled glass dramatically improves the look of your bathroom by adding a dramatic and vibrant appeal. This style of bathroom glass barrier is offered in a variety of hues, including green, yellow, red, blue, and even grey.
Depending on your choices, it can be either transparent or frosted. A barrier with a grey hue looks wonderful with a marble floor arrangement.
Patterned Glass Partition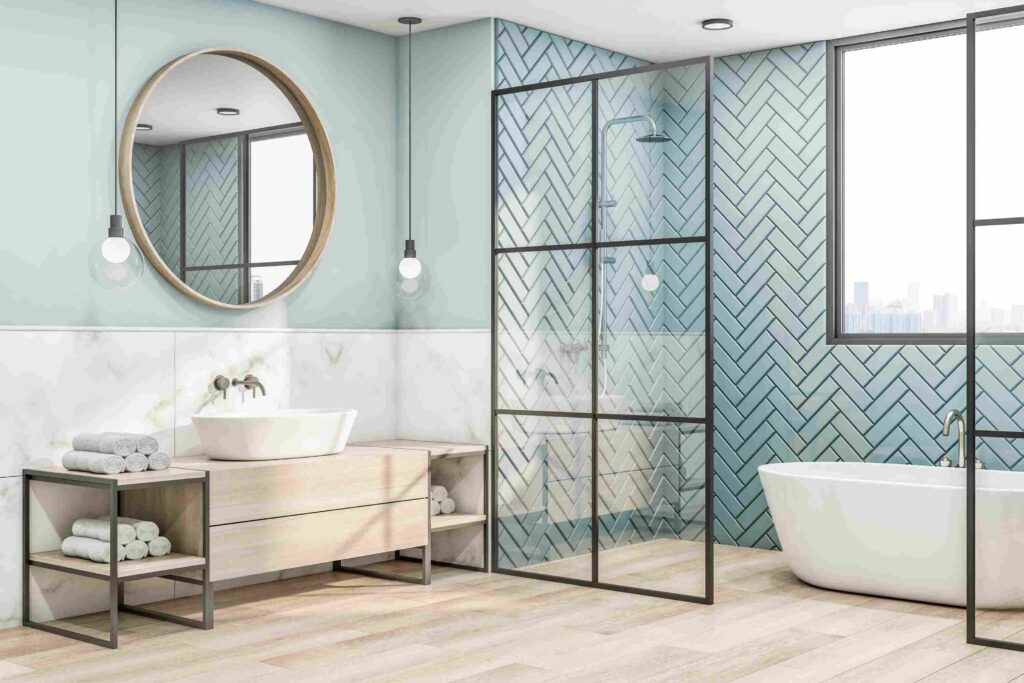 source: pinterest.com
By adding some stunning graphics to your frosted glass, you may personalize it. Your partitions may have a unique personality thanks to geometric designs like squares or circles as well as arbitrary patterns like a leaf or stars. One of the most popular bathroom glass partition ideas is this one if you don't want to stick with a traditional look.
Final Lookout
A bathroom glass partition is a unique way to style your private area. However, it is very demanding in terms of maintenance. If you want home improvement and trying to upgrade your bathrooms, try these bathroom glass partition ideas that will surely make you fall in love with the luxurious feeling of having a lavish bathroom.
Moreover, you will spend more time in the bathroom after having a divider or partition in the shower area and the rest of the space which will make the floor dry most of the time and make it safe for elders and kids to use.