No doubt that your surroundings reflect how you feel! But did you know that it can boost your productivity too! Since there are plenty of simple and cost-effective methods available. You can include this in your office design, to feel more energized, inspired, and motivated. To tackle the day, even during the terrible afternoon slump. 
The charm of these office decoration ideas can be used in almost any office, large or small, even at home. So, no matter what kind of interior you're dealing with! Explore one, two, or all of the following ideas to create a happier, healthier, and more productive workplace. 
Fascinating Colours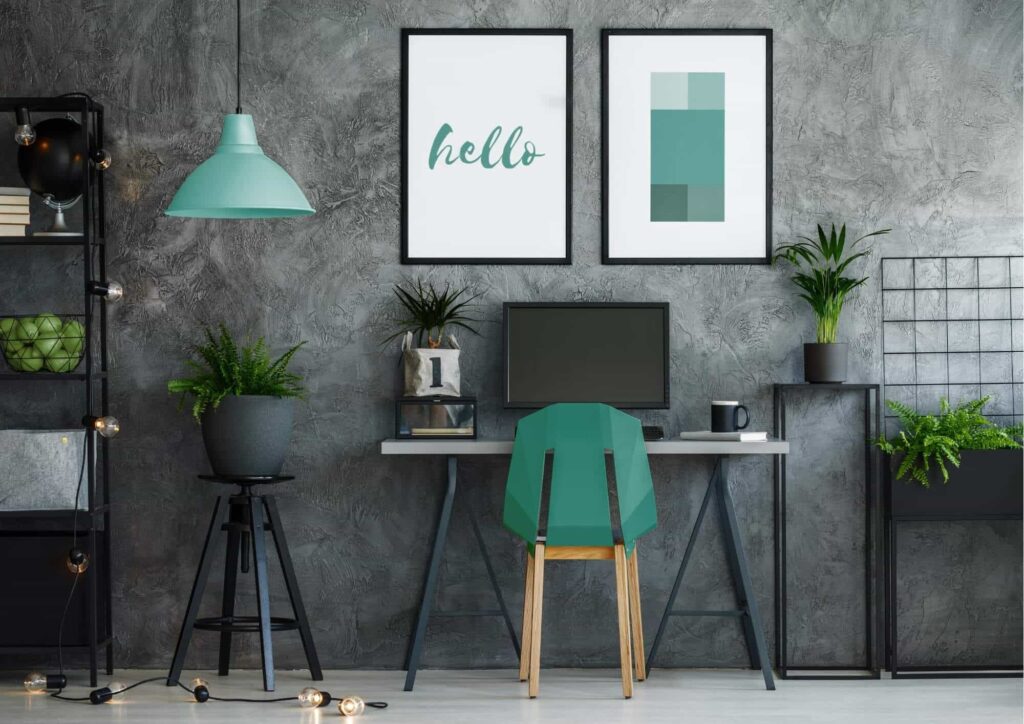 source: onlinetriggers.com
Colors are a group of productivity potential, so use it freely. There are several scientific studies that show the direct impact of color on both mood and productivity. Blueish colors stimulate thinking, yellow promotes creativity, and green creates calmness. However, this varies from person to person. Identify colors that you find personally engaging and incorporate them everywhere you can.
Go-Paper Free
Messy desks piled high with paperwork, reports, and other office supplies aren't part of a healthy, productive work environment. In fact, a cluttered desk might hinder productivity, since more time is spent looking for significant documents and information. Furthermore, this can result in greater tension, less attention, and a massive waste of time. As much as possible, keep your desk neat, decluttered, paper-free, and organized. Even if it requires throwing away 10 minutes each day to sift through and arrange all of your paperwork, you'll be glad you did.
Lighten Up!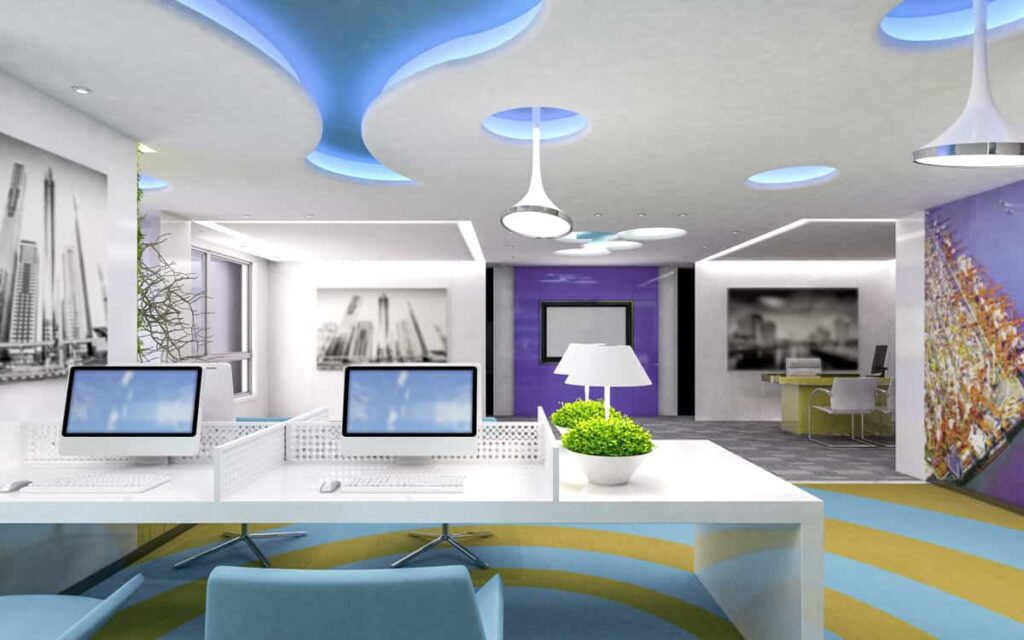 source: happier.com
Nobody likes to work in a gloomy, poorly lit workplace. Improving your lighting is one of the simplest ways to boost your energy and reduce the eye strain generated by working in low light. To maximize the quantity of natural light you have, pick translucent, breezy window coverings over heavy, opaque ones if at all possible. Switching to bright white lights will greatly enhance your daily energy reserves, even if you have limited control over natural light.
Natural light not only enhances the appearance of your office, but it also generates a good mood and increases employee health. Natural light has shown to boost creativity, reduce stress, and even cut down on sick days.
Office Library 
The presence of books in a room provides a sense of comfort and warmth to any bibliophile. Using books as office décor can provide a similar atmosphere. They will not only add a homey vibe to your office, but they will also make it more welcoming. The colors of the books will brighten up space, and the bookshelves can even be used to divide two rooms. Even if you aren't a big reader, you can't deny that an excellent book-wall may provide a luxurious and classy touch to a room!
Fragrant Scent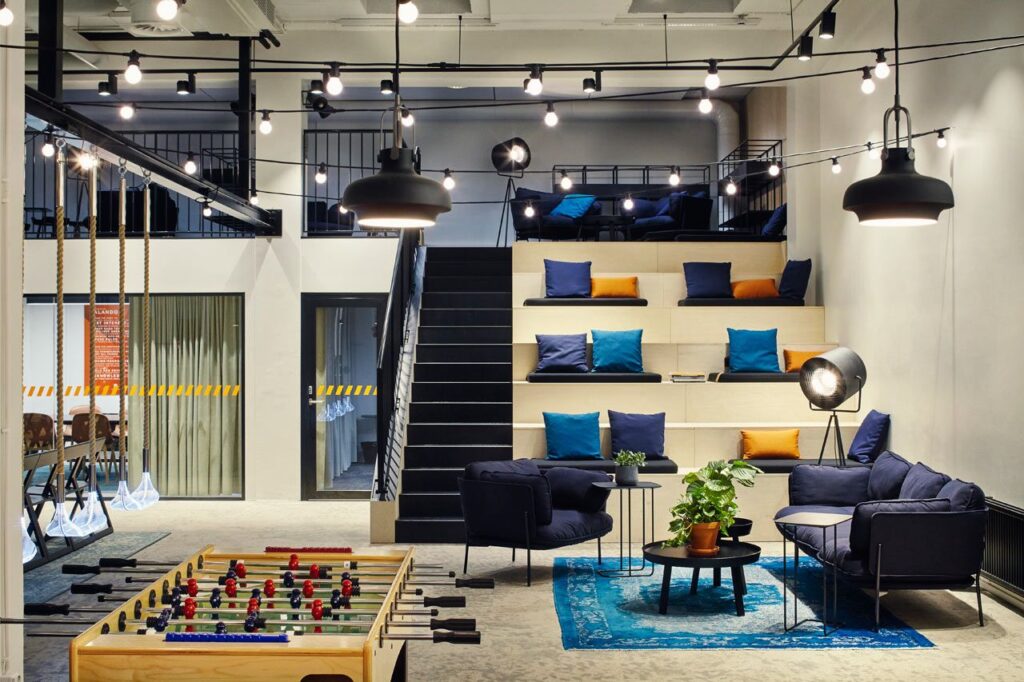 source: foyr.com
Scents may be used to create a good atmosphere in the workplace. Increasing our sense of smell is another excellent method to improve our work effectiveness. Certain scents, according to the study, can lower the number of mistakes made by employees. 
The Takasago Corporation in Japan conducted a study on how odors affect typists' accuracy. It was shown that when people smell lemon, they make 54% fewer mistakes, 33% fewer with jasmine, and 20% fewer with lavender. So perhaps the most important thing that businesses require is a better air freshener?"
This simply goes to demonstrate how effective aromatherapy can be. What's the best part? Simply combine water and a few drops of essential oils of your choosing to make your own DIY air freshener.
Invest In Smart Gadgets 
A high-tech workplace is an eye-catching and innovative approach to decorate an office space. You may give your office a cool and techy atmosphere by adding creative gadgets like digital picture frames, robot speakers like Amazon Echo, and even inventive office lighting. However, if you do not want to waste your money on pricey décor, you might choose for smaller but equally stylish workplace devices. Investing in entertaining equipment, on the other hand, will produce a more pleasurable and modern workplace design, as well as excite staff. Who said it must be all work and no play?
Lavish Entryway
source: a2zvastu.com
When guests walk through your office doors, the first thing they see is your entrance, so consider the impression you want to make. How do you want your employees and clients to feel when they enter your office? Where are you staying? Are you ready to get started?
Add colorful couches and chairs, wall hangings that match your company's goal, and relevant magazines or newspaper stories to make it inviting. If you have enough space, set up a high-top table in the corner with a Cappuccino station and coffee mugs, along with a sign that says, "Grab a cup!" "
Artistic Wall
Another fantastic office design tip is to include art in your workspace. Unfortunately, art frequently falls into this category. Art can improve any area and atmosphere. In other words, an aesthetically attractive work of art will not only adorn a room. But will also inspire people's creativity and intellectual involvement. So, why not embellish the walls of your workplace with some art and transform your office interior into a work of art?
Personalize Decor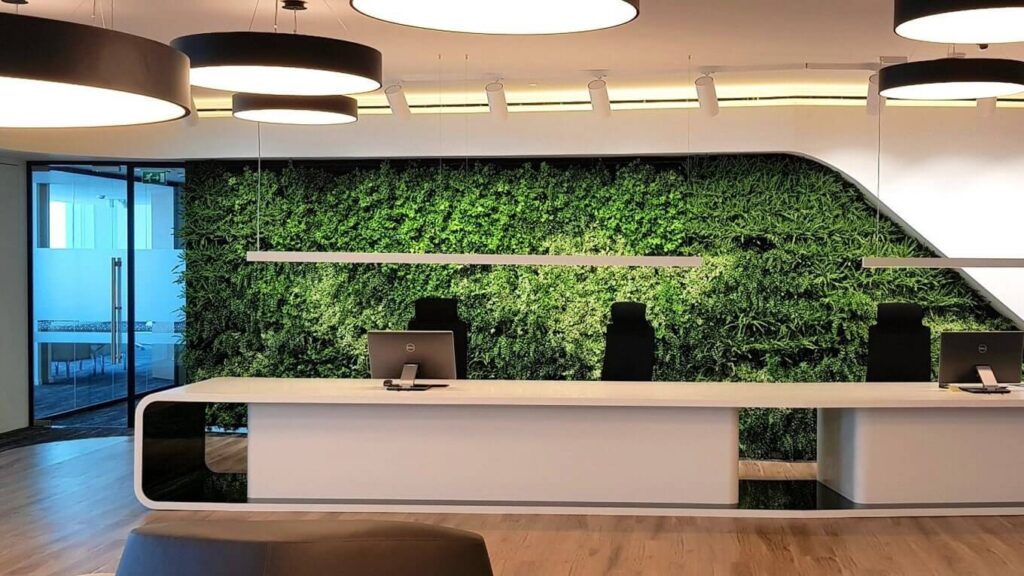 source: architecturaldigest.in
Encourage your staff to include any elements that will keep them motivated throughout the day since everyone has their own taste and personal flair when it comes to design. This may be as basic as a colorful planner to keep them organized or as extravagant as a portrait of their favorite artist. Chalkboard
Chalk Board
Looking for a more substantial decorative touch to give your area a particular personality? We've all seen chalkboard paint in kitchens and children's rooms, but how about your workplace? A chalkboard is a more attractive alternative to a stark white whiteboard for taking notes while on the phone.
Collab With Plants
Last but not least, adding some greenery to your workplace environment is a great approach to increase productivity. Adding just a few plants to your office will make a massive impact. They not only look great in the workplace, but they also assist to purify the air by absorbing pollutants.
Plants are shown to increase productivity, reduce stress, and improve employee well-being. Choose low-maintenance potted plants; some of them can be quite forgiving and don't take much care to flourish.