Introduction
Nowadays, everything seems to have a home office. We must ensure to make this room as usable and effective as possible, whether it is because we all work better or whether it is simply realistic. Of course, we should not overlook design. Learn how to combine these two components in a lovely and welcoming room, as well as how to make the most of what you have canvas prints in your home office.
Who knew that going to work would make you nostalgic before the COVID-19 pandemic struck the world last year? Though working from home turned out to be a mixed blessing, home maintenance tips came along for the ride. Finding a dedicated workroom in our homes has been as popular as leaving the house to go to work!
It has been said that your surroundings depict your personality, so getting a home workspace that reflects your work habits and competence is critical. We have had it all handled, from a suitable work environment to environmentally friendly décor. Continue reading for some concept ideas for your home office.
Celebrate nature around you!
source: hgtv.com
In the present era of decoration, celebrating nature has become a must. The serenity and genuineness that comes with taking nature into your home is unrivalled; this is so even when planning your home office.
Natural features such as wood, marble, and glass, when used to furnish or add texture to your home office, still work! For eco-friendly decoration, large windows with no thick curtains are a must.
Consider every detail – Even the smallest ones
Furnishings, storage, flooring, and ceilings are all aspects of décor that you can experiment with. If you want a more minimalist look, use exact angles and forms for the desks and chairs. The key ingredients for a new home office décor are versatility and consistency.
Accessorizing your workroom with a touch of retroes, such as a typewriter, old fashioned wall clocks, book clips, or even custom canvas prints of your loved ones to stay productive and motivated during the working hours, which will add some distinctive personality.
Make it office-friendly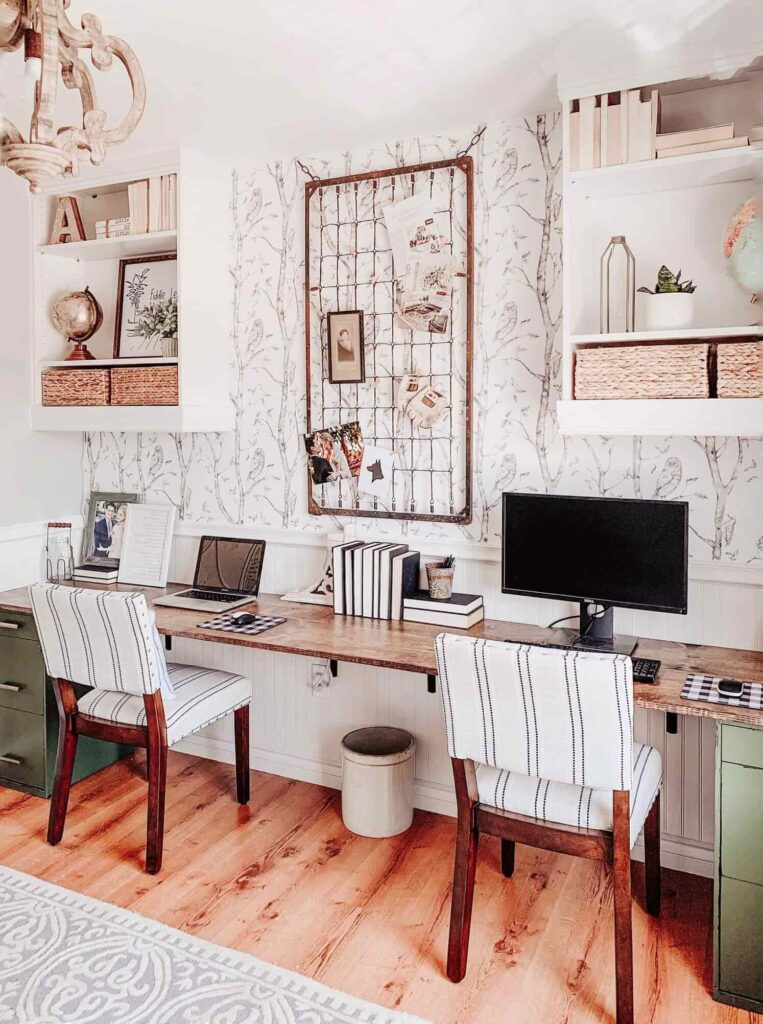 source: hearstapps.com
Video calls are the new normal these days, so having a nice backdrop for your online meetings with coworkers or the director is necessary. Add a bookcase to one of your walls, or opt for a decorative arts look with opulent lamps and creative wall art. Another flexible idea and can work in a variety of vibes and environments is a well-styled exhibition wall.
Accessorize it properly
Choose accessories that improve your home office's comfortable atmosphere, such as a nice mug for a pencil keeper, sleek notepads and sticky notes, and a custom mouse pads with a snapshot of loved ones displayed on it, whether you are aiming for a fresh style.
Conceal a collection of useful bookshelves and curtains made of the same cloth. Whether it is your kids' painted artwork or a famous portrait, hang it along with inspiring prints on the walls.
Organize smartly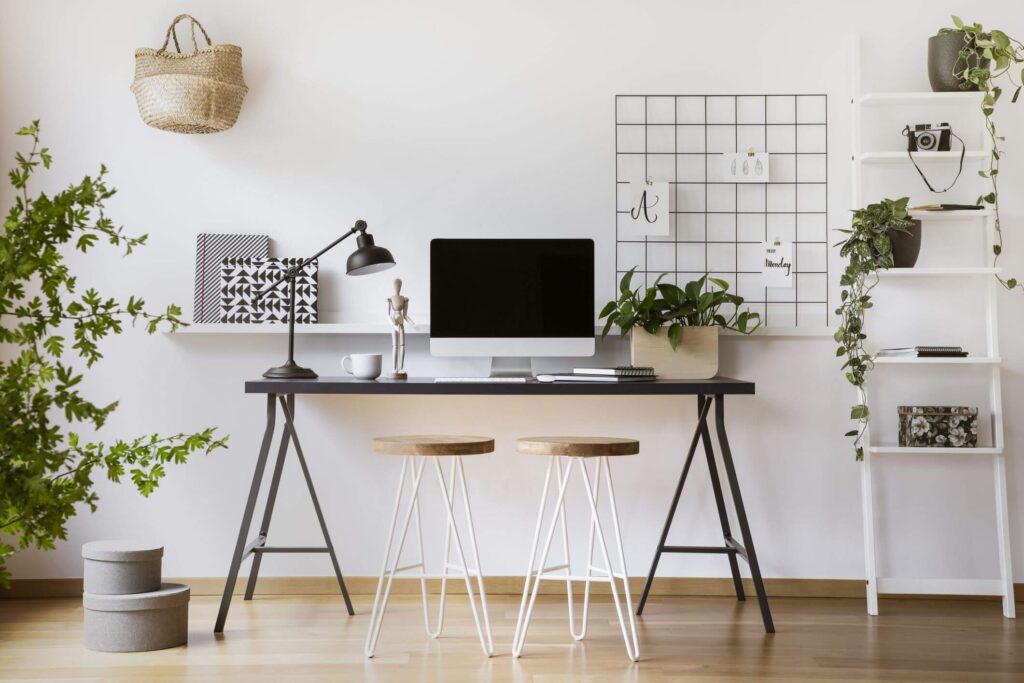 source: hearstapps.com
Many home offices do not have many rooms, so making the most of them is crucial. Using vertical filing cabinets on the table to hold sensitive documents within easy reach and hanging open shelving on the walls to move papers and office supplies off the bench.
Get a pretty basket to keep your documents, receipts, and papers in if you are prone to stacks. If you want a tidy desktop, keep your "to-do" papers in one drawer. Since each room could be used for paperbacks, trinkets, or buckets of odds and ends, wooden or metal cube holding is a nice addition to bookcases.
Buy things wisely
Your desk, cabinets, and space should work for you, not against you. Before you buy furniture, think of your routine and what you want and need at your hands, and then look for both stunning and practical parts.
Rather than wasting space, home office space can complement other rooms in your home. If you have got the room, warm wood and cozy, comfortable chairs or a loveseat are perfect for a historic home. Artistic parts or sleek metal furniture may be seen in a trendy home office.
A comfortable location is vital
source: architecturaldigest.com
Since you will be spending a lot of time in your home office, do not scrimp on space by cramming a small desk into a windowless wardrobe to save the rarely-used guest bedroom.
Remember the direction of traffic and the desire to stay focused in the face of disruptions. Do you want to live in a bustling environment, or should your office be stashed away in a quiet corner? If you want clients to drop by, you will need a private area with plenty of seating and comfort.
Conclusion
Above, we have stated different things to consider while decorating or accessorizing your home office. As we all know, staying productive and focused at home is a bit challenging. So choosing the appropriate environment, space, decor, colors, and furniture plays a crucial role. In the end, it is advisable to consider the above things before adorning your home office workspace.