As neutrals, natural wood tones are pretty foolproof to incorporate into any color scheme. While there are no strict guidelines, there are a few things you can bear in mind to create a particular style or feel. Window blinds are an excellent way to add wood shades to your decor. Faux wood window blinds and shades are the most popular.
One of the best ideas to add wooden shades to your decor is to install window shades and blinds. Different types varieties and patterns are available. Moreover, you can install it by yourself and they are affordable too. So first we will understand the concept of window blinds and after that, we will discover how blinds are different from shades. Finally, The Architecture Designs explore some exciting shades of window blinds.
What Are Window Blinds And Shades?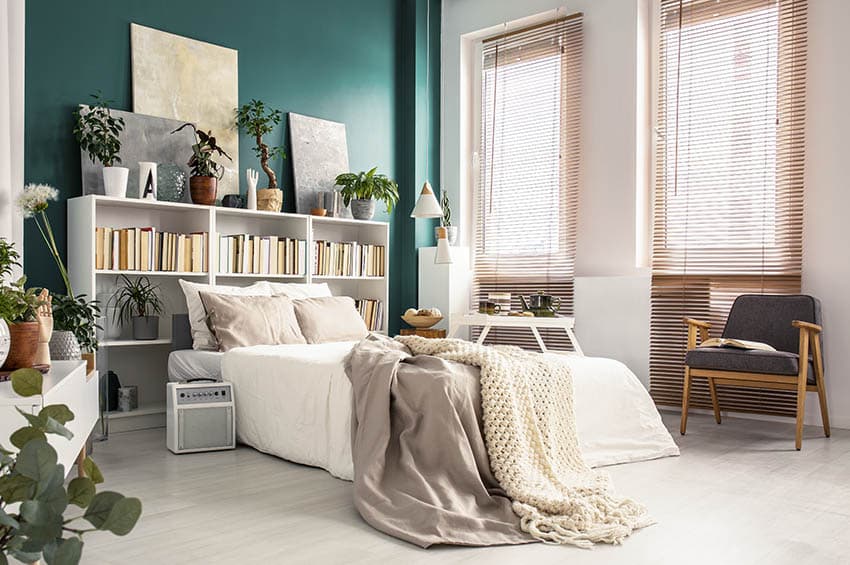 source: designingidea.com
If this is your first time purchasing window treatments, you may be unsure where to begin. But don't worry, we will explain to you the difference between blinds and shades. Many customers confuse the two terms when referring to different types of window coverings. There are two main groups, though, that divide your window covering possibilities in half.
Shades are window coverings consisting of one or more pieces of cloth, whereas blinds are hard window coverings built of horizontal slats. Both of these window treatment kinds accomplish the task of covering your window, but they differ greatly in terms of how they work, how much they cost, how they look, and other aspects.
Various Types Of Blinds And Shades
Shades are far more customizable than blinds. They are available with updated fabric selections, fabric-wrapped valances to cover hardware, fabric fold styles, fabric liners, and lift systems such as top-down/bottom-up, cordless, or motorized. Blinds are too effective and have many choices to pick from.  There are different types of blinds and shades as follow.
Blinds
source: comfortexfactoryoutlet.com
In today's market, blinds come in a wide range of materials in addition to colors, styles, and designs. A frequent material is a natural wood, such as bamboo, birch, or maple.
Wood Blinds
A cable pulley system connects the several horizontal slats that make up wooden blinds. The term "Venetian" also applies to this type of blind. The slats at the top of the window come together when the window is fully lifted, exposing the entire outside.

Wood blinds are an excellent option for giving your area a sophisticated look without the expense of wood shutters. They're long-lasting and beautiful, with a range of enhancements to make them a perfect fit for your house. 
Wood blinds are an excellent alternative for energy efficiency because they help to minimize energy usage and energy expenses. While not ideal for high-humidity areas such as bathrooms or kitchens, wood blinds are ideal for other rooms such as the bedroom or living room.
Faux Wood Blinds 
source: bocablinds.com
A stylish way to block out the sun's rays is using faux wood blinds. They produce a magnificent feeling of calm and tranquility and greatly contribute to places with intense sunlight by muzzling the sunlight. Each homeowner may quickly and stylishly arrange the windows of their home without spending additional money thanks to the creation of faux wood blinds, which come in a variety of colors and replicate any type of wood.
Faux wood windows blinds and shades should be both decorative and functional. Light and privacy are the main concerns when choosing window blinds. According to your budget, select the shades and blinds which has more functionality. The safety concern is also there in window slides if you have kids at home. 
Wooden blinds with sheer curtains on the top highlight the delicate grain of the wood and intensify the warmth. Create this appearance for a timeless grace that has a modern twist. Sheer curtains over wood blinds are an excellent alternative for amplifying the nostalgic feel of your living room.
You will find the best collection of faux wood window blinds and shades online with Home Decorators Collections. They have a variety of shapes and sizes. Different materials and textures are also in range. The home decorator's collection of faux wood blinds is affordable and functional. Upscale your living room looks with these window blinds.
Mini Blinds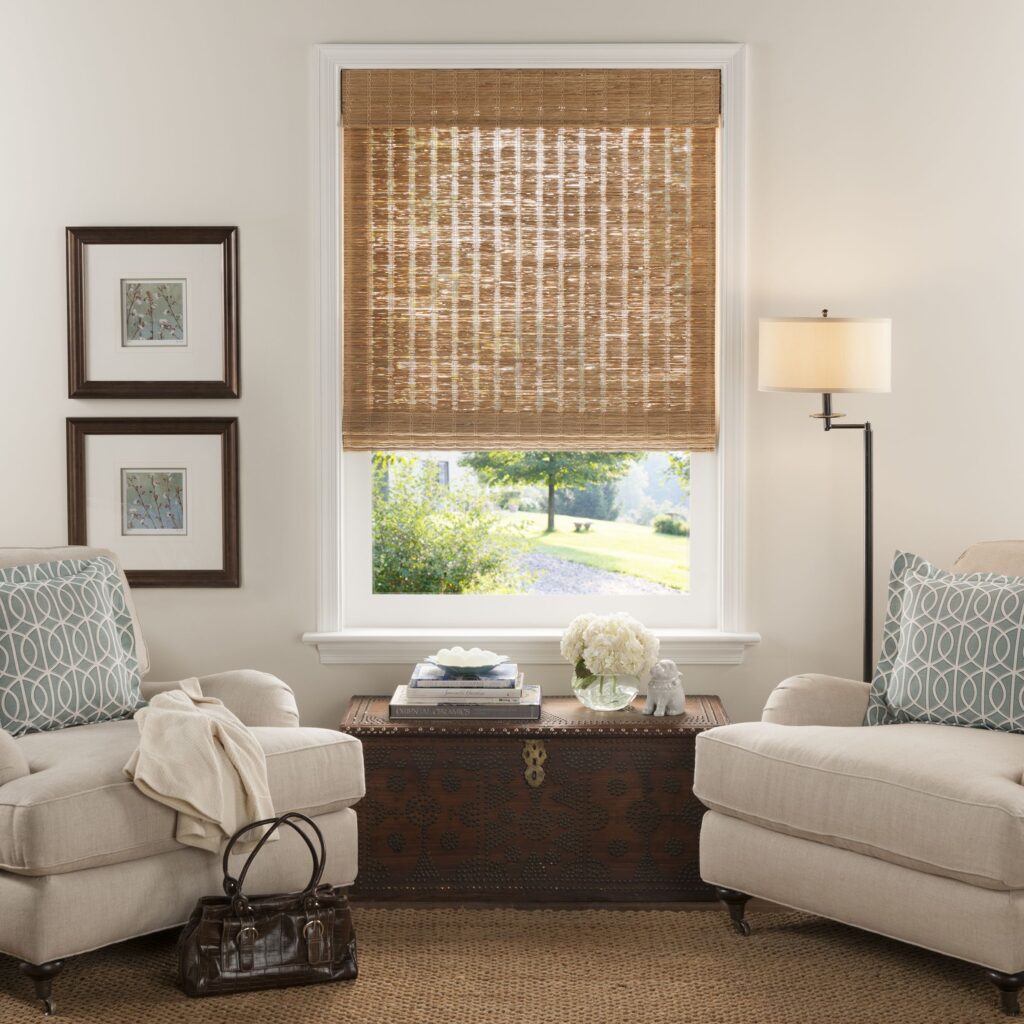 source: hearstapps.com
Mini blinds, also known as aluminum blinds, are low-cost solutions that provide full functionality. They're simple to use, clean, and personalize, and they're also among the lightest blinds available, fitting in most windows!
Shades
Cellular Shades
On a budget, it offers a superb appearance and simple functioning. They are one of the most popular window coverings due to their outstanding light control and insulating capabilities.
Grass-Woven Roman Shades
Roman shades are among the most traditional and popular window treatments. To fit your décor, choose from a large range of designer fabrics and patterns. Light blocking or blackout liners can be added to your shades for optimal light control in any space. 
Grass-woven roman shades are a stylish window treatment composed of cloth or natural materials such as jute or seagrass. They are also composed of cloth that can be created to move up and down depending on how much movement is needed. When elevated, it folds in on itself. Because the roman shade continues to fold within it, when fully raised, it can produce a big stack of fabric or other material at the top of the window. As a result, they are great for giving a property a premium appearance. They are commonly utilized as window treatments in American homes.
Roller Shades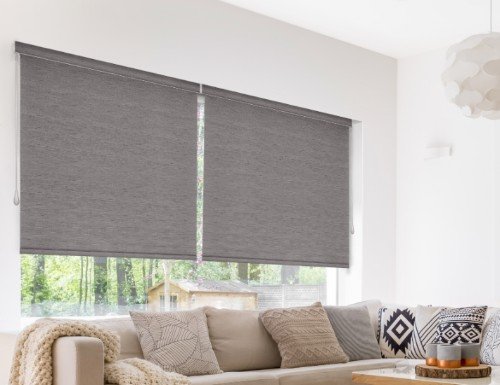 source: blindschalet.com
Roller blinds come in a wide range of colors and designs, so express yourself! They're incredibly simple to clean and operate, making it simple to maintain them looking like new.
Solar Shades
Solar blinds limit UV rays and sunlight while allowing you to see outside. These blinds reduce glare, making them suitable for media areas that require precise light control.
Pleated Shades
Pleated shades give a variety of options for light control, including clear, light-filtering, and blackout options for the most control. To properly match your room, pick from a huge choice of colors, patterns, and styles.
Sheer Shades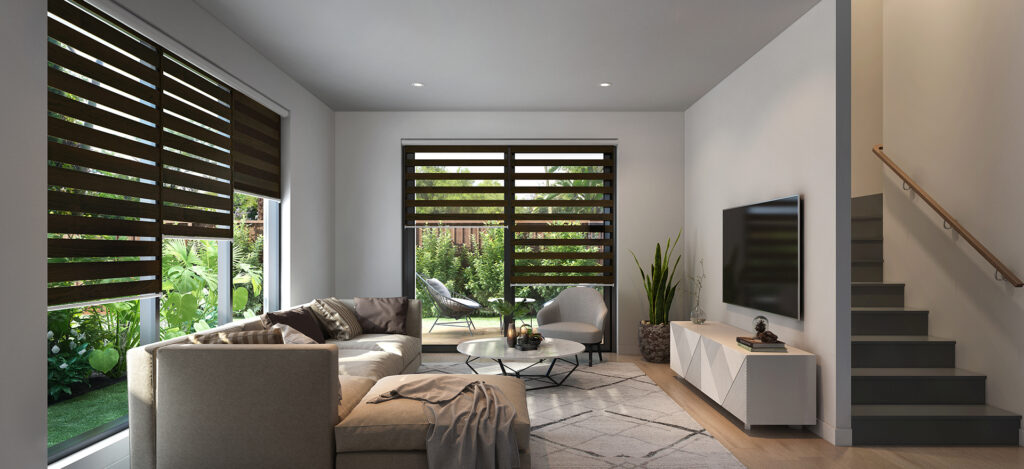 source: automateshades.com
Sheer horizontal shades combine the practicality of a blind with the aesthetic appeal of a cloth shade to create a contemporary appearance. You have control over the amount of light entering the room with sheer shades because they can be tilted at any degree.
One of the most appealing aspects of sheer windows is their versatility. They are strong and long-lasting. Because they are a wonderful combination of modern shades and conventional horizontal blinds, they tend to complement any design. They can spread natural light gently through your windows. As a result, strong light with a warm and soft glow will still enter your rooms. It also comes with a variety of lift choices. For smooth operation, you can use a normal continuous cord loop or a remote-controlled motorized system.
Final Thoughts
Window blinds are a single décor item that may radically modify the appearance of your home. It is also that one piece of décor without which your home may appear incomplete. We hope you liked reading about the different types of window coverings for homes.