For many homeowners, the space under their deck is forgotten, cluttered, and unusable. As water seeps through the deck boards, the under-deck area can become soggy, weedy, and unsightly. But if you have a two-story deck, meaning, you can comfortably walk beneath it, you can transform this space into almost anything you dream of!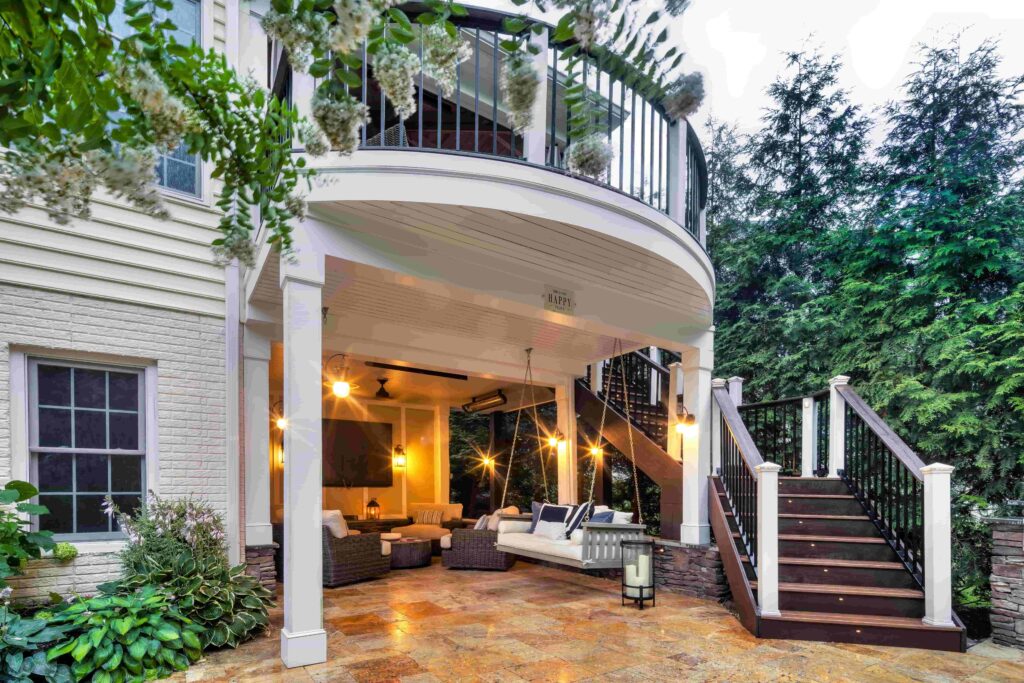 By installing an under-deck drainage system and adding a ceiling system, you can create a dry multi-use space for entertaining, relaxing or storing all the things now filling up your garage. Your backyard will be enhanced, your house will look neater and cleaner (especially without all those spider webs and wasp nests under your deck), and you'll love the versatility! 
These deck add-ons — a drainage system and a ceiling system — are valuable for homeowners looking to add more space. According to Trulia, 32% of Americans say they would like to live in a larger home. However, with today's construction costs, adding square footage can be very expensive. Adding on to your outdoor living space can provide a solution to the high costs and also improve your home's design.
Here's what you need to know:
First, add a drainage system
Installing a high-quality drainage system ensure that the space beneath your deck won't get wet from rain and snow seeping through your deck boards. There are a number of choices on the market. To make the best decision, go for an over-joist drainage system.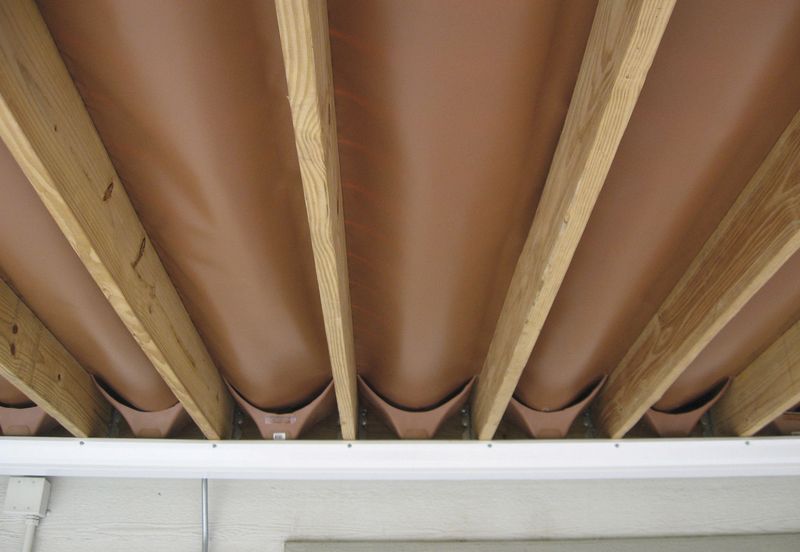 What is an over-joist system? It is a drainage system that covers the joists completely rather than catching water that runs through the deck boards and onto the joists. You want to avoid an under-joist drainage system because it can cause serious wood rot. When wood gets repeatedly wet, as rain drips through the deck boards, over the joists, and into the drainage system below, it become susceptible to rot. Further, enclosing the joists without protecting them means on a hot, rainy summer day your wet wood is cooking below your deck boards. 
An over-joist system, lays over the joists and catches rainwater in a system of troughs and gutters before it ever touches the joists and beams that comprise your deck substructure.   
Choose a deck drainage system that is simple to install and made from quality materials.   
Next, add a ceiling
Ceiling systems are often made of vinyl or aluminum. The directions for installation will vary depending on the system you choose. As with all building projects, go for the best quality for the price, and either hire a qualified installer or make sure you have the tools and skills for the job.
Having a ceiling in place provides many benefits in finishing the room beneath the deck. 
Plan for lighting
With a ceiling in place, you will enjoy shade, even on the hottest day. However, it will also make your under-deck room a darker space on cloudy, rainy days and at night. Brighten your under-deck room with beautiful lighting.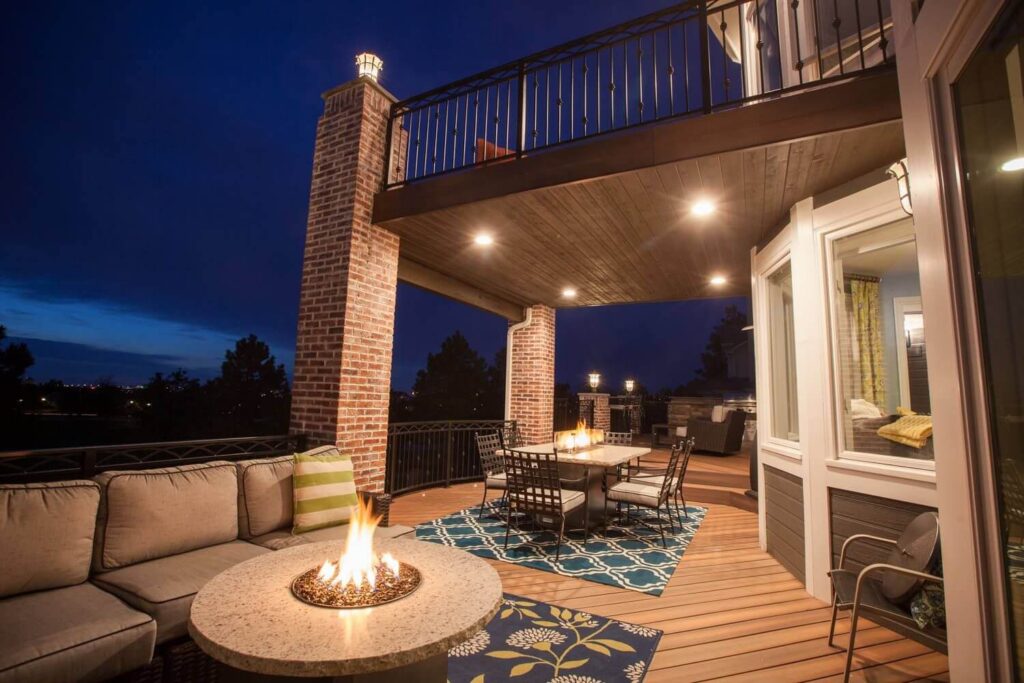 You might string up some temporary lights, but it's also important to have permanent lighting too. Party lights, Edison lights or even fairy lights can add some magic, and lanterns glow with charm.
But for day-in, day-out use, choose soffit lights in the ceiling or ceiling fans with lights — or both! Some lighting is so simple you don't even need an electrician. However, if you're not so handy, enlist a builder to make sure you follow all safety and code protocols.
Remember landscaping
Think about the materials used under the deck and the landscape around the perimeter. Complement your space with foliage that helps transition your under-deck space into your back yard. Remember to consider how much light  the plants will get, as some spots will be more shady than others. Consider installing a fire pit nearby, but at a safe distance from your home.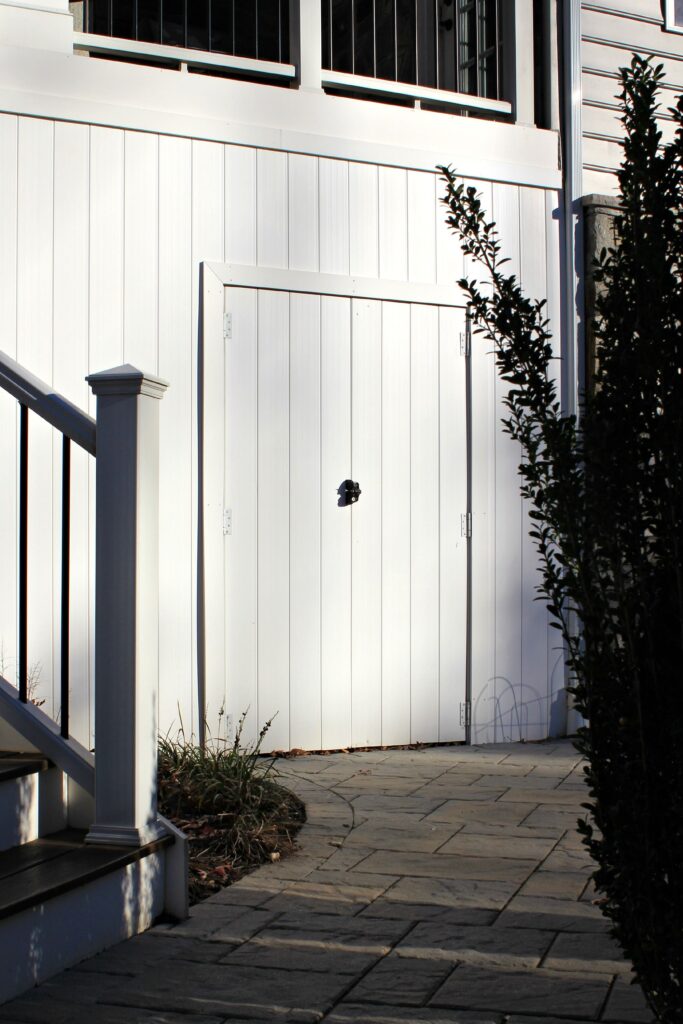 Dream a little
With drainage and ceiling systems in place, you can dream up all kinds of uses for your new space. What kind of rooms might you add? You're only limited by your imagination and budget!
Entertain:

The whole family will enjoy entertaining friends with the addition of an outdoor television and a wet bar.  

Eat out:

An outdoor kitchen allows you to eat al fresco without worrying about the weather. If you screen in the area, you'll have a nice sunroom without worrying about the blazing sun or buggy nights.   

Have fun:

You can enjoy your hobbies with a craft room or workshop under the deck.  Give the kids their own playroom by adding kid-friendly features to your under-deck space. A splashy water table, a kid-sized picnic table and a water-proof toy box will allow the little ones an outdoor space to play without worrying about too much sun. Host game night in your under-deck room. Keep a poker table and board games handy and you'll enjoy hours of fun.

Relax:

A quiet spot under the deck can become an oasis with the addition of a swing or hammock, soft music, a water feature such as a table-top fountain and lovely foliage. You might even consider enclosing a hot tub to enjoy in all seasons.

Store it all away:

Store extra seasonal items beneath the deck and never worry about them getting wet. You might completely enclose the space and add shelves or cabinets for ultimate utility. This is the perfect spot for artificial Christmas trees and lights!
With an under-deck space, you can enjoy the outdoors — in comfort and style — all year round. You'll be glad you planned ahead on your deck build and made the most of your space!