Introduction
Setting up your BBQ means spending time in nature & greenery. Spending time in nature's embrace is always a good idea. At the very same time, you may not feel compelled to grab your camping supplies and go into the woods. In your new BBQ area, you may still have a fun time with family and friends.
Setting up a BBQ in your backyard or patio may be enjoyable, but it can also be tedious if you do not have the proper equipment. We will give you the lowdown on all the essentials and will also teach you how to build the ideal outdoor setup for a BBQ from the ground up, covering must-have backyard furniture, the finest tools for your outdoor kitchen, and some creative design ideas!
Set up a cozy BBQ space
source: pinterest.com
A BBQ area may be a focal point in your backyard, allowing you to bring new life to it with delectable cuisine. You can design your backyard to be more than just a haven of peace and calm. You may also satisfy your desires for camp-style smoked vegetables and grilled bacon meals here.
Constructing a few appliances, fittings, and décor pieces in your backyard may be as simple as putting together a few appliances, fittings, and décor pieces. And, once it is put up, the BBQ area will serve you dependably for many seasons while requiring minimal management.
Do the proper planning
The most critical step in establishing a backyard BBQ is planning. Unfortunately, many individuals underestimate it, only to fail later on. While some of the items listed below may not be necessary, depending on the type of BBQ grill, they may be the red flag you overlooked.
There are a plethora of websites that offer advice on how to plan a little yard.
Gas cylinder/charcoal box – The grill is fueled by something. Ensure you have a strategy in place for cylinder or charcoal, whether you are using charcoal or gas.
Enough room for all of your BBQ utensils — While efficiency is important, the entire grilling process must be pleasurable and delightful. Ensure you have enough room for all of the BBQ utensils you want to keep handy on the grill.
Choose the perfect place for BBQ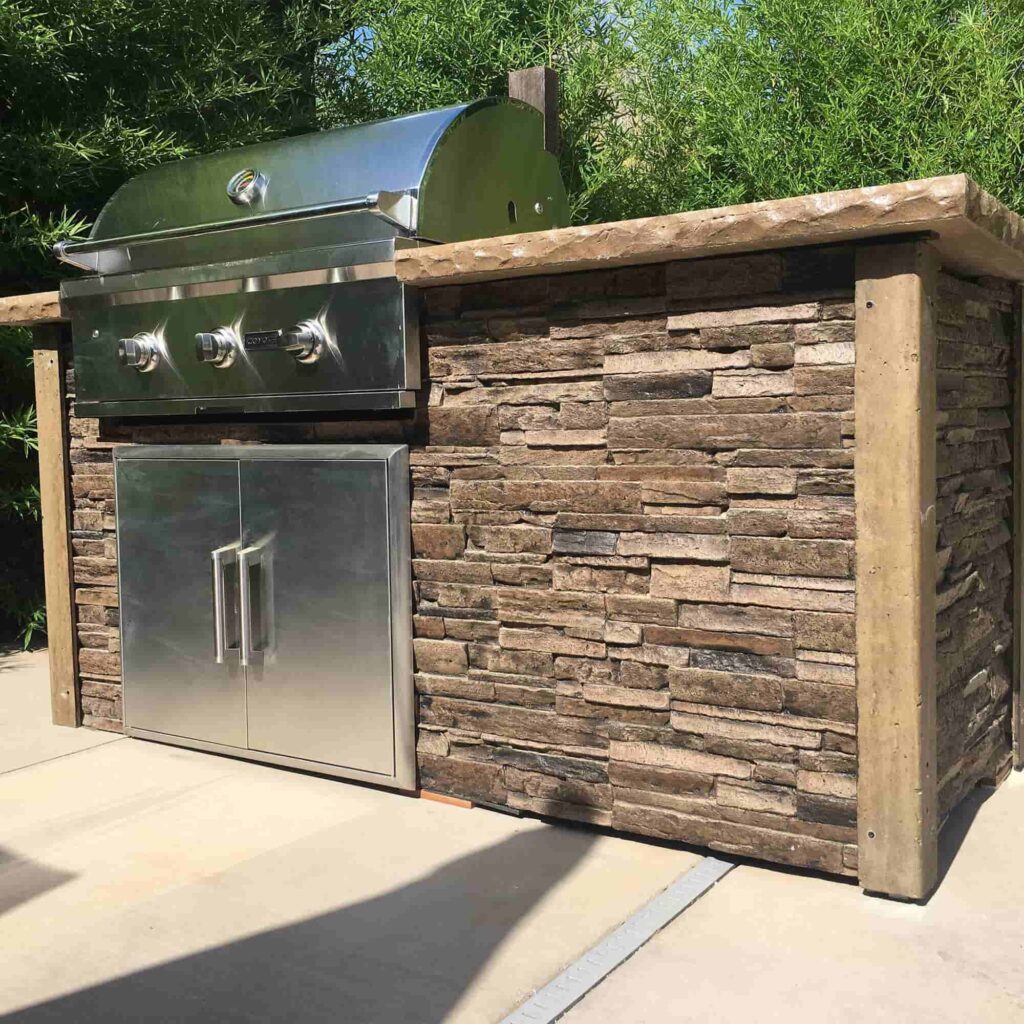 source: wayfair.com
Have you chosen where the BBQ area will be? Patios, pergolas, verandas, and decks are excellent places to start setting up your BBQ area. Suppose you are starting from scratch with a new BBQ deck. You will need to create a small area in your courtyard and then lay a concrete foundation for your new BBQ area.
The space should preferably be large enough to fit some equipment, seats, and maybe a dining table. Nevertheless, you must choose a far enough location away from your windows and doors to avoid the barbecue smoke from drifting into your home. It is also a good idea to pick floor finishes that can withstand much foot traffic and bad weather.
Keep the safe distance between trees and grill
If anybody has informed you in the prior that you have a lovely backyard, it's generally because of plants and overhanging tree pots. While you can put most of your belongings away, the trees will remain. It would be foolish to cut the trees only to put up a BBQ barbecue. You can simply organize a BBQ away from trees to prevent fire. 
Usually, a net is sufficient to keep the hanging branches at a safe distance. It would not only make the BBQ experience secure, but it will also make cleaning easier. Even though we love trees and nature, a bunch of things falls to the ground, and the last location is they can fall on the grill. It has the potential to destroy a delicious steak! But just by shifting a grill far away from trees and protecting from trees will get you covered. 
Measure everything properly for an accurate idea
We believe that you should evaluate as many times as you think it will take to do the work properly. It will save you a headache in the future. Also, keep in mind the previously given, seemingly trivial suggestions.
The size of the grill is vital, but when you are evaluating, keep in mind the safety elements and the need for at least some relaxation in the area. Feel free to make it up as you go! After all, the BBQ area is where you and your family will spend the most time.
Set up the grill properly
source: diynetwork.com
If you want something that you can quickly move in and out of storage to make more space in your backyard when you really need it, a trolley BBQ is a good option. Kettle BBQs that burn coal are a good option if you are on a tight budget. On the other hand, a hibachi grill may be the best choice if you are low on space.
When picking a BBQ location, think about what you want to cook and how many people you will be cooking for. To make the room more practical, you may also bring in additional common kitchen equipment and appliances, such as a sink, an oven, a refrigerator, and so on.
Making storage arrangements with cabinets, drawers, benchtops, and utensil holders may also be beneficial.
Opt for a proper seating facility
The only item we have not spoken about yet is the seating area. However, it is not particularly appropriate for the BBQ area. However, it is not like you can not sit outside or indoors in your backyard. It is safe as long as the grill is turned on and you are having fun while cooking the meal!
We appreciate patio sets with customizable elements like patio swings, patio bars, and lights since they are accessible, fun, and functional. The furniture you choose speaks a lot about the ambiance you wish to create. 
Separate chairs give individuals their privacy and provide you with a more flexible seating arrangement, whereas a sofa quickly creates an authentic experience that encourages pleasant discussion.
The emphasis is mostly on the meal at a table with chairs so that you can stretch it all out, but a couch or outdoor lounge rarely comes with a huge table, so the focus is on the visitors. Both are crucial, and your decision on which to prioritize will have a significant impact on the outcome.
Focus on lightning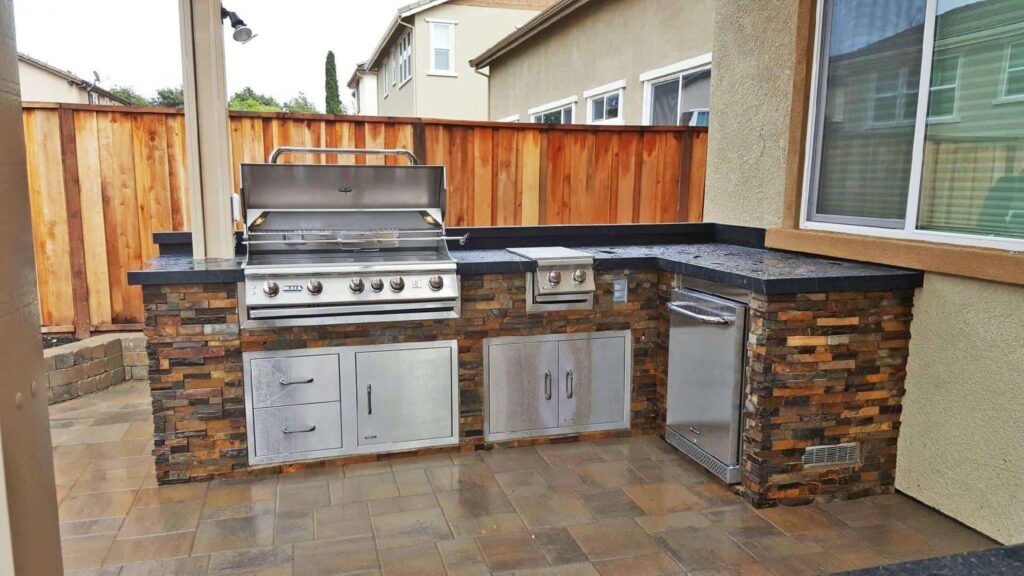 source: bayareabbqisland.com
With some lanterns or mason jars from your small local shop, you can rapidly make various DIY lighting solutions. You can use tiny tea lights or bigger candles in the containers or lanterns, or you can pack them with led lights. Fairy lights or other little light strands are ideal because they are inexpensive and allow you to choose between cool and warm light.
There are numerous battery-operated solutions that are both compact and inexpensive! Alternatively, you may simply scatter candles about the room. Non-scented candles are recommended so that they wouldn't conflict with one another or BBQ. You're only confined by your imagination when it comes to opportunities.
Lastly, decorate everything well
It is maybe the simplest part. You may play with different features and design elements to see what works best for you. However, keep clutter to a minimum. Instead of utilizing two distinct products, try employing multipurpose things.
You should also choose goods made of weather-resistant materials such as plastic, polyethylene, fiberglass, and other similar materials to guarantee that these characteristics are well-protected from the elements. Finally, do not forget about excellent lighting to extend the celebration until midnight.
Conclusion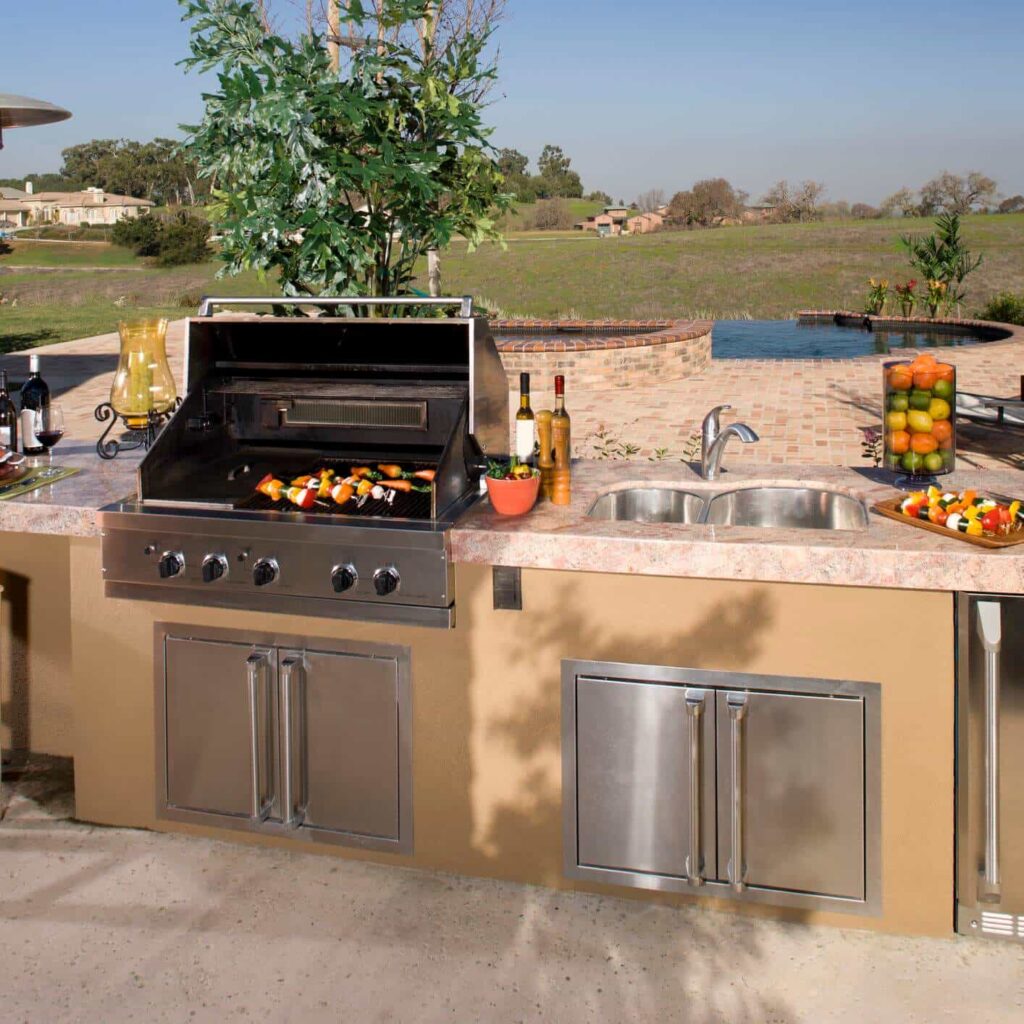 source: thespruce.com
To summarize and organize your outside setup BBQ and all future outdoor gatherings, around the environment you want to create as well as the size and design requirements you desire.
The seats and lights should help to create the atmosphere you want to have in your area, whether it's trendy and contemporary or personal and warm. The true barbecue utensils should match your cooking style and culinary requirements.
So, here we are at the end of the article, with nine amazing ideas to kill your backyard BBQ idea and make it amazing and memorable. In this article, we have covered all from setting up BBQ to arranging a seating arrangement and DIY lightning. 
These ideas will definitely help you in setting up a BBQ grill that will amaze your friends and relatives and enjoy a perfect evening with all of them. 
If you love our ideas, let us know in the comments below! And, is there anything you would like to incorporate in the above ideas, then go ahead and write in the comment section below.