Are you wondering what the concept of wall paneling is all about? Here is the answer. We will discuss everything you need to know about wall paneling. The materials, costs, designs, and much more. At last, you will find some awesome wall paneling ideas for your bedroom and living room.
Traditionally wall panels were used as insulation between walls and rooms. Today architectures give them a modern concept with so much of other utilities. We can say that it is one type of decorative treatment of walls.
What is Wall Paneling?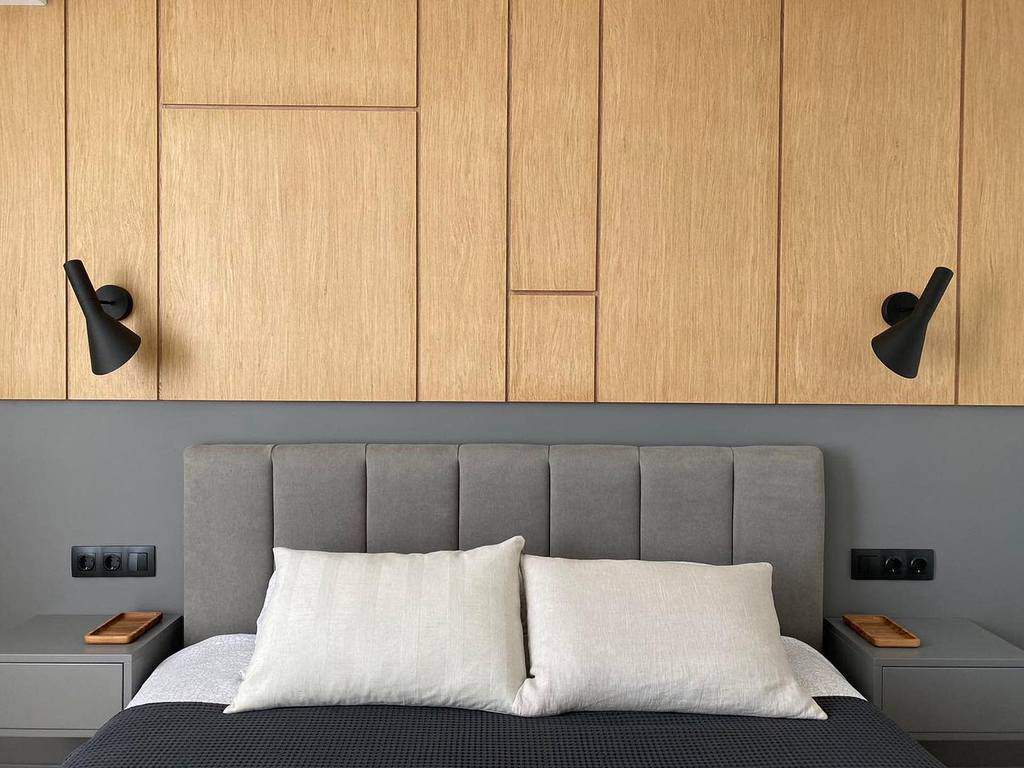 source: nextluxury.com
It is a style added to your walls for aesthetic appeal. Most commonly wooden paneling is in trend for many years because it is easy to install and maintain. But nowadays many modern options are available in the market. The utility of wall paneling is to hide electric cables, provide structural support and prevent wall damage.
Wide thin sheets of wood called panels are framed together with the help of thicker stripes of wood. It is an interesting DIY task. But before you begin, it is important to plan and prepare your wall first. Measure your walls, cut the panels, smooth your walls, apply panels to them and you are good to go. 
Materials are the Key To Wall Paneling
Wooden – Made from sheets of solid wood, engineered board, and other wood materials. You can customize wooden sheets or panels into attractive box moldings. 
MDF(Medium Density Fibre) – It is wood engineered by breaking down softwood residues into wood fibers. It is denser than plywood.
PVC(Polyvinyl Chloride) – It is a waterproof material that makes the panels water-resistant and long-lasting. Generally preferred in moisture-laden areas.
Glass – Made from glass and enhance the visual flow of the house. They are transparent and translucent. Very delicate to maintain.
Wall Paneling Will Pinch Your Pocket More?
source: pinterest.com
Well, It depends on the materials you are using and the size of the wall. Generally, paneling is priced per square foot. Wooden wall panels are priced according to the quality of wood. Costs also depend on other factors like finished product cost and difficulty of installation.
Cheap Wood panels like yellow pine will cost you around 20 to 25 dollars per square foot. High-quality wooden panels like cedar and mahogany will cost you around 30 to 50 dollars.
Wall Paneling Ideas For Living Room.
Monochrome Look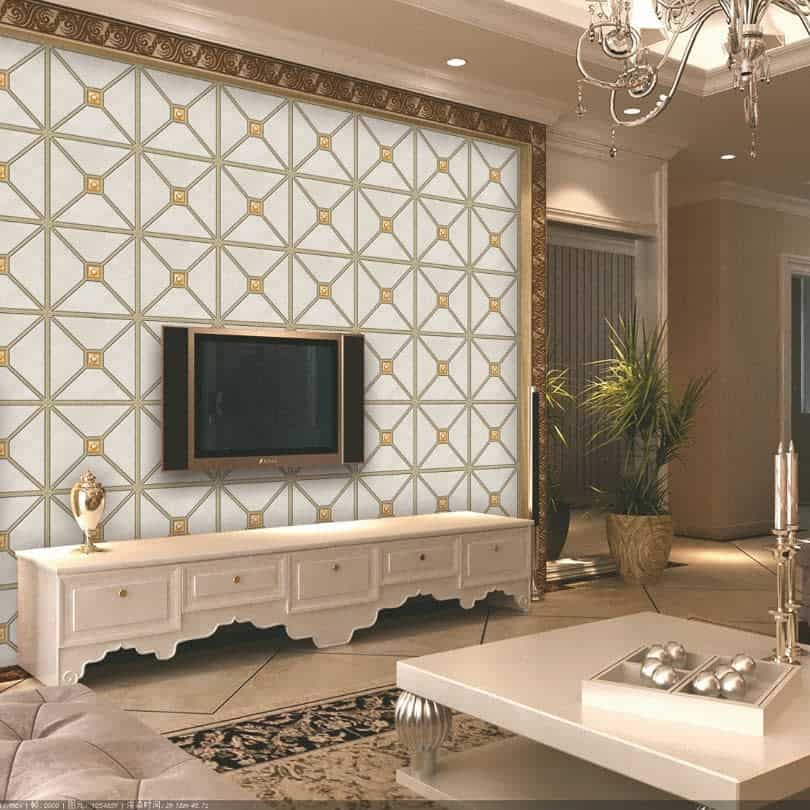 source: nextluxury.com
A single color can give dramatic effects to your decor styles. Monochrome means the use of one color in a variety of lighter or darker shades. Select a single base color for the Living Room. Incorporate different shades, tints, and tones of the main hue within the room's palette.
Frame the Artwork
The living room is the space where you have to showcase your creativity. This type of paneling can fit best in the living room. In this style, you have to measure rectangles at even distances along your wall. After that, cut molding to stick on the drawn-out shapes. Paint the same color as your wall. Hang a piece of artwork in one of the rectangles. 
Geometric Look
In the first place, square panels give a symmetrical pattern through the elegant placement of squares. Secondly, it is also called Jacobean-style paneling. The grid effect enhances the overall look of the paints on walls. The geometry creates the illusion of a large place. Select this style for the living room area, especially behind the sofas or TV cabinet.
Vertical Panels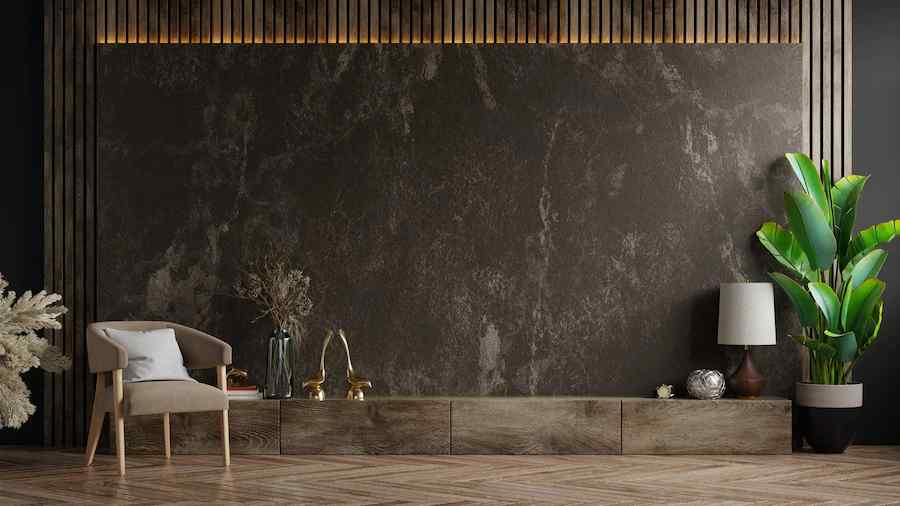 source: nobroker.in
A stylish way to use wood in home decor is wood paneling with stripes. Bedroom vibes will become neutral and grounded with the help of thin, long vertical panels. The color and texture of this style are like the concert hall. Best suited for houses that have a home theatre system installed. Give you cinematic vibes. 
Bedroom Wall Paneling Ideas 
Canopy Style Paneling
Extend wall paneling along with the ceiling. Use the rustic planks of wood attached to the wall behind the bed. In addition to that, ceilings also get the advantage of paneling. You have to extend the paneling alongside the ceiling. It gives a cozy canopy-style feature. This panel adds a feature to the room. If you do not have a bed with a headboard, this is the perfect style to hide this imperfection.
Chevron Style Wood Planks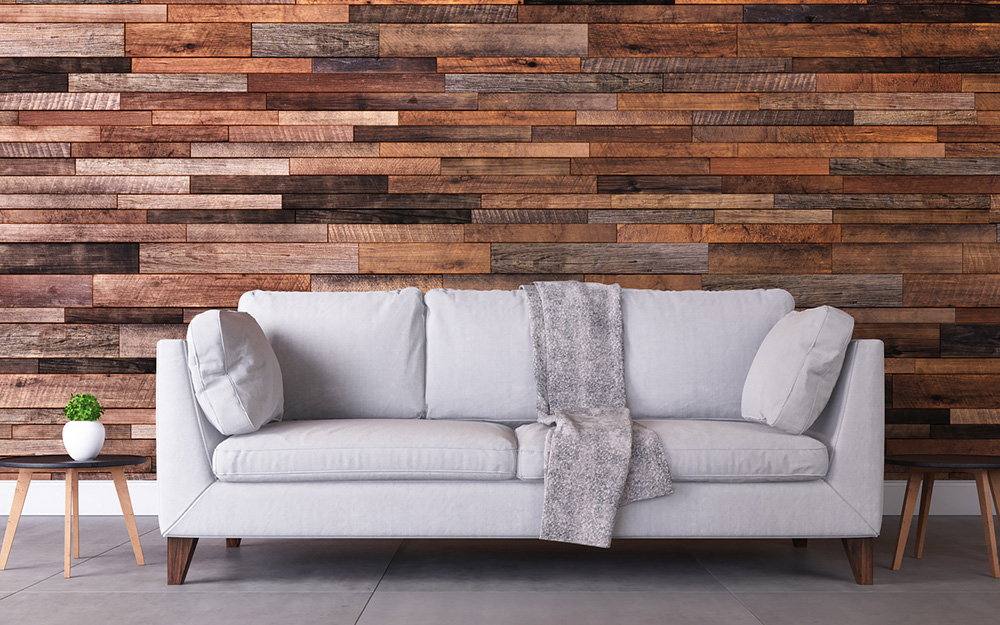 source: pinterest.com
Basically, Chevron is a pattern that is styled as a zigzag or V-shaped. Arrange the natural wood in a stunning chevron pattern. Different shades in the pattern especially the grey and wood finish of the planks give too much to the overall looks of the room. Classy vibes are floating around the bedroom. Select a wall to style this pattern in your bedroom.
Tongue and Groove Paneling
It is a style of fitting similar panels edge to edge. Naturally, this style suits wood paneling so the main ingredient is natural wood. It provides structure and interest in your simple art and decor with smooth and raw surfaces. It saves time, materials, and money. Even Pre-finished panels are available so homeowners can install them themselves. Reclaim the vintage look with Tongue and Groove Paneling.
Law level Paneling That Creates Shelf 
source: e3panels.com
If you don't want to cover the whole wall, go for half-level or law-level paneling. You can use a panel top as a shelf. This will give you an extra opportunity to embed decor pieces on the shelf. If you wish, you can use the shelf for storage purposes. Books, Spectacles, your mobile phone, remote-control of A.C, and other accessories can get a fixed place near your bed with this type of paneling.
Final Thoughts
Wall paneling is the best option to upgrade your home without much cost and renovation. It is helpful to hide imperfections in the designs or textures in your home decor. You can find some great inspirations from the list of wall paneling designs shared above. So let's do it yourself and pick up any one style to give your home a much-needed face-lift.