Is there a free area in your house that keeps catching your eye because it seems like a room that may be filled with useful things? And you don't know how to fill the space or what to do with it? You have to look over these areas and find ideas to optimize the space for home improvement.
Perhaps there is a strangely angled area where most furniture really shouldn't fit, or there is a place beneath a window where you don't want to block the light coming in from the window. With a little imagination and care, these disused nooks and corners can be turned into lovely locations.
Get these areas transformed with the help of some fantastic corner seating ideas. Take a look at some innovative approaches to bring some life to these lifeless and dreary areas.
Corner Seating Ideas To Optimize Home Decor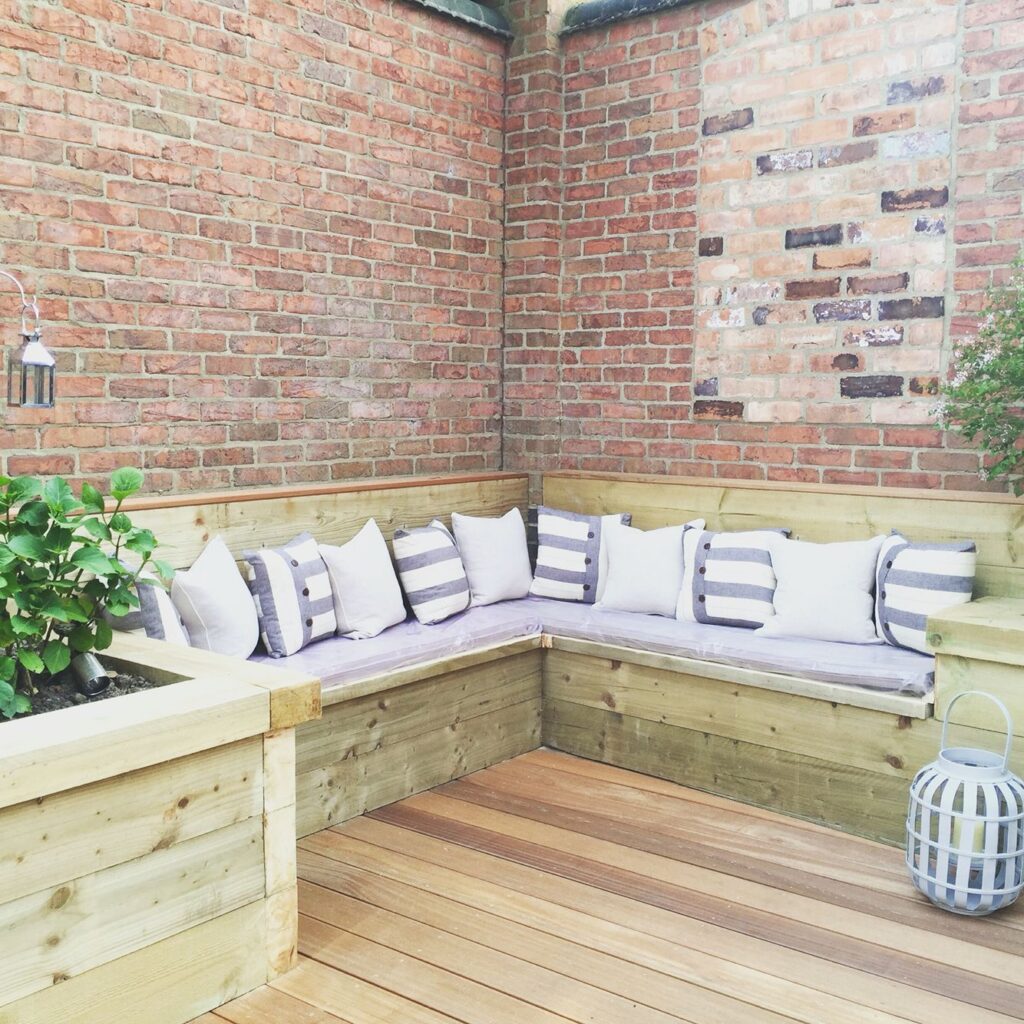 source: pinterest.com
A seating arrangement in the corner will give you extra space for sitting and save up a lot of space in the living room. It will be inspiring for family get-togethers and have stylish appearances also. Here are some fabulous corner seating areas that will give space and comfort at the same time. Go through it.
A Nook Under The Stairs
With a little attention, you can turn a spot under your stairs that is only used for dust accumulation into a small nook where you can kick back and unwind alone. It is a place where you can have privacy. This place is good for reading a book. However, you have to install a task light or any other suitable sort of lighting. 
Corner Seat Of The Living Room
source: pinterest.com
For extra seating when you have too many visitors, you can use the position of the corner in your sitting room. This portion can be furnished to fit the rest of the living room's style. Place extra soft cushions to feel comfortable in the corner. This is useful for kids to sleep on the corner sofa while having a family get-together.
Corner couches in the living room have the extra benefit of being comfortable. The ideal weekend activity for family members is to watch their favorite movie or web series while lounging comfortably. So invest a large sum of money in this nook in the corner, and you won't look back.
A Breakfast Nook In The Corner
This quaint area is welcoming, cozy, and ideal for sharing meals and private chats. Additionally, a breakfast nook offers the ideal setting for embellishing unique tiny jewelry boxes. Try something comfortable, daring, or sleek and contemporary.
A corner can be made opulent by the addition of pillows, giving you space to curl up and linger over a second cup of coffee.
A Reading Corner With Calmness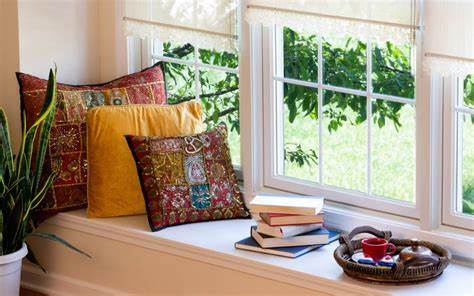 source: pinterest.com
If you have an area that is not utilized, make it a reading nook. This corner seating may help you to optimize your space effectively. Areas around the window are the best space for this design. If you enjoy reading and have a lovely window, you can turn the area into a comfortable reading nook by adding a sitting area next to it. What could be more ideal than cozying up with a good book?
Corner Seating On The Floor
It feels intimate and is incredibly calming for your body to sit close to the earth. Floor sitting has transformed into a modern, really useful decorative concept. It easily transforms your home into one that feels pleasant and warm.
With floor cushions and ornate throw pillows, you can add a relaxing, warm look to your home and create extra seating for your occasional family gatherings.
Corner Seating Area With Cabinets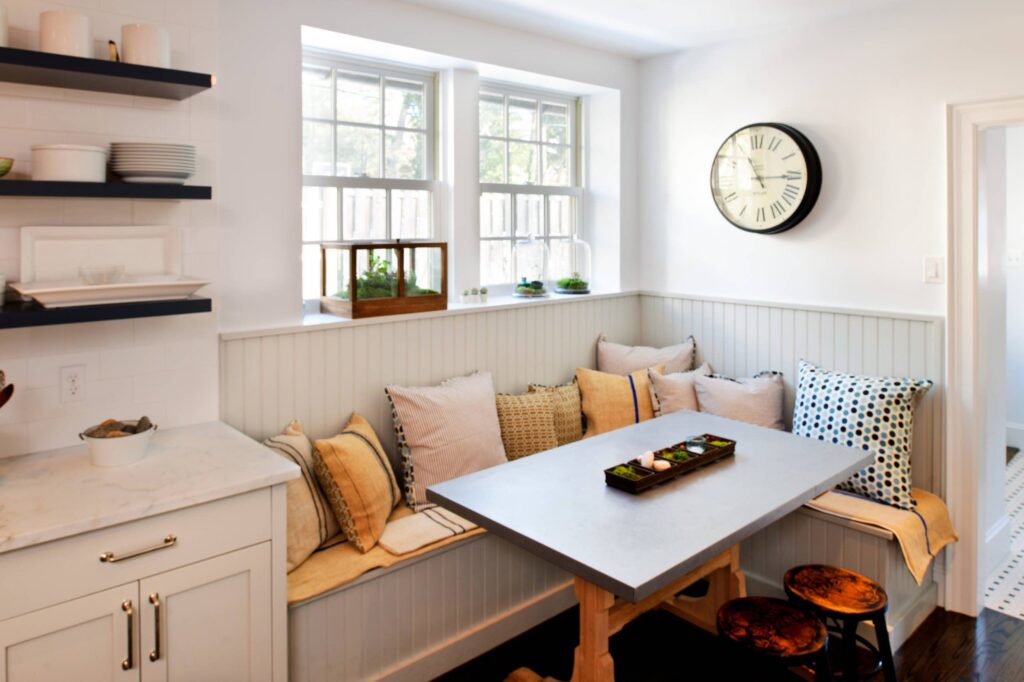 source: pinterest.com
The best option for something more long-lasting is a built-in half-banquette. In addition to being exceptionally durable, you can add storage options customized for your way of life. Create a cool seating area over all that storing space to give your cabinets some room to maneuver. Better yet, if it's near a window!
Corner Sofa In Living Room
A corner couch is the best option if you don't like the notion of fixed corner seating because it will give you the freedom to rearrange the space as you see fit in the event that your tastes alter in the future.
By using the armrest of a corner sofa as a feature wall, you can make a cozy living room idea in a larger area. As an anchor piece, bring in a sizable rug and pick a style with color that complements the scatter pillows on the sofa.
Use The Space Of Staircase Landing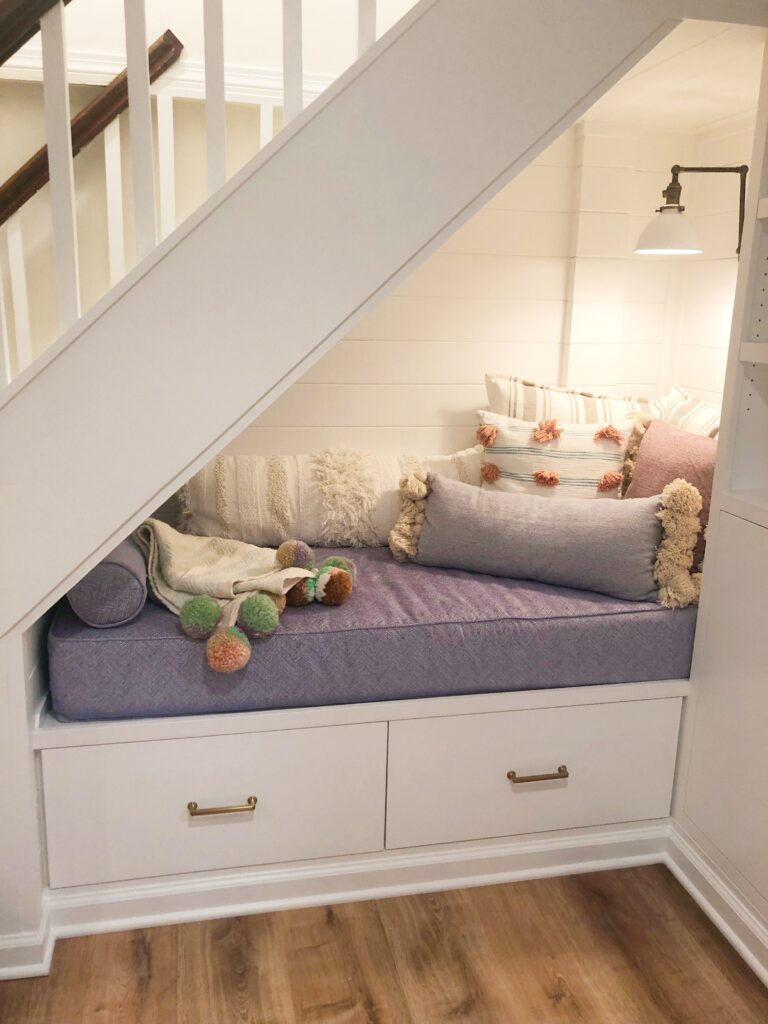 source: pinterest.com
If there exists one area in every home that is most underused, it has to be the threshold of the staircase. Using a bit of creativity, you can breathe new life into this area by creating a cozy nook where you can unwind with a nice book or get some much-needed rest.
Final Lookout
A modest corner breakfast nook set is the perfect morning reading and coffee spot. Think about the size of your kitchen and how many people will use the nook when deciding how big it should be.
You most likely will be unable to use small corner breakfast nook settings for larger dinners because they aren't entertaining. They wouldn't be a sensible option in particular if your space is already rather limited.