Commercial property could be an excellent way to generate income and build a fortune. A good number of individuals have accumulated their wealth through this venture. This is because real estate increases in value as time goes by, despite unfavorable economic changes.
Steps To Developing a Valuable Business Property
source: zricks.com
Investing in commercial buildings may be a good strategy to diversify your portfolio compared to residential property. This is because living spaces may have more vacancies and other inconveniences. On the other hand, business-based buildings could offer you more stability since they can be leased for up to 10 years or more upon renewal. Therefore, they can provide you with a good income stream if managed in the right way. 
Developing a property could mean building a new structure or renovating an already existing one. If you're in either of these processes, you'd want the results to be a building that could offer you more return on investment (ROI). To ensure this, visit various spaces to identify what designs or features appeal more to customers. Alternatively, you can find helpful tips from successful real estate investors or consider the Woldon architect services of a property development company.
If you're looking to develop a commercial building, this article could help ease your research process. Below are steps you could follow to help you create a profitable business premise.
Create Goals for Your Investment
source: pinterest.com
The first step is to identify the goals you'd want to achieve with your investment. For instance, you could have profitability, competitive advantage, or reduced tenant turnover in your list.
After identifying what you'd like to work towards, create a list with objectives to help you attain your set goal. While doing this, consider having what's currently achievable appearing first. Also, start with smaller projects as they can help you progress to the bigger ones. 
Before starting the development process, consider checking out commercial buildings in various areas. While doing this, identify the cost of these business spaces and what designs attract more customers. 
In this step, it also recommendable to select a site for your property. Since it's a business building, some of the factors to consider can be traffic flow and the infrastructure around the location. Additionally, ensure the area has growth potential. These are some of the things that most entrepreneurs look for in a commercial building.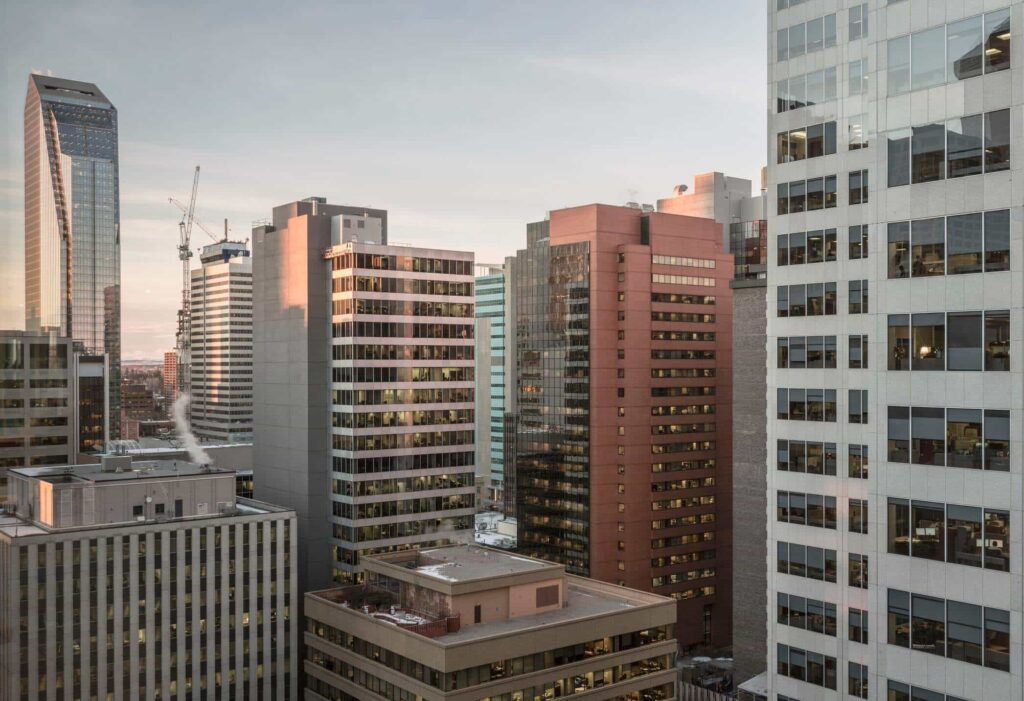 source: thebalancesmb.com
Having gathered enough data, creating a budget for your project is the next stage. In this step, consider all costs for the entire operation. This financial plan can be beneficial as it could serve as a reference point as the project progresses. Some of the expenses to add are the purchase price for land or property, building or renovation charges, and the fees for the professionals you'll be working with.
While creating your budget, consider arranging for financing. If your resources aren't enough as per your estimation, you can look for other sources of funds like private investors, commercial banks, and others. 
Involve Professionals in the Purchase Process
In this step, you may need to hire experienced professionals to help you purchase land or the building to renovate. Some of the experts you'll need could be a real estate broker and a lawyer. 
After selecting the two, the next stage will be making an offer on the building or piece of land you'd want to buy. The duo can be helpful here. For instance, the broker could help you find off-market deals. Additionally, they could also negotiate for better prices for the property you intend to buy, which could raise your profit margin. 
On the other hand, a lawyer will ensure you observe any legal requirements in property purchase and professionally handle any necessary paperwork. Also, they'll help you review all closing documents and advise you when to sign these forms once they determine everything is legally okay. Finally, upon establishing that it's proper to proceed, they'll accompany you in the closing, which is the last stage of the buying process.
Consider Appealing Features in Construction or Renovation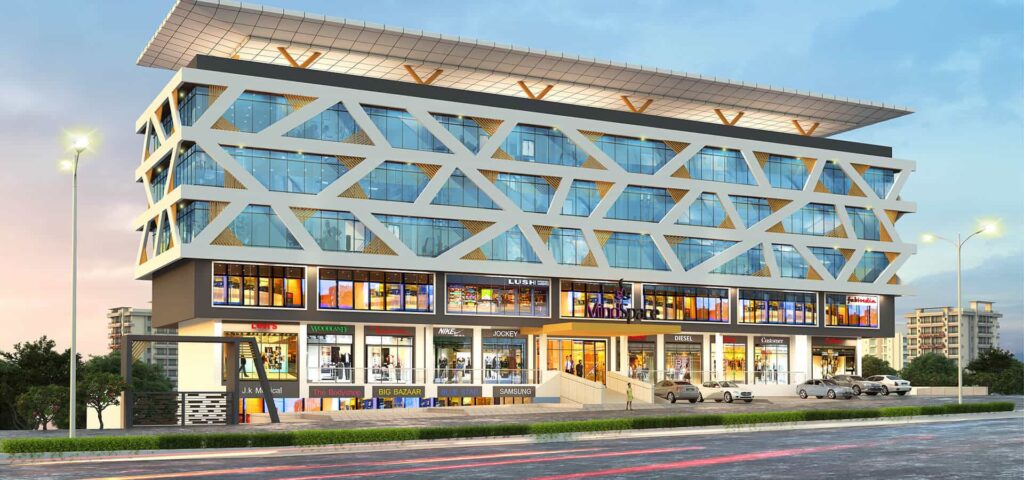 source: citadeldevelopers.com
In most states, you need to have a building permit before you start construction or renovation. Consider applying for one, and upon acquiring it, you can now begin your project. At this stage, you'll also require a team of professionals. Here, you could need an architect to design the establishment, contractors to build, and a project manager to supervise all proceedings. Additionally, you may also need an interior designer to make the building's inner spaces safe, functional, and attractive. 
In this step, you also have to consider factors that'll make your property appealing to customers. For instance, you could have storage, parking, and conference facilities for your tenants. Modernizing the spaces with air conditioning, illumination, heating, ventilation, and security systems could also be a good idea.
Sell Or Lease and Ensure Proper Property Management
Once everything is done, you've got two choices. You can either sell the property or find tenants and manage it. Either way, you'll need your broker to find buyers and a lawyer to ensure legal transactions. 
If you decide to rent out the building, ensure proper management to reduce tenant turnover and ensure a good ROI. For instance, do regular inspections to make sure the property remains in good condition. Also, conduct tenant screening to guarantee safety for everyone, and do repairs whenever necessary. 
Conclusion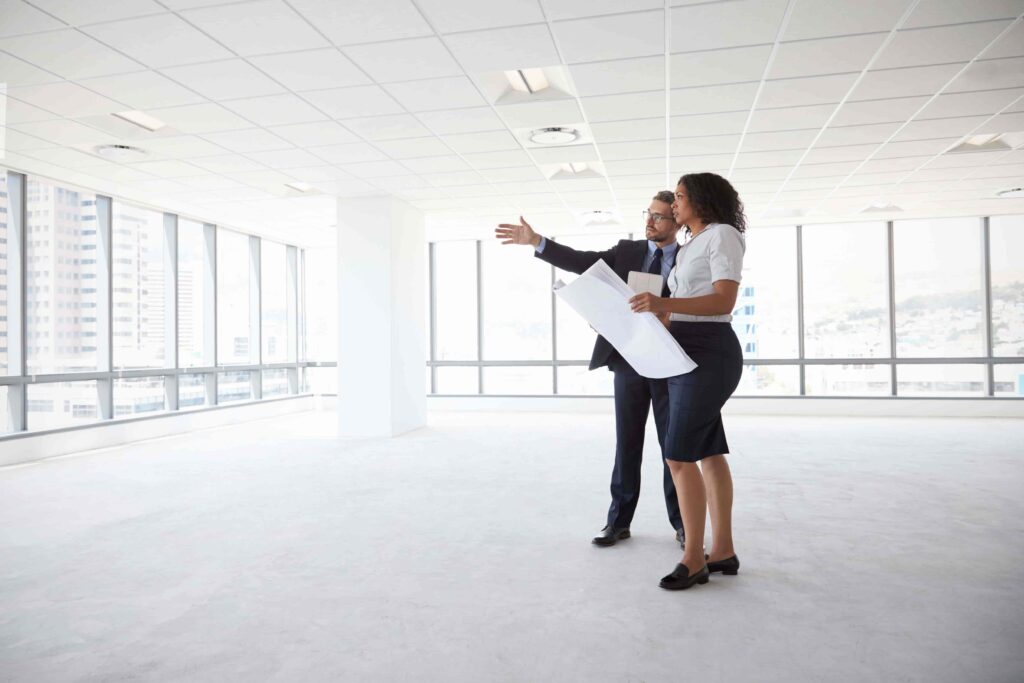 source: pinterest.com
Business spaces can be pretty profitable if properly developed. They could generate considerable income and help you build wealth. These six steps are to be considered if you'd want your commercial property to be of great value. 
Start by setting goals for your investment, then conduct thorough research. After, create a budget for the project and involve professionals in the purchase process. When that's done, construct or renovate with appealing features and, lastly, sell it or rent out the spaces but ensure proper property management.