Everyone has a dream of living in an eco friendly environment where there is no pollution in air or in water or in any other natural aspects. As human life is being trapped in this hectic world and in upgrading technologies, pollution is increasing day – by – day the only way to get rid out of this condition is well plantation and rescuing the forest cover. But the increasing modern construction of homes and industries are taking down the overall forest cover. What can we do for that? Rather we make two parts one for the forest cover and one for the human communities for sustaining. The architecture these days is frequently enhancing and coming up with new ideas, and they have come up with the combination of forest and homes, which then turns into and is called forest city design and architecture.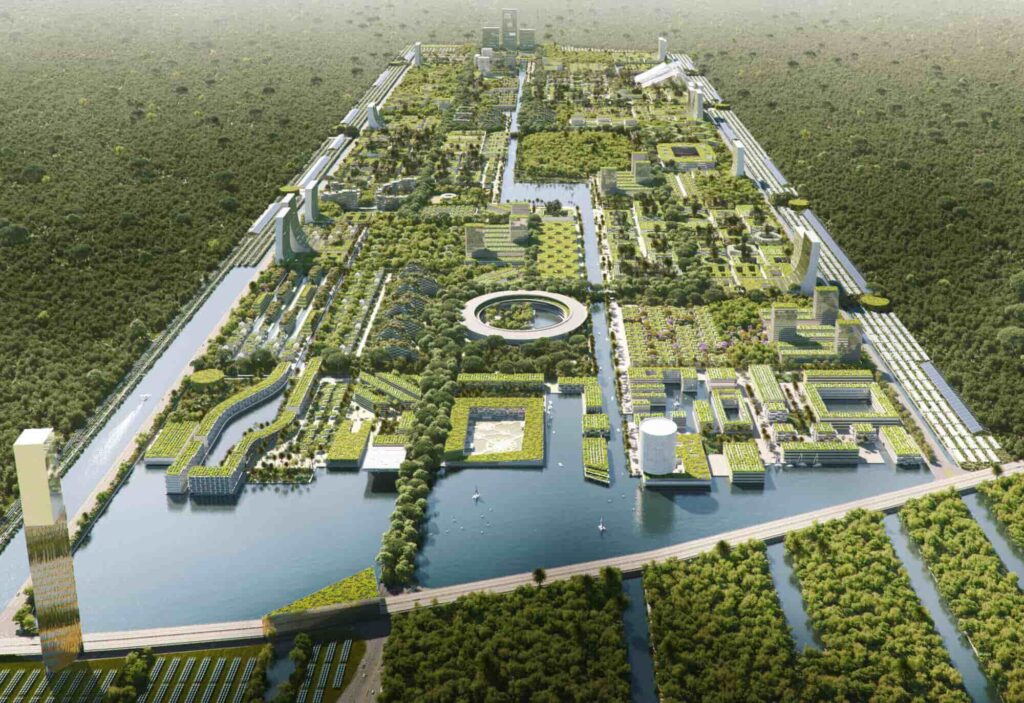 source: archdaily.com
Have you ever thought about having your home in the forest with all types of equipment available? Without any type of danger around you, forests with smart cities and peoples where you can enjoy both environment and technology. It is tough to manage forest and homes together, as it can become a habitat for wild creatures, domestic animals and human beings too. It is also difficult to plan in what way we are going to manage the environment pollution free, so that it doesn't harm any kind of living organisms. We must be eco-friendly with animals and others to enjoy your own life in a well-mannered manner.
Smart city in Mexico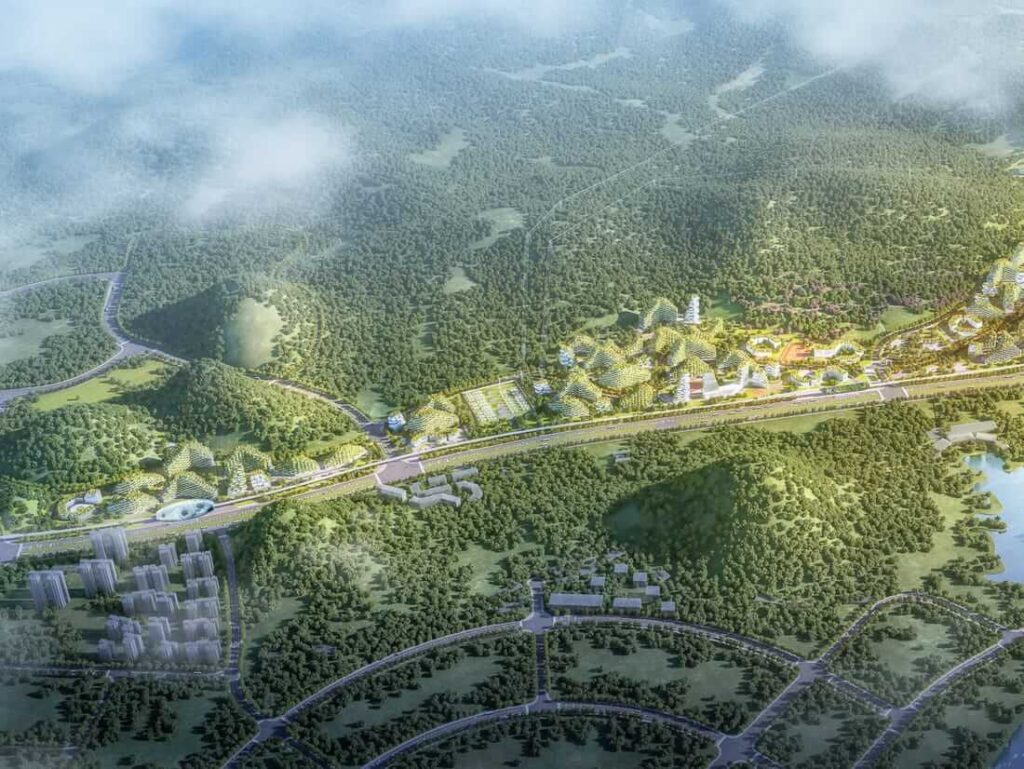 source: insider.com
 The first ever smart city in Mexico is Queretaro; it is situated in the state Maderas the municipality over there has started working on making Queretaro a smart city in 2013 and they have decided to make the first ever smart city project in Mexico by 2020.
Life there is totally dependent on the rhythm of the internet, by mobile phones, by sustainable energies like wind and solar energy. Moreover they have especially worked on the GIS system so that an inhabitant can easily get the information of their needs like gas, water, transportation, garbage collection, etc. which is really beneficial for habitants too. The construction of houses are done in a very precise manner which shows you the humidity and temperature with the help of sensors, furthermore those sensors work as security too by warning you about the person entering your house. They have used fiber optic networks to provide 100% network connectivity.
Forest City in Mexico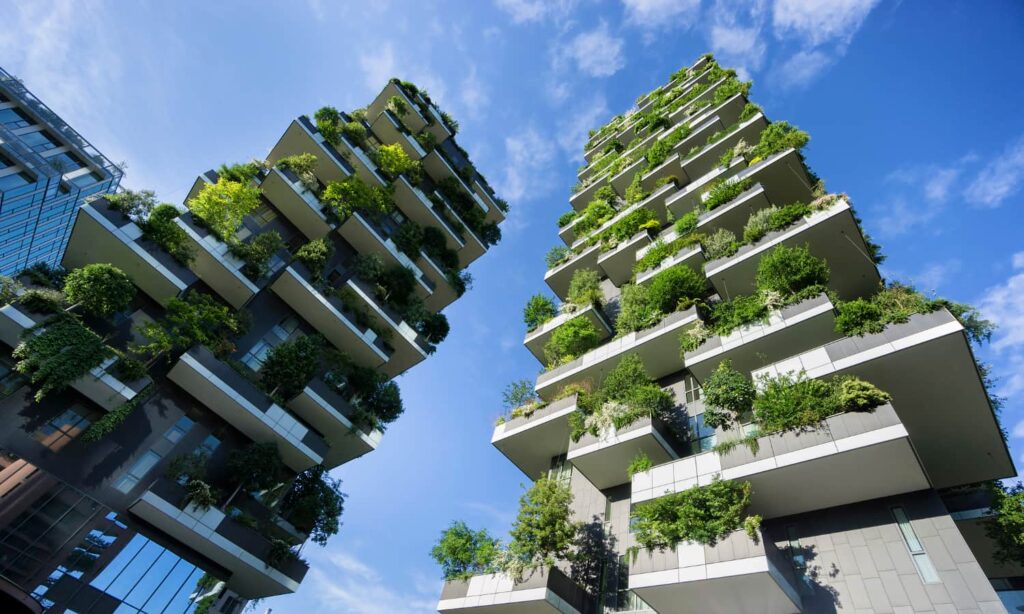 source: foodtank.com
Along with the smart city achievement in Mexico, they have achieved a forest city too on which they were working a lot and that city is Cancun. It is also a model of smart architecture in Mexico.
This forest can be named as an eco-friendly city or forest city which can be planned in various ways. Hence, many people tried and are trying to design and update such a smart city with all of its availability, no lack of the basic necessities. One step ahead in urbanism had been planned in Cancun city of Mexico by Italian architect Stefano Boeri. This is situated in a futuristic orchard in the middle of the Riviera Maya. In the year 2014, Stefano Boeri presented a metropolitan reforestation project which was known as vertical forest in Cancun, with two huge towers which are home to 700 trees, 11,000 plants and 5,000 shrubs. This concept of smart forest city was frequently reviewed and updates had been exported to other places of the world. This place is now one of the most visited places in the world: Mexico, Cancun.
Earlier, Cancun was a village where people used to do fishing in 1974 and was surrounded by pure jungles and now, it is deserted to one of the most famous tourist destinations in the world. The construction of hotels has gone from a very diverse landscape to the real one, but now, Stefano Boeri has designed a new Cancun, a pioneer in smart and suitable development that provides a balance between mass tourism and nature.
Furthermore this city has achieved the facilities much similar to the smart cities around the world, it is nothing but easy availability of water, electricity, food, and all other basic necessities, providing the best internet communication along with the least pollution.
Habitation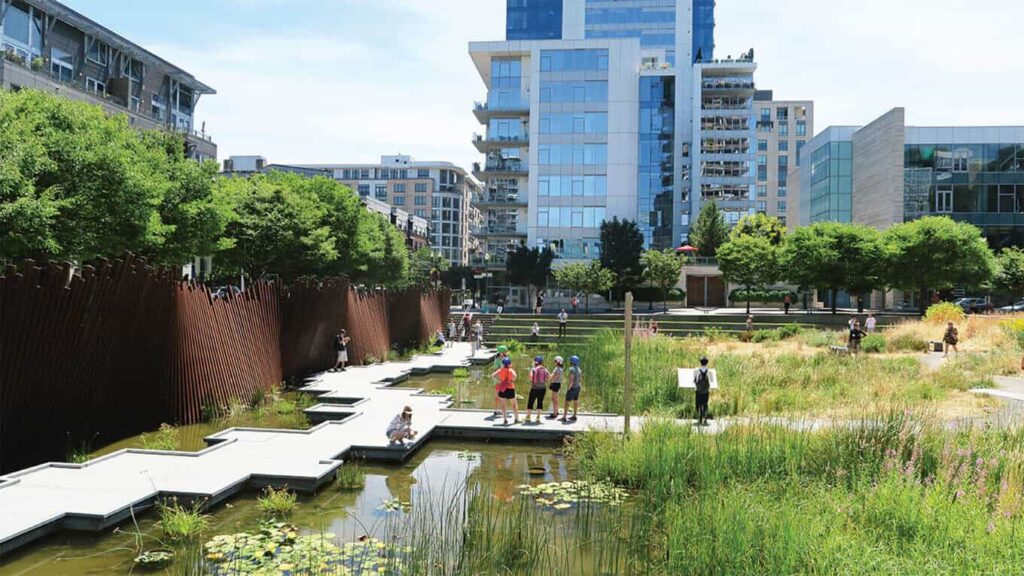 source: ramboll.com
It has been stated that this smart forest city will provide a habitat of around 130,000 houses including almost 7,500,000 plants and in those plants there are about 400 different types of species, every species has been identified and stated by the botanists. The ratio of 2.3 trees per habitant will be maintained by the community by planting almost more than 200,000 plants. They might not only be the plants but one can plant herbs, shrubs, green roofs and vertical gardens. The press release stated "Thanks to the new public parks and private gardens, thanks to the green roofs and to the green facades, the areas actually occupied will be given back by nature through a perfect balance between the amount of green areas and building footprint". If we follow the same concepts in various smart cities then of course it would be a big step towards reducing global warming all across the Earth and in this way we can't bring up the early nature back but what we can do is, we can hold the present nature in the present state.
Habitation is not only sufficient over here as we discussed above we need basic necessities fulfilled with some crisp of technology too, so let us have a look at the facilities now.
Less pollution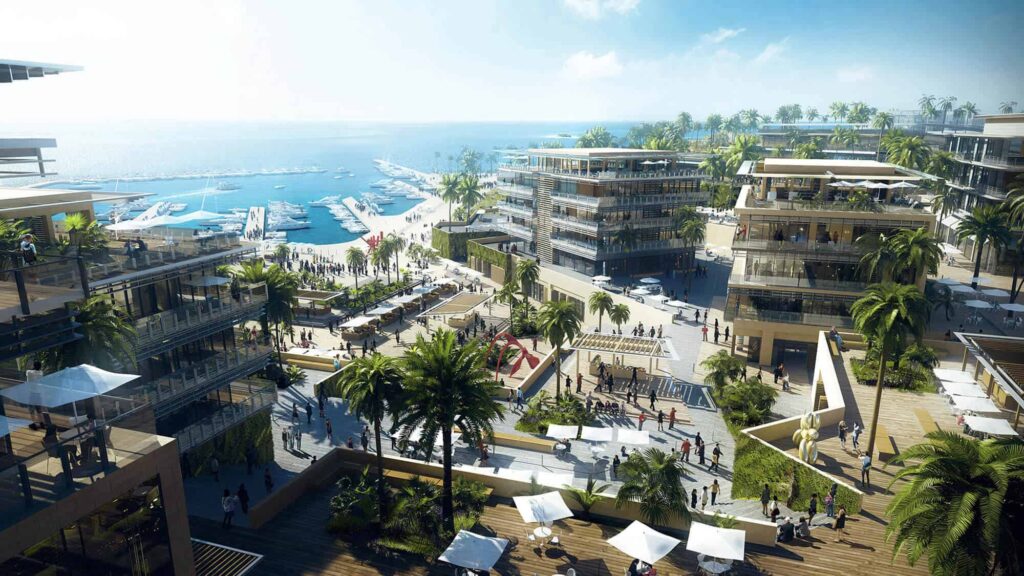 source: archdaily.com
Because of the maximum forest cover there will be a huge amount of emitted oxygen by plants; this emitted oxygen will be much larger than the amount emitted by other harmful particles which are the causes of global warming. As oxygen cover increases there will be zero chances of ozone holes at that particular area, though we can achieve no global warming.
The air will remain cool and humid throughout the day; this is possible only if we use electronic vehicles the vehicles which run with the help of the battery not with the help of fossil fuels like petrol, diesel, and coal. Refrigerators releasing CFC must be avoided. The production of electricity and the internet must be done in an eco-friendly process. For managing other types of pollution we have to work on carbon footprints of almost every product we use, usage of plastic must be banned strictly. Also, management of garbage must be done precisely so that it does not produce any kind of water pollution or land pollution and make the living for humans and animals much safer.
Due to less pollution one can observe the regular patterns of climate change, as of now because of global warming there are many irregularities in climate patterns, which is hazardous for the crops mainly and then for other all living organisms.
Availability of the water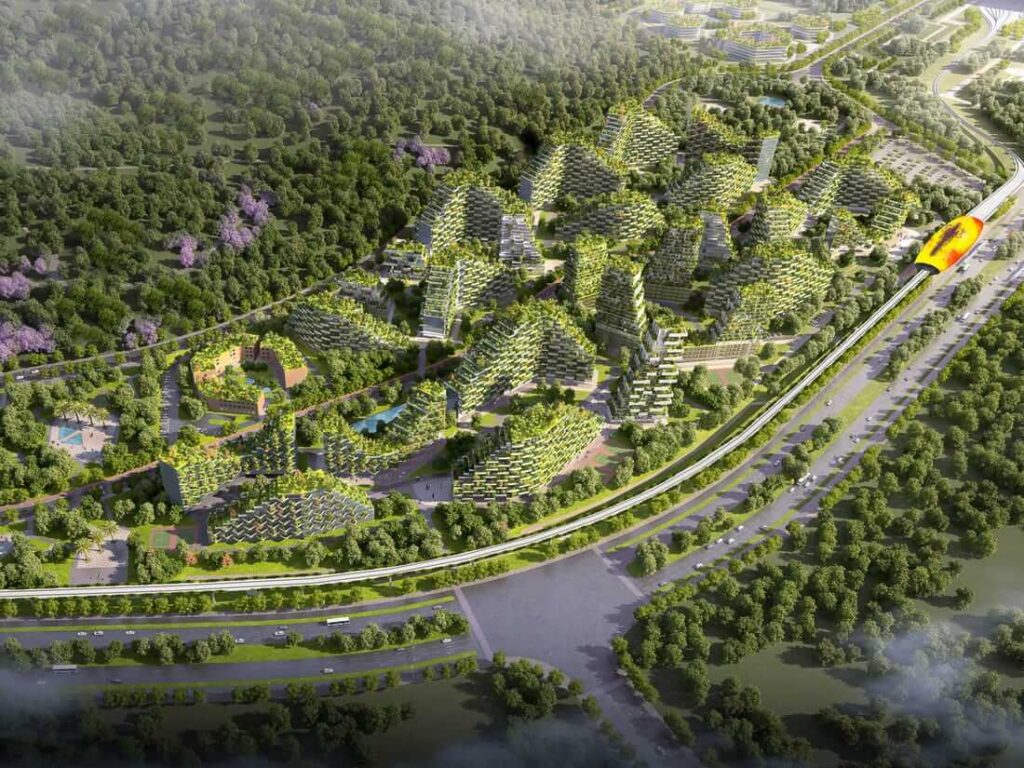 source: insider.com
This smart forest city is situated in a futuristic orchard in the middle of the Riviera Maya, though along with that there is a river in the city which will provide the sufficient gallons of water for the humans habitating over there with their families. For easy plumbing and piping systems mostly the building areas are kept nearer to the river. Though construction for groundwater level is done finitely, during the rainy climate they can restore the rain water in that manner, after that it will pass from the treatment before reaching the consumers. As we have discussed, forest cover has the equivalent area to within the building area.
According to a survey in the hotels of Cancun Mexico it is found that the water available there needs a pre-treatment before serving it anywhere else because many travelers who have visited have suffered from diarrhea. It has been also stated that direct consumption of that water could lead us to several diseases, while talking about the vegetation it is safe for planting purposes. For that problem they have even increased the effectiveness of the water filtration process.
Electricity – Solar Energy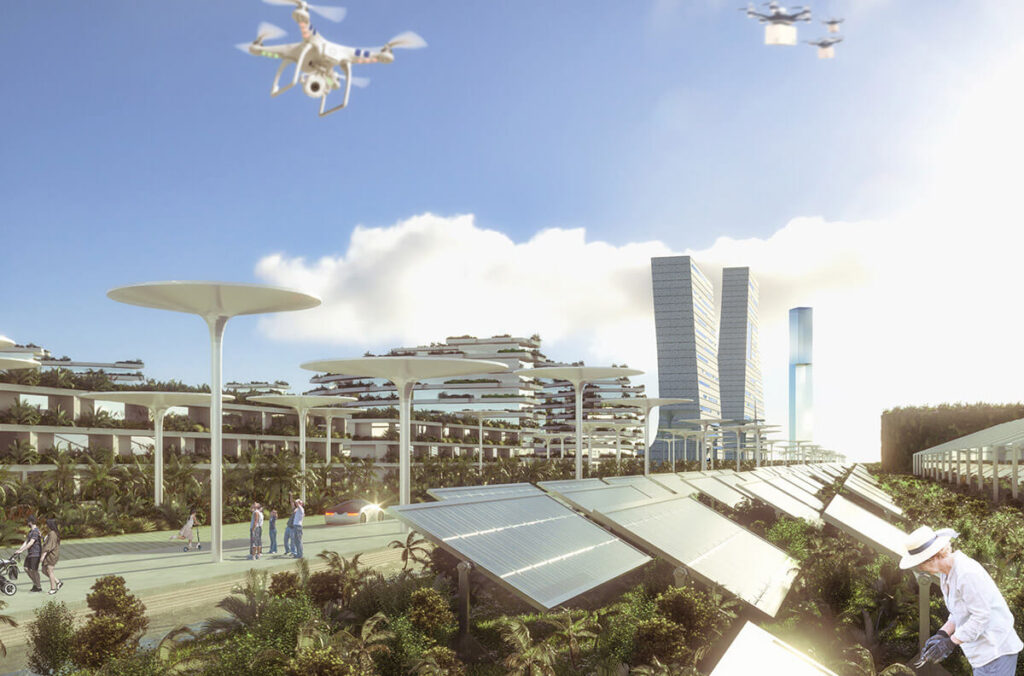 source: worldarchitecture.org
 We are looking forward to an eco-friendly environment, thus producing electricity by burning fossil fuels like coal will make it un – eco – friendly for that this forest city has come up with the solar electricity generating processes. Solar panels are installed all around the city whether it is the rooftop of your home or a street signal. Those solar panels are capable to store a large amount of renewable energy which can be then emitted with the help of transmitter fitted in the panel to convert solar energy into electrical energy, the energy produced and emitted here is 100% eco friendly, it has a good durability, good capacity, and most important it can fulfill residents needs of urban era easily. The only disadvantages of solar panels are they are hard to maintain and they are a bit expensive, rather than that it is the best usable product to create eco friendly electricity.
Food and vegetation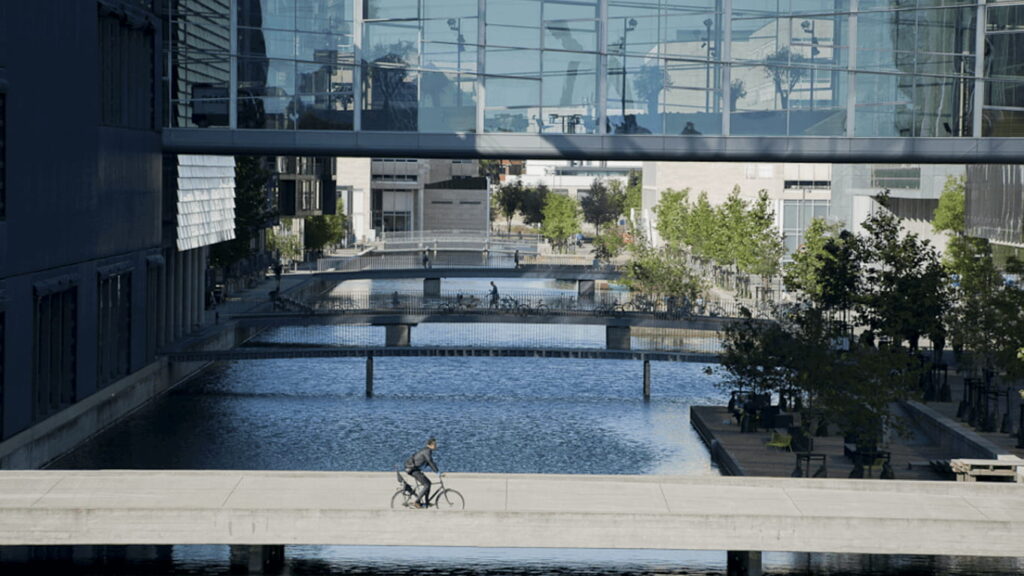 source: pinterest.com
Forest cover of the city provides utmost facilities for planting any type of herbs and shrubs. Thus, the field is the most appropriate field for vegetation. People residing there have their own separate garden or lawn where they can do irrigation. Water is supplied by a water channel which is fed by the groundwater. This water is treated with a desalination tower, it makes the vegetation pure and safe, though you don't need to add extra vaccination or medicines on plants to grow as the climatic change is in proper manner it won't damage your crop irrigation, it will moreover enhance the process for your naturally grown vegetation. If everyone starts irrigating different types of crops as per the season then they can help each other by sharing, even though no shortage of crops will be observed then.
Various types of architecture are built in every part of the city making it a beautiful and natural place. For achieving a better and eco friendly environment the materials used for building the architecture of the city is also eco friendly. The materials which are used mainly for making forest city Cancun are listed below:
Bamboo
Bamboo grows way faster than any type of wood thus it has massive strength and durability one can use bamboo for the purpose of framing the layout. It has the ability to replace the modern available products like concrete bars and RCC bars; along with its admirable properties it is inexpensive and available in nature too. Though construction made with bamboo has the power to resist even the stress and strain produced by earthquakes.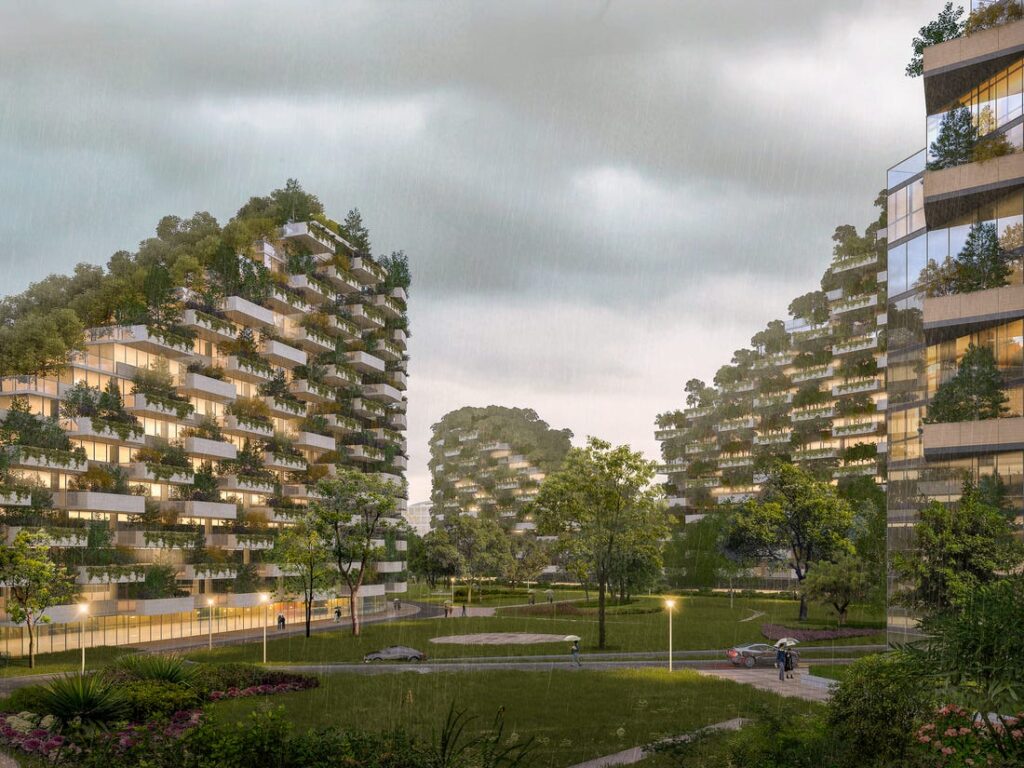 source: insider.com
Recycled plastic
Concrete requires many natural mining activities to be done just to get the required materials, but instead of that researchers have found out a way to get rid of it by creating a concrete filled with the recycled plastic and all other stuff containing plastic. This process did not just help in reducing greenhouse gas emissions furthermore it has reduced the weight. The best usage of such concrete is done in clogging plastic waste in landfills.
Mycelium
You can say it as the most futuristic material for constructing an eco-friendly structure. This material comprises the root structure of fungi and mushrooms. If treated properly then mycelium can come up with its utmost properties and then you can create a strong brick out of it or lightweight strong steel or you can try any of the shapes you want.
These all constructions are made by using ferrock and ash they are nothing but eco friendly versions of rock and cement. You would like to have a visit over there as the look and environment of that city is so attractive that no one could say no!