Mirrors are symbols of reflection, beauty, and contemplation. No decor is complete without a mirror. Hallway Mirrors are nothing but decorative pieces that have a strategic place in the house to widen and brighten the look of a specific area. Hallway mirror works in every size of space. Tiny narrow halls,  wide-open entryway spaces, and every other section of your home need hallway mirrors.
In general, select a larger mirror that takes up the majority of the chosen wall when selecting a hallway mirror. A large horizontal or vertical mirror will encourage our eyes to interpret the bouncing reflections as increased volume, giving the impression that the room is larger. If your hallway is graced with windows, think about putting your mirror across from one.
By hanging your mirror next to a window or glass door, you can deceive the eye into thinking your room is bigger and bounce light into every area of it. They are a style statement of your interiors. They are functional and decorative. Hallway mirrors have the purpose to become the center of attraction. Let's check out some interesting hallway mirror ideas to enhance the decor of your home. 
Entryway Hall Mirror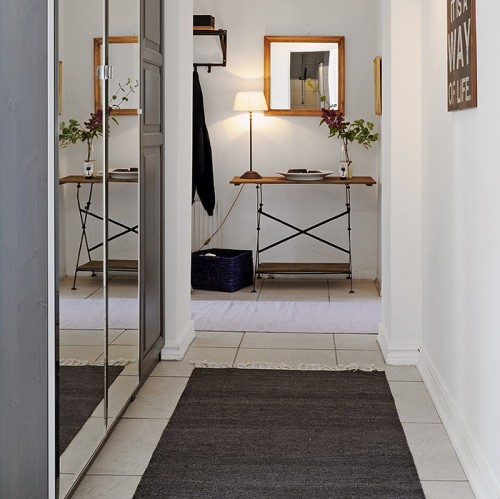 source: shelterness.com
It's crucial to design a welcoming and pleasant entryway because it serves as guests' initial impression of your house. A simple mirror may make a significant difference in the way a room feels. The entryway is usually one of the narrowest spaces of your home.  A strategically positioned mirror can instantly widen its appearance. You can opt for a stylish frameless design or any other sleek design for the entryway mirror.
Although they serve a purpose, hallway mirrors don't necessarily have to. The ornate mirrors are beautiful but possibly less useful types. Another design can be little rectangles arranged in a modern design. A golden color frame and finish with little uneven-shaped rectangles is a new design in your decor. The gold finish adds a striking ornamental element while drawing attention to a large number of tiny bits. 
Mirror Above A Console Table
Choose to place a classical mirror above a narrow console table for a traditional method to accessorize your hallway decor. This arrangement offers a classic way to improve the interior of this compact area. It no longer feels like just a place you pass through without giving the interior any thought, but rather like it is better dressed and has more of its personality.
A French-style decorative mirror that contrasts with the neutral color scheme of the corridor draw the eye. An effective way to draw attention to a mirror and make sure it stands out is to paint it a bright or contrasting color. A small console beneath it has storage drawers for keeping things hidden. To create a warm first impression, decorate the top with fresh flowers and pictures of your family.
Simple Round Mirror For Minimalistic Look
source: allhomeliving.com
When square footage is limited, try to keep the decor as uncomplicated as possible using a straightforward mirror design and a soft color palette. A brilliant white hallway has a fashionable circular mirror with a sleek floating shelf underneath.
Choose a mirror with a frameless shape to ensure that it doesn't protrude too far from the wall, keeping it from encroaching on the little area. A thin shelf or ledge that matches the black mirror and offers just enough room to hold a few trinkets complements the piece. But it can't be overrun with things—over cluttering a tiny area is crucial.
Window Pane Mirror Design
Window panes are a common option for confined areas. To enhance architectural detail, they create an optical illusion that appears to be a window. Of course, we are aware that there isn't a window there, but even so, it provides enough depth and interest. As a result, the hall becomes a more useful area.
An exceedingly thin console table serves as a platform for a copper lamp, which is delightful on many levels, in this chic grey hallway design idea. First of all, the metallic finish reflects light. Second, standing in front of the mirror increases the reflection, enhancing the layout's shifted perspective.
Multiple Mirrors To Enhance The Overall Look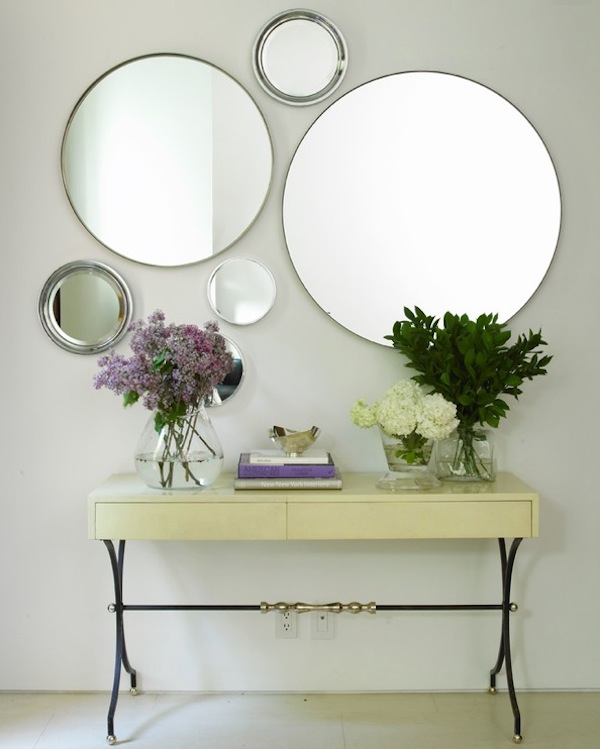 source: homedit.com
In a narrow hallway, use more than one mirror to create a statement. Don't limit yourself to just one. A space is balanced by including multiple designs, which also considerably brightens gloomy decor and gives the impression that small spaces are larger.
Install several mirrors on one wall. It makes a small corridor appear larger. You can use more creativity to make the most of this small hallway area. A row of strategically positioned mirrors suspended from conventional wall hooks reflect light and provide the impression of a larger room.
Color Theme For Hallway Area
Look for a mirror that may welcome a tinge of warmth to the hallway color plan without clashing in a corridor that appreciates color. In addition to being quite trendy, warm brass or gold framed mirror goes beautifully with practically any color scheme.
Sculptural LEDs should be added, such as Wave or Ribbon. It will be helpful to heighten the drama. And to further brighten your plan, sleek metallic finishes.
Add Balance With Mirror and Wall Paneling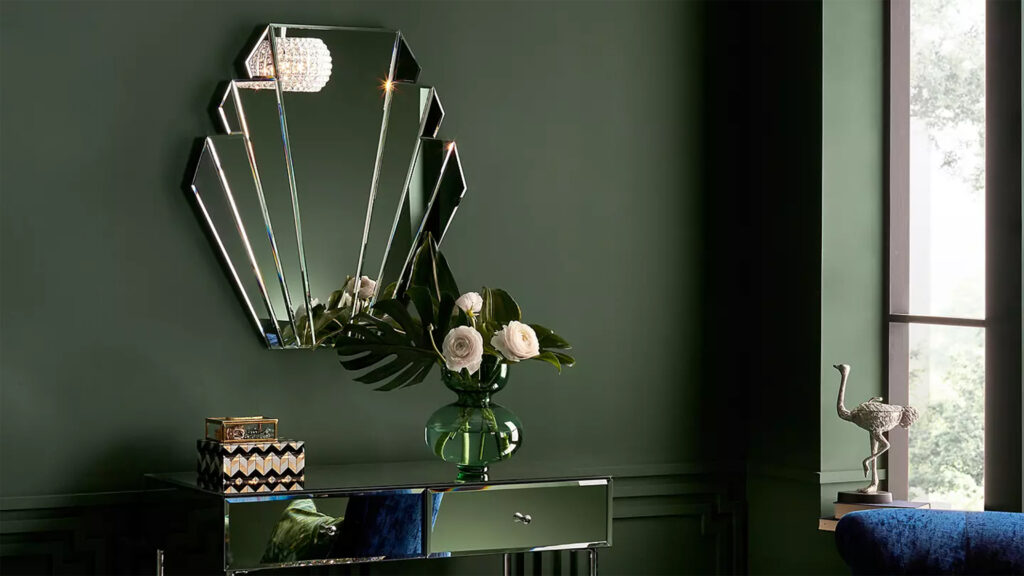 source: homedit.com
A brilliant design technique to make a small corridor appear larger is to use color to divide the walls. In this design,  You may have the lower half of the wall in grey color wall paneling. Its dove grey paint color is complemented by the stylish radiator cover.
The upper half of the walls have white color paint to produce a stunning color contrast. To balance the color palette, use a painted white mirror design. Likewise, the ornamental feature on the blank walls also adds to the classic appeal.
Hallway Mirrors With Metallic Finish
A tiny corridor will always benefit greatly from the light reflection provided by hanging mirrors. It makes you feel lighter and more accommodating. Mirrors are really useful in cramped or dark locations, which is why choosing a stylish metallic finish for that frame will enhance their ability to reflect light.
Space may be at a premium in the stark white corridor, but style credentials are not! Visitors are welcomed by a big silver-gilded wall mirror that elegantly reflects light into the enclosed stairs.
Multi-purpose Mirror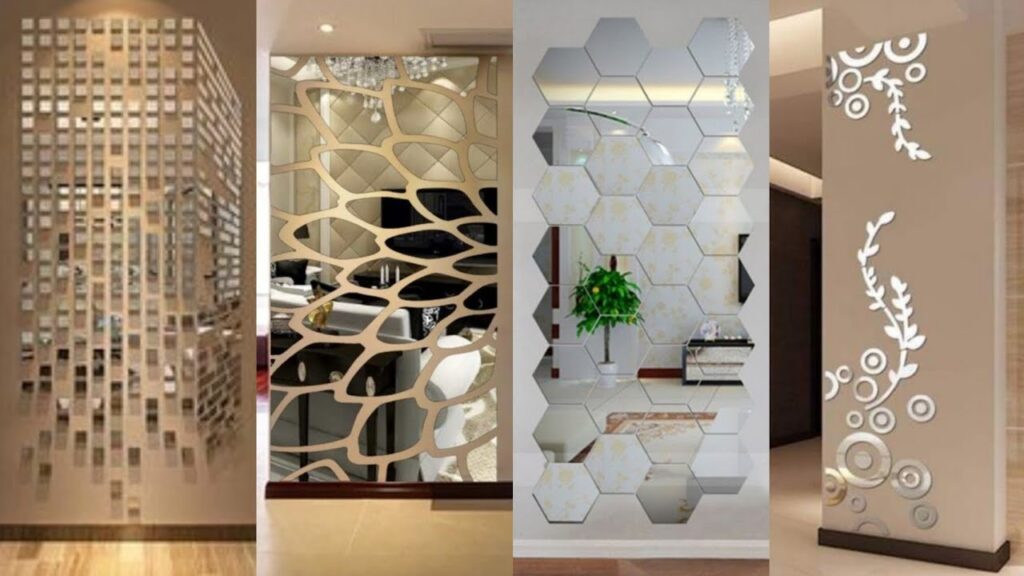 source: pinterest.com
When you want to keep the hallway uncluttered, a mirror with hidden storage in the back is a smart storage option. A clever method to keep things without jeopardizing the rooms aesthetic is multifunctional storage. All the beneficial features of a hall mirror are offered by a wall-mounted storage cabinet with a mirror front. 
It also functions as a hidden shelf for keys and other small items, which is a benefit. In a narrow corridor, where having fewer items on display may assist to keep the area feeling less cluttered, a concealed mirror unit is a terrific choice.
Turquoise Color Theme Mirror
The vibrant Turquoise hallway theme raises the bar for a coordinated design. You can select  a particular turquoise color scheme by matching the tonal hues of blue in everything from the wall colors to the accessories and even the mirror. The Mirror frame color and the wall color are the same in this theme. It will assist in blending the theme naturally and avoid drawing too much attention. 
Add a thin ledge for practical storage in this clever mirror design. Add the small indoor plant with the same color theme planter near the area. The overall decor will increase the curb appeal of the room.
Conclusion
Consider how you use the space before selecting a hallway mirror for your home. Which style you require will depend on whether you want something completely decorative or also need storage. Choose the largest size that your budget will allow because it will add depth. Mirrors will also make artificial lighting appear considerably brighter when there isn't any natural light present since they reflect the light into the room.