Hospitals are by far the most stressful places and not just for the families of the patients but for doctors and staff members too. With so much hassle already going around, positive and alluring interior design can help ease off the level of stress and anxiety within hospital spaces.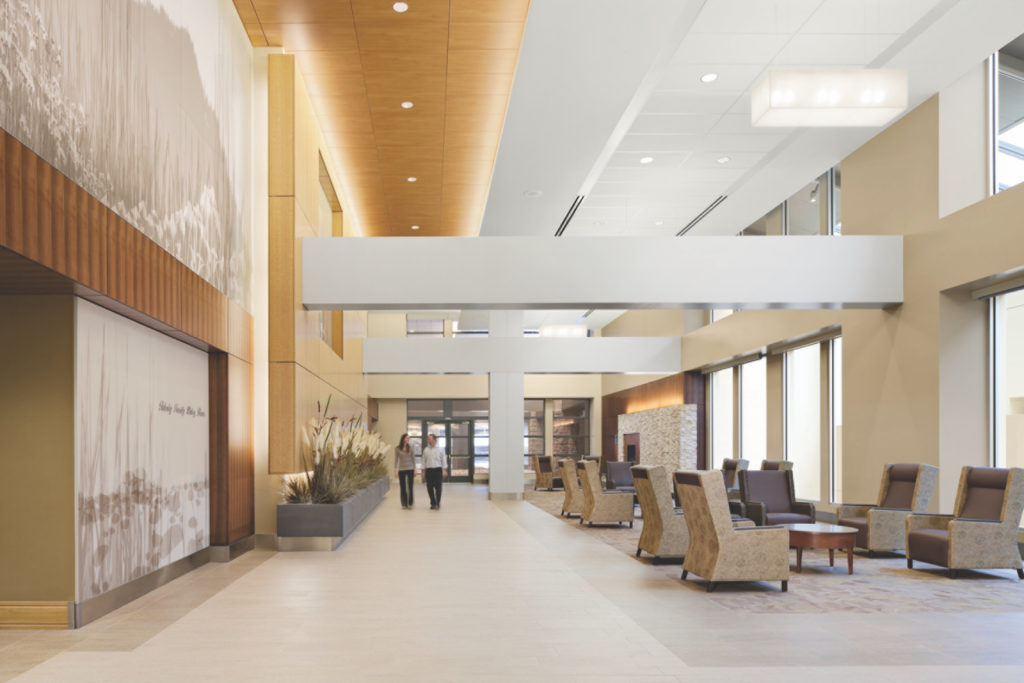 source: pinterest.com
Patients, family members, and doctors are already under so much stress from the moment they step inside the hospital and interior design shouldn't add more to the anxiety instead serve as a mode to lift up the mood by creating a vibrant and energetic environment.
So let's jump straight into the discussion without stretching it any further and see how interiors can contribute to reducing stress and anxiety at The Architecture Designs.
Designing a Hospital Interior
Lighting is the key
source: cloudfront.net
Natural light is of the utmost importance in healthcare premises since a lack of natural light can have negative effects on both the mental as well as physical health of people inside. To ensure natural lighting, large open windows that allow ample light to spill in is very crucial.
Moreover, natural light also sees to it that bacteria growth isn't an issue since sunlight can kill many bacteria, and hospitals are sensitive places for bacteria to thrive. Lighting is important for all including patients and doctors.
Apart from natural lighting, hospital interiors need bright light at all times. Imagine being a patient and waking up to darkness or being a doctor who has just woken from his half-sleep to rush a patient to the ICU and finding the dim light to be annoying and irritating. While too much light in a patient's room can also trouble their sleep. Therefore, always ensure that lighting inside a hospital is balanced.
Furniture for waiting rooms and staff members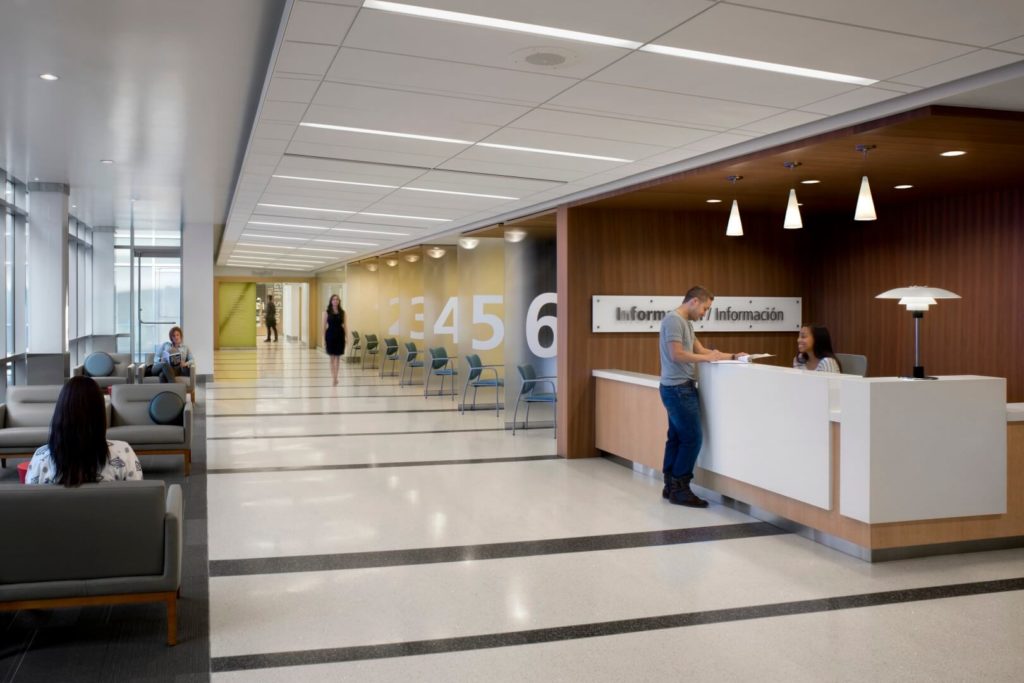 source: hmcarchitects.com
Hospitals are places where you'll find either family members or staff members falling asleep on a couch or chair since sleep isn't the first priority. However, make sure that family members waiting all night long just to inquire about the health of their loved ones are at least getting comfort. Also, staff members like receptionists need to stay awake all night to see that the patients are well. Since a lower comfort level can increase stress and anxiety for all such people, make sure to equip them with comfortable furniture.
Space Organization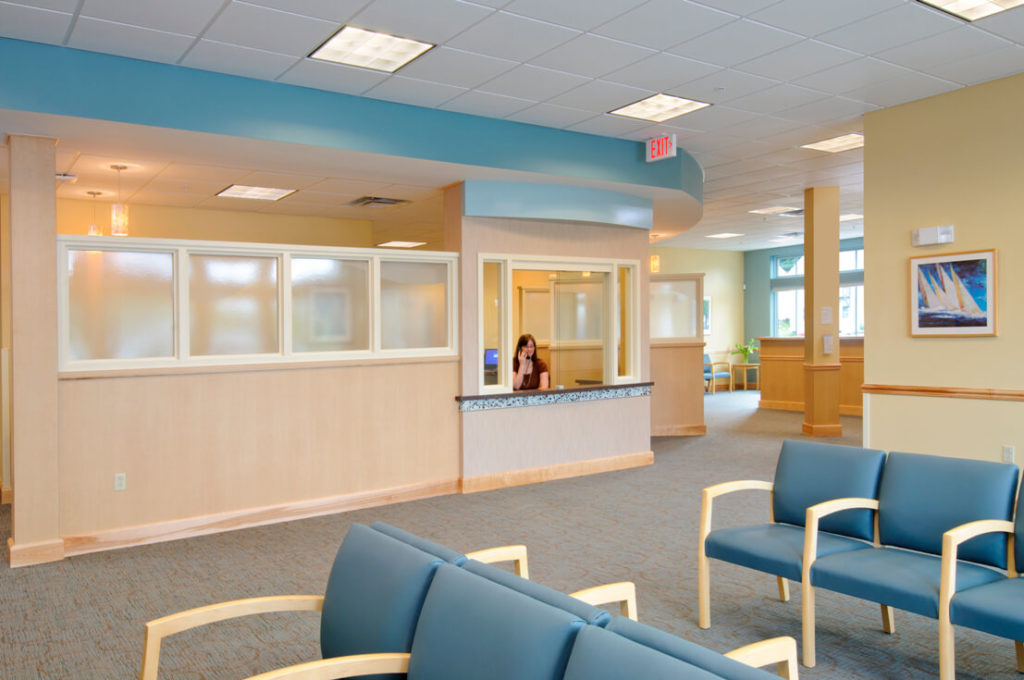 source: wright-ryan.com
The design and space organization is directly proportional to the staff efficiency which again relates back to their stress level. When organizing a hospital space, it is to be noted that doctors and nurses have ample space available for free movement. Also, family members who are always rushing out to the medical store or fruits shops every now and then need space for swift movement around the hospital. Hospitals are places of rush and more space means less stress for everyone.
Positive Colours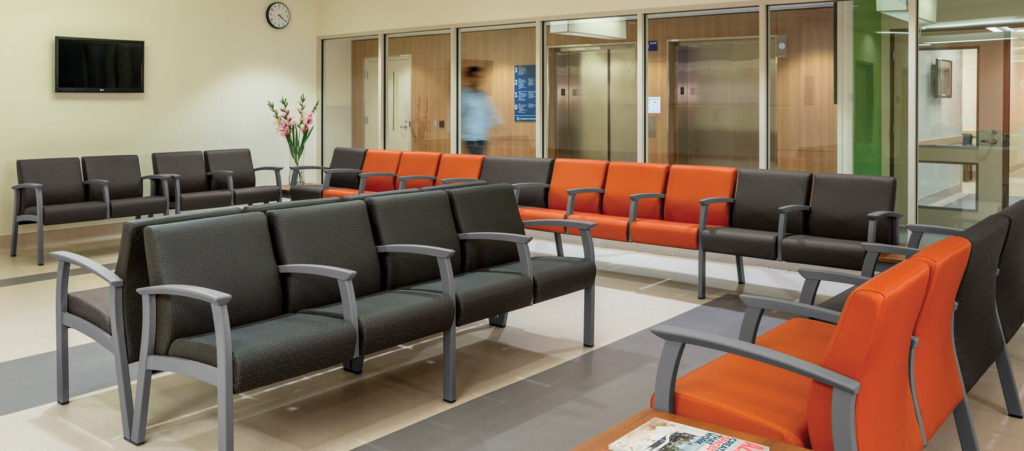 source: globalfurnituregroup.com
Studies already suggest that color can have a significant impact on the psychology of an individual. While some colors can have a negative impact on the overall health of an individual, some colors can have a soothing effect. Similarly, using the right color in hospitals can reduce the stress and anxiety of caregivers and patients. Colors carry emotion and offer a sense of calmness and relaxation when chosen wisely.
The most preferred colors are shades of blue, green, and brown since they allude to nature and can reduce stress levels by creating a calm environment.
Including art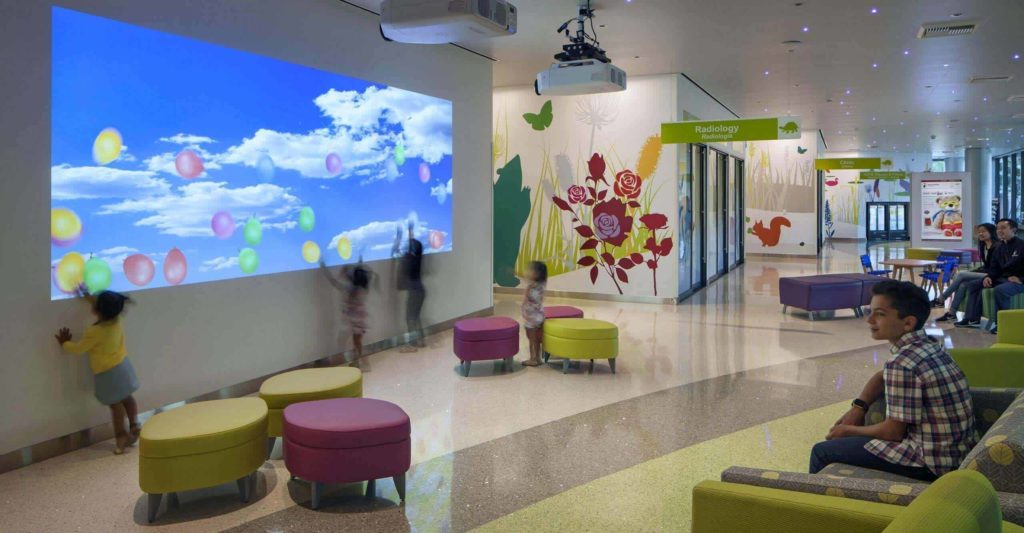 source: pinterest.com
Art appeals to the mind as nothing else does and a fine piece of art can take away all your stress, pain, and anxiety. A study by Chelsea and Westminster Hospital even found that patients undergoing surgery, chemotherapy and other extreme procedures had improved mental health with visual art installed to take their mind off their sufferings.
Studies also show that women undergoing labor can get their minds off their pain when they have a masterpiece to catch their attention.
Signage and Directions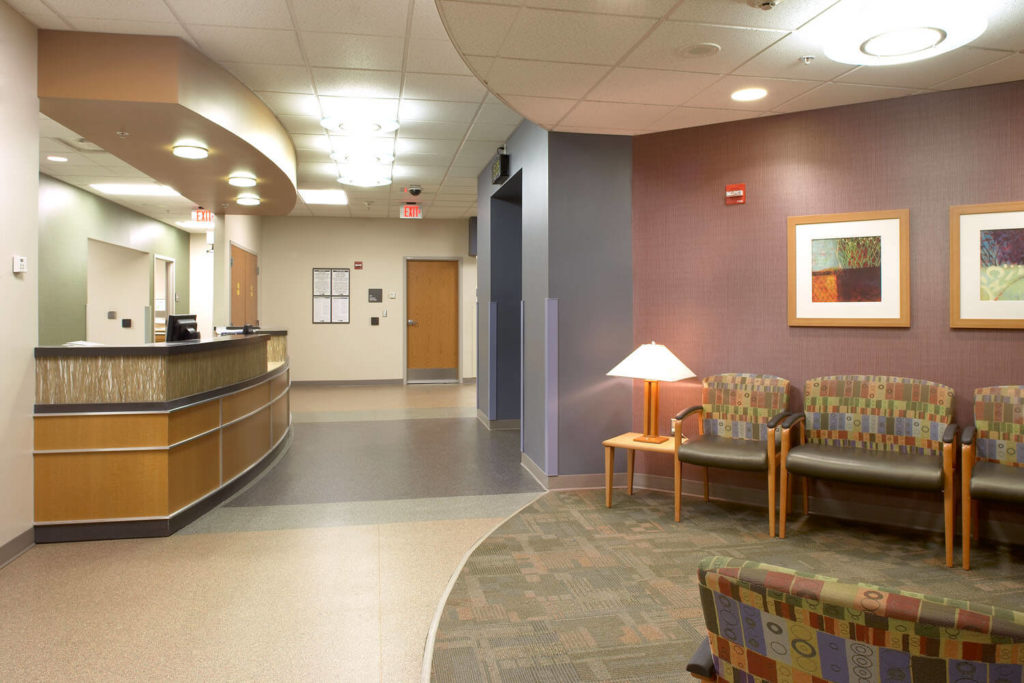 source: hga.com
While there is so much rush with everybody so busy, it can be hard for visitors or at times even staff members to locate a certain area within the hospital and this eventually acts as a stressful factor. With so much already going on, hospitals are no less than mazes and it may get frustrating to be lost in the hallway figuring out where to go. Also, time is of the essence for everyone in hospitals including visitors and well-designed navigation with signage and directions can ease off this stress. Moreover, clear directions can be of great help in case of emergencies.
Summing Up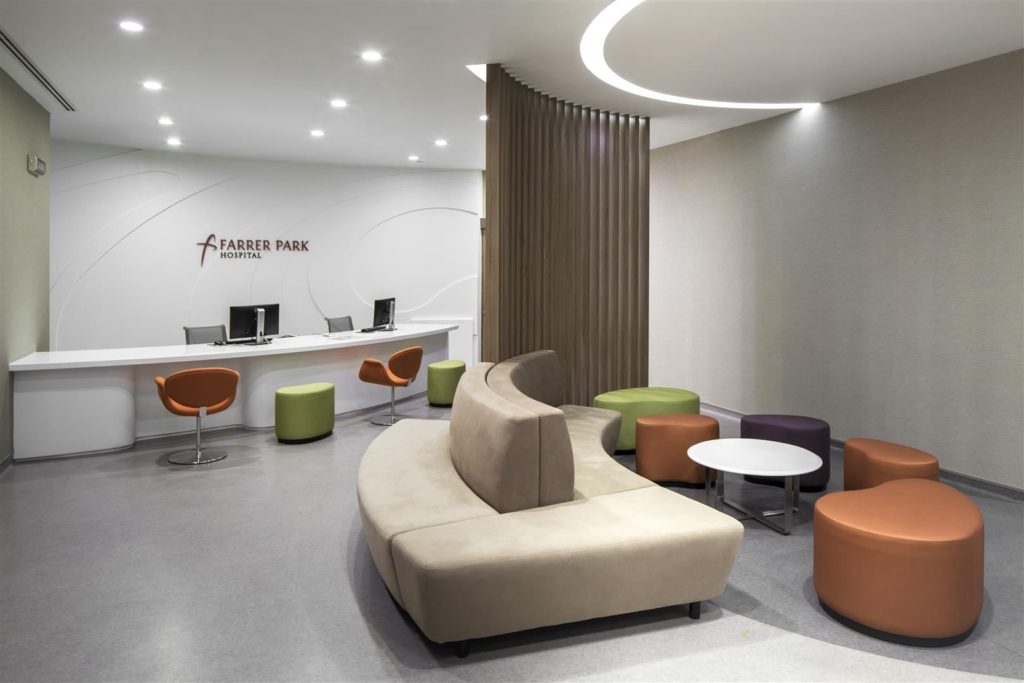 source: pinterest.com
While hospitals aren't the best place to flaunt interiors, it can go a long way in reducing stress levels and anxiety inside hospitals. The design can significantly uplift the mood of an individual and create a sense of positivity. Also, it has a direct impact on the employees and can increase their productivity and efficiency.