Your reception area is the first impression every visitor has of your company and brand. It is a waiting area for all guests until they are directed elsewhere by the person the have an appointment with. 
Things that all reception areas have in common:
Comfortable chairs for guests to use while waiting
Coffee tables for magazines
Comfortable chair for receptionist 
Your reception area will differ depending on the nature of the business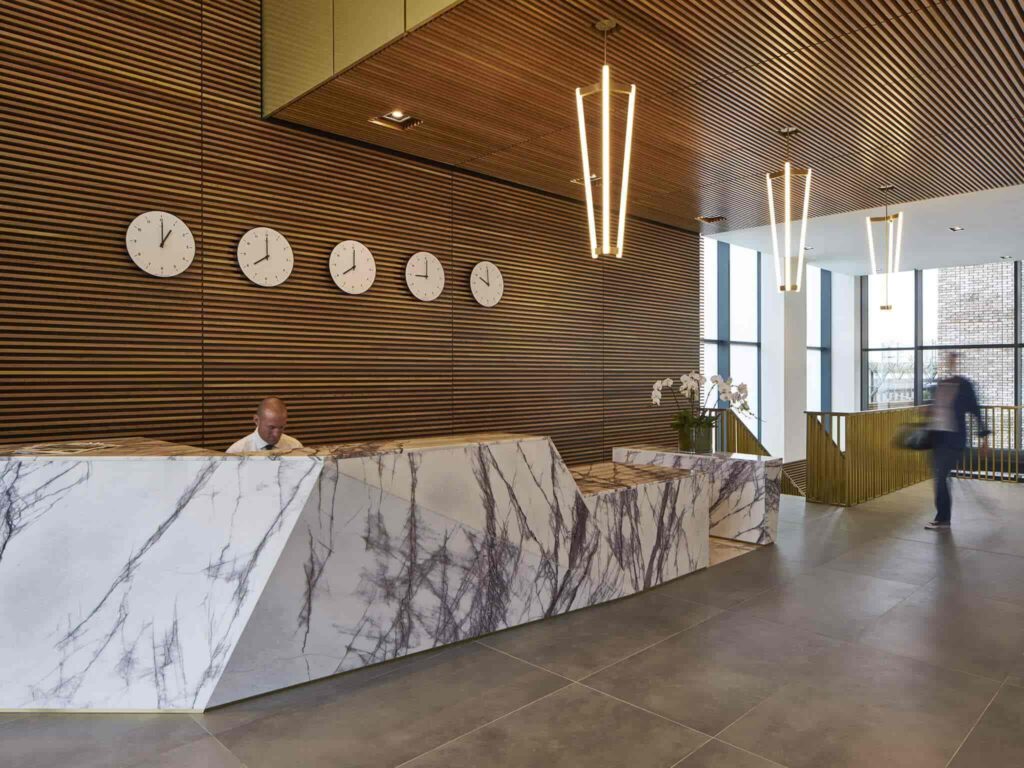 source: independent.co.uk
The reception area of a doctor's office or any medical institution will have a greater number if chairs to accommodate a large group of people waiting for medical care. There must be a consideration for disabled access and an available public restroom close to the reception area.
A paediatrician's reception area will be colourful and welcoming to children of all ages. A play area with toys, books or a TV with age appropriate content should be available to entertain and distract young patients.
Experiment with various elements in your reception area such as:
Colour
Experimenting with colour is a fun and inexpensive way to liven up your reception area. A neutral colour will exude a sense of calm while bright colours are a great way to pump up the energy. Bright and bold may be a good approach for a brand appealing to a younger demographic.
Don't feel pressured to stick to brand colours in the reception area. The space should be free and open to expression and not feel like a business card.
Light
source: pinterest.com
Natural light warms up an area ten times better than artificial light. You could move the furniture around to maximise the available natural light and you can switch out those harsh fluorescent lightbulbs for new generation ones that produces a different type of light.
If space and budget allow, you could consider renovations to include additional windows or even a skylight.
Space
All is not lost if your space is limited. You can remove clutter, downsize, and modernise the furniture for a more spacious look and feel. Your receptionist should be well trained to keep the reception area moving by directing visitors efficiently to avoid congestion in the waiting area.
Decor
Décor and accessories offer that final touch to any reception area. There is no set formula to achieving the end goal for this. Interior designers play around the textures and patterns to create a look that compliments the space and structure of your reception area.
Greenery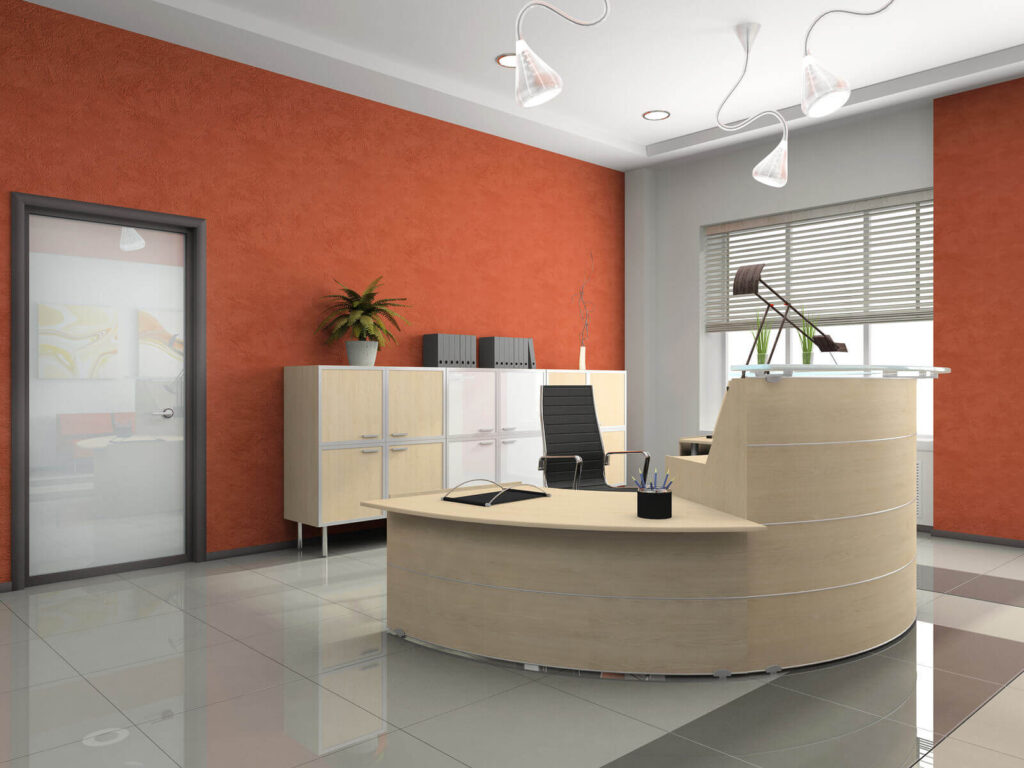 source: homeguide.com.sg
Bring some of the outdoors indoors with the help of some low maintenance pot plants. Besides the health benefits, a pretty pot plant will add great ambience to the room.
Photo by mentatdgt from Pexels
Quick Wins
Branded sweets
Friendly reception staff
Branded pens to take away
Large pot plants
Water, coffee and tea for guests
Disabled access
Visible Wi-Fi details
Suitable desk height
The personal touch
Welcoming reception staff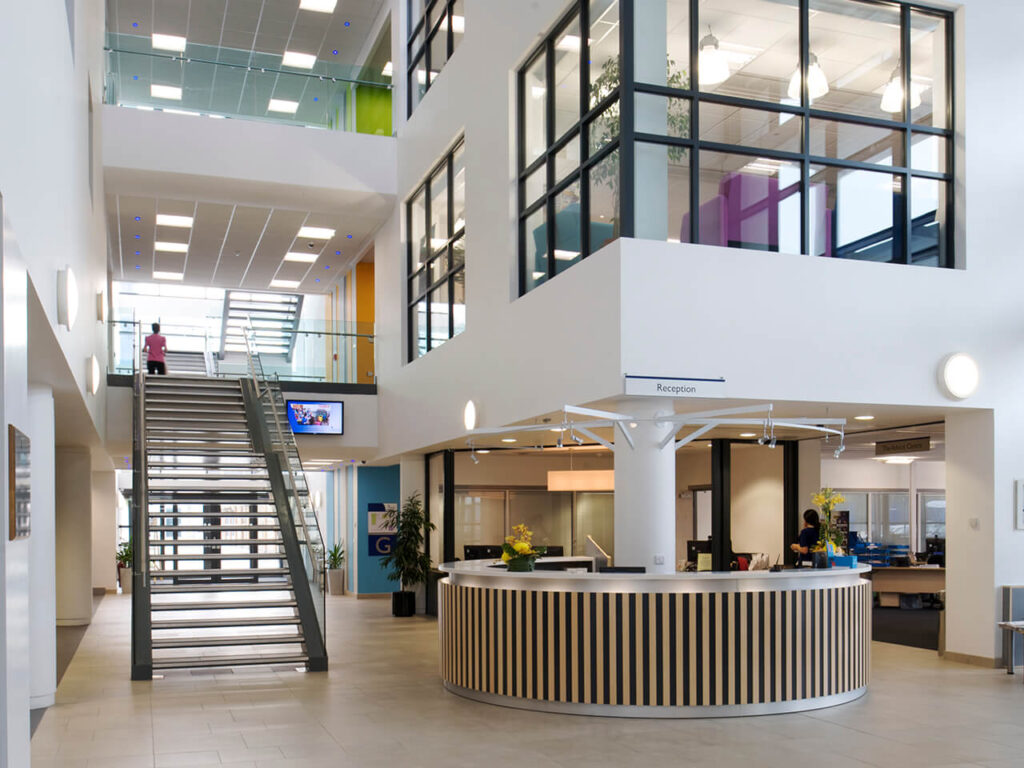 source: envoplan.co.uk
A huge component of your reception area are your reception staff. Your receptionist is the first spokesperson for your brand that a visitor meets. Their appearance, tone of voice and interaction with all guests needs to have a welcoming, friendly, professional and competent feel.
This translates differently for each business. Not every receptionist needs to be dressed formally or wear a headset. Each company has their own demands and their own clientele to take into consideration when preparing the receptionist for the role.
Provide entertainment
In this fast-paced world, no one likes waiting. You can however make the wait less tedious by providing your guests with some entertainment in the form of TV, magazines and a selection of coffee table books to page through. If the area allows you could go one step further by providing phone charging facilities, enabling guests to keep their phones charged on the go. Small investment for big wins, and your visitors will thank you for it.
Offer Refreshments
Providing refreshments shows a thoughtful consideration for your guests. Your staff would not have to take time out of their day to serve your guests, having a well-stocked buffet area is sufficient.
4 things every reception area should incorporate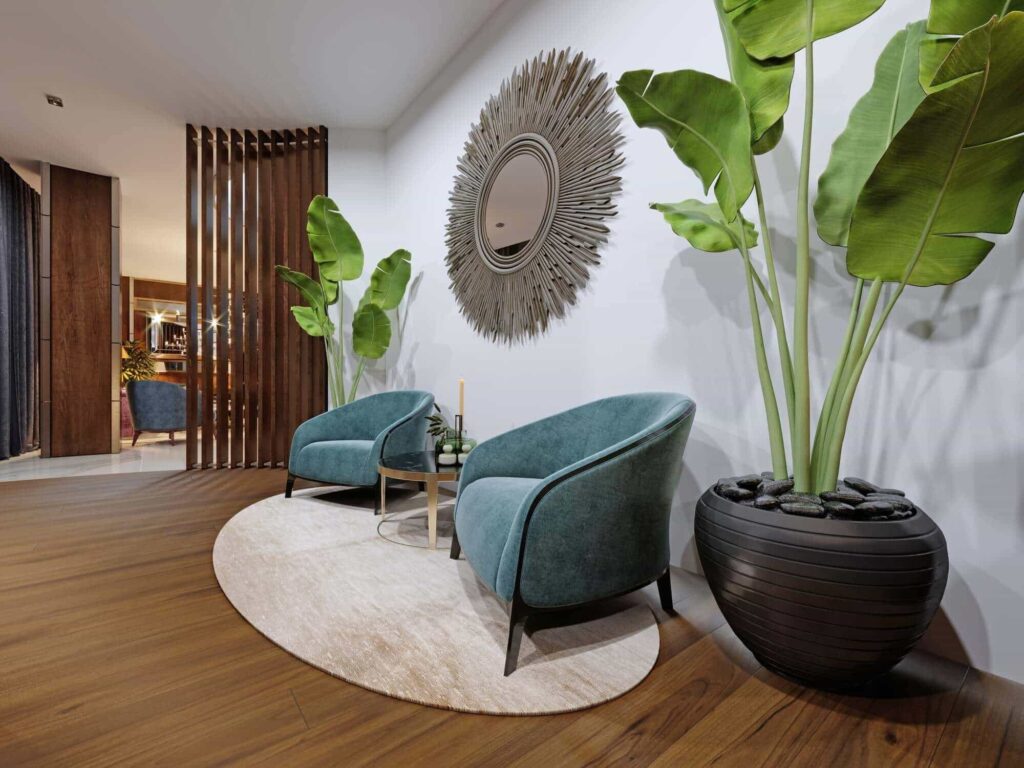 source: pinterest.com
A well planned out layout
The area should be uncluttered with the furniture spaced out so that visitors are not on top of each other. The reception desk should face the front door with enough storage space to accommodate deliveries and supplies.
Durability
Flooring and furnishings should be able to withstand frequent use and should be stain resistant. Use mats and runner rugs in winter and speak to your furniture consultant about stain resistant options for the furniture.
Comfortable and stylish furniture
The furniture should stand out while reflecting the overall style and theme of the general office furniture. Your reception desk is your focal point and it should match other items such as your office desks throughout the building. Artwork should be tasteful and displayed with care.
If creating a welcoming reception area still feels a bit daunting, you can speak to an interior design specialist in your area for assistance.