Introduction
With the continually diminishing size of the building, more and more individuals aim for an open floor house plan strategy to create the most out of their square footage accessible. So what is an 'open-floor plan,' and its design features, pros, and cons? We provide you with the basics of an open floor plan to help you make a smarter decision on your house's architecture and help you out.
What is the open floor space?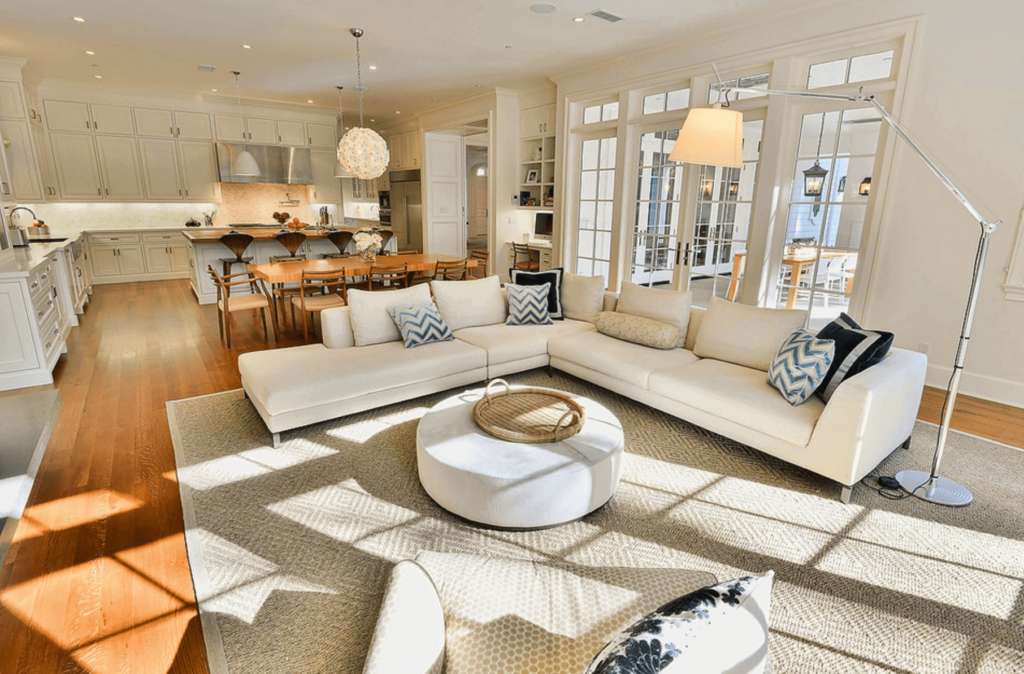 source: pinterest.com
Houses were designed earlier, bearing in mind that each space has its purpose. The master bedroom was supposed to be structured; the living room to lounge and entertaining was different. With the growing room cap, however, homeowners begin to search for more affordable alternatives. And thus, the idea of the open-floor made headlines.
It is all about breaking down those barriers in the building, much as the term 'open-floor plan' implies. By avoiding walls or separators in the architecture, this floor plan encourages space, making it an optimal strategy for tiny houses. 
The open floor living gives us a sense of clarity and facilitates a greater traffic flow in the building. Today's open floor plan, however, not only shows that space is economically sensible, but social values and comfort also impact it.
History of open floor space
source: daneeti.com
A comparatively recent trend in suburban home architecture is an open floor plan.
Pre-World War 2, most households used a straightforward floor plan in which an artery was supported by the main corridor that provided access to branch rooms serving different purposes. The kitchen's position was commonly at the rear of the house in these floor plans, so it was used as a coverage area and not for social interaction. For food delivery or as an entrance for workers, a rear door outside the kitchen is allowed.
In the post-war years, the veritable open floor living started to take effect. An open concept floor plan provided style versatility, now beginning to incorporate the kitchen. And it was possible to maintain an eye on children during the planning and cleaning of meals. In the 1990s, open living spaces, notably in suburban settings, became almost the standard for new buildings. 
The theory is that it will be convenient to have an open layout, but people know that they have to ensure that they have to arrange it, or the space would quickly become cluttered. It may sound surprising, but as a means of streamlining how they live on a routine basis, individuals are heading back to separate areas. Still, an open concept floor plan is strongly coveted when looking for a new home for most buyers.
Open living spaces allow the coexistence of independent activity and social togetherness: family members may do their activities and engage with each other. And the kitchen, dining room, and living room merge into one massive party area for gatherings.
The spaces which the open floor house plan covers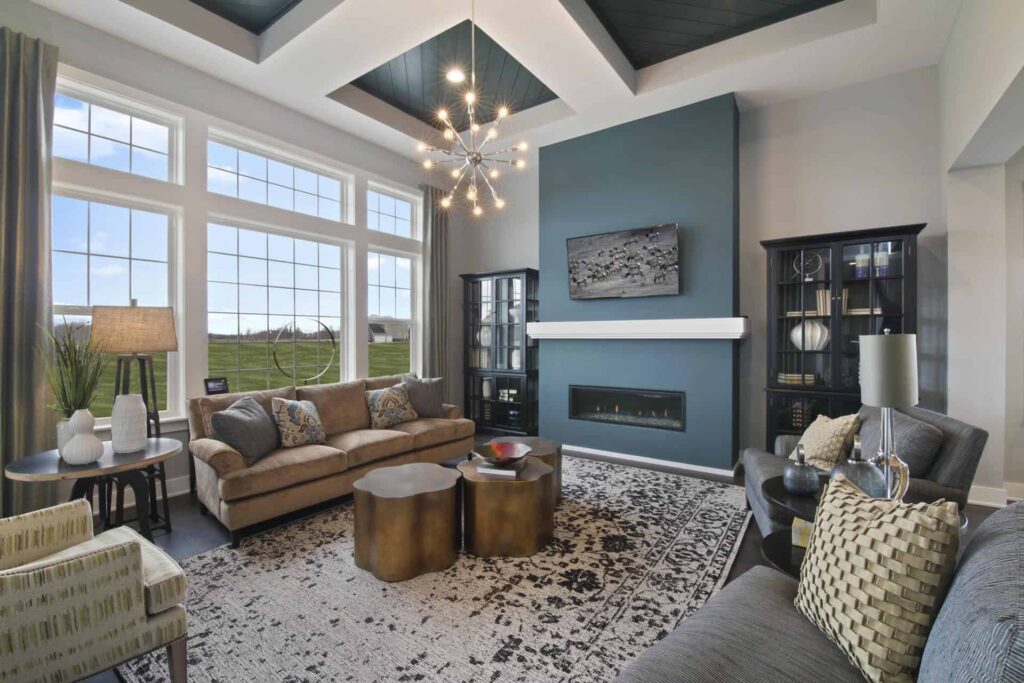 source: trendir.com
An open concept home does not mean that all rooms are interconnected. Neither does it mean that between the bedrooms that there were no walls at all. Open living spaces are specific to communal areas only.
The spaces not included in the open area plan are Bathrooms, powder rooms, bedrooms, and office floor plans. Open living spaces will commonly contain a variation of a kitchen, dining area, and living room.
Kitchen and dining room: One shared space also shares a living and dining area. A kitchen island or peninsula often serves as a significant dividing line in both places.
The dining room and living room: One common area is a dining area and a living room. In the shape of a short series of stairs, two contrasting colors of paint, staircases heading to a submerged area, or railings, the visible dividing line might be.
Kitchen/dining/living room: In an extensive, broad room, perhaps with a great room, all three areas can be associated.
Ways to accessorize your open floor plan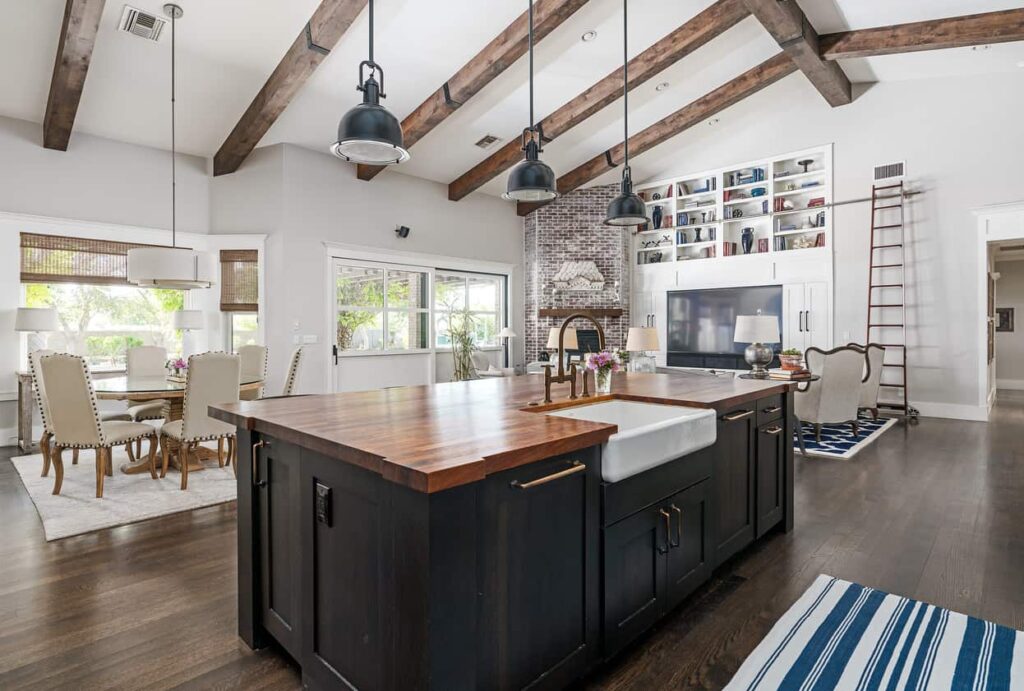 source: homestratosphere.com
Since the open-floor layout does not include walls to divide rooms, segregating the open spaces can be very difficult. Therefore, a great place to introduce is to segment the region according to its operation. To mark the beginning of the living room, place a sofa and a console table just outside the kitchen area. Now, by putting a floor-rug in the middle, mark the space.
Please search for a central focus or build one while assembling furniture, and then organize the furniture pieces around it. E.g., if a lovely gallery wall is in your living room, make it into the point of focus by putting the bigger chunks around it. 
In contrast, illumination also aids in identifying the room's unique activity areas. Place a dining room table in the room, for example, and support it with a lamp or chandelier necklace.
Advantages of open floor plan
There are multidimensional advantages of an open floor plan. 
First and probably most important: It enables the look and sound of a tiny apartment considerably larger. 

The idea of removing the walls means that space is infiltrated by ample sunshine, eventually rendering the environment look lighter and expansive.

A tiny apartment with an even smaller kitchen outside the living room, for example, can seem crowded, as contrasted to an open kitchen overlooking the living room with no separators.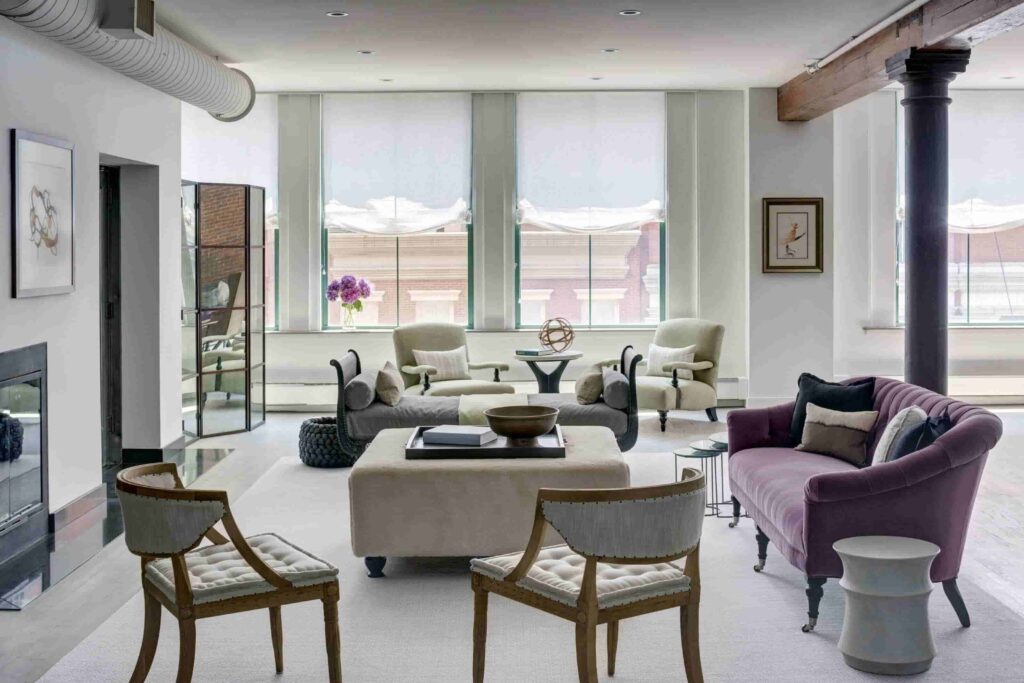 source: architecturaldigest.com
Besides, as you can chat while whipping some tasty treats in the kitchen, entertaining guests would be very convenient. 

However, when building an island or a table, do not neglect to separate the two rooms. It will also encourage you to keep a watch on your children while you operate in the kitchen.
Disadvantages of open floor living
While the open-floor idea encourages space and helps the room look more comprehensive and adopted, several problems come with this style. 
Because the open-floor plan disregards the use of partitions, it could become a significant concern to regulate the house's internal climate.

Also, this layout's no-wall concept affects your anonymity, which makes sound management a problem as well. For example, it can be tough to chat on the mobile while your children are playing in the sitting room.

Accessible structures without partition walls rely on metal or laminated boards for protection. These are expensive to install.

Open floor living are perfect for group events, but they make it challenging to find quiet places to read or work privately. In short, they can't offer absolute privacy in homes.