The entryway is one of the first things your guests notice when they enter your home. However, despite its importance, it is a severely underserved and underappreciated field. Of course, your entryway storage unit can be small, dark, or even narrow, but did you know it can also be stylish and functional?
Under the piles of shoes and other items behind your entryway, there is a beautiful wide-open space ideal for putting away and organizing everything you drop off on your way in or out of the house. Here are ten incredible multipurpose entryway storage ideas and hacks  to help you keep your home organized.
Shoe Rack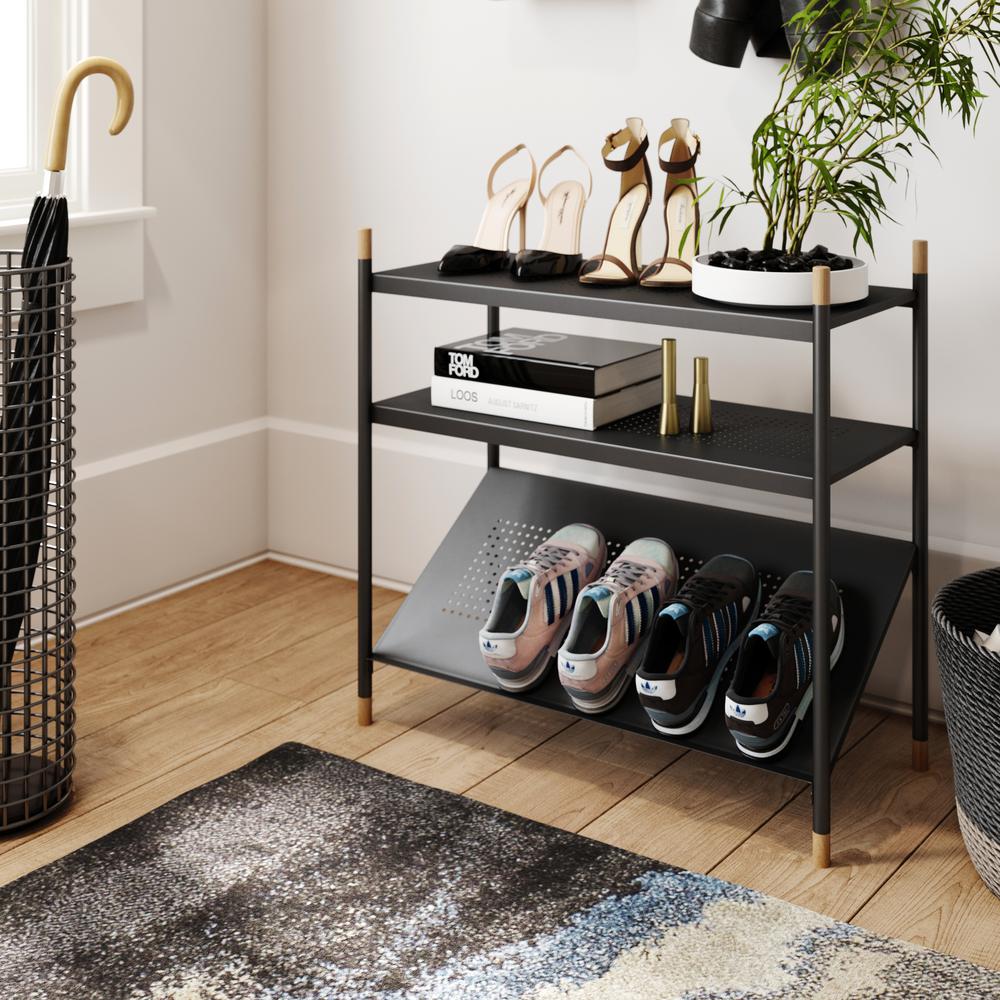 source: homedepot.com
The size of the shoe storage you require will be determined by the number of people living in your home and the number of shoes you need to keep corralled. There are some shoe storage options that function more like a bench and even include a cushion on top to make it more comfortable to sit and put on your shoes, but if you need more small entryway shoe storage ideas, vertical storage is the way to go. 
This means you won't be able to sit on the piece of furniture while putting on your shoes, but for many people, this is a worthwhile trade-off. If storage space is more important to you than where you will sit, a taller piece of furniture is the best option. 
Lost Your Key Again!
When selecting a key organizer, consider how much wall space you have available, as you can go with a simple design that only has hooks for your keys or something a little more elaborate that has plenty of storage space for other items as well.
If you have a little more wall space, you might benefit from a mail organizer, a corkboard for family messages, and even a drawer where you can drop items from your pocket.
Smart Wardrobe
The entryway is usually where everyone dumps their things. You may, however, combine order and style in this space with a simple and chic arrangement. Make sure your hall wardrobe has enough space to carry all of your necessities. Install hooks on the inside of the door to store bags.
DIY Console
Create a "window" with mirrors if you need to brighten up your passage. Install a floating shelf 3 feet off the ground and a grid of mirrors above it, leaving an inch around each to imitate window panes. Join the mirrors to the divider with good glue for a smooth, bracket-free look.
Storage-Benches
source: amazon.com
When you reach your house, an entryway accent benches is one of the easiest ways to have plenty of space to drop off anything you have with you. You can purchase a storage bench that will fulfill your needs by offering space to leave your purse, shoes, and coat, as well as a place to sit to take off and put on your shoes, as long as you have enough room in your entryway.
This is hugely helpful if it's raining or snowing outside, as you don't want to track water and mud into your house. When you're getting ready to go outside or come back, instead of sitting on the concrete, you can use the bench as a great place to rest. This also makes it convenient for children to leave their things, particularly if the bench has a flip-top, as backpacks and other items can be hidden inside and out of sight.
Mail Box 
While some key organizers have space for mail and others have space for keys, not all offer both storage options. If you use a key bowl or keep your keys in your purse, you may not require a mail organizer with key hooks underneath it. In this case, you can keep it simple by selecting storage that only provides what you need, which will take up less space on your wall and keep your entryway from looking cluttered.
Having a separate location for mail will prevent you from misplacing bills or a thank-you note that was supposed to be mailed already. Look for a mail organizer with two sections to put in your entryway, one for incoming mail and the other for outgoing mail. Having the proper mail storage will keep you from accidentally misplacing it.
Umbrella Stand 
source: nymag.com
Every home requires a location to store umbrellas so that they do not drip all over the house when you come in from the rain, and an umbrella stand in the entryway is the ideal storage solution. These are made specifically for storing umbrellas, so you won't be able to store other items in them, but if you live in a rainy area, this space is worth it.
Cushion
Nothing beats a nice soft cushion to sit on while putting on your shoes, and the best way to ensure that your storage piece has a cushion that matches its size and style is to purchase one that includes the cushion.
Cushions come in a variety of styles, including plain and tufted, and it's important to choose one that blends in with the rest of your home's decor so it doesn't stand out.
Baskets & Totes 
source: thespruce.com
Baskets or totes in your storage unit not only make the whole piece look more compact than getting only open cubbies, but they also make it easier to organize things by use or who they belong to. When each child has their own tote full of the things that they can reach when it's time to go, getting out the door becomes a breeze.
Hall Tree
Hall trees make excellent use of vertical space rather than taking up a lot of floor space, which is ideal if you need a lot of storage but don't have a lot of free space in your entryway. Rather than using a bulky storage bench that makes it difficult to navigate a small room, a hall tree provides enough storage while keeping your things off the ground for ease of use and more space.