Because of their function and importance, transforming kitchens in Toronto is always a smart investment. A kitchen renovation boosts the value of your home, improves the efficiency of your kitchen, and increases the comfort and convenience of anyone using the area. 
Fortunately, transforming your kitchen in Toronto doesn't have to be expensive. In fact, you can improve the appearance and function of your kitchen even if you have a shoestring budget. Sounds too good to be true, right?  Let this article show you how.
Work With The Right Team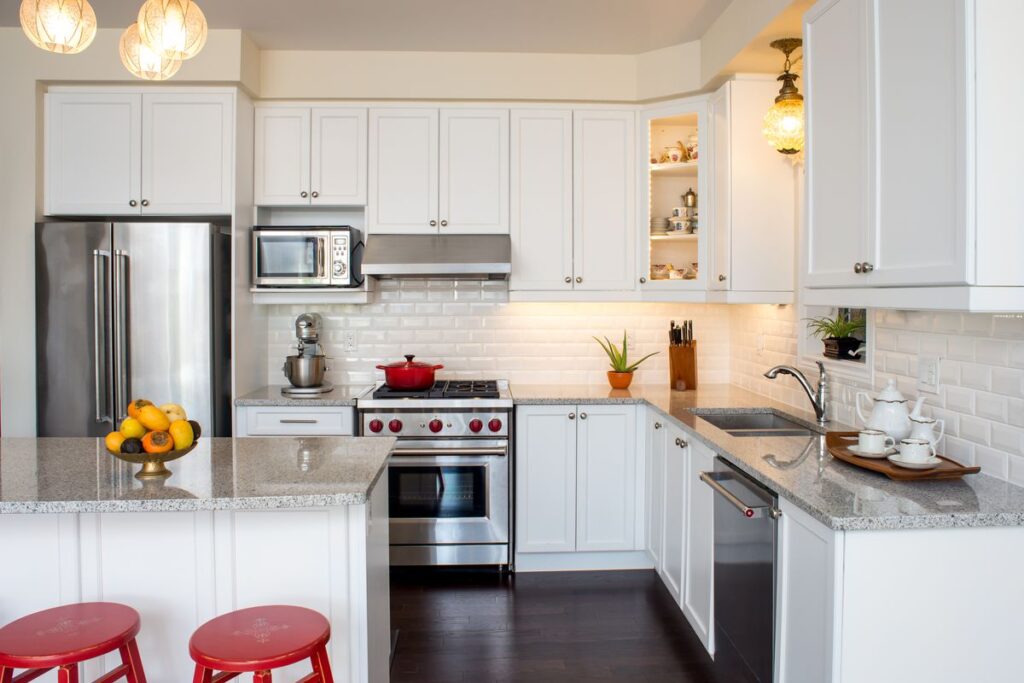 source: pinterest.com
This might sound counterintuitive, but working with professionals on your next kitchen renovation will actually save you tons of money. Reliable contractors, such as Kitchen & Bath, have years of experience transforming kitchens, and can recommend low-cost designs that bring the most value to your home. 
Additionally, professionals will have access to suppliers who sell high-quality but affordable materials. Professionals also buy materials in bulk, allowing you to score more deals and discounts. 
Apply A Fresh Coat Of Paint
Color is a very powerful tool because it can make or break the ambiance of your kitchen. Paint your kitchen in neon, and the space immediately becomes too distracting or loud. Conversely, stick to a minimalistic color scheme, and your kitchen will look modern and polished.
You can transform your kitchen by applying a fresh coat of paint to your walls and cabinets. This is an affordable kitchen renovation idea that'll only require you to buy several cans of paint and hours of hard work, depending on the size of your kitchen. 
Upgrade Your Lighting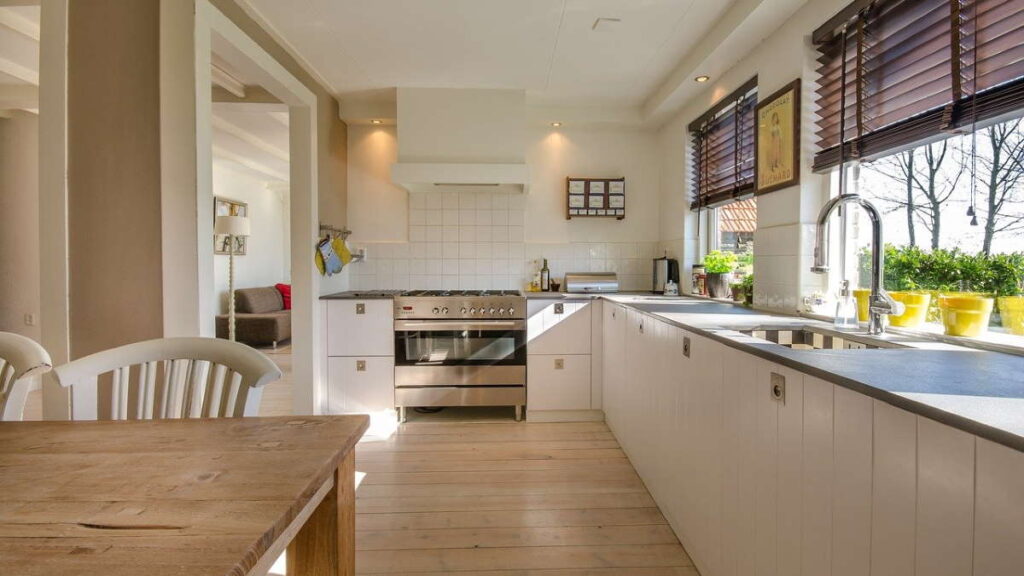 source: pinterest.com
Lighting fixtures do more than just illuminate the room; these also affect the ambiance of your space and the mood of people in the room. For example, bright lighting can trigger stronger emotions and energy, while dimmer lights create a more calming effect.
Upgrading your lighting is an excellent way to transform your kitchen in Toronto without breaking the bank. If you're still using fluorescent lights in your kitchen, switch to pendant lights. These lighting fixtures are affordable and provide more light to the room. Pendant lights are also versatile as these come in a wide range of colors, sizes, and designs. 
Add Open Shelving
Your kitchen won't be as functional and appealing as you'd hope it would be if there's no sufficient storage space. Spending time in the kitchen will only cause stress if the space is cluttered and unorganized. 
Keep your kitchen clean by adding open shelving. This simple and affordable DIY project can be accomplished within minutes. Ready-to-install wall shelves are available in almost all hardware stores and already contain all the materials you'll need for the project.
Visually Open Up The Space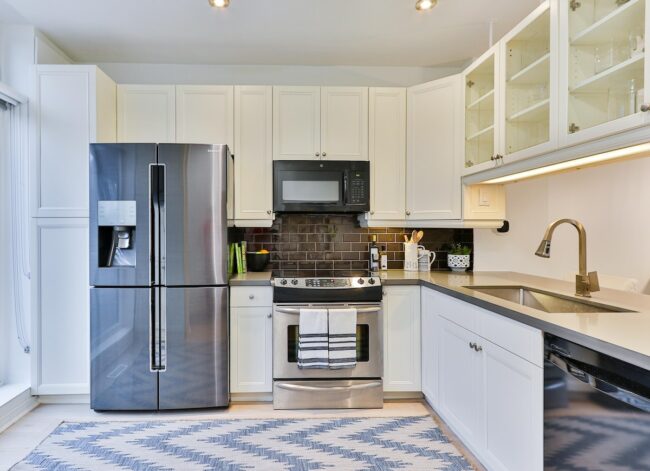 source: pinterest.com
Cabinets are essential in the kitchen, but having too many can make the space look and feel cramped. Cabinets might also make your kitchen feel old and dull. 
If you want to transform your kitchen without spending too much, remove some of your upper cabinetry and opt for open shelving (see previous tip). This simple hack will make your kitchen feel lighter and more modern.  
Depending on the theme you're going for, you can completely remove your upper cabinets and replace them with floating shelves, or you can remove the doors and hardware of your existing cabinets to turn them into open shelves. The latter is usually more convenient and budget-friendly. 
Add A Touch Of Interest And Elegance
Kitchens aren't just areas for cooking. Today, kitchens have become a social hub as these are where homeowners entertain guests and hold get-togethers. 
Give your guests something to talk about by adding a touch of interest and elegance to your kitchen. You can hang several pieces of art on the wall, add a stand-alone mirror, or use antique lamps as your centerpieces. These unexpected decorative touches will surely make your kitchen appealing and interesting—two things that can easily spark conversations among guests. 
Create An Accent Wall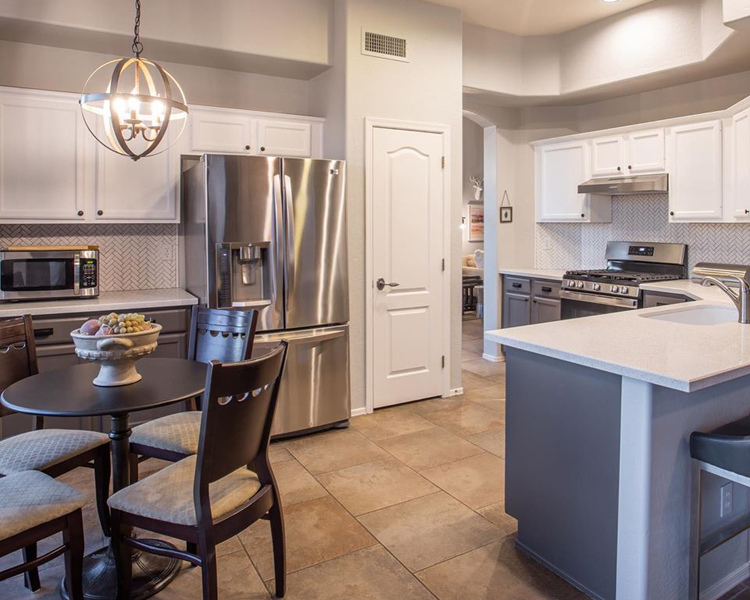 source: azbigmedia.com
Kitchens are usually painted in plain colors. In some cases, kitchens will have the same color as every other room in the house. If the bedroom and living area are painted in cream, expect the kitchen to also be in cream. 
You can break the monotony of plain, boring walls in your kitchen by adding an accent wall. As the name suggests, an accent wall has a different shade, color, design, or material from the other walls around it. 
One of the cheapest ways to create an accent wall is to completely fill one wall with patterned wallpaper. This will bring visual interest and pops of color to your kitchen. 
It's Easy When You Know How 
Who says you have to break the bank just to transform your kitchen in Toronto?  By following the tips presented in The Architecture Design, your kitchen will feel and look new even if you're on a budget!