Nowadays global warming is going on increasing which results in so many bad impacts on the environment like water crisis, reduction in forest cover, impure air, and many more. This all actions are leading to the devastation of the world. As for living and sustaining one needs water, fresh air, and the most important fresh environment. I would like to attach a fact here:
Fact 1: You can live only 3 minutes without air.
Fact 2: You can survive 3 days without water.
Fact 3: You can go about 3 weeks without food.
The above mentioned things are only available in the environment, which is devastating slowly and gradually due to increase in the pollution and global warming. We must take severe actions regarding it.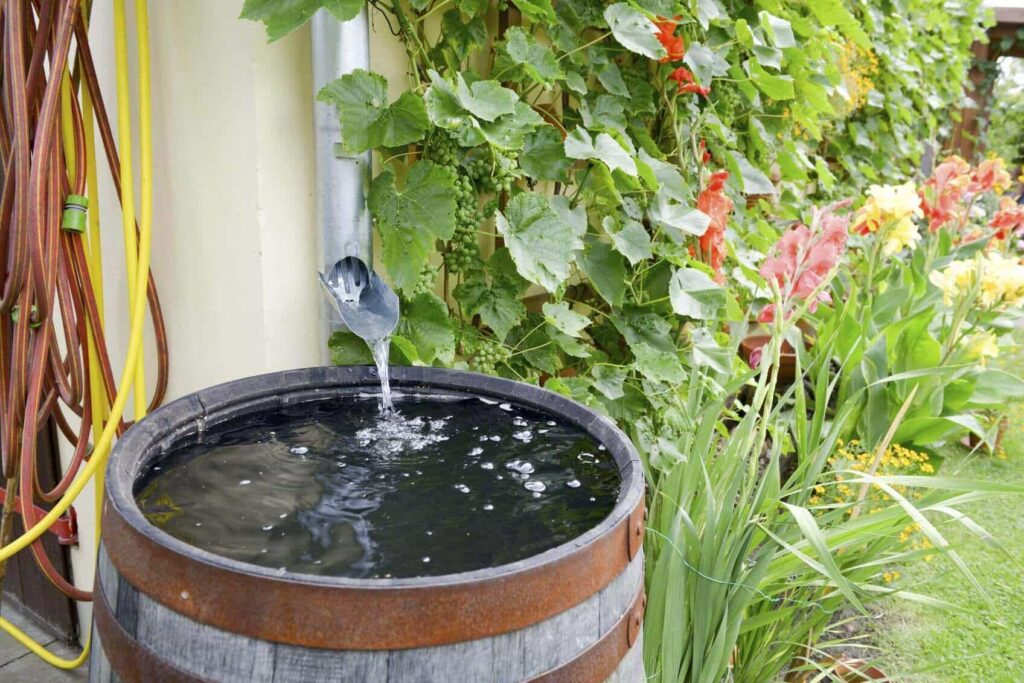 source: gardeningknowhow.com
The thing which is disappearing rapidly nowadays is water. According to a survey a kin uses almost 320 gallons of water per day and during summer it may exceed up to 1000 of gallons. We all knows it well that Earth has 75% of water cover, out of which 97% is salt water which is not drinkable as well as not usable, out of which 2% is used for domestic, industrial and co – curricular activities, at last we have only 1%  water which is drinkable.
For saving water and for using it at its utmost position, we need to focus on rainwater, yes you have heard it right rainwater is something which is appropriate for everyone and for every kind of activities and if we make out a way to store rainwater in an appropriate manner, then we can save gallons of water, which is usable for even drinking purposes. Now you may think, how can we save rainwater? Here is where the newly invented rain barrel comes in and plays a vital role. Furthermore we will not just only save water and save our environment, this is an effortless way to reduce water footprint and water bills too. Here, in The Architecture Designs, we have the best tips and ideas for you to make a rain barrel and to utilize it in a way that it adds a good living taste in your life.
What is a rain barrel?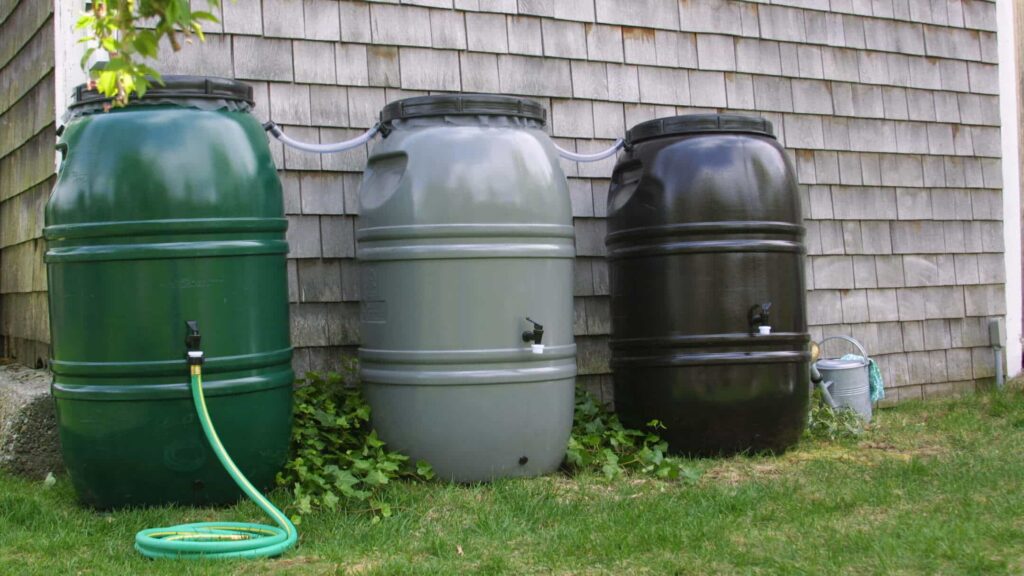 source: cambridgema.gov
One can say that it is a normal barrel connected with some diverters; this barrel collects rainwater with the help of downspout, the diverters make the contact between barrel and roof or gutter lines, on which rainwater passes by in your house. The water coming from such roofs and gutters are not pure and clean enough to use for any purpose, thus for water filtration we can put a clean cloth or a filter if you have one, it will catch and separate the debris coming from the water. After that you can connect a spigot to the barrel to take out the water filled in. This water can be used for gardening ideas, watering plants, washing, and even for drinking purposes. In short one can define this barrel as the most efficient to save and collect water for home. Moreover you can make this barrel on your own and can install it easily anywhere whether inside the home or outside the home. Most often people use this in gardens. Make a rain barrel for your garden now! For making and installing have a look at the list of materials and tools given below.
Material and tools required for rain barrel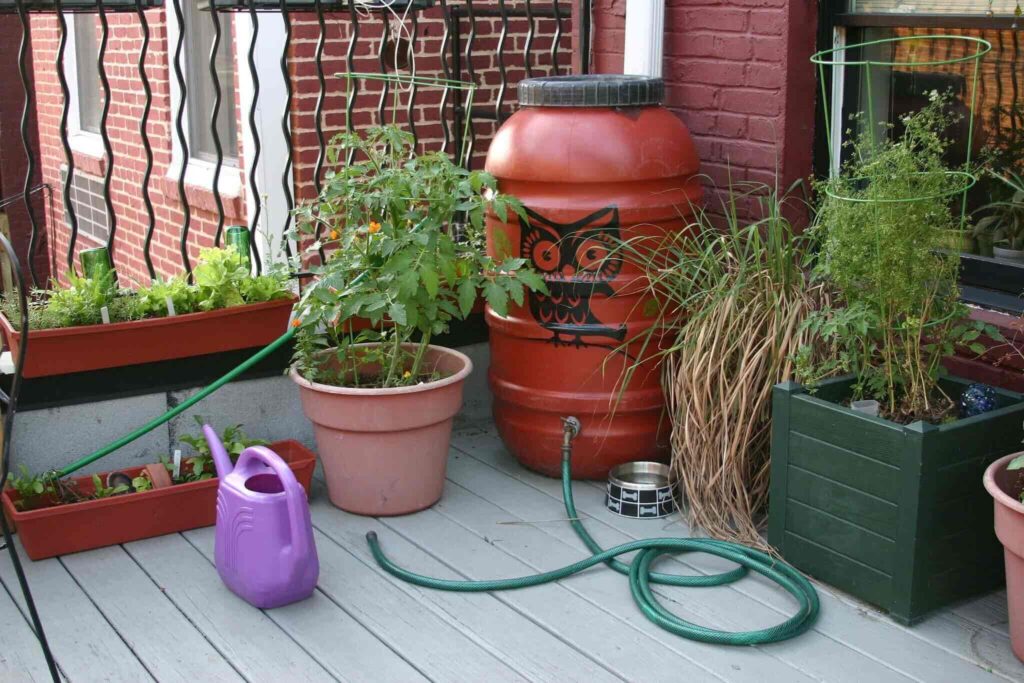 source: earth911.com
       

Barrel: The container in which we are going to store water.
       

Drill: To make holes for placing materials like spigot and to connect diverters.
       

Spigot: To extract out the water from the barrel.
       

Rubber and metal washers: For adding a good durability to spigot.
       

Hose clamp: To hold spigot in a fixed position.
       

Hacksaw / utility to knife: These tools will help you in making cuts in the barrel.
       

Landscaping fabric: No one would like unwanted plants to grow near your construction thus use landscaping fabric to avoid weeds.
       

Measuring tape: You must make it precisely that it does not come up with any kind of inconvenience, thus measurements are required.
       

Extra downspout material or diverter: To connect the roof and gutters collecting water.
       

Waterproof sealant: In case if there are holes or cracks in the barrel, use waterproof sealant to seal that cracks, it will also add a good strength to your project.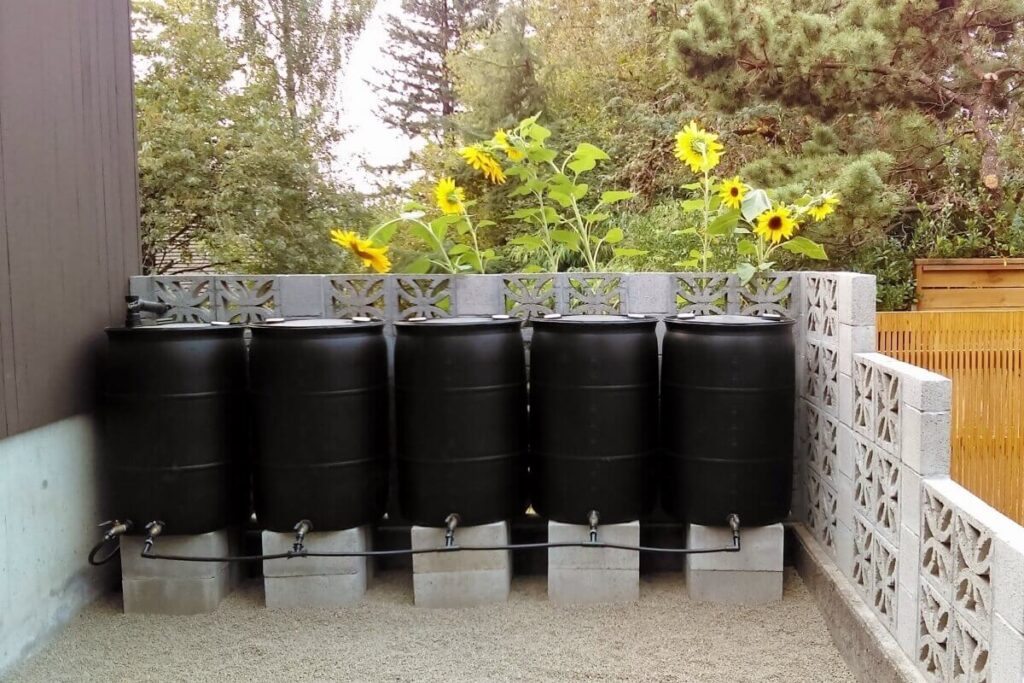 source: hammerandaheadband.com
As these kinds of barrels are nowadays one of the basic requirements for everyone, they are not much costlier, if you go for hardware to buy all this tools and materials then it will range you till $200 or less but not more than that, more often a 55 gallon standard rain barrel kit will cost you $100 – $150, depending on the style and material you choose. Furthermore many cities and districts are facing water crisis, there are several water conservation agencies, and they are connected with this project and are lowering your cost for affording it even much more low. Do check it once with your local water department, if you have the eligibility.
Making rain barrel
Let us have a look on how to construct and install this barrel step – by – step just with the aspect to make the process much easier for one to do.
Decide a place where you are going to keep the barrel, be choosy while deciding and if possible then decide such a place where it can provide you easy accessibility for maintaining purposes and to utilize it. Place it on a flat raised surface; you can use cement and bricks to provide utmost stability.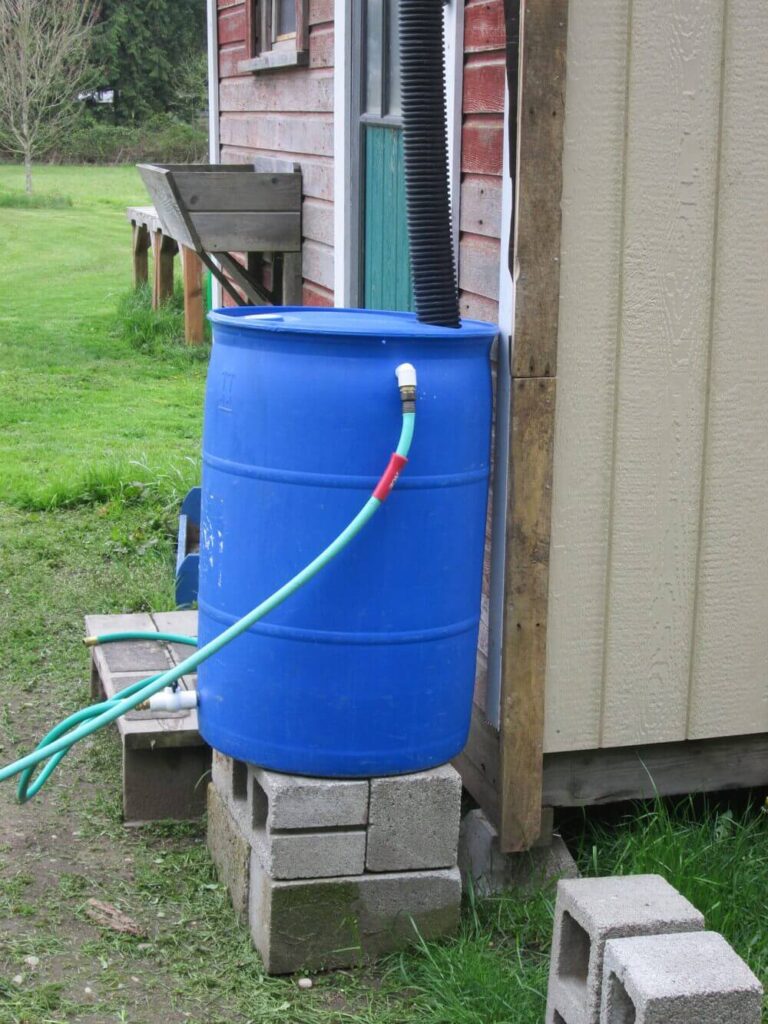 source: snohomish.org
Remove the barrel from the raised surface and place it sideways on the ground.  Drill a hole with the help of drill at the bottom of the barrel, this is the place where you are going to fix you spigot and you will extract the stored water, be conscious about the measurement of the hole, as the whole which you are creating with drill must be small in size than the hole of spigot, be aware of this condition, otherwise you have to rush on for the new barrel with no option left.
Once you fix up the spigot, to add more durability and stability to it use both the washer's i.e. metal washer and rubber washer, these washers will add a strength too and will help you to utilize that spigot for long lasting time.
To hold the washer and spigot combination in a proper manner use water sealant, from the inside part of the whole where rubber washers are fixed.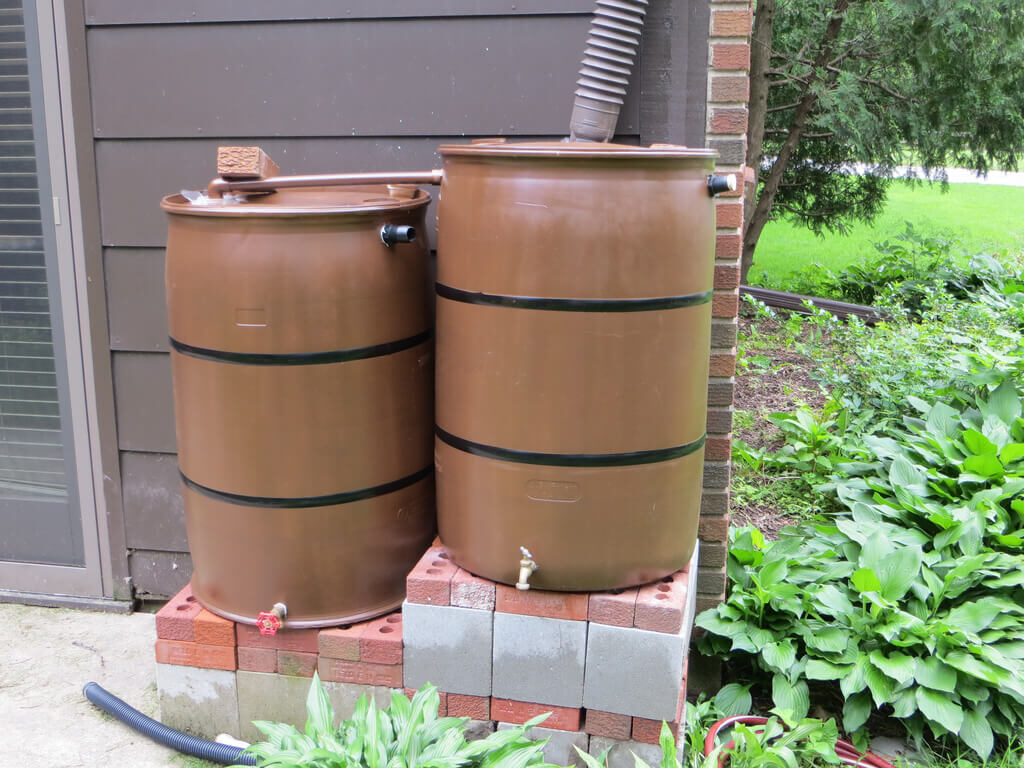 source: okotoks.ca
If you think that you are living in a windy or airy environment and you are afraid of the wind storm that will affect your spigot then you can even use a hose clamp instead of washers, you can even use a combination of hose clamp and washers too.
Cut an entry hole with the help of a hacksaw / utility knife; the size of the cut must be big enough that the diverter for downspout fix properly, if you cut it more by mistake then you can use water sealant.
At the topmost side of the barrel create two holes, these holes are made with the aspect of removing extra water or pressure, we have seen this type of construction in our water tanks too.  Whenever excess water will be stored in a barrel these two holes will remove them. And as we have kept it in the garden water goes for the gardening purposes.
Now apply the cover of landscaping fabric to the barrel to prevent unwanted weeds and debris.
Make sure to cut down the downspout before you implement it in your barrel, as if it would not be proper then all the materials and tools will mess up with each other.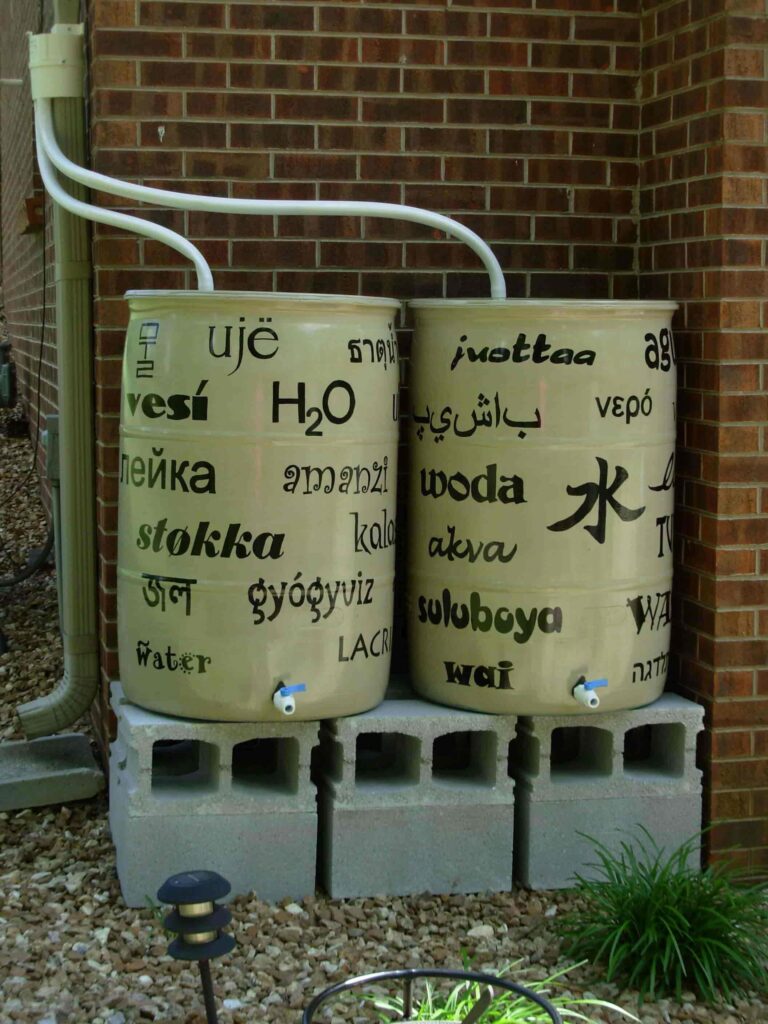 source: springfieldmo.gov
After that take appropriate measurement for your diverters so that they get a mix match with the downspout if needed then do saw off downspout as per your requirements.
Attach the diverters in a proper manner that connects every channel of the water receivers, once the diverters are placed perfectly, place the connecting tube with the diverters and take that tube to your rain barrel.
Now you are ready to rock on with your experiment you made, the last step for perfectly installing your barrel is testing. Now scuttle to take your ladder from inside the house, put in a way to reach at the top of your roof or gutter way, safety at first always keep someone to hold the ladder, pour the water with a bucket / mug and then have a look at your barrel, if water does not reaches there then there must be a blockage in the diverters or downspout or in gutter, this blockage may occur due to holes present in the line or due to some unwanted stuffs.
You can even use this barrel by getting it connected by your plumbing lines. Do not forget to keep maintaining it in a month or two.