What could be more relaxing than browsing through Pinterest and collecting photographs of lovely minimalist interiors? The living room is an excellent location to start because it is one of the key centers of any home. With its neutral color palette, sharp lines, and deliberate negative space, minimalism's stripped approach can make your living room feel effortlessly stunning.
Also with the goal of decluttering and simplifying your life, minimalist style may also transform your house into the tranquil paradise you've always desired. And, if you're a reformed hoarder like some of us, deciding which things to part with might be difficult. But, to make the switch smoother, we've compiled a list of simple ways to incorporate the minimalist design into your own house. Read on for Fabulous minimalist living room ideas to help you transform your humble apartment into a trendy sanctuary of tranquility.
Spoiler Alert: Not only that, but what actually is minimalist style, and how can you conquer and sustain it with optimism? To get you started, readout now!
What Is Minimalistic Style?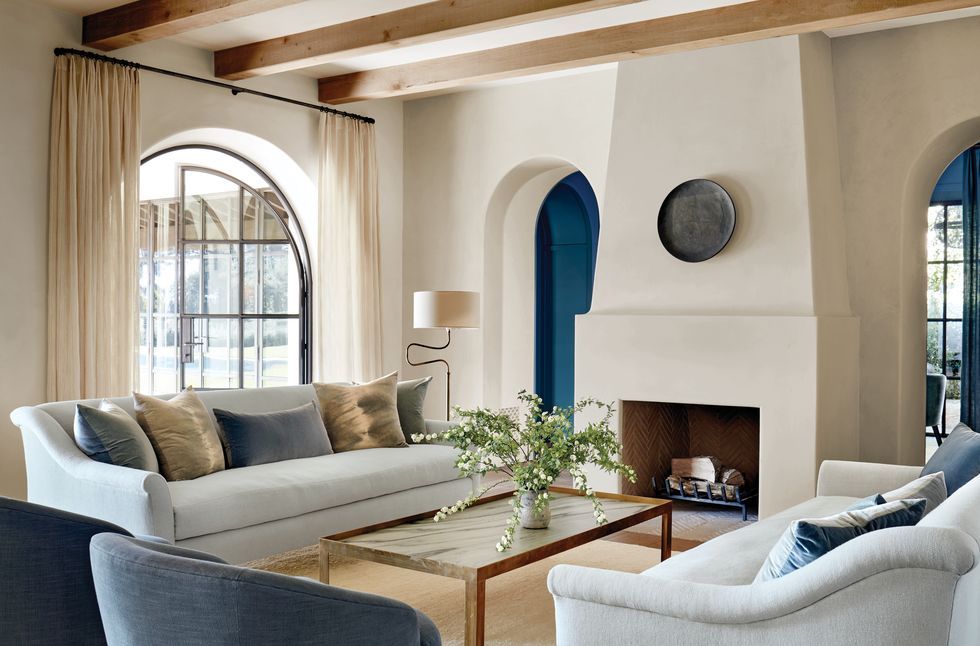 source: hearstapps.com
The core motto of minimalist home decor is simplicity. Keep things simple, tone down the decorations, simplify everything, and live by the mantras "less is more
Minimalism is defined by austerity and sparse adornment. Consider practical furniture, geometric forms, and limited color palettes. Minimalist design is the most simple style, aiming to be peaceful and return to simplicity. Minimalist home design is all about removing extraneous features, emphasizing more material, and appreciating blank space.
Consider clean, contemporary lines, a tight edit, a limited color palette, and trimmed silhouettes, but don't be afraid to create a complex, warm, rich, and welcoming minimalist house with a gallery-like setting from room to room, since this is, after all, a happy place.
Modern Minimalist Living Room Ideas:
There are several approaches you may use when designing your minimalist living room. Begin by assessing what you already own and intend to keep: Have you had a couch that needs to be matched? Do you have a lot of tiny decor pieces that you need to store? After you've accounted for all of your possessions, you can decide how to achieve a minimalist aesthetic.
Opt For Monochrome Theme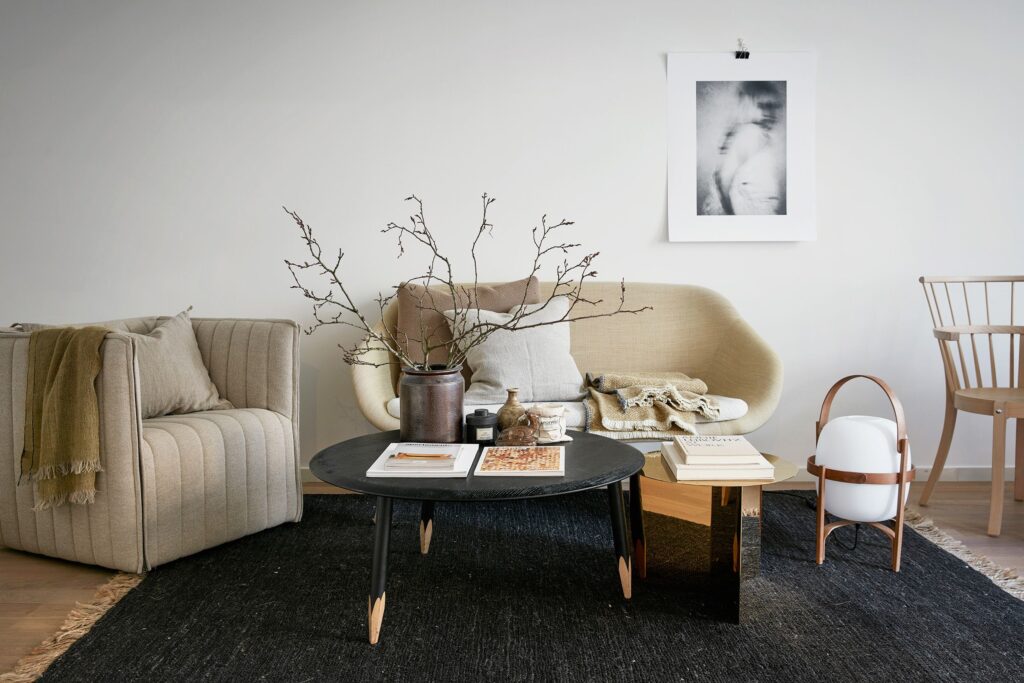 source: hearstapps.com
Monochrome living room paint ideas are always fashionable. A monochromatic decorating concept is a daring minimalist decision that demands careful retouching and a keen design eye.
If you don't add texture and modest tone variation, this style of the room might seem. However, when put together correctly, it's a terrific way to spruce up a basic living space.
The importance of tone and texture cannot be overstated. Keep in mind that the most effective monochromatic homes blend movement and depth with tactile elements to create a warm and welcoming basic style.
Cozy Couch 
We normally search for comfort and practicality when purchasing a sofa for our living spaces, but today's interior design enthusiasts are looking for furniture that reflects their eclectic style rather than structural compatibility. Instead of a boring piece of furniture, these minimalist designs allow homeowners to adorn their interior spaces with architecturally inspired sitting alternatives. From geometric couches to ones that come to float in mid-air, these minimalistic designs are a creative way to transform every day sitting into masterpieces.
All White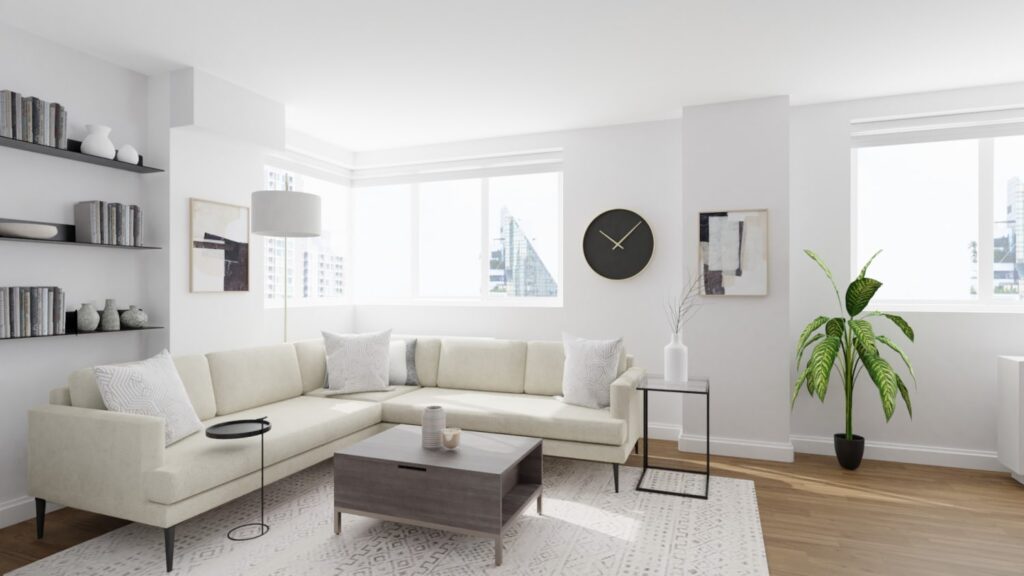 source: evolveindia.co
If you can't decide on a color scheme, there's really nothing wrong with sticking with an all-white living room and adding texture and color with your décor choices, as the designer has done here. Nothing says "cleaner" or "crisper" than a pure white design. Whether it's a high-gloss or classic countryside design, it's a look that will stay, no matter what the new vogue is.
Find A Happy Spot
Planning a minimalist living room does not imply getting rid of all you possess and having no style in your house. It's fine to maintain a favorite cushion, rug, armchair, or stuff that you adore but doesn't completely fit into your layout. Even if you want to experiment with minimalism, make sure you build a place that meets your requirements first and foremost.
Do you want to know how to design a basic yet comfortable living room? The design's subtle simplicity and varied hues are ideal for creating sophisticated, modest rooms.
Scandinavian design has become a design mainstay or omnipresent, mass-produced, and continuously reinvented. The clean Nordic aesthetic, in its basic form, never loses its allure. Choose wonderfully made shapes, natural materials, and a pure, pared-back color palette to stay true to Scandinavia ideals. The core of the design is found in its clean lines, repetitive forms, and delicate minimalism that strives to be sharp without being harsh. 
Consider whether each element is necessary and remove those that aren't. Minimalism, it pointed out, is about more than just things. It's a way of thinking that allows you to let go of stuff that doesn't matter and no longer rewards you.
Consider Size & Shape 
source: apartmenttherapy.info
When it concerns the sleek look, size and scale are mandatory. A single huge sofa with a modest coffee table, for example, maybe less conspicuous than multiple small pieces of furniture in a small living room. Don't be scared to experiment with scale in your layout! To add depth to your living space, mix and match various sizes of furniture and household decor.
Highlight Functional Stuff 
Not only does the hue of this brilliantly decorated gray living room encourage a peaceful impression, but it also employs low-slung furniture beside lofty ceilings for a linear approach. Every component provides a specific purpose: The minimal decoration allows for lots of sitting, but the overall design maintains a neutral atmosphere with a simple color scheme. Despite the fact that nothing in the room is over-the-top, the living space can be relished comfortably, with plenty of room to socialize.
Position & Location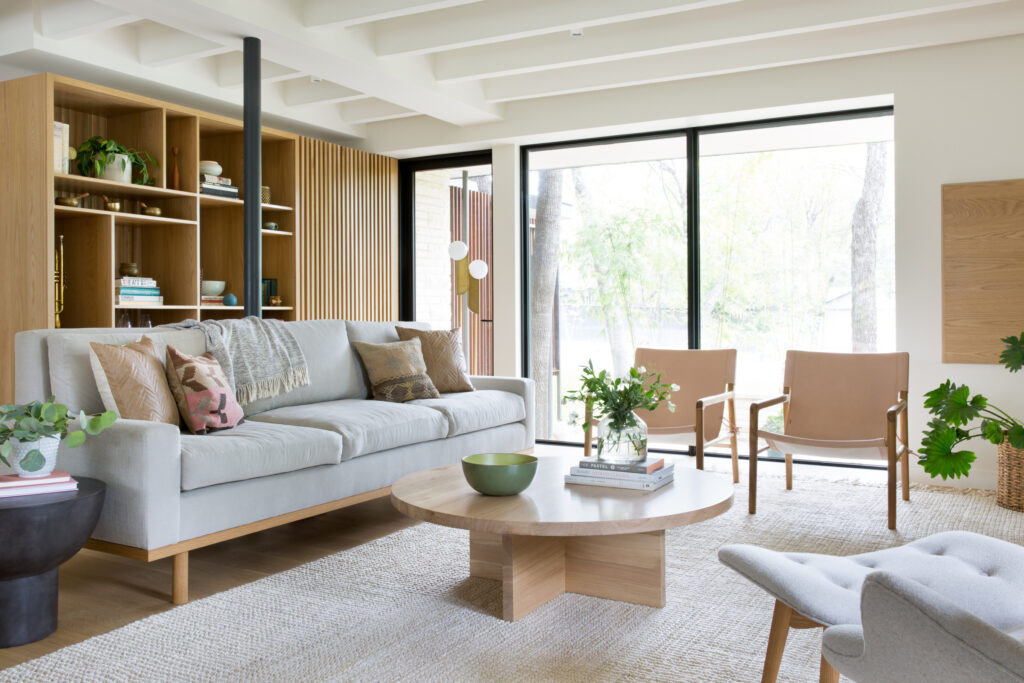 source: apartmenttherapy.info
If you live in a wintry climate, consider installing a column-style wood stove in a corner. Don't forget to underline the significance of light, which is a major component of the minimalist style. Simple living room lighting ideas with exposed lights will be both functional and appealing.
Embrace Japandi Design 
The Japandi living room concept is packed with stunning Japanese minimalist and rustic Scandinavian simplicity. It is a synthesis of the best components of two popular designs.
If your house is your safe zone and you prefer a less-is-more strategy with spotless areas, clean lines, and a quiet, muted color palette, go for a Japandi style. Simultaneously, you want your sitting room to seem calm and comfy, lived-in and familiar, so striking a balance between basic decor and welcoming living room ideas is necessary.
This simple appearance can work in any situation. Furthermore, choosing premium quality stuff will allow tiny living spaces to breathe
Pick Colors Carefully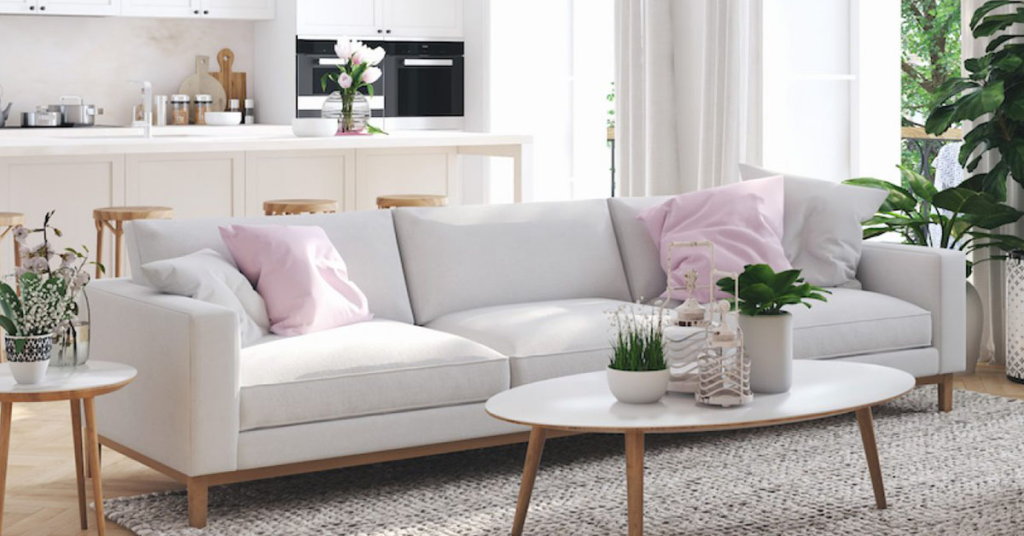 source: pinterest.com
Minimalist design and tiny living room ideas complement each other, so keep your color palette basic. The color palette and materials used can also have a significant influence on the overall design. A minimalist blend of neutral, subdued tones and rustic wooden finishes will exhibit simplicity that will stay ageless, even as the design of the home unfolds.
How To Design Minimalist Living Room?
Minimalism was often associated with stark, shiny furniture with a modern, Mid-century aesthetic. It's now gentler and earthier, combining Scandinavian and Japanese factors.
By incorporating bohemian living room ideas like rattan lighting, handcraft vases, a thick wool rug, and earthy raw wood furniture, you can take the professional edge off an all-white layout. Neutrals are influenced by natural earthy tones like brown, caramel, neutral and dusty colors.