Are you tired of having the same old and plain glasswares? Are you looking for colorful items to revive the domestic environment? Or maybe you are searching for something more sober yet elegant to show off during special occasions? Here is the reasons why you should opt for Murano glasswares sets to enhance your table.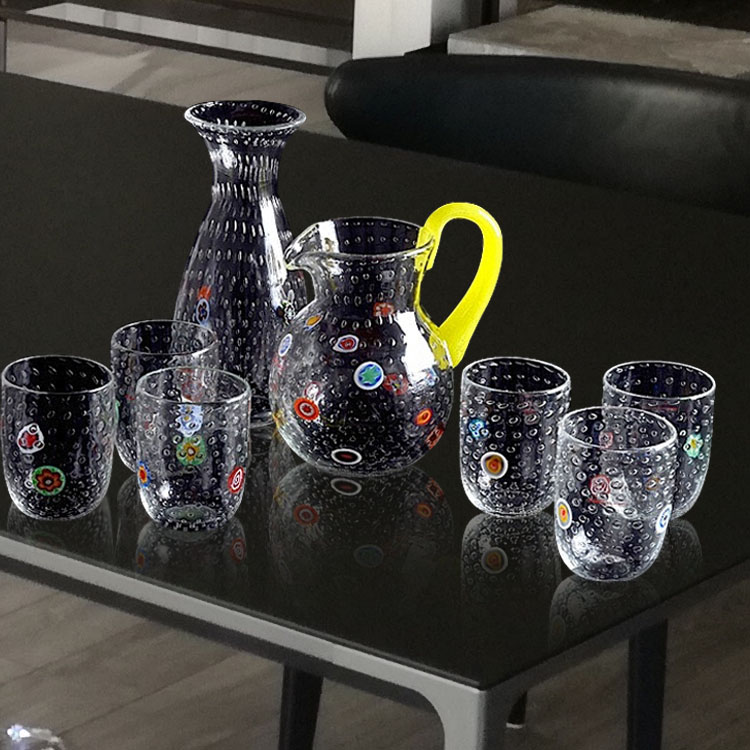 First of all, Murano glass is a beloved and renowed type of glass made in the homonymous island overlooking the lagoon not far from the world famous city of Venice.The production of such material started in the XIII century and since then it's been appreciated all over the world thanks to their beauty, uniqueness and usefulness.
Moreover, the glass creations made in Murano stand out from similar products because – beside the history they possess – to this day they are 100% handmade by the skilled hands of Masters glassmakers following secrets and traditions which have been carried on from father to son from generation to generation. Thus making these pieces items of the finest quality in addiction to being style icons for home decor.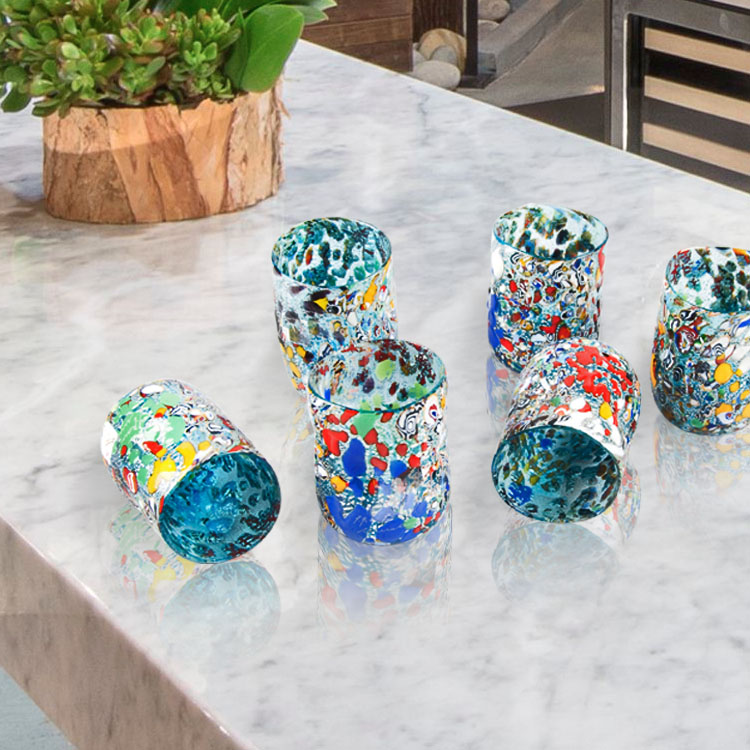 Murano glasswares sets can be easily found online on the site YourMurano.com, the only official site which sells Murano glass products provided with the Trademark of Origin. This mark being an adhesive label – required by the Italian law – which identifies and protects such products from the plague of counterfeit that threatens the original work of Masters glassmakers with valueless imitations.
The catalog for Murano glass sets available online consists in glass tumblers, drinking glasses and glass carafes.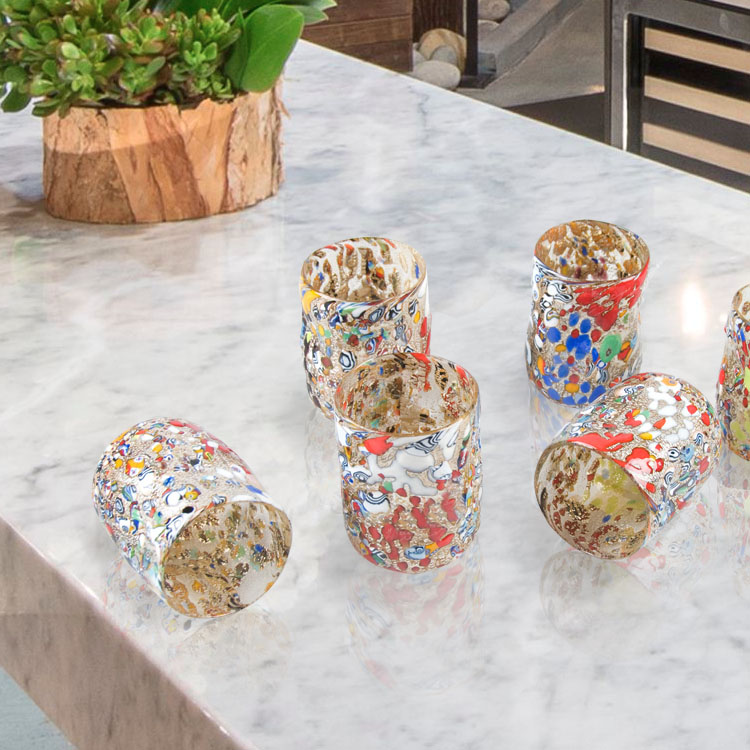 Glass tumblers – or as Venetian people call them "Goti de fornasa" – are typical glasses which have been used for centuries by Masters glassmakers to drink while working in the furnaces, they are intentionally made to be different from one another so the artisans wouldn't get confused and exchange their glasses. Such products can be found in a classic round shape – just like traditional glasses – or in a more peculiar hexagonal shape. Another signature trait is that they are very colorful and they come with various decoration fantasies the most typical of which is the "Murrine" one. This last consists in tiny colorful glass pearls which are then melted together creating a very cherished decor through the years for such unique artisanal pieces.
Glass tumblers are not to be confused with drinking glasses which are glasses that are conceived and designed for your table. They are perfect to contain wine or water and will certainly add a touch of colour to your table, as one of their main characteristic is being a bright and multicoloured addiction to your meal.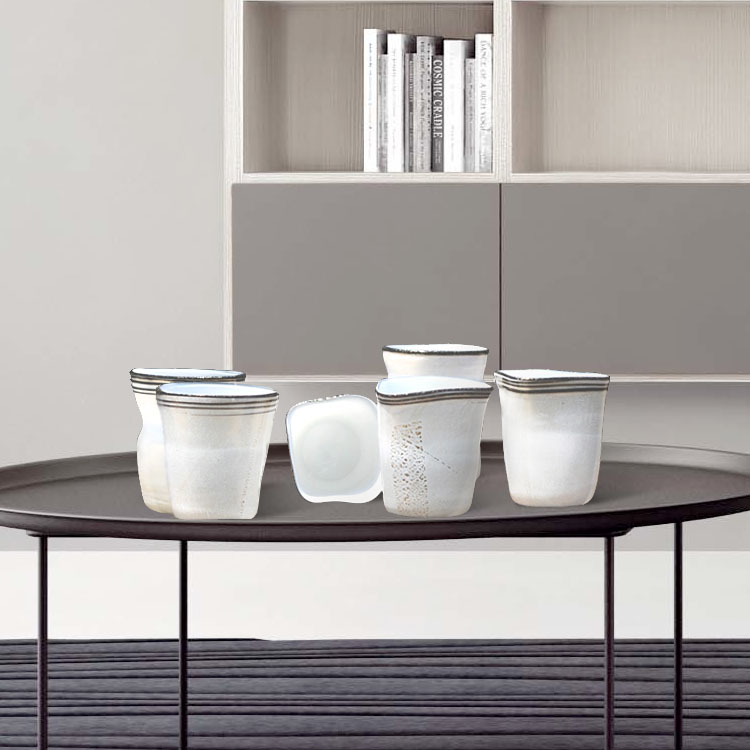 Both glass tumblers and drinking glasses share the virtue that although they are very colourful and it may seem like they are difficult to pair with any decor style, they actually fit every table from elegant styles of decor to shabby chic, classic or modern kind of home design style too.
If you are looking for something more elegant – suitable for special occasions – Murano glass 2 piece sets of flutes are on sale as well. The peculiarity of such creation is the fact that they are decorated with gold leaf, therefore enriching even more the masterpiece of craftmanship that they already are. For those who want something even more personal, a pair of flutes on which initials can be engraved is the perfect option.
Of course a dining table is not complete without a carafe of water or wine, and that's the reason why there is a large number of products between which it's possible to choose the one that best suits your needs or aesthetic. If you give a look to the previously mentioned site YourMurano.com you will see for youself that there are many shapes and sizes of glass blown carafes available, from more sinuous classic shapes to more modern and sober ones. This line of product as well as the others is very colorful and comes with "Murrine" design too.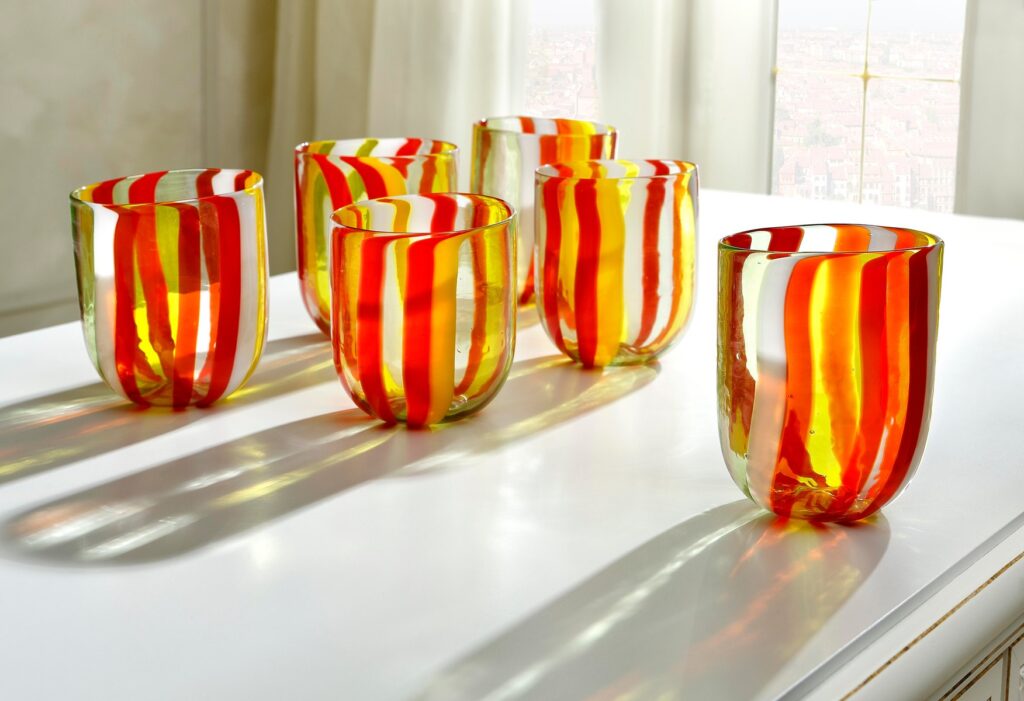 The glasses and carafes mentioned above are sold separately, respectively in sets of six glasses and a single glass carafe. However, there is the possibility to buy sets which combine those just illustrated in a way that is convenient if your intention is to buy both objects or if you are looking for a nice but useful gift!
In truth, all Murano glasswares and glass creations are the ideal present you can get for yourself or your loved ones. They surely will make you do a magnificent impression if you choose them as special gifts for once in a lifetime occurrences. Something made possible since other than being artisanal objects of outstanding quality they are also among the products which are ambassadors of the excellence of the Made in Italy mark, which is known and admired all around the world.