When you choose to add a shade structure to create a unique outdoor living area, you are investing in your family, friends, and well-being.  One of the most attractive shade structures is a pergola.  Many customers add this feature directly over their deck-attached to their home's roof.  This is a perfect way to instantly create extra living space without completely restructuring your home with a costly addition.  If you home is currently lacking a shade structure, you are missing out on a haven of outdoor living space, as well as entertaining space that flows seamlessly into your indoor living area.
With a pergola you and yours can enjoy the outdoors more fully, as seasonal weather conditions will be much less impactful.  If you are looking for a simple, affordable way to engineer a comfortable outdoor living area, consider adding a pergola over your deck or patio space.  So many people have fallen in love with the pergola due to its versatility.  Whether you are someone looking for partial shade or total shade there is a pergola solution for you!  Go as simple or complex as you wish, since these amazing shade structures allow you to customize with lighting and air circulation features.
The added style and appeal pergolas provide is unparalleled by any other outdoor upgrade.  Not to mention, they are hailed for adding equity to homes, raising resale values, and even helping to sell homes faster.  Thus, whether you are making an investment in your family or in selling your home, adding a pergola is always a great choice!
Despite this, any major decision requires a thorough consideration of the product.  Continue reading to learn more about how to ensure you get the right pergola for you home!
Consider Your Unique Needs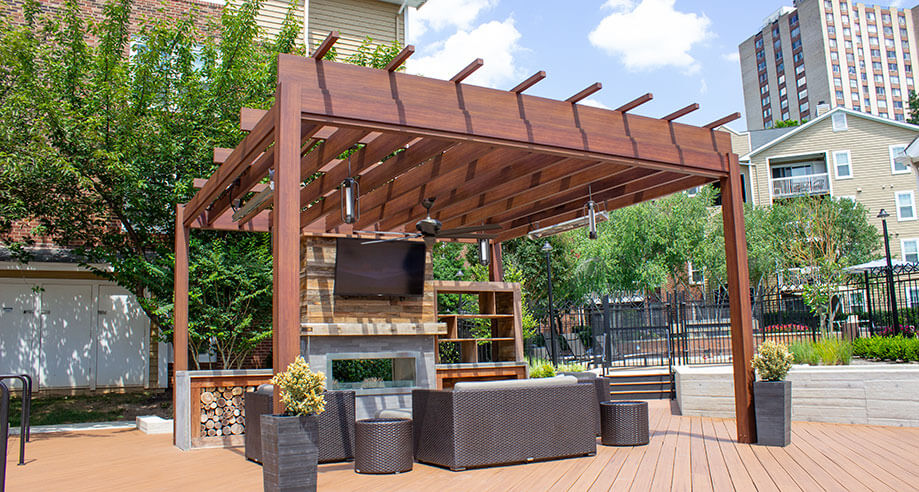 source: structureworks.com
There are various reasons that people choose to add a pergola to an outdoor area.  Some people want a completely enclosed outdoor living area, while others are looking for full or partial shade from the sun, or to cover an existing deck or patio to create a comfortable area to picnic and grill delicious food!  No matter what your purpose is, a pergola can be tailored to create your perfect space.
Attached Vs. Free Standing Pergolas
source: outdoorlivingtoday.com
If you are considering adding a pergola, one of the most important decisions you will make is whether the structure will be freestanding or attached to your home over a deck or patio.  Both types of pergolas are beautiful, functional, and practical choices.  It comes down to your unique needs and style preferences.  When you choose a free-standing pergola, you can add your shade structure to any corner or area of your yard that your heart desires.  Attached pergolas, on the other hand limit your creativity, although they help create a seamless transition between outdoor and indoor living!
Consider Material Options
source: weekendnotes.com
Whether you are choosing a freestanding or attached pergola, the right material will make a huge difference in the appearance and function of the structure.  While, in years past, pergolas were only available in wood options, today there are other alternative options.  While wood is always, a beautiful and classic option, it does have its cons, such as expensive maintenance and limited durability.  So, while wood pergolas are attractive and affordable initially, over the years you are likely to spend hundreds or even thousands maintaining your investment to avoid it becoming an eyesore.
Thankfully, if you are currently considering a pergola but aren't wild about the idea of traditional wood, there is another option, aluminum pergolas.  These innovative pergolas are highly versatile and offer appeal to multiple architectural styles.  Hence, no matter your preferences or style, you can still enjoy a pergola.
Consider The Appeal of Customized Features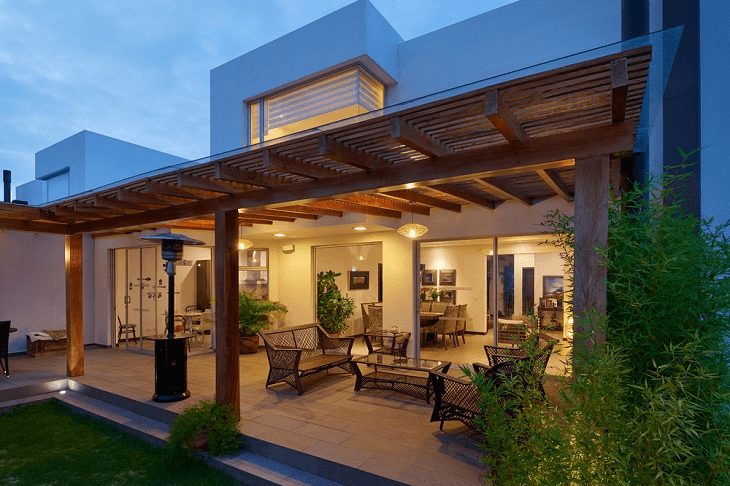 source: creativewallcoverings.com
If you have decided to take the plunge and invest in transforming your outdoor space with a pergola, consider what features could take your space to the next level.  When you customize your outdoor area, you are sure to love the space and use your investment.  There is nothing worse than spending money on something you think is a good idea at the time, just to discover pesky inconveniences made upgrading a waste.  Consider the wide range of upgrades that could take your pergola to the next level!
If you desire the look of a pergola, but want total protection from the sun, wind, and rain, consider fixed panels for full coverage from the elements.  Conversely, if you love the outdoors and want some light and airflow to move through your structure, consider bioclimatic louvers that can be adjusted to your exact preferences.
If you love entertaining, consider adding a little something extra to your outdoor dining room with built in LED lighting.  You can enjoy the ambience of the night without sacrificing the ability to see and interact with your guests for the perfect outdoor experience any time of the day or night!
If heat reduction and bug protection present two of your biggest concerns, consider adding solar screens and insect screens.  You will get the most out of your pergola without dealing with the unpleasant and pesky inconveniences of summer.  These little extras will help you to enjoy the outdoors anytime you please, and spend more time using your pergola!
Don't Limit Your Outdoor Space To "Just A Pergola"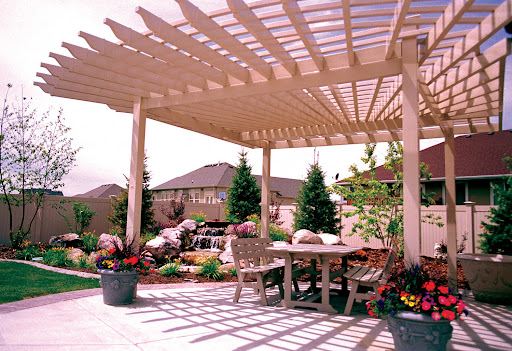 source: pinterest.com
Revamping your outdoor space is all about getting outdoors more, enjoying family and friends, increasing livable space, and reclaiming your love of the outdoors.  Therefore, if you have decided that its time to invest in an attached or standalone pergola, consider the many other possibilities this will afford you.
The sky is truly the limit.  Many happy pergola customers have created an entire new living oasis with outdoor TV's, curtains, swings, poolside bars, or even a pool house.  No matter what you envision, a pergola is just the beginning of making your outdoor dreams come true.  Consider the purpose of your space, the needs of you and your family, and get creative.  You can truly have it all this year and for many years to come with the addition of a functional and beautiful pergola!